SuperFarm ($SUPER) is a cross-chain DeFi platform aimed at easing the process of creating non-fungible tokens (NFT) while giving them the capacity to add value to their tokens. It has its own NFT marketplace which creators could benefit from. The protocol is designed to make the user's whole blockchain journey easier. Finally, SuperFarm is a continuously growing project that could attract more partnerships from several gaming platforms.
Background
Elliot Wainman, the creator of EllioTrades and co-founder of Dapp Evolution Games, began his work on SuperFarm with the objective of mass adoption for the Ethereum network. Elliot's target is to reach over 2.5 billion gamers worldwide who are looking to purchase in-game assets through NFTs.
SuperFarm's first fundraising round amounted to a total of $1.1 million, where prominent cryptocurrency and financial firms like Bitcoin.com, GBV Capital, Solidity Ventures, and Spark Digital Capital, and many others participated.
Before we dive deeper into what SuperFarm does, it is important to understand what NFTs are.
What are NFTs?
Non-Fungible Tokens (NFT) refer to digital assets that represent almost anything, from works of art or a person's identity. NFTs cannot be duplicated and they all have distinct metadata.
They are commonly used to create a blockchain representation of a real world asset so that they can be traded with crypto. Since NFTs are programmable, they can be attached with different characteristics and attributes according to the needs of the creator.
What is SuperFarm?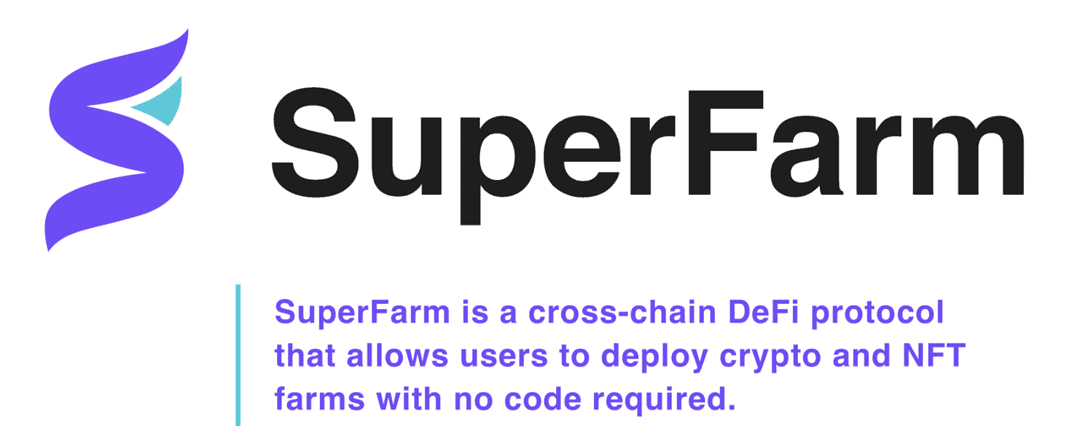 SuperFarm is a cross-chain DeFi platform for NFT farming without any code required, with the primary aim is of making it easier for anyone to create their own tokens and add value to them through NFT farming. And because it does not have any coding requirement on the part of the business, using the platform lessens the technical complexity of coming up with their own NFT.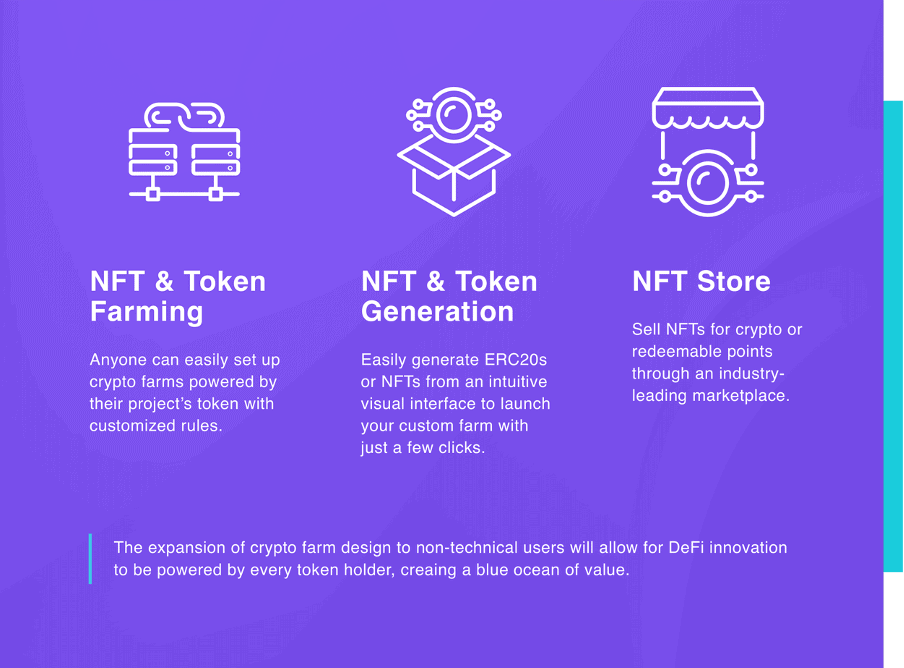 The way SuperFarm abstracts the process of tokenization is through a series of visual, beginner-friendly tools. They can customize the rules for their tokens, identify their attributes, incentivize a behavior, and more. The SuperFarm platform is easy to use but it does not compromise quality and effectiveness.
The tokens that can be generated on the platform are ERC20 compliant. They can sell them to any supported marketplace. In fact, users can even set-up their own NFT marketplace through the platform if they want to.
NFT Farming
Through the platform, businesses can easily create their own farms and put up their NFTs there. Users can access them to stake on NFTs and earn incentives. There is a minimum requirement of SUPER tokens, however, before anyone is allowed to open up new farms.
NFT Marketplace
Users are given access to the NFT store where they can purchase NFTs through the reward points they are given from farming. It also allows users to buy NFTs with supported cryptocurrencies.
Superverse
Superverse is the gaming interface for SuperFarm. It is an NFT-based card game that functions on an autobattler setup. Aside from game points, some of the rewards that are available in Superverse include NFT drops from SuperFarm-partnered gaming platforms.
There is a minimum requirement for SUPER holdings before a user is given access to the Superverse.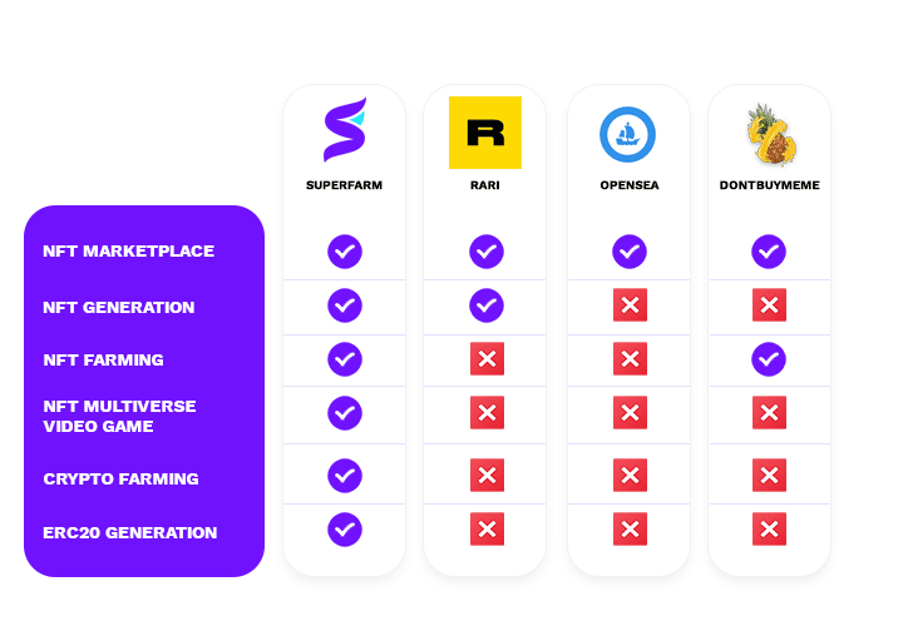 Superfarm Native Token – $SUPER
$SUPER token is SuperFarm's native utility token. It can be used as a medium of exchange or to pay for governance and transaction fees. SUPER also gives its holders access to products and programs available in SuperFarm's gaming ecosystem, video game partners, and NFT drops.
Since the platform seeks to be fully-decentralized in the future, its governance is community-directed. Any decision or proposal to amend or modify the platform has to go through the vote of SUPER holders. Voting power can be determined by the amount of the SUPER tokens you hold. The more you hold in SUPER, the stronger your voting power will be.
Other purchases you can make in the platform also involves SUPER. It can be used to access some important features of the platform which are only available to holders of SUPER.
If you want to purchase SUPER, the token is listed on Uniswap. Below are some of the use cases for SUPER.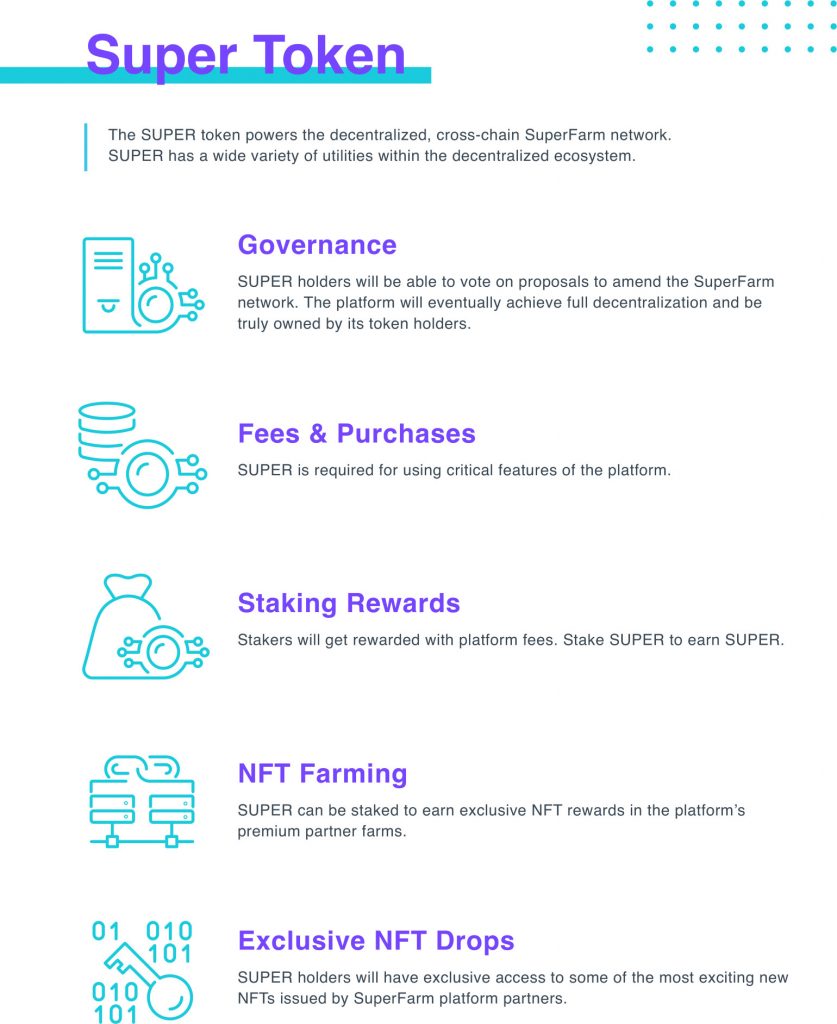 Staking
SUPER can also be staked. Users just have to lock their SUPER in a smart contract so they can earn token rewards for doing so. This reward structure comes from the collection of platform fees which are made in SUPER as well.
Farming
SUPER can be staked for NFT rewards too. By participating in the staking for NFTs, users can also receive exclusive NFT rewards from partner farms.
Users can also set up their own farms on the platform. However, there is a minimum requirement of 100,000 SUPER tokens in order to do so. The purpose of the quota is to make sure that there is a low likelihood for spams, good quality of farms, and to incentivize the purchase of the token.
NFT Drops
SUPER holders are also entitled to NFT drop rewards. These are the NFTs available in the Superverse and partnered video games. However, to be a part of the NFT drops, users should be holding the minimum SUPER tokens required.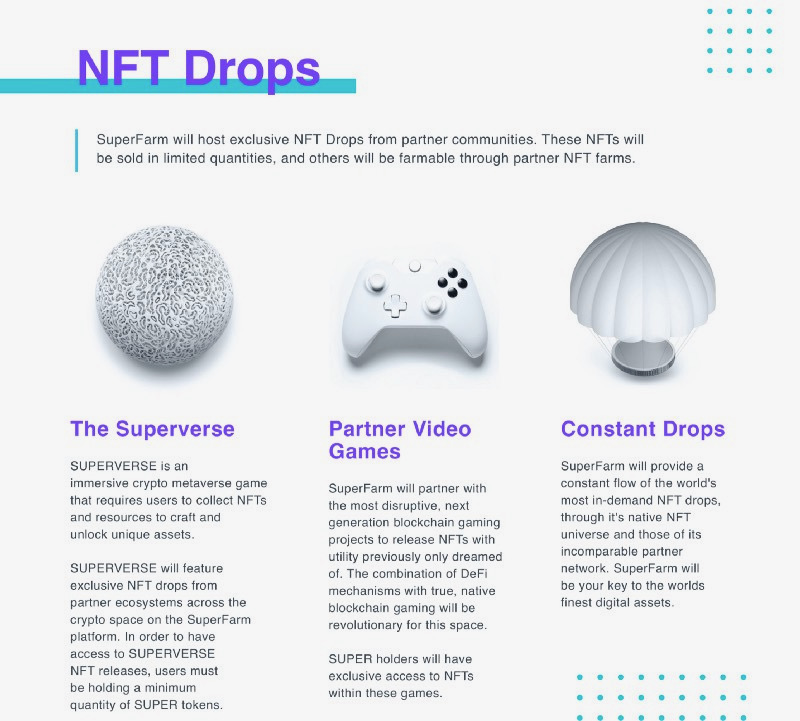 Conclusion
SuperFarm is an interesting DeFi project. One of the platform's strengths is that it has already identified who its target market is. If the project takes off successfully and gets more gamers and developers on-board, it is highly likely that it will drive people's interest in crypto and DeFi significantly. Imagine 2.5 billion gamers jumping onto the crypto train; it will be a huge feat.

Moreover, SuperFarm is a project that businesses can easily benefit from. If they want to create their own NFTs and market them, SuperFarm's interface has prepared the platform for them as well. If the project achieves its objectives, it offers a promising outlook for the whole of DeFi. Looking at where it stands today, it is not impossible. The platform is easy-to-use and profitable. It belongs to the DeFi projects we have to look out for.
Decentralised Finance (DeFi) series: tutorials, guides and more
With content for both beginners and more advanced users, check out our YouTube DeFi series containing tutorials on the ESSENTIAL TOOLS you need for trading in the DeFi space e.g. MetaMask and Uniswap. As well as a deep dive into popular DeFi topics such as decentralized exchanges, borrowing-lending platforms and NFT marketplaces
The DeFi series on this website also covers topics not explored on YouTube. For an introduction on what is DeFi, check out Decentralized Finance (DeFi) Overview: A guide to the HOTTEST trend in cryptocurrency
Tutorials and guides for the ESSENTIAL DEFI TOOLS:
More videos and articles are coming soon as part of our DeFi series, so be sure to SUBSCRIBE to our Youtube channel so you can be notified as soon as they come out!
Disclaimer: Cryptocurrency trading involves significant risks and may result in the loss of your capital. You should carefully consider whether trading cryptocurrencies is right for you in light of your financial condition and ability to bear financial risks. Cryptocurrency prices are highly volatile and can fluctuate widely in a short period of time. As such, trading cryptocurrencies may not be suitable for everyone. Additionally, storing cryptocurrencies on a centralized exchange carries inherent risks, including the potential for loss due to hacking, exchange collapse, or other security breaches. We strongly advise that you seek independent professional advice before engaging in any cryptocurrency trading activities and carefully consider the security measures in place when choosing or storing your cryptocurrencies on a cryptocurrency exchange.