Binance is tackling to issue of proving where user funds are by using the third-party auditor Mazars, a leading Hong Kong-based auditing firm, to prove independently that user funds held by the exchange are safe and "untouched". This is particularly important as users are demanding to know that funds are safe (or "SAFU") and that they can trust the exchange to keep holding their funds. Auditing centralized exchanges help to ensure that they are compliant with applicable laws and regulations, as well as industry best practices. This helps to protect users from fraud, manipulation, and other malicious activities.
Binance BTC Reserves are Fully Backed
Mazars, an international audit, tax, and advisory firm, has confirmed that Binance has more than enough Bitcoin (BTC) to cover all customer deposits. The report verified a 101% collateralization ratio on 575,742 BTC in net customer deposits as first published on their proof-of-reserves system on November 25. All assets included customers' spot, options, margin, futures, funding, loan and earn accounts for BTC and wrapped BTC circulating on the Bitcoin, Ethereum, BNB Chain, and BSC blockchains.
Learn more about Binance- Binance Exchange Review (2023) Best Crypto Exchange?
To ensure customers' assets are not being lent out or stolen without permission, Binance implemented a Merkle Tree proof-of-reserves system that allows customers to independently verify the safety of their assets.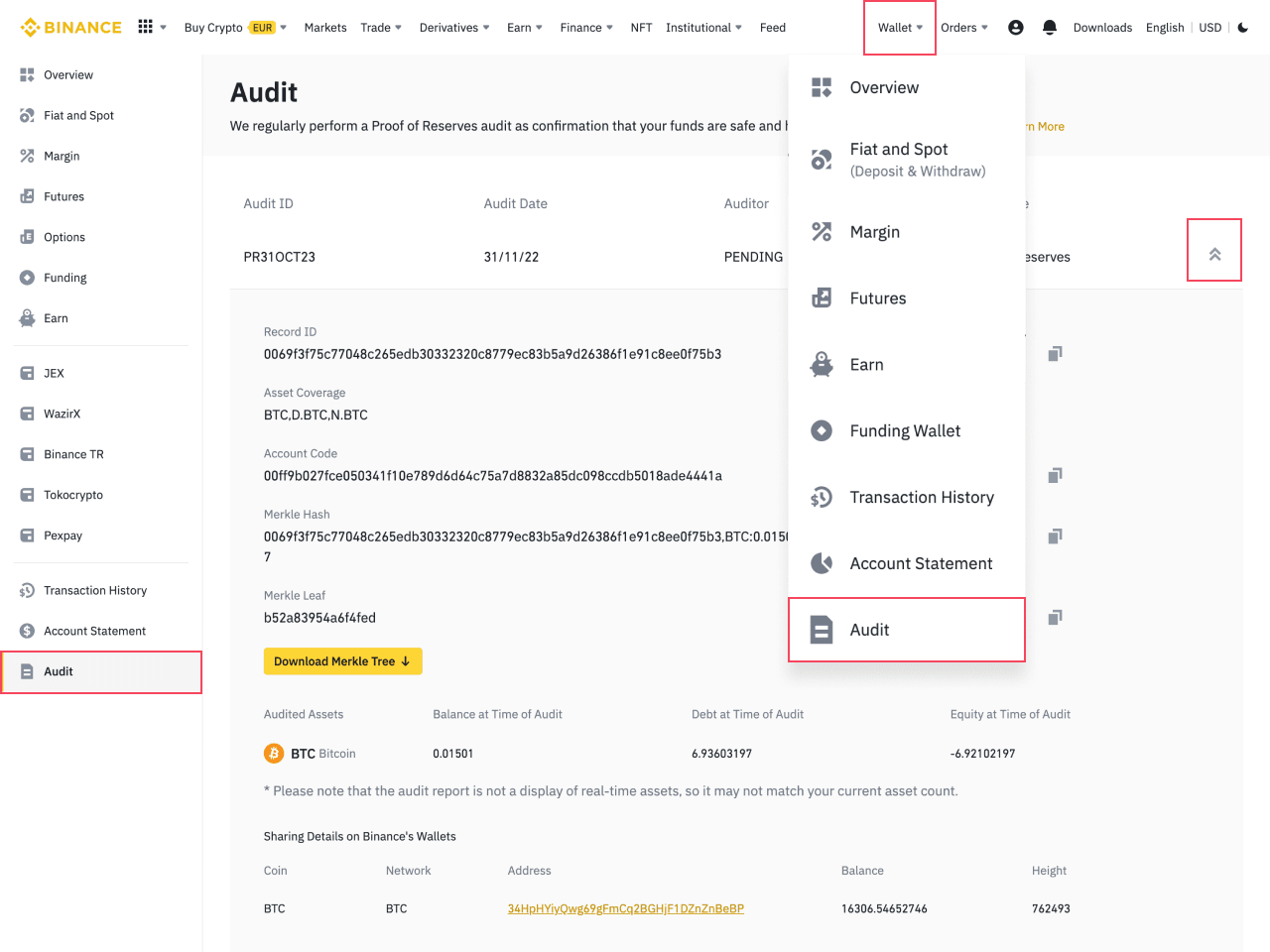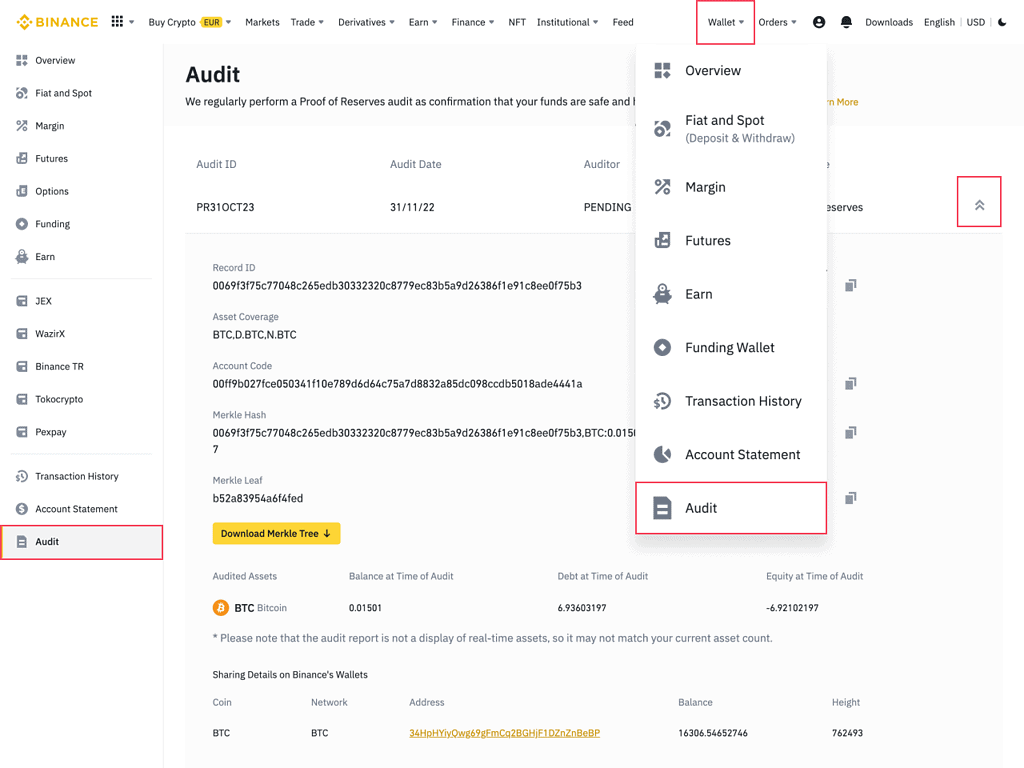 Binance Securely Controls Custodial Wallets
Mazars has also asked Binance to perform transactions at specific times to prove that the wallets were actually under Binance's control. This clarifies the situation in late November when Binance moved 127,351 BTC to an unknown wallet. According to the report, Mazars used Etherscan and BSCscan to check that the wallets indeed belong to Binance.
Moreover, Mazars reviewed the scripts that Binance uses to extract the total net deposits, making sure there was no duplicated or rigged user IDs. This confirms that Binance's Merkle tree is built with open source script developed by Silver Sixpence.
What This Means for Investors
Binance is the world's largest crypto exchange by trading volume, and is arguably the most used platform for all crypto users. After the collapse of FTX, Binance CEO Changpeng Zhao (CZ) was jokingly hailed as the "savior" of crypto, doing everything he can to repair the industry. However, Binance itself is no exception to scrutiny as a result of FTX's collapse. People need to know what centralized exchanges are doing with their money.
Binance's audit has cleared up a lot of doubt, restoring confidence in the exchange. However, there are still two issues raised by the crypto community:
A Step in the right direction
Overall, auditing centralized exchanges are essential for protecting users and ensuring that exchanges are operating in a safe and secure manner. By conducting regular audits, exchanges can help to ensure that their customers are protected and that they are getting the best possible service. Binance has also provided on-chain proof of funds using "Merkle" Proofs in November of 2022. This means that Binance has taken efforts to prove that both Fiat and Crypto deposits in their custody are safe.
FAQ
Is Mazars a reliable auditing firm?
While most of the community praises Binance's initiative, several Crypto Twitter users expressed concerns that Mazars is not one of the "Big Four" accounting firms: Deloitte, Ernst & Young (EY), PricewaterhouseCoopers (PwC), and KPMG. For the longest time, audits made by any one of the Big Four is the gold standard, and any other firms are deemed not "credible" enough.
This is reasonable enough seeing as FTX was in fact audited by smaller accounting firms. But that might not be the case for Mazars. Founded in 1945, Mazars is one of Europe's largest audit and accounting firms with global presence. In fact, Mazars was a longtime accountacy firm for former president Donald Trump. But after finding out Trump's business filings were not adding up, Mazars cut ties with his business. Given their track record, it is safe to say that Mazars is reliable as they conduct due diligence on any business.
Binance audit only accounts for BTC reserves
The audit only focuses on BTC assets for now. As of now, Binance does not have a proof-of-reserves system for other cryptocurrencies. But at the end of the day, this is a big step towards a more transparent ecosystem. Let's hope there will be more developments in the coming weeks.
References
Recently some users are reporting USD withdraw issues, CoinMagazine