Binance is the world's most popular cryptocurrency exchange with the largest organic trading volume. It has a wide range of cryptocurrencies being traded along with powerful trading tools such as leveraged trading, options trading and lending platform. The rapid addition of new features to Binance has often amazed experts in the cryptocurrency industry, with many critics commenting Binance CEO Zhao "CZ" Changpeng's rapid response to events. On top of the main Binance.com exchange, the company also has several uniquely featured versions including US branch Binance US, and Binance DEX. In this review, we highlight each of the various features and controversies that you need to know.
Key Advantages of Binance
World's most popular exchange with the highest trade volume.
Offers the largest range of products and services with some not even found elsewhere.
Maintains insurance against theft and hacks.
Key Features and Functions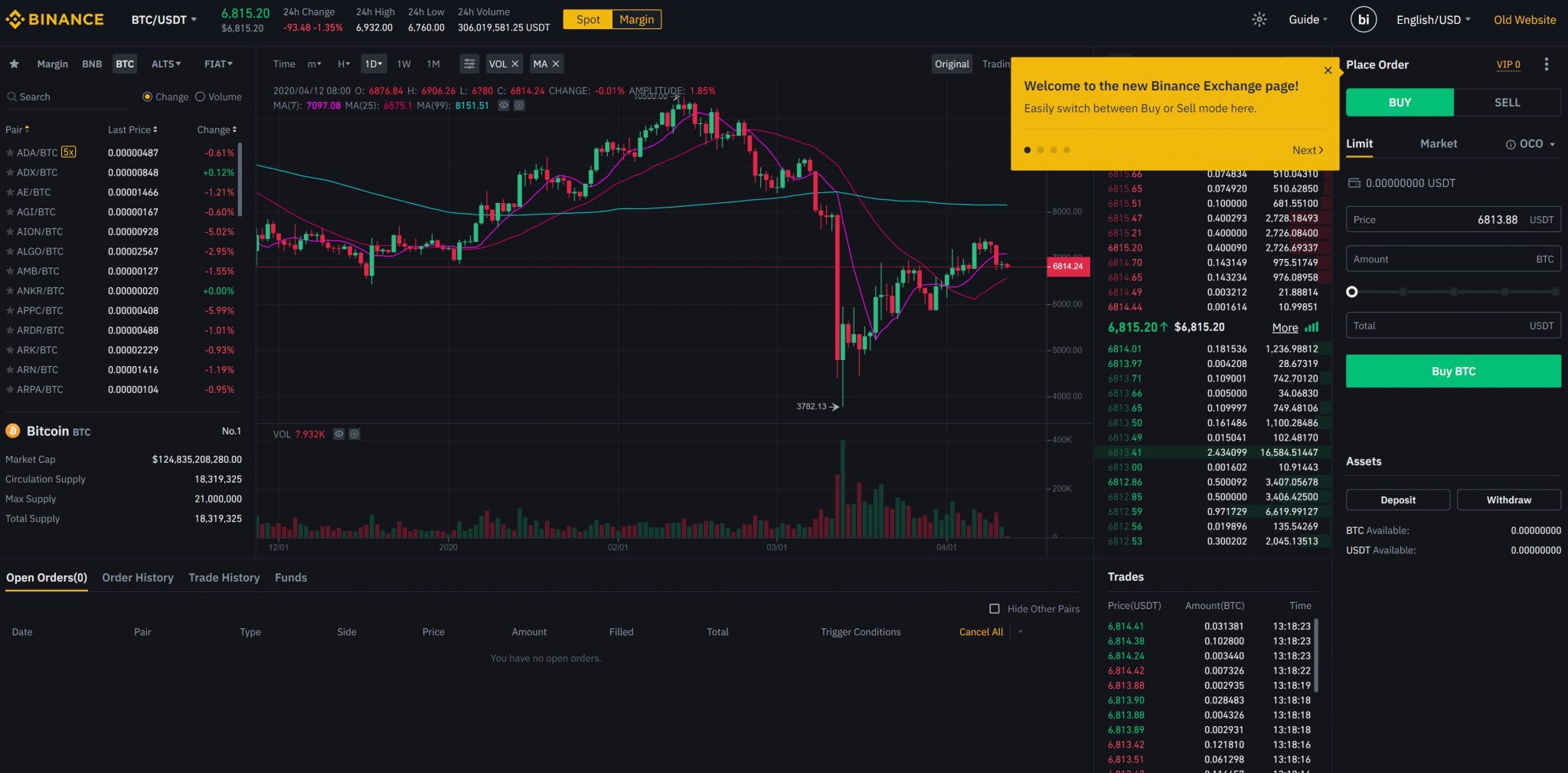 Binance (Binance.com)
The main exchange is Binance (Binance.com), it is most popular and has the full suite of services offered by the Exchange. Key features include:
Most supported cryptocurrencies (over 1,000 coins).
Owing to its popularity, it has the highest trading volume worldwide.
Access to Binance Launchpad, an Initial Exchange Offering (IEO) platform for listing of new cryptocurrencies.
Stop-Limit Function. The order will be executed once the given stop price has been reached. So the stop-limit order will become a limit order to buy or sell at the limit price or better.
Binance Lending. Users can hold their cryptocurrencies on the Exchange for a specified time period and earn interest.
Binance US (Binance.us)
Binance US (Binance.us) was Binance's answer to US regulations barring citizens from trading on Binance. Key features include:
US regulation compliant
Has fiat to cryptocurrency trading pairs. Users can use USD to buy cryptocurrencies directly on the Exchange.
Bank account linking is available.
History of Binance
Binance was founded by Changpeng (CZ) Zhao in 2017. The name comes from a combination of the words "Binary" and "Finance". Binance is originally from China. However, due to the harsh crypto regulation procedures in the country, the Exchange moved to more conducive jurisdictions outside China.
Currently, Binance is based in multiple jurisdictions. Their main site offers support in English, Chinese, Korean, Japanese, Russian, Spanish, and French.
Supported Countries
The international site Binance (Binance.com) is supported in most countries except the USA.
US citizens can ONLY trade on Binance US (Binance.us), except for those from the following states: Connecticut, Hawaii, Idaho, Louisiana, New York, Texas, and Vermont. Note however that Binance.us has fewer supported cryptocurrencies and features compared to the international site. This is so that Binance.us is compliant with US Laws.
Supported Cryptocurrencies and Payment Methods
Binance (Binance.com)
Binance supports trading over 1300 cryptocurrencies including its own cryptocurrency, Binance Coin (BNB). Learn more about Binance Coin (BNB).
Binance accepts payments using credit card (Visa and MasterCard), debit card and cryptocurrency. However debit and credit card payments are restricted in the following locations:
US: New York, Connecticut, Hawaii, Georgia, New Mexico and Washington;
Several Chinese banks; and
Some countries entirely e.g. Afghanistan, Iraq and Libya.
Users can only pay USD or EUR to buy Bitcoin (BTC), Ethereum (ETH), Litecoin (LTC), Bitcoin Cash (BCH/BCHABC) or Ripple (XRP) using debit and credit cards on Binance.
Binance is a crypto-to-crypto exchange only. So users must buy first the above cryptocurrencies using fiat, before they can trade with other cryptocurrencies on the Exchange.
Binance US (Binance.us)
Binance US only supports around 50 cryptocurrencies.
Users can use their debit cards to directly transfer USD from their bank accounts into their Exchange account via ACH or wire transfer.
Deposit and Withdrawal Fees
On Binance.com fees are charged based on the cryptocurrency to be transferred. For example, Bitcoin (BTC) withdrawals cost 0.0005 BTC per transaction. There are no deposit fees.
For fiat transfers, on Binance US, USD wire withdrawals cost USD15/USD35 for domestic or international withdrawals respectively. Deposits generally and ACH withdrawals are free.
Click here for the fee structures of Binance.com and Binance US respectively.
Trading Fees
Trading fees for Binance.com and Binance US are generally 0.1% for makers and takers with the following exceptions:
Binance.com and Binance.us: Users with larger trade volume or hold a specified amount of BNB are eligible to become VIPs. Higher VIP tiers give you lower trading fees. There is a 25% trading fee discount if fees are paid using BNB.
Binance has competitive trading fees compared to some other cryptocurrency exchanges. For example:
Binance KYC
Users do not have to complete the Binance KYC process in order to use the Exchange. Those who did not complete the KYC process will only be able to use the following features: fund withdrawal, order cancellation, position closing, and redemption.
Otherwise, Binance has 2 tiers of KYC status- "Verified" and "Verified Plus". For "Verified" status, users will need to submit their personal information, government-issued identification document, and complete the facial recognition process. This entitles users to fiat deposit and withdrawal limits of US$50k daily, unlimited crypto deposits, up to 100 BTC in crypto withdrawals, unlimited P2P transactions and the LPD/OTC/Binance card.
For "Verified Plus" KYC status, users will also need to provide proof of address. This entitles users to all the same functions as the "Verified" status. Verified Plus users also have a higher fiat deposit and withdrawal limit at US$200k per day (instead of US$50k only).
Controversies
Like any exchange, Binance is no stranger to controversies, making people question if Binance is safe. Let's take a look at some recent controversies.
Binance hack: 7,000 Bitcoins stolen
In early May 2019, Binance informed the public that hackers withdrew 7,000 Bitcoins (then worth about USD40 million) in a single large scale security breach. The Exchange says that hackers used a variety of techniques such as phishing and viruses to obtain its users' login data.
The Exchange used its SAFU fund- their emergency insurance fund to cover any affected users' losses in full.
Binance KYC Data Breach
In August 2019 a hacker alleged they had obtained a huge portion of the Exchange's Know Your Customer (KYC) data. The hacker set up several Telegram groups allegedly featuring this private data. The hacker also demanded a total of 300 Bitcoins (then worth around USD3.5 million) from the Exchange or else they would release more data.
Binance claims the leaked data was from February 2018 when the Exchange was using a third-party service provider for processing its KYC verifications. However, some commentators say that Binance should bear most of the blame for the incident.
To remedy the situation, Binance offered a reward to anyone who can provide information to identify the hacker. So far, the hacker has not been found.
Meanwhile, the Exchange offered lifetime VIP membership, and preferential trading fees and services to its affected users.
Binance accused of being a conduit for money launderers?
According to an investigation by Reuters, from 2017 to 2022, buyers and sellers on a Russian darknet drugs market known as "Hydra" had been using Binance to make and receive cryptocurrency payments worth US$780 million. The website is only accessible via the Darkweb and generally accepts cryptocurrency as a form of payment.
In response to the Reuters report, Binance disputes that the figures were "inaccurate and overblown" since it wrongly included indirect cryptocurrency flows in arriving at its figures. Representatives of Binance also state that they are seeking to further improve its ability to detect illegal activity on its Exchange and working closely with law enforcement to dismantle criminal networks that utilise cryptocurrencies.
Since August 2021, Binance has stepped up on its know-your-customer (KYC) requirements including requiring both new and existing users to submit identification in order to use most of the features on the Exchange. According to figures from Crystal Blockchain– a blockchain analytics firm, since Binance tightened its KYC requirements the monthly total of funds linked to Hydra Market that have allegedly flowed through Binance has decreased significantly from over US$30 million per month to less than US$1 million per month in the first quarter of 2022.
Is Binance safe in 2023?
Binance, as the world's largest exchange would clearly be a prime target for hackers. Indeed the 2 hacks in 2019 demonstrated this. However, Binance has an asset fund as insurance, which the exchange used to fully compensate victims of the said hacks.
Binance has also provided proof-of-reserves showing they have sufficient funds to cover users' assets 1:1 plus additional reserves. To learn more about the audit of Binance's reserves, check out: Binance Audited by Mazars, Confirms Bitcoin Reserves are Fully Collateralized
Binance also deserves credit for being able to overcome every wave of bad press or rumours coming its way so far. In December 2022, there were rumours Binance had insufficient reserves to meet clients' deposits. During that time, many traders withdrew funds from exchanges, which Binance nevertheless fully and efficiently handled.
So is Binance exchange safe in 2023? It would appear so, as they have previously fully compensated victims of hacks, provided proof of reserves, and handled large volumes of withdrawals.
However, we emphasize that no exchange is 100% safe. Hence we emphasize the importance of removing your cryptocurrencies off of exchanges and storing them in offline hardware wallets. It is the only way in which you keep full custody of your cryptocurrencies.
Which hardware wallet should you get? Check out our comparison of the top 3 hardware wallets on the market. Or individual detailed reviews for the Ledger Nano X, Trezor Model T and KeepKey.
You can also check out my video review comparing the Ledger Nano S (the predecessor to the Nano X), Trezor Model T, and KeepKey here.
Conclusion: Binance Pros and Cons
Pros
Exchange with the world's largest trading volume.
Track record of taking steps to remedy affected users when hacked.
Competitive trading fees.
Large amount of supported cryptocurrencies.
Offers lots of unique services and features.
Cons
Creating a basic KYC-verified account can take up to 13 days.
Available in the US via Binance.US. But this has fewer supported cryptocurrencies and features.
Frequently Asked Questions (FAQs)
Is Binance Jersey closed?
Binance Jersey closed on 31st December 2020 at 23:59 UTC.
What can I do if I still have funds on Binance Jersey?
Users with remaining funds on Binance Jersey can contact Binance's Customer Service Team to retrieve their funds.
What is Binance DEX?
Binance DEX (Binance.org) is also known as Binance Chain.
Key features include:
It is a decentralized exchange developed on Binance's own Binance Chain blockchain;
Users maintain custody and control of their private keys and funds. This means that users' funds are much less vulnerable to hacks or exchange closures; and
Only limit orders are accepted. Unlike other exchanges, Binance DEX does not match orders continuously. Rather, it matches open orders received using a periodic auction.
Learn more about Binance DEX here.
Does Binance require KYC?
Users must complete the KYC process in order to access all the features on the Exchange. Those who have not completed the KYC process are limited to fund withdrawal, order cancellation, position close and redemption functions on the Exchange only.
What is the difference between Binance KYC "Verified" and "Verified Plus"?
For "Verified" status, users will need to submit their personal information, and government-issued identification document, and pass facial recognition. Verified Plus requires additional proof of address, but in return will be entitled to higher fiat deposit and withdrawal limits.
How do I send Bitcoin to Binance?
In your Binance account, go to "wallet", then under "deposits" click on "crypto deposits". Select "Bitcoin" and the network you wish to use. Note that different networks may charge different fees. You will see a string of numbers and letters which is your deposit address. Copy and paste this deposit address into the platform or wallet you want to send your Bitcoin from and follow the instructions there.
How do I send crypto to Binance
Your Binance account will have different wallet addresses for different cryptocurrencies. On your Binance account, click "wallet", and under "deposits" click on "crypto deposits". Select the cryptocurrency you would like to deposit and the network you wish to use to process the transaction. Copy and paste the deposit address into the platform or wallet you want to send your cryptocurrency from and follow the instructions there. Before sending, CHECK carefully the deposit address, amount, and network so as to avoid any losses.