*Update: Added information about Binance Chain Memos and new withdraw panel
Binance just launched the Mainnet for Binance Chain – and there are significant changes such as a "BNB token swap" that you MUST know about. The Binance Token (BNB) will no longer be on the ethereum chain (ERC-20 Token), instead it will be fully migrated to Binance chain (BEP-2). This means if you hold BNB on an ethereum wallet, you must pay special attention or you might accidentally send it to the wrong address.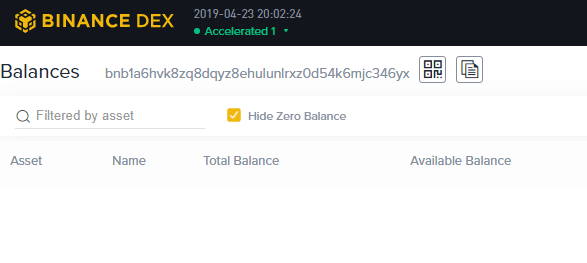 Read more about Binance and features in our Binance Exchange Review
Binance BNB Token Swap
Binance has started the token swap for $BNB tokens. In the future, BNB address will begin with "bnb……" format instead of the ethereum "0x…" address.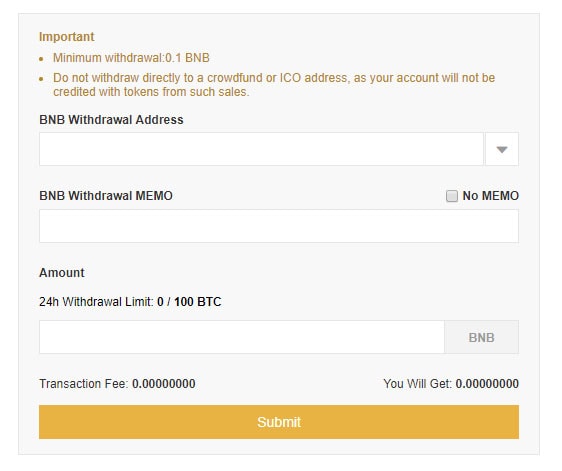 BNB kept on Binance.com will automatically be swapped – no manual operation required. The new withdraw page will automatically use the Binance Chain address.
To deposit Ethereum based tokens based on the ERC-20 standard, $BNB tokens can be sent to the Ethereum deposit address on the Exchange.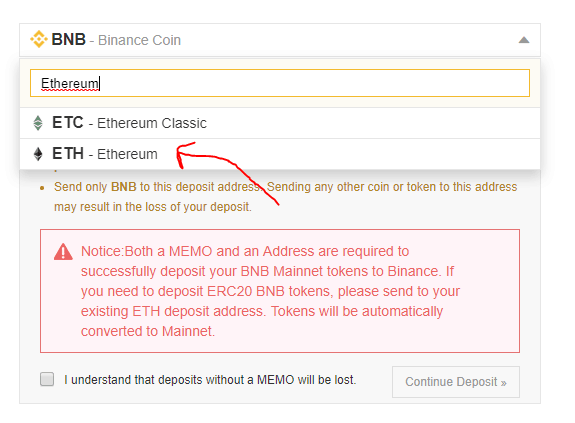 Once ERC20 BNB is deposited into the exchange, the token will be automatically swapped.
BNB Token Supply and Functionality
In terms of total supply, the amount of BNB remains the same. The initial supply of BNB will be 200,000,000 and 11,654,398 BNB will be burned on Binance Chain. Binance will burn ERC20 BNB tokens to keep the total supply constant as the token swap takes place
Binance DEX
Binance DEX has officially launched at Binance.org. This Decentralized Exchange is designed for advanced users who want to keep self-custody of their cryptocurrency assets (as opposed to centralized exchanges where funds are kept by exchanges).
Currently Binance DEX support their own token standard, the BEP2 token. For coins to be listed on the DEX, they need to be migrated to the Binance Chain. Whether coins are willing to migrate depends on what features they need:
Faster transactions – Accelerators and small number of Validators mean confirmation times are much faster
Centralized – Validators are pre-authorized and consensus is not open to general public
No smart contract support – Binance Chain is transaction only
Binance to Challenge Ethereum as top Token Issuance Platform?
With the introduction of the BEP2 token standard, Binance Chain can allow projects issue tokens via Initial Coin Offerings (ICO) or Initial Exchange Offerings (IEO). This feature allows BinanceChain to rival the ERC20 standard Ethereum which has been used by many popular projects such as Basic Attention Token (BAT) and OmiseGo (OMG). What sets BEP2 tokens apart is that it has a faster confirmation time and access to Binance DEX.
Whilst many have questioned if the success of Binance Chain would mean the demise of Ethereum, CEO Changpeng Zhao has denied this claim.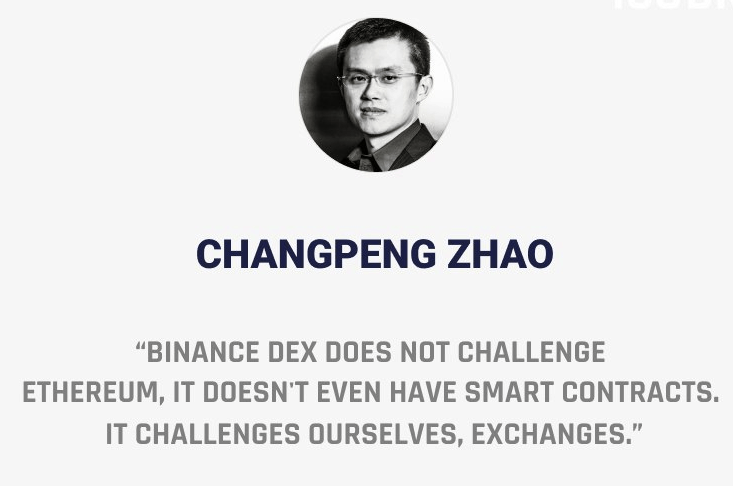 Currently Mithril (MITH) has chosen to migrate to be the first token to be migrated to the Binance Chain.
Disclaimer: Cryptocurrency trading involves significant risks and may result in the loss of your capital. You should carefully consider whether trading cryptocurrencies is right for you in light of your financial condition and ability to bear financial risks. Cryptocurrency prices are highly volatile and can fluctuate widely in a short period of time. As such, trading cryptocurrencies may not be suitable for everyone. Additionally, storing cryptocurrencies on a centralized exchange carries inherent risks, including the potential for loss due to hacking, exchange collapse, or other security breaches. We strongly advise that you seek independent professional advice before engaging in any cryptocurrency trading activities and carefully consider the security measures in place when choosing or storing your cryptocurrencies on a cryptocurrency exchange.