Ledger Nano X is the next generation of Hardware wallet with smartphone support, a larger screen and more storage space for Apps. Retailing for $119, the Ledger Nano X is great for newcomers or experienced traders trading more than 3 types of cryptocurrencies at at time or large volumes on the go. If more apps and mobility isn't a big concern, stick with the Ledger Nano S.
In this review, we'll be looking at the security, hardware design and cryptocurrency support of the Ledger Nano X to tell you if this device is worth purchasing or not. For Set-up and installation guides, check out our full Ledger Nano X guide.
FREE SHIPPING ONLY UNTIL 23 MAY!

Key Features of the Ledger Nano X:
Larger screen – Displays full cryptocurrency addresses without scrolling
Mobile support – (Android and iOS) support via Ledger Live Mobile
More storage space – Install up to 100 different apps for different coins.
Rechargeable Battery – allows the device to be powered-on without a cable.
Ledger Recover – A new (albeit controversial) seed phrase recovery subscription service. Learn more here.
Latest features: stake, swap, earn and lend cryptocurrencies
Staking and earning
Ledger Live allows for staking Tezos ($XTZ), Tron ($TRX), Cosmos ($ATOM) and Algorand ($ALGO). Users can lock up these cryptocurrencies to secure their respective networks and in return they will be paid interest for doing so. This feature expands Ledger into more than just a secure place to store your cryptocurrency, it can even help you grow your digital assets.
Staking your digital assets can be done in 3 simple steps. First, freeze your assets by logging onto your Ledger Live, choosing the relevant account for the asset you wish to stake and click "earn rewards". A popup window will then appear. There you will be allowed to select the amount in your wallet you wish to freeze. Secondly, vote for your validator(s) who will be making the blocks on your network and the cryptocurrency earned by making these blocks will be redistributed to voters. Lastly, claim your rewards by clicking "Claim" in your relevant account. Rewards are claimable every 24 hours.
Swapping
Ledger has released a Ledger Swap feature which allows users to exchange their cryptocurrencies through their partner Changelly. How this works is you send your cryptocurrency from your device to Changelly, and Changelly sends you back the swapped cryptocurrencies.
To use this feature you will need: Ledger device, Ledger Live, the app for the crypto you want to swap and receive, and finally the exchange app.
Lending
Ledger is working with Compound ($COMP) to allow users to lend DAI, USDT and USDC through Compound's decentralised finance (DeFi) protocol. The purpose of doing is is that the lender could earn an Annual Percentage Rate.
Further, there are numerous benefits when using Ledger to lend:
Control: You have control and proof that the crypto you lend and generated interest belong to you. This is because lending on Ledger is done through Compound, and when you lend on the platform you get "cTokens" in return. These cTokens represent proof of your ownership of the cryptocurrencies lent and the interest generated. These cTokens are stored by you until you want your lent assets and interest back, and in which case all you need to do is to send the cTokens back to the smart contract.
Security: cTokens are stored on your ledger hardware wallets.
Convenience: Compound's lending features are available directly through Ledger Live.
Lending crypto using Compound and Ledger Live is done in 3 simple steps. Firstly, on Ledger Live's Manager, install the application for the cryptocurrency you want to lend and create an account. Secondly, enable your account to authorise Compound's smart contract to interact with your account. Finally, select the amount of cryptocurrencies you want to lend and issue a transaction to Compound, verify and approve the transaction on your device.
Security features
One of the key reasons to buy Ledger hardware wallets is the firm's reputation for security. The Nano X contains a two processor chips:
Secure Element: ST33J2M0 (secure) is independently certified and stores the private key and signs transactions
Operating system: STM32WB55 chip is responsible for Ledger's BOLOS proprietary Operating System.
Secure elements are separate pieces of hardware (second layer of security) with their own storage and limited functionality that cannot be breached by hackers. This means that even if the Ledger Nano X is connected to a compromise device – like a hacked laptop or phone, the private keys (=access to crypto funds) is never compromised. Devices like the Trezor One and Model T do not have secure elements and only have a single layer of security.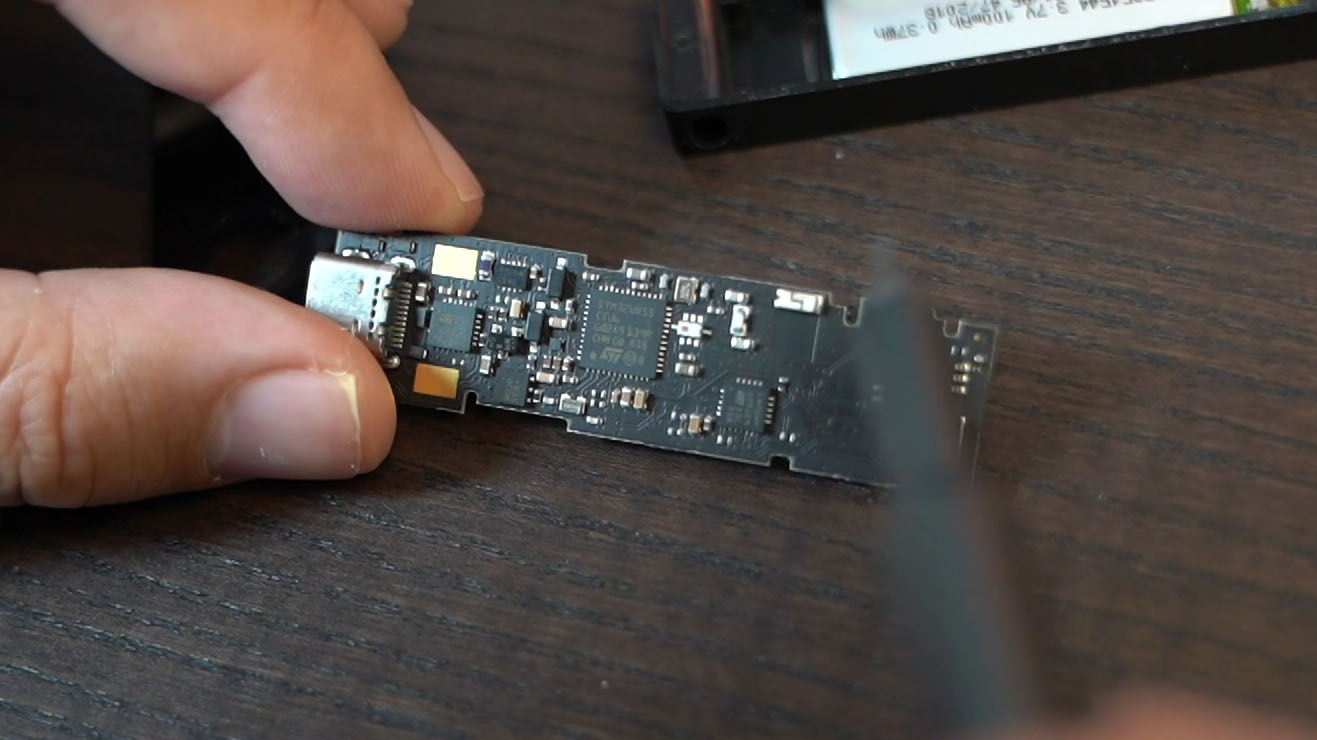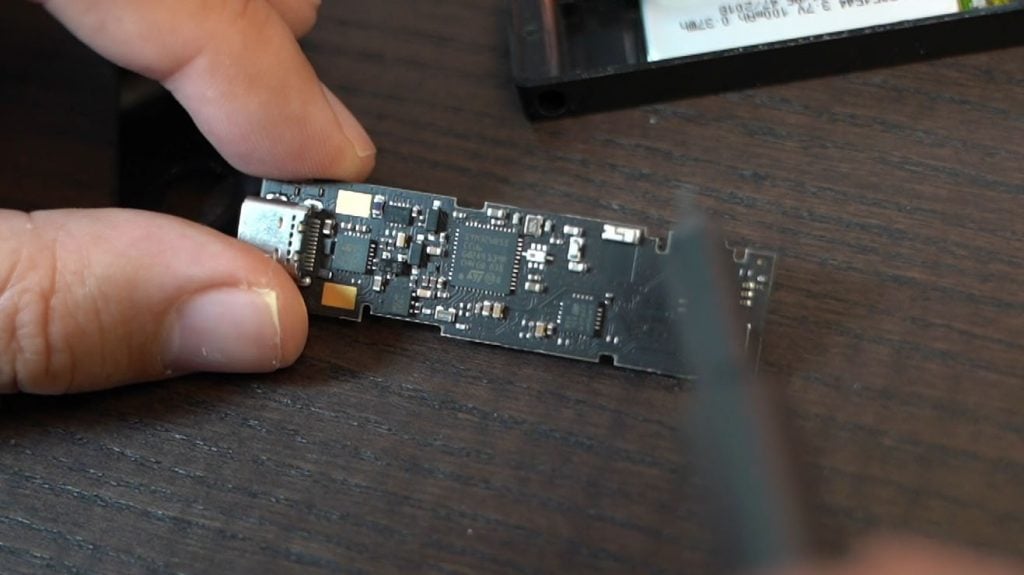 The Ledger Nano X also has the same BOLOS operating system that is found on the Nano S. BOLOS ensures that addresses are displayed properly on the device and handles connections to external devices.
Similar to the Nano S, users can set up wallets protected by a passphrase in addition to your primary PIN code. So say a thief demands you to unlock your device, you can give them the PIN code to access wallets with fewer funds. Whilst hiding the bulk of your crypto assets behind passphrase protected wallets.
The Nano X has the addition of Bluetooth support. Unfortunately Bluetooth's security record is not spotless, and presents a new vector of attack for the device. Ledger CTO Nicolas Bacca has stated during an interview that Bluetooth on Ledger functions assuming the connection has been compromised – at no point will it be able to take over the device.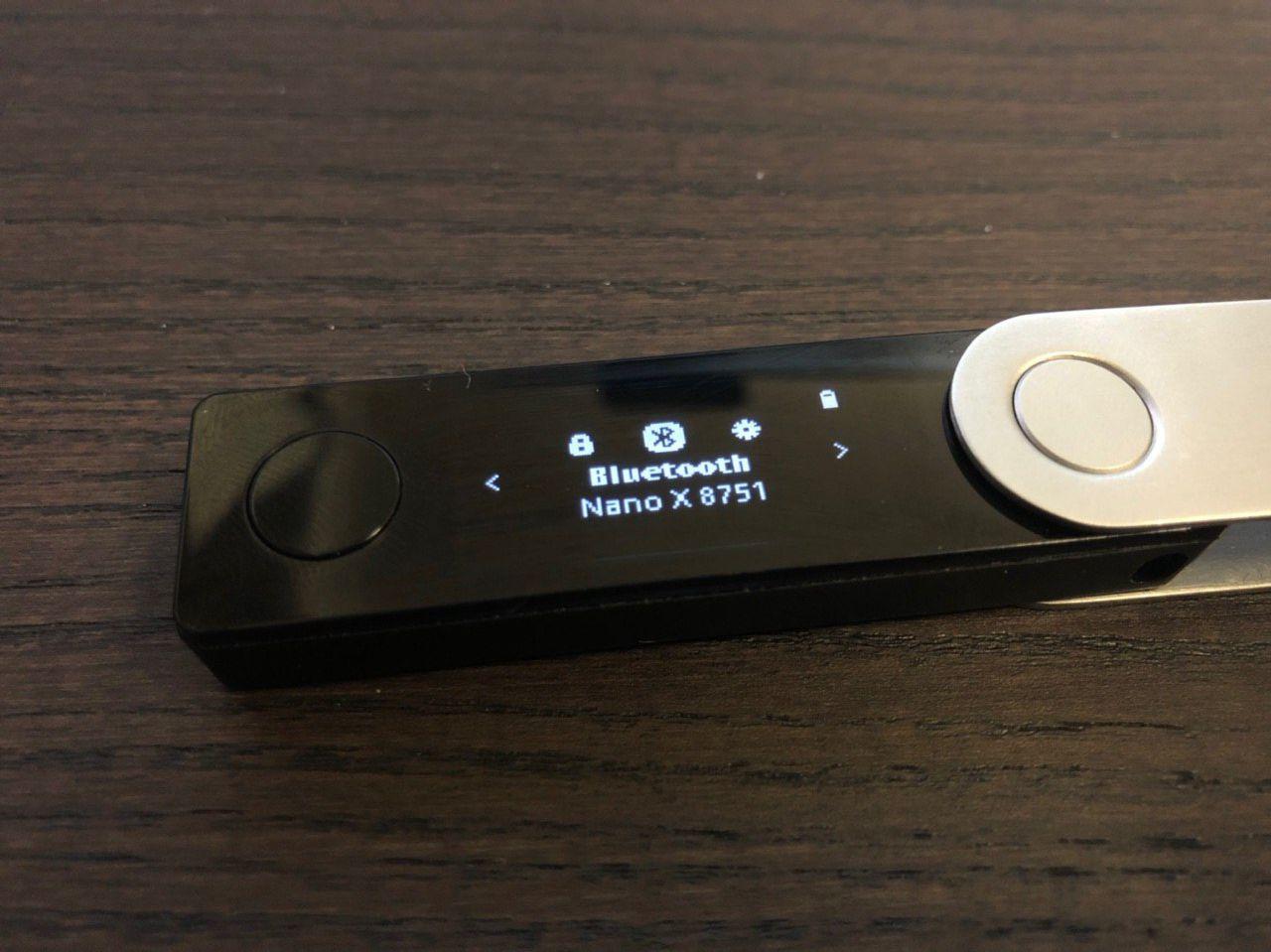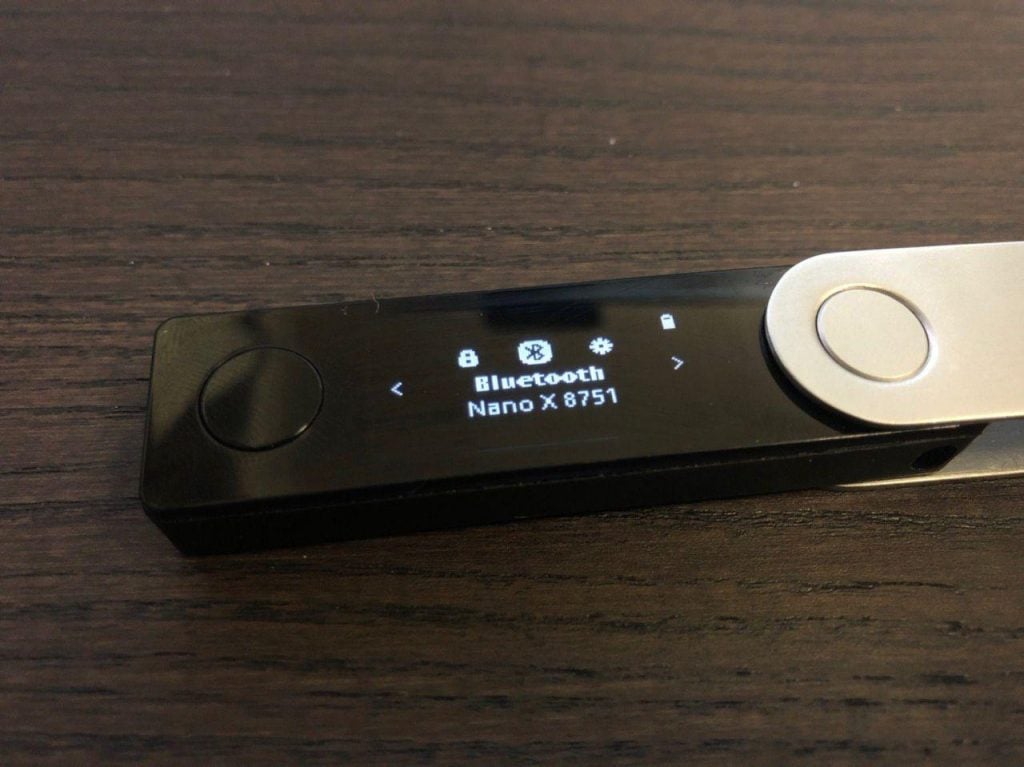 In October 2019, the Nano X received CSPN (First Level Security Certificate) certification issued by the ANSSI (National Agency for Information Systems Security). Currently, of all the cryptocurrency hardware wallets on the market, only Ledger's Nano S and Nano X have this certification. The certification scheme evaluates multiple aspects of a device's security including firewall, identification, authentication and embedded software by putting it through multiple attack scenarios.
Ledger hack
In July 2020, Ledger confirmed they suffered a data breach whereby an unauthorised third party accessed Ledger's e-commerce and marketing database. As a result, around 1mil email addresses were exposed, and of those, 9,500 customers' had further information exposed such as their first and last names, postal address, phone number and ordered products.
Ledger had reported the matter to authorities and are working with Orange Cyberdefense to investigate the matter. The team are also constantly monitoring for evidence of the data being sold on the internet.
Subsequent to the data breach, users have been reporting receiving phishing emails and texts by asking them to download a new version of the Ledger software. If users click on the link in the email, they will be redirected to a fake cloned version of the Ledger site. Afterwards, if users download the "update", which is in fact a malware, it would ask users for their Ledger's recovery phrase. The entered recovery phrase is then used by the attacker to recover the user's wallet and send the user's cryptocurrencies to the attacker's wallet. For a full explainer on how the phishing attack works see the report from Kraken.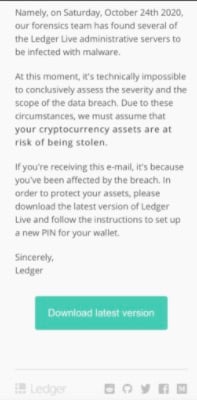 We do note that this can be more accurately characterised as a "data breach" rather than a hack. More importantly, this breach had no link or impact on the Ledger hardware wallets or the Ledger Live app. Cryptocurrencies stored on the Ledger devices have never been at risk.
5/5 Security Rating
Multi Currency Support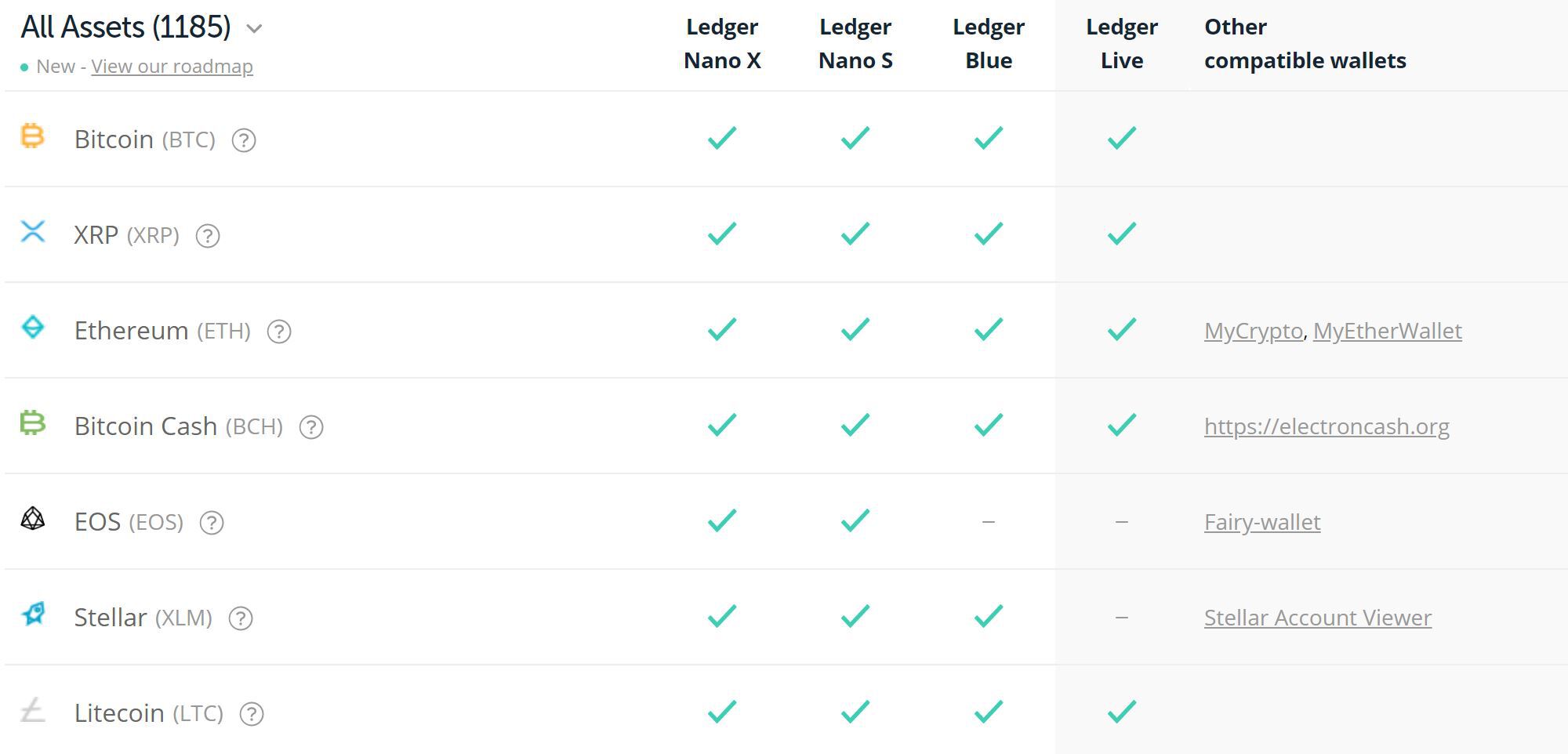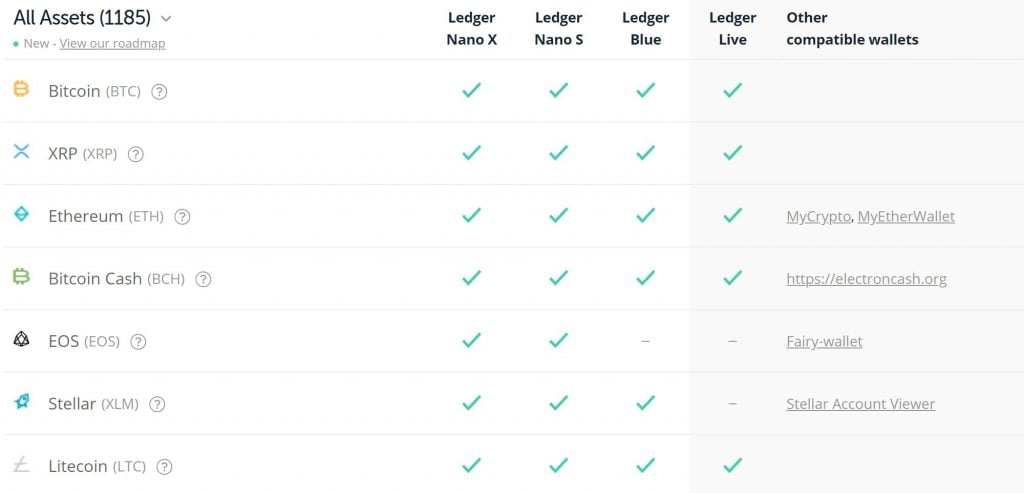 Ledger has one of the most diverse support for different cryptocurrencies such as NEO, Vechain and Monero. With their open policy to development from project teams, the Ledger nano X supports 1100+ different assets. Many of these assets like Vechain or NEO are not found on competitors like the Trezor Model T or KeepKey, making Ledger the only hardware wallet available for many coins. The rule of thumb here is that the Nano X will support the same assets as the Ledger Nano S.
Installing Ledger Live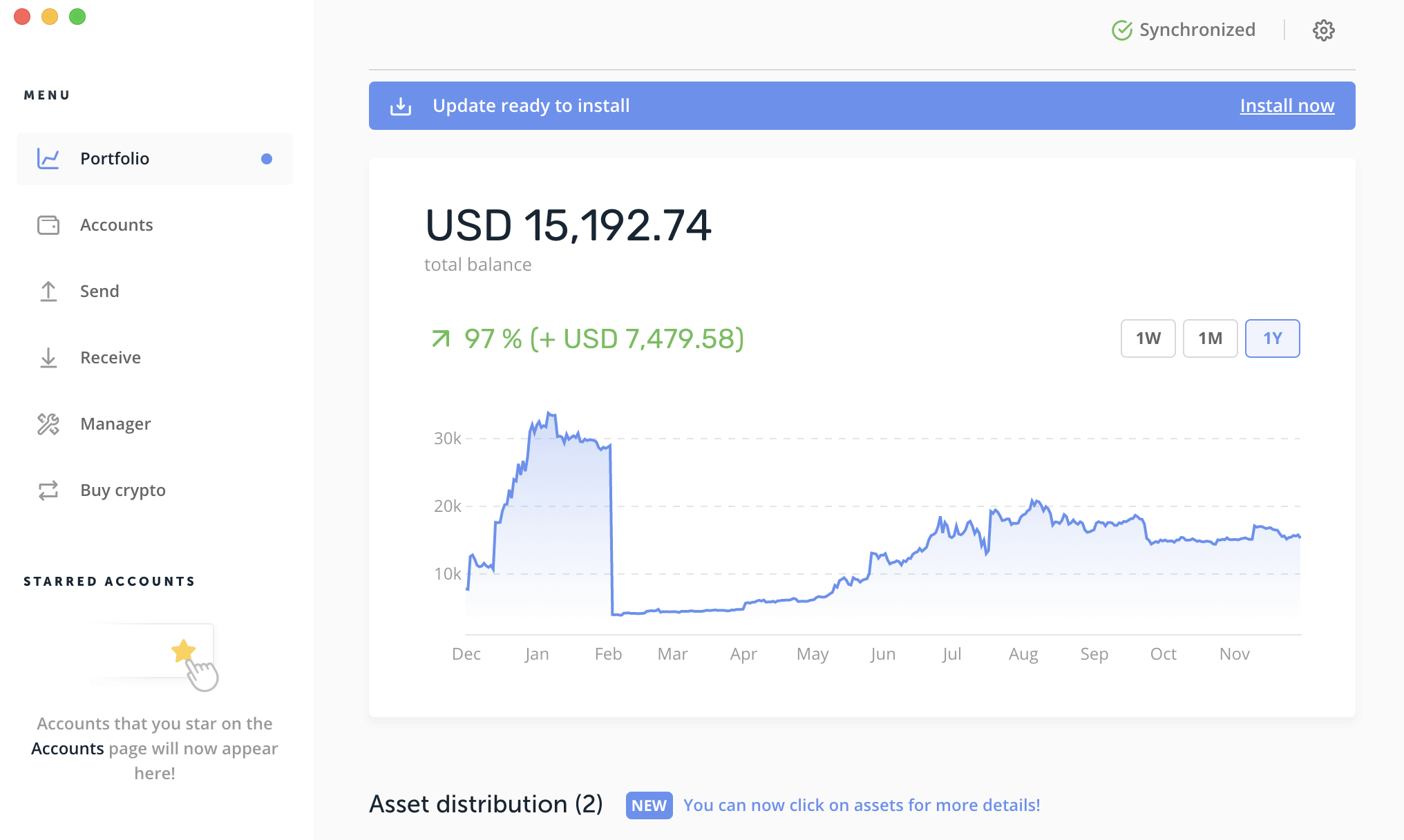 Ledger has a native application called Ledger Live to allow you to access cryptocurrency accounts (including Bitcoin, Litecoin Ethereum and other cryptocurrencies). Ledger Live is available on multiple platforms including Windows, MacOS, Linux, Android and iOS. We found the Ledger Live app easy to use as it clearly displays cryptocurrency assets with historical charts. Sending cryptocurrencies is extremely easy with step-by-step operation which clearly displays the sender and receiver addresses. There are also advanced features to manually customise the transaction fee in sat/byte.
How many coins can Ledger Nano X Hold?
One of the weakness of the Nano S is the lack of space for installed applications. The Ledger Nano X fixes this problem by increasing the internal memory to 2 MB. In our tests we were able to install all 73 available apps on the device (Ledger claims up to 100+). It should be noted that app storage is a convenience feature – apps will still retain their accounts / cryptocurrency balances even if uninstalled.
Does Ledger Nano X support Ethereum and ERC-20?
In September 2019 Ledger added a native Ethereum Wallet to its latest Ledger Live v.1.14.0 which adds support for 22 coins and over 1,250 ERC-20 tokens. This allows for direct access to tokens and ethereum whilst on the go without the need for a 3rd-party interface like MyEtherWallet. This is a welcomed upgrade to Nano X users who previously had to use different interfaces depending on the cryptocurrency you wanted to interact with. It will also certainly be welcome to newcomers to cryptocurrency, who may be confused by the different interfaces.
One of our complaints is that Ledger Nano X has to enter each app separately account – something that is not necessary on the Trezor Model T.
Is Ledger ready for Ethereum 2.0?
Ethereum 2.0 is coming soon with the first Phase 0 Beacon Chain to be launched in December 2020. Leading up to this, Ethereum stakers need to deposit at least 32 Ether onto the Beacon Chain using a deposit contract. Therefore Ledger has updated the Nano X's new firmware version 1.2.4-5, in which the Ethereum application update to version 1.6.0 allows users to sign a deposit contract transaction directly on the Ledger Nano X. This feature is EXCLUSIVE to the Ledger Nano X.
In the future, users would be able to use their Ledger Nano X to derive an Ethereum 2.0 public key and validate that the withdrawal public key used in the deposit contract does actually belong to the Ledger device. The Ledger team are also working on a second Ethereum application which would allow stakers to securely sign blocks on the Beacon Chain.
5/5 Multi Currency Support
Hardware Design
The new Ledger Nano X has two hardware buttons – hidden in the circular design of the cover pivot. These two buttons allows us to access menus (hold both buttons), make selections (press both buttons), and even input recovery phrases (use buttons to scroll). We found that entering PINs and recovery phrases to be tedious with only 2 buttons – perhaps a touchscreen or additional buttons could of helped.
Nano X has a larger screen with higher resolution. This means that full cryptocurrency addresses could be displaced without scrolling – something that was sorely lacking in the Nano S.
The Nano X uses a modern USB-C interface for charging and connecting to the PC. This is a welcomed upgrade as the computing world migrates to USB-C.
The Nano X also now comes in 3 colours: Onyx Black, Blazing Orange and Cosmic Purple.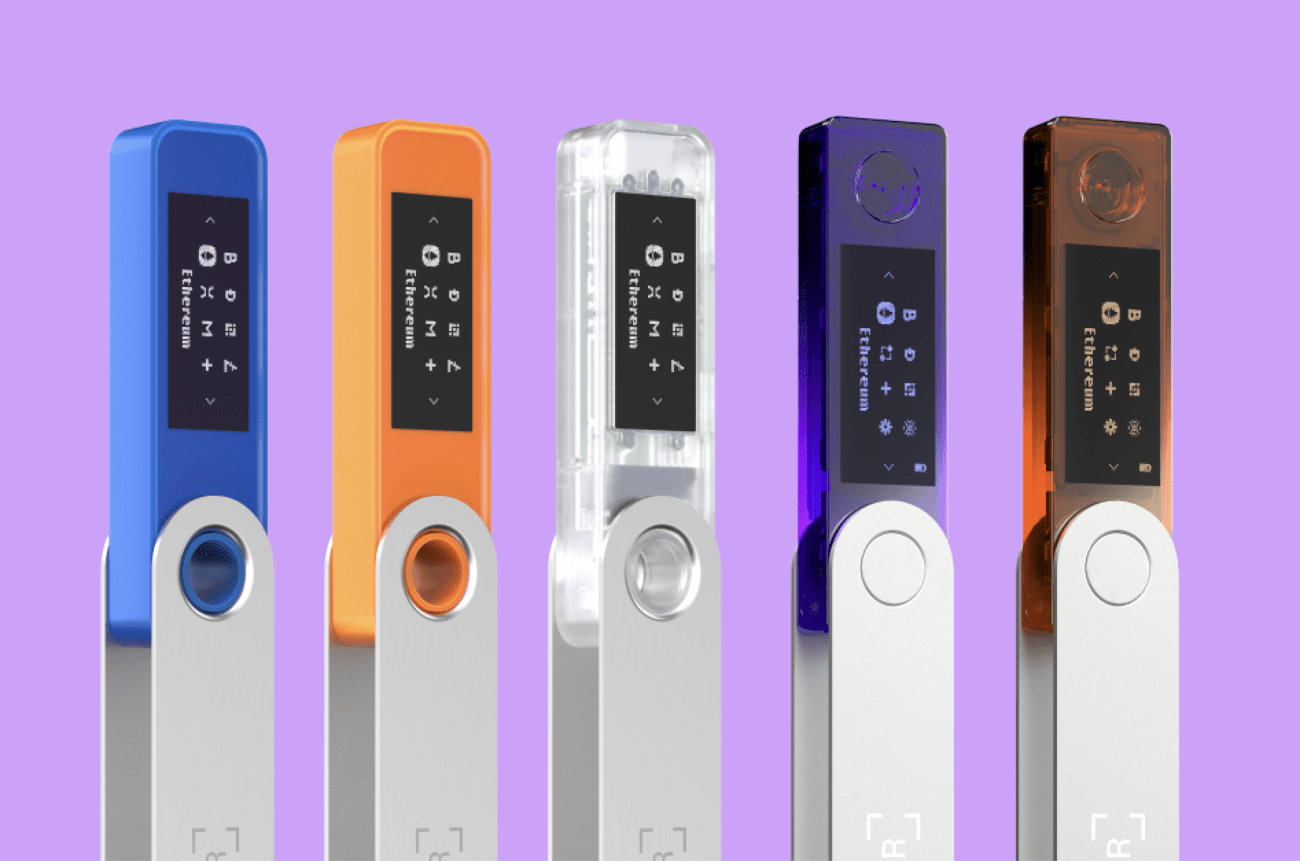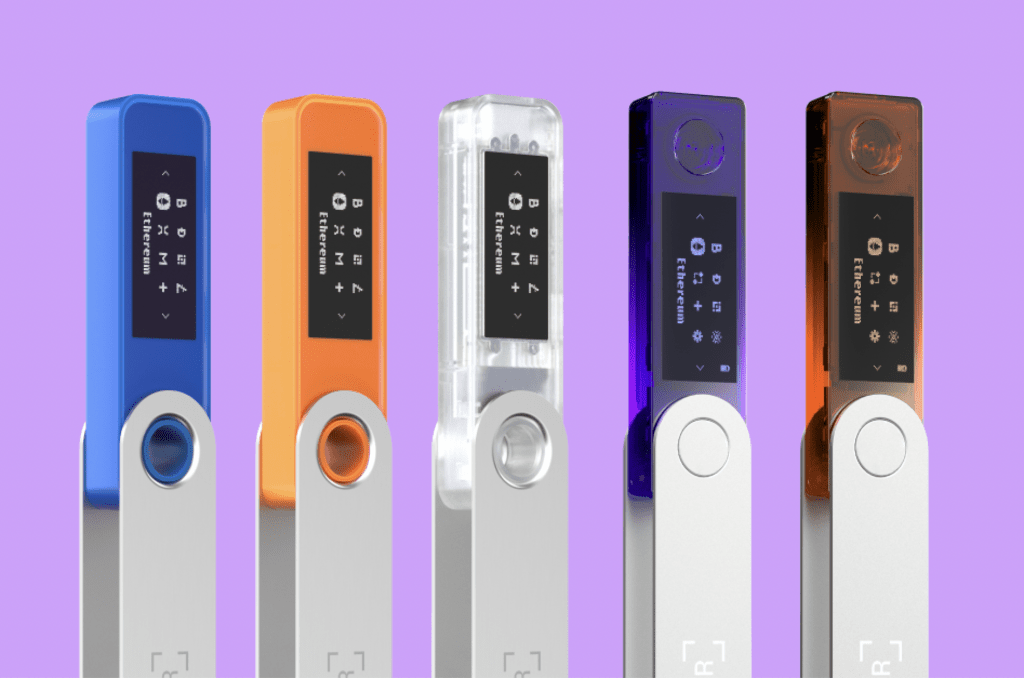 4/5 for Hardware Design
3.5/5 of Ease of Use
Mobility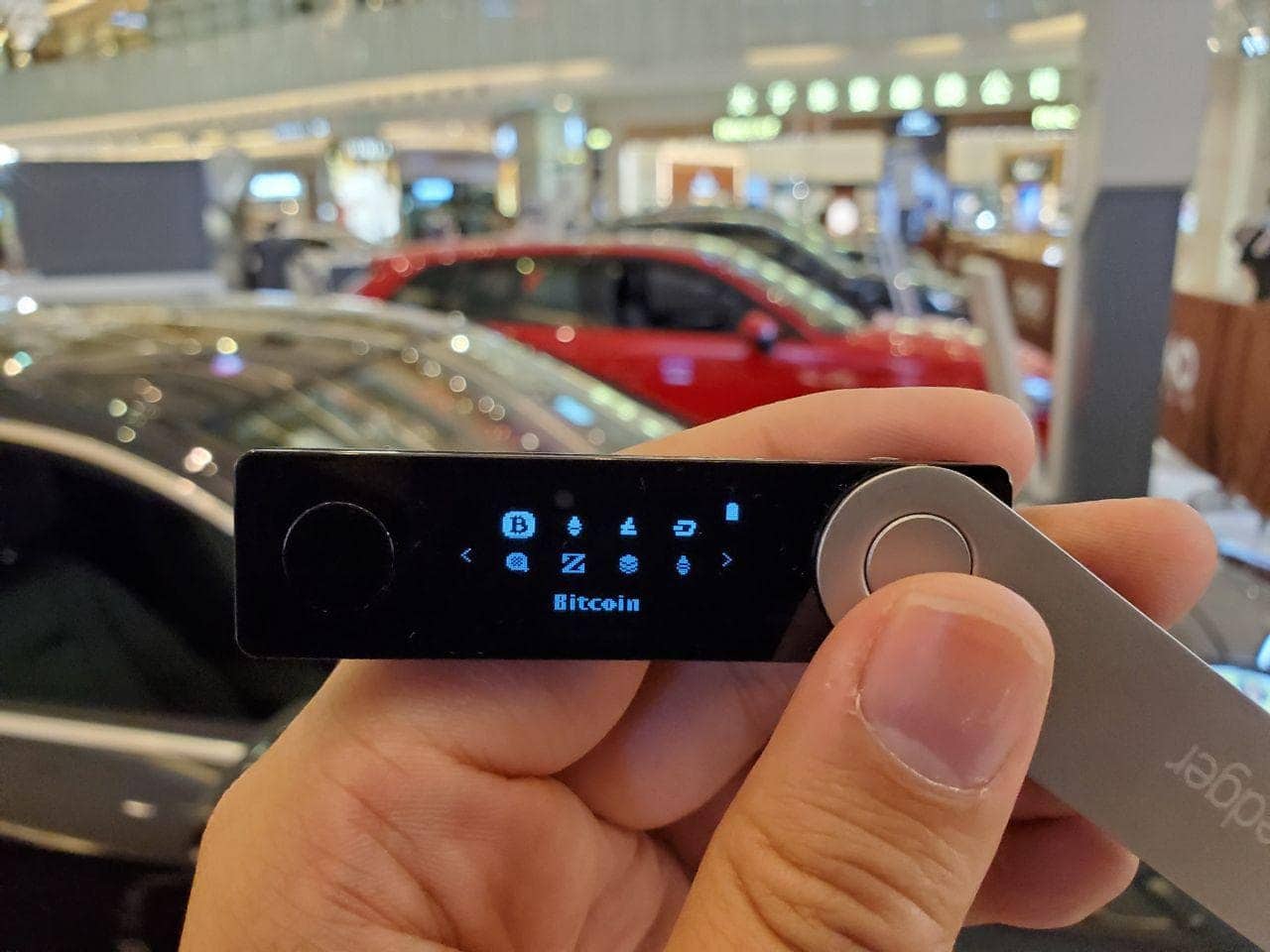 Ledger Nano X can be used with mobile devices, and transactions can be sent on the go using the Ledger Live app on mobile. We found this feature to be very situational. Whilst it is helpful to be sending crypto on the go with the security the Nano X provides, the convenience is lacking when compared to mobile wallets like the Enjin Wallet. A separation confirmation set is needed: unlock device via PIN, enter the cryptocurrency app, check and confirm the transaction. This feels tedious and not suitable for simple coffee purchases or small transactions. What does make sense is perhaps large purchases (a car or house?) or token sale investments. However, the question remains, how frequently do we need to send large amounts of crypto on the go?
How do you Update the Ledger Nano X
Ledger periodically releases updates for the Ledger Nano X to improve security, functionality and coin support. In fact, firmware updates are required in order to get support for the latest cryptocurrencies. In order to update the firmware, plug the Nano X into your computer and run the Ledger Live app. The app will automatically display your version number and show any available firmware updates. To initiate the update, click the update button and confirm the installation in the Nano X by pressing down both buttons when prompted to "allow ledger manager" to access the device.
Ledger Nano X worth the upgrade?
At $119, the Ledger Nano X is not a budget device – it commands a certain price premium making the upgrade decision harder for many users. For many, the deal breaker convenience features – the large screen that displays full cryptocurrency addresses and larger storage for more apps. If these features are important for you, then the Nano X is worth the upgrade. However, if you only need a few apps, the budget friendly Ledger Nano S is a better option at $59.
Ledger Nano X compared with Trezor Model T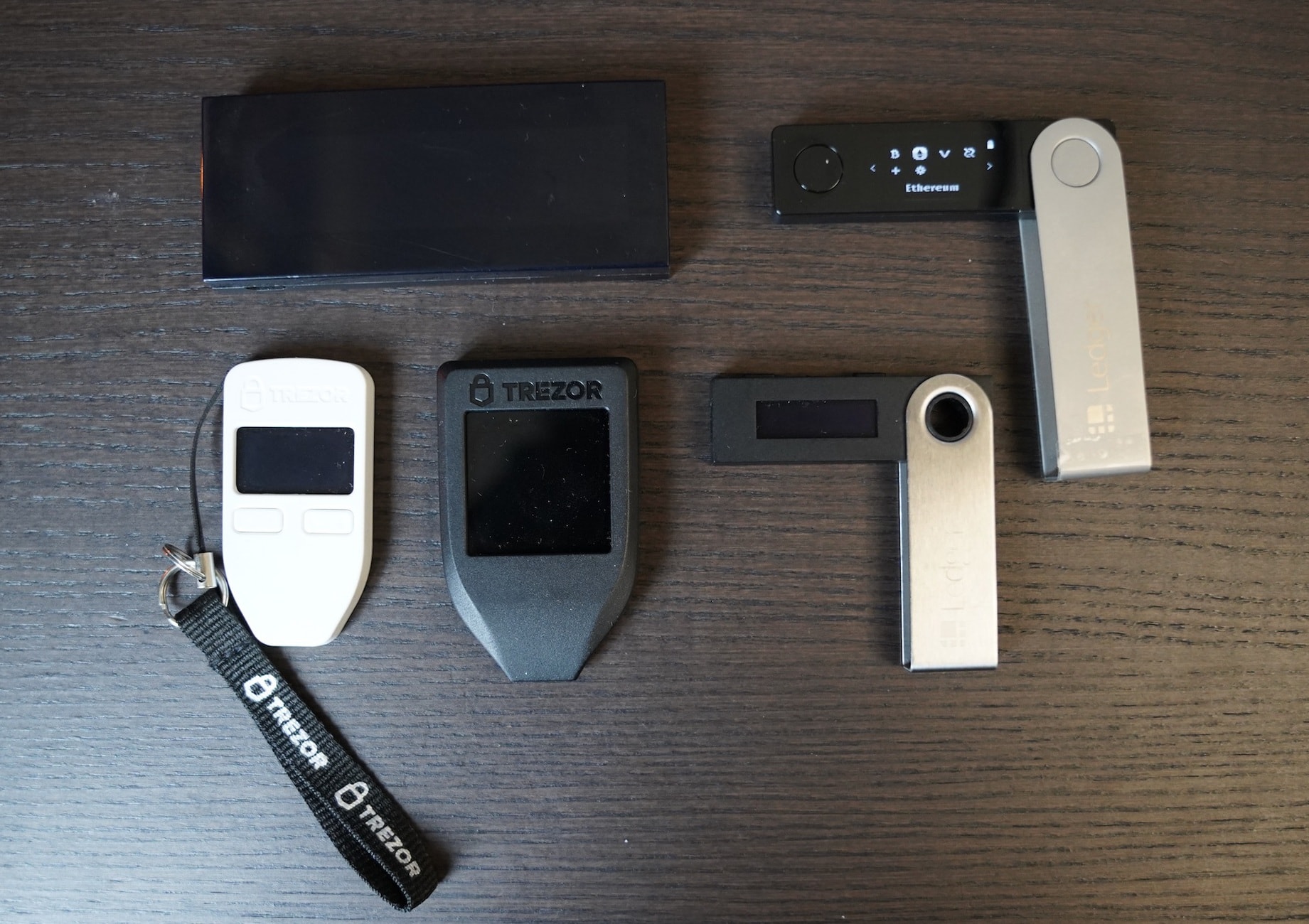 The biggest difference between the Ledger Nano X and the Trezor Model T is the screen and supported coins. The Trezor Model T has nice touch screen which helps with entering PIN and the security phrases. However, the Trezor has fewer supported coins and usually projects tend to release Ledger support first. The following table is a comparison between various hardware wallets, including the release date, external security certification (if any), release date and our review rating.
At the end of the day, choosing between the Ledger Nano X and other hardware wallets is mostly based on 1 question – are the cryptocurrencies you want supported on the device. Support for a large number of coins has always been Ledger's strong suit, along for browser support in Decentralized exchanges (Binance DEX, IDEX and Switcheo)
[wp-compear id="5154″]
Product Specifications (Technical Specifications)
Ledger Nano X Product Specifications:
| | |
| --- | --- |
| Processors | ST33J2M0 (secure) + STM32WB55 |
| Compatibility | 64-bits desktop computer (Windows 8+, macOS 10.8+, Linux) excluding ARM Processors. Also compatible with smartphones (iOS 9+ or Android 7+). |
| Connector | USB Type-C , Bluetooth 5.0 |
| Battery | 100mAh battery |
| Size | 72mm x 18.6mm x 11.75mm |
| Supported Assets | 1100+ Supported assets |
Frequently Asked Questions (FAQ)
Can you keep your coins when upgrading from the Ledger Nano S to Ledger Nano X?
Yes. When doing the upgrade, choose to "restore" option during setup and enter the 24 word recovery phrase from the Ledger Nano S backup
Can the Bluetooth Feature be turned Off in Ledger Nano X?
Yes, Bluetooth can be disabled in the Control panel. This will disable Bluetooth communications and only allow the Ledger the communicate via the USB cable. You can access the panel by holding down both buttons for 3 seconds.
Can many apps can you install on the Ledger Nano X?
We found that the Ledger Nano X can hold all 73 Apps currently available on the Ledger Manager. There is even more storage available for future applications.
Why does the Ledger Nano X Bitcoin Address change?
Ledger includes a feature to automatically generate a new Bitcoin address each time an old one is used. This increases the privacy of transactions, as different addresses are used for new transactions. Old addresses can still be used as the Ledger contains full access (include future access) to these funds.
How do you generate a new public address for receiving funds
New Public addresses are automatically generated when old ones are used (the address receives or sends a transaction).
What is the latest Ledger Firmware
Currently the latest firmware is 1.6.0
Will the Coronavirus (COVID-19) pandemic affect Ledger?
Ledger has issued a statement saying they have in place business continuity measures to ensure they continue to have inventory and products to ship to its customers. They are however experiencing some backlog in their customer service side but are working to ensure that customer's concerns are answered. You can check the operational status of their systems here. Inevitably there may be issues with shipping products to customers, they are still able to ship to most countries though some customers may experience limited shipping options. Check here to see if shipping to your country may be affected.
Further reading
Ledger also posts up reviews from other YouTubers, which you can check out here.
Just got a new Ledger Nano X? or always been curious about getting started with Bitcoin and other cryptocurrencies? Check out my course created in collaboration with Jeff Kirdeikis of Uptrennd- Bitcademy: Learn, Invest & Trade Bitcoin – In Under an Hour