What is Algorand?
Algorand is a high-performance next-generation blockchain whose goal is to create a transparent system in which everyone can achieve success through decentralized projects and applications. Many have called this project "Blockchain 3.0", as it solves Bitcoin's well-known scalability problems whilst maintaining security and decentralization. Algorand has the native token $ALGO, which will be used as a transfer of value on the network. In terms of technology backbone, Algorand uses a Pure Proof of Stake (PPOs) and pseudorandom functions to prevent malicious attackers from colluding on the network.
Algorand stands out from other high-performance blockchains by the credibility of its founder, MIT professor Silvio Micali. Professor Micali has is the recipient of the prestigious Turing Award for computer science and many of his inventions have directly impacted the cryptocurrency scene.
Founder of Algorand: Silvio Micali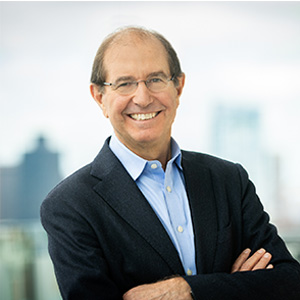 Silvio Micali is the recipient of the Turning award (the highest award from computer scientists) with innovations built around his research in cryptography, zero-knowledge, pseudorandom generation, secure protocols and mechanism design. On top of this, Dr. Micali is the co-inventor of probabilistic encryption, Zero-Knowledge Proofs, Verifiable Random Functions and many of the protocols that are the foundations of modern cryptography
Algorand Foundation
The Algorand Foundation makes use of the Algorand protocol and software developed by Silvio Micali and his team. Their aim is to create an ecosystem that everyone can use to build a borderless digital economy on Algorand.
Specifically, the Algorand foundation holds one-quarter of the total supply of ALGO (i.e. 500 million ALGO), and manages the Algorand blockchain.
Algorand attempts to overcome the Blockchain Trilemma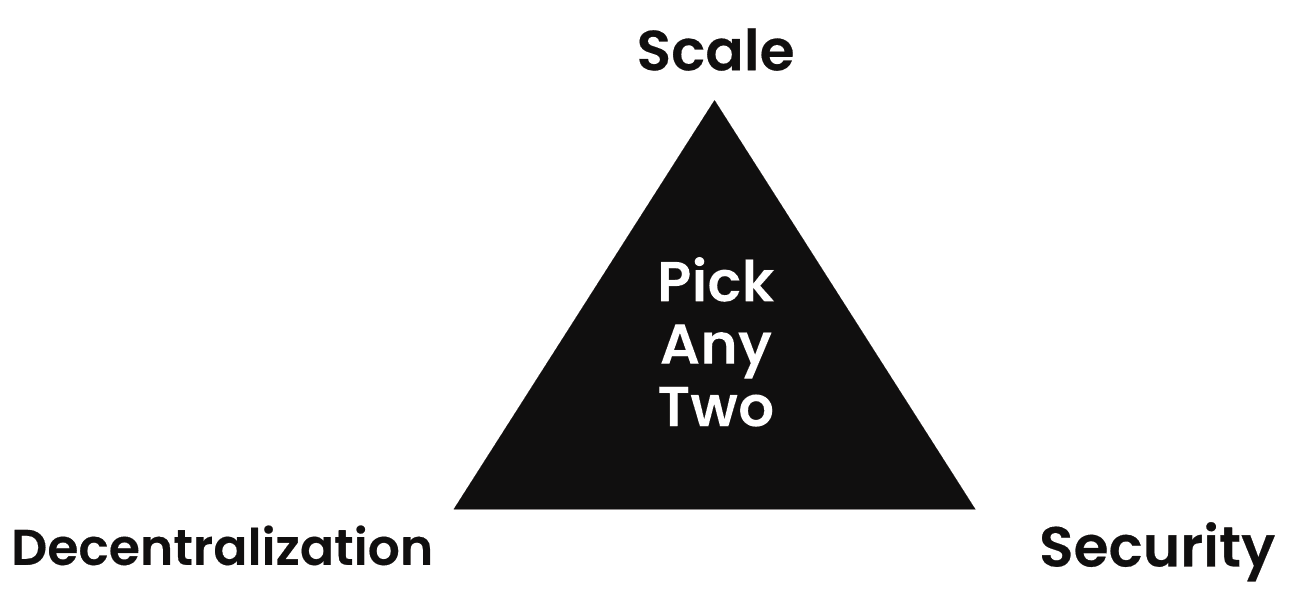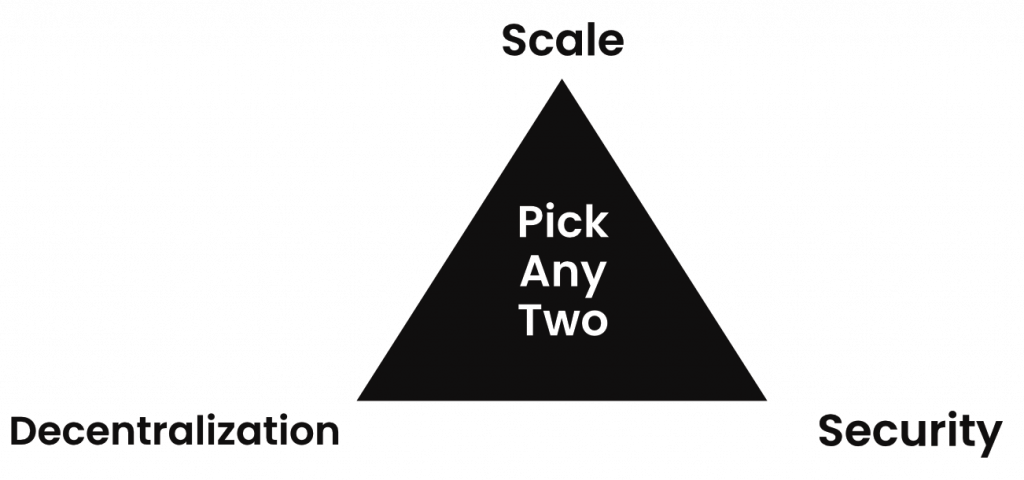 Currently, transactions on the blockchain are very slow because of the "Blockchain Trilemma". This is a term coined by Vitalik Buterin, the founder of Ethereum.
According to this idea, a blockchain has three major features: decentralization, scalability and security.
However, the Blockchain Trilemma proposes that it is very hard for a project to have all three features to a satisfactory condition. A network that is decentralized and has a tough security would not be scalable. Similarly, a blockchain that is decentralized and scalable will have little security etc.
Buterin believes at a fundamental level, a blockchain network can only achieve two of the three features at any time. The Blockchain Trilemma could be the source of scalability issues on most cryptocurrency blockchains. Most cryptocurrency projects cannot handle high numbers of transactions while ensuring network decentralization and security.
To attempt to overcome this, Algorand opted for a Pure Proof of Stake (Pure PoS) consensus mechanism. Interestingly, the mechanism employs a different approach compared to other alterations of the PoS mechanism.
For instance, instead of requiring 100% consensus from all the validating parties, Algorand is comfortable with a two-thirds majority consensus. This means that in order to attack Algorand, you will need to purchase more than one third of the total supply of Algorand. This will anyway be uneconomical and holding such a large volume of the supply means that you have a large stake and would not want to see it fail.
Algorand's secret sauce: Cryptographic sortition
Since today's blockchain platforms require speed as an integral component, Algorand has a fast transaction time by enabling fast transaction finality through cryptographic sortition.
According to its website:
"All transactions are final in Algorand. Once a block appears, users can rely on the transactions it contains immediately, as they can be confident that the block will forever be part of the chain. Even if the Internet is split into multiple pools of users, only one safe and consistent Algorand chain will exist. [Additionally], Neither a few delegated users nor a fixed committee is responsible for proposing blocks in Algorand. Instead, all users are randomly, secretly, and continuously selected to participate in the Algorand consensus protocol."
The process of confirming blocks on the platform involves two stages; the proposal and voting stage. During the proposal stage, a token is randomly selected, and its owner suggests the next block to be confirmed. At the voting stage, 1000 random token owners are selected to form a committee that approves the proposed block.
How to Stake Algorand?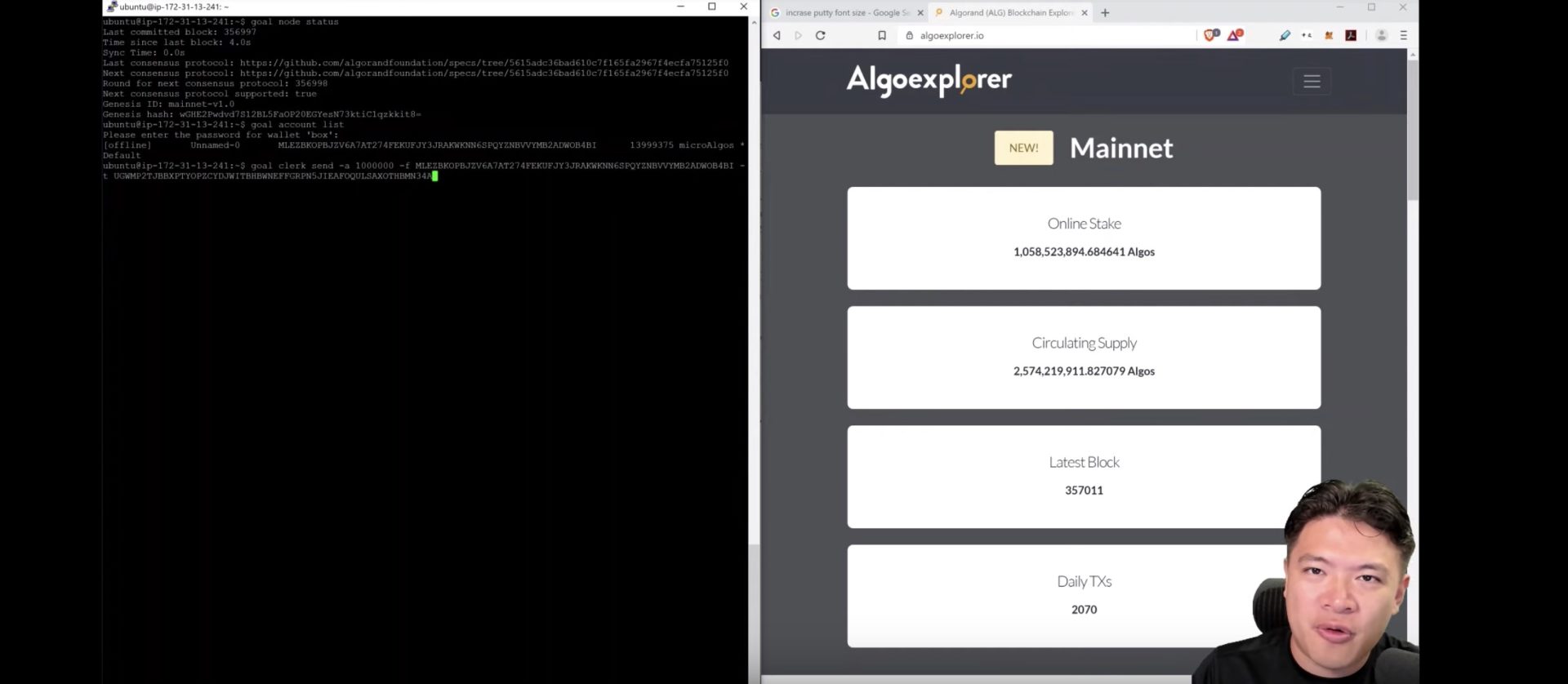 Anyone can participate in the Algorand platform as a block proposer by merely switching their address from offline to online on the Algoexplorer. Luckily, this option does not depend on the amount of Algo tokens staked. Mining is not required, all you need is to stake its ALGO token and have the nodes online.
The Algorand platform supports two types of nodes; relay and participation. An important point to note is that the relay nodes don't participate in voting or decision making. Instead, they facilitate communication between participation nodes. Relay nodes are also hardware intensive compared to participant nodes.
Although Algorand is designed around being fully decentralized, the Algorand Foundation holds a lot of ALGO tokens and hence control. However, the platform is anticipated to be more decentralized in coming months as the foundation continues to liquidate its position.
You can also stake Algorand using your Ledger cryptocurrency hardware wallet. Check out our Ledger Nano X review.
Algorand 2.0 Protocol Upgrade
On 22nd of November 2019, the Algorand foundation announced the next huge leap for Algorand – dubbed Algorand 2.0. This release brings about 3 major features: Native token issuance (Algorand Standard Asset), Atomic swaps for interoperability and smart contract support via the TEAL scripting language.
Algorand Standard Asset (ASA) brings about easy token creation and issuance directly on the Algorand main chain. ASA supports a wide range of tokens, such as fungible tokens (similar to Ethereum's ERC-20, and also non-fungible tokens (used for digital collectibles). Algorand's implementation of tokenised assets is directly on the protocol layer ("Layer 1"), allowing for direct access to assets with maximum security. This is a significant advantage over Layer 2 Scaling which requires payment channels in order to operate.
"Algorand is delivering that innovation with this new set of features that brings an impressive amount of opportunity to decentralized finance.

Shay Finkelstein (CTO of Securitize)
Algorand listed on Coinbase, price surges over 30% in one day
In a complete surprise to cryptocurrency enthusiasts, Algorand was listed on Coinbase on 17th July 2020. People found out only when they saw the announcement on Coinbase's blog, whereby the Exchange said that their customers can now buy, sell, convert, send, receive or store $ALGO in all Coinbase supported regions. Be sure to check out our Coinbase exchange review and some hacks and tips to avoid Coinbase fees.
People were completely caught off guard by this announcement since in the few weeks prior Coinbase had talked about 18 other cryptocurrencies they might consider listing. Yet Coinbase was not one of those 18 cryptocurrencies.
This listing created a whole flurry of activity for $ALGO, especially in terms of its prices. Since the listing, prices for $ALGO shot up 30% since the announcement and was even trading at $0.367 at its peak.
Algorand becomes the official blockchain platform of FIFA
FIFA, the world football governing body has announced its partnership with Algorand. This sponsorship and technical partnership will see Algorand becoming the official blockchain platform for FIFA, providing blockchain-supported wallet solutions as well as helping FIFA develop its digital assets strategy.
Algorand will also be a FIFA World Cup Qatar 2022 Regional supporter in North America and Europe, and a FIFA Women's World Cup Australia and New Zealand 2023 official sponsor.
The future of ALGO token: Algorand's 10-year plan
When the Algorand blockchain was first launched, 10 billion ALGO was minted, which represents the fixed and unchangeable maximum supply of AGLO.
Since then, only 16% of this total supply has been injected into circulation via an auction in June 2019 and subsequent community rewards. Auction proceeds have been used to finance various community, academic, and industry projects which ultimately support the development of economic infrastructure and business opportunities on the Algorand blockchain.
After consideration by the Algoradnd team and based on their analysis and feedback received, the Algorand team have decided that the remainder of the initial 10 billion ALGO tokens would be gradually distributed over a period of 10 years from 2020, i.e. by 2030, the entire supply of ALGO would be distributed. This is much longer than the initial 4 years from 2020 as originally planned by the Algorand team.
In order to implement Founder Silvio Micali's vision of innovative community governance, the Algorand team are moving towards a new reward system that rewards existing and future participants who are committed to participating in the governance of the Algorand ecosystem and prove their loyalty by locking up their ALGO for the long term. Resources i.e. 3 billion ALGO will be correspondingly distributed to reward long-term holders, and economic and business activity on the Algorand blockchain. The aim of this is to achieve a rate of growth of chain loyalty and economic adoption which would be more than enough to compensate for the gradual release of tokens over 10 years.
Furthermore, the funds initially allocated for sales will now be diverted to other areas such as community incentives, governance participation and ecosystem support.
FAQ
How do you mine Algorand?
It is currently not possible to mine Algorand using computer hardware. Algorand uses a proof-of-stake consensus, so it is possible to earn ALGO rewards by simply staking Algorand in the wallet.
Where is Algorand located?
Algorand is a decentralized project founded by MIT professor Silvio Micali. The foundation responsible for maintaining Algorand, the Algorand Foundation is incorporated in Singapore and is located at 1 George Street, #10-01, One George Street, Singapore (049145).
How do I buy an Algorand?
You can Buy Algorand on popular exchanges such as Binance or Coinbase with the ticker $ALGO
How do you stake algorand
Algorand can be directly staked via the mobile wallet application which can be installed on both Android and iOS devices. To stake the coin, deposit ALGO directly into the wallet. The wallet will automatically accumulate ALGO over time.
What is Algorand's community governance?
Algorand started its community governance program on 1st October 2020, it gives ALGO holders the power to make decisions regarding the direction and future of Algorand. People can participate in governance i.e. become Governors by committing their ALGO for the duration of the 90 day voting period and then voting on the proposals. After the 90-day voting period, participants can claim their governance rewards.
Disclaimer: Cryptocurrency trading involves significant risks and may result in the loss of your capital. You should carefully consider whether trading cryptocurrencies is right for you in light of your financial condition and ability to bear financial risks. Cryptocurrency prices are highly volatile and can fluctuate widely in a short period of time. As such, trading cryptocurrencies may not be suitable for everyone. Additionally, storing cryptocurrencies on a centralized exchange carries inherent risks, including the potential for loss due to hacking, exchange collapse, or other security breaches. We strongly advise that you seek independent professional advice before engaging in any cryptocurrency trading activities and carefully consider the security measures in place when choosing or storing your cryptocurrencies on a cryptocurrency exchange.