Trezor One was launched on 29 July 2014 and was the first-ever cryptocurrency hardware wallet. This wallet brought an unprecedented level of security to the burgeoning cryptocurrency field. As such, it paved the way for subsequent upgrades in this field.
The Trezor One retails for 69 EUR (US$78). To buy one, click here.
You can also check out my video unboxing and guide below.
Key Features
Clear screen – The Trezor One features a clear monochrome screen. Trezor uniquely allows you to customise your home screen.
Integrated exchange support– The device has integrated exchange support so users can trade seamlessly.
Proven security– Trezor One, being one of the original wallets has a track record of security.
Security Features
The security features of the Trezor Model One begin in its packaging. The device is inside a completely sealed box together with a hologram sticker. Be sure to only buy your device from the official website. If your box seems to have been tampered with, DO NOT use it and contact their customer support immediately.
Similar to the newer Trezor Model T, passwords on the device are individually locked with the Trezor Password Manager using a user's digital keys. The device also functions as a U2F hardware token. This allows Trezor to utilize the screen and inform users about any authentication requests before approving them.
The device is protected with a private key recovery phrase. This is a 24 word phrase to restore your device.
NOTE: You should write down the phrase offline and keep it in a safe place. It is extremely important to keep this phrase outside the view of any camera as anyone can use it to restore your device and steal your funds.
For daily use, the wallet features a security PIN to use the Trezor One. Once your device is connected, the digits 1 through 9 show up in randomised order. You then go to your computer and enter your PIN code based on the location of the digits on your device screen. This is an extra layer of security to prevent keyloggers.
An extra layer of security is the Trezor's passphrase feature which allows users to generate a new wallet. If you enable this feature, you will be required to enter your passphrase in addition to your security PIN to access those specific wallets.
So say a thief demands you to give them access to your device. You can give them your PIN code which accesses a wallet with fewer funds. Whilst keeping the bulk of your crypto assets stored safely behind passphrase protected wallets.
Can the Trezor One be hacked?
Kraken Security Labs announced they devised a new way to hack into Trezor devices within 15 minutes of physically having the device. They did this through voltage glitching using a device and cracking the PIN code using a custom Python script, which will reveals the recovery seed. According to them, the attack makes use of inherent flaws within the Trezor's microcontroller. So it will be difficult for Trezor to fix this vulnerability without redesigning the hardware and putting out a new device.
In reply, Trezor noted that the attack cannot work remotely and if users turn on the passphrase feature on the device. Trezor also reassured users that physical access is only a threat to 6-9% of cryptocurrency users.
Trezor Model One 1.9.0 firmware update- does it fix the Kraken Security Labs hack?
In mid-April 2020 the Trezor One announced their latest firmware update to ver. 1.9.0 which features some updates on their security measures. Before we answer whether it can resolve the 15-minute hack devised by Kraken Security Labs earlier this year (see above section), let's take a look at what these features are.
The new updates include 2 passphrase updates which firstly, allow temporary passphrase caching so you can switch between your various passphrase protected wallets when using the device. The passphrase cache is only temporary, so once you disconnect the device, nothing is saved. Secondly, users will now be asked to choose how to enter their passphrase on the device itself, rather than on your computer or phone.
A notable new features is the wipe code which acts as a "self-destruct PIN". When entered either on the device itself or your computer or phone, the wipe code erases all private data from your Trezor and resets the device to the factory defaults. Trezor suggests users can write the wipe code somewhere near your device as a decoy PIN, so if a thief tries to unlock your device, they will make the Trezor erase itself.
It is also specifically noted that the latest firmware updates include a SD card protection feature exclusive to the Trezor Model T. See here to read more about the Model T's firmware 2.3.0 updates.
From our research, Trezor has not directly responded whether their latest security firmware update fixes the hack devised by Kraken Security Labs. As mentioned previously, the vulnerability identified by Kraken cannot be resolved unless the hardware is redesigned. So the latest firmware updates can only indirectly give hackers have a harder time accessing your device but not resolve the core vulnerability. The fact that it only took Kraken 15 minutes of physical access to the device to hack it, and their suggestion that the glitching tool could be mass produced for sale at around USD$75 continues to be extremely worrying. For this reason, whilst we appreciate Satoshi Lab's efforts to continue improving the device we cannot reinstate the security score given to the Trezor prior to the Kraken hack being discovered.
Security 3/5
Multicurrency Support
Trezor One has support for around 1000 coins including BTC, BCH, Litecoin, Ethereum, Dash, Zcash and Stellar. However, of the most common coins on the market, it does not support Ripple (XRP), Cardano (ADA), Solana (SOL) and others.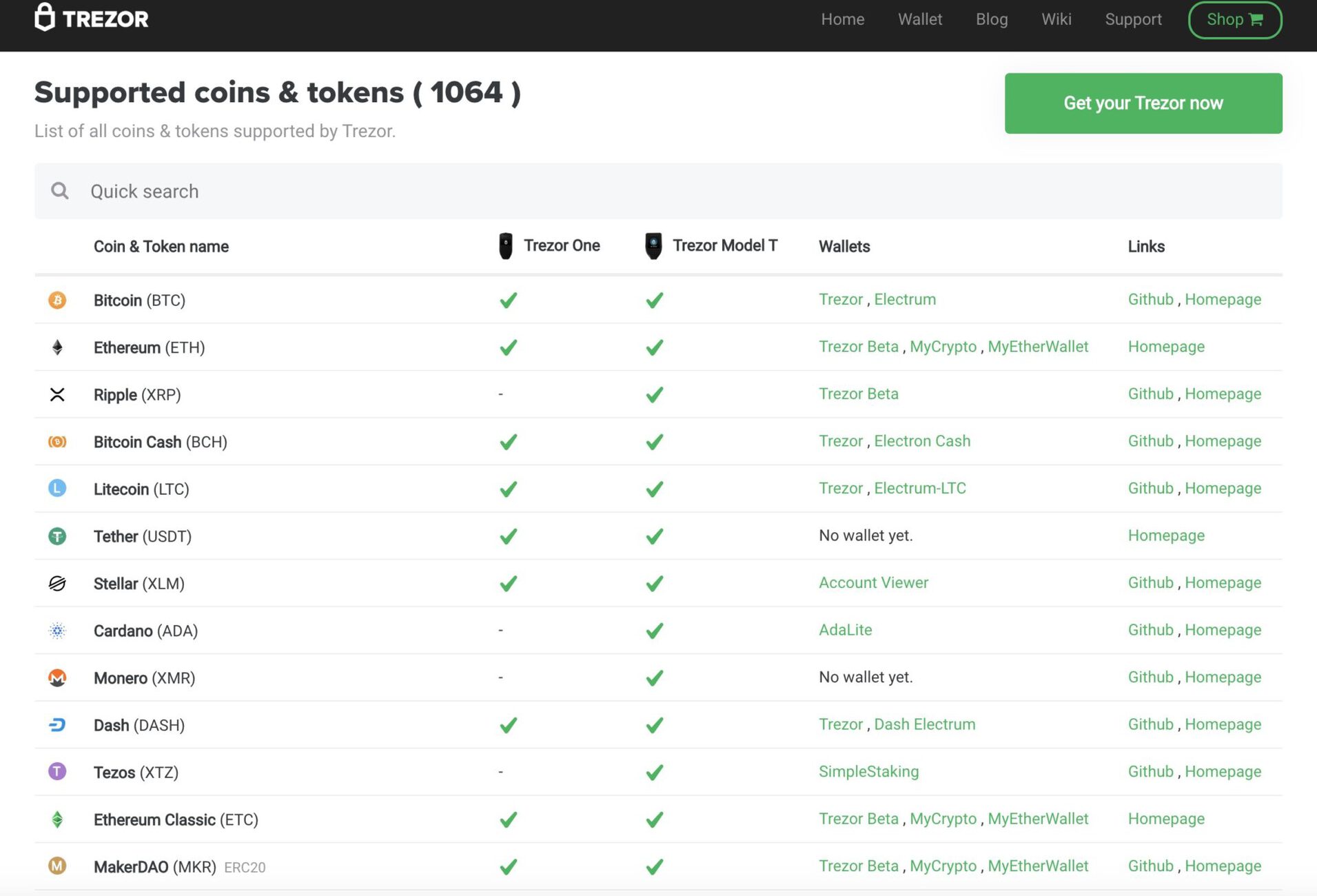 This can be a limitation in comparison with more recent hardware wallets.
Similar to the Trezor Model T, the Trezor One supports IDEX or Switcheo exchanges.
Click here for a full list of supported coins.
Multi-currency support 3/5
Hardware Design
The Trezor One is relatively compact at 2.36 x 1.18 x 0.27 inches (60x30x6mm), and weighs 0.42oz (12 grams).
It has an 128×64 pixel OLED monochrome display. Despite the screen being small, it is still better than the Ledger Nano S in that cryptocurrency addresses can fit entirely on the screen.
Trezor has the unique feature where you can personalise your home screen. Your device can show off your personality by choosing from 1 of the default pictures or uploading your own.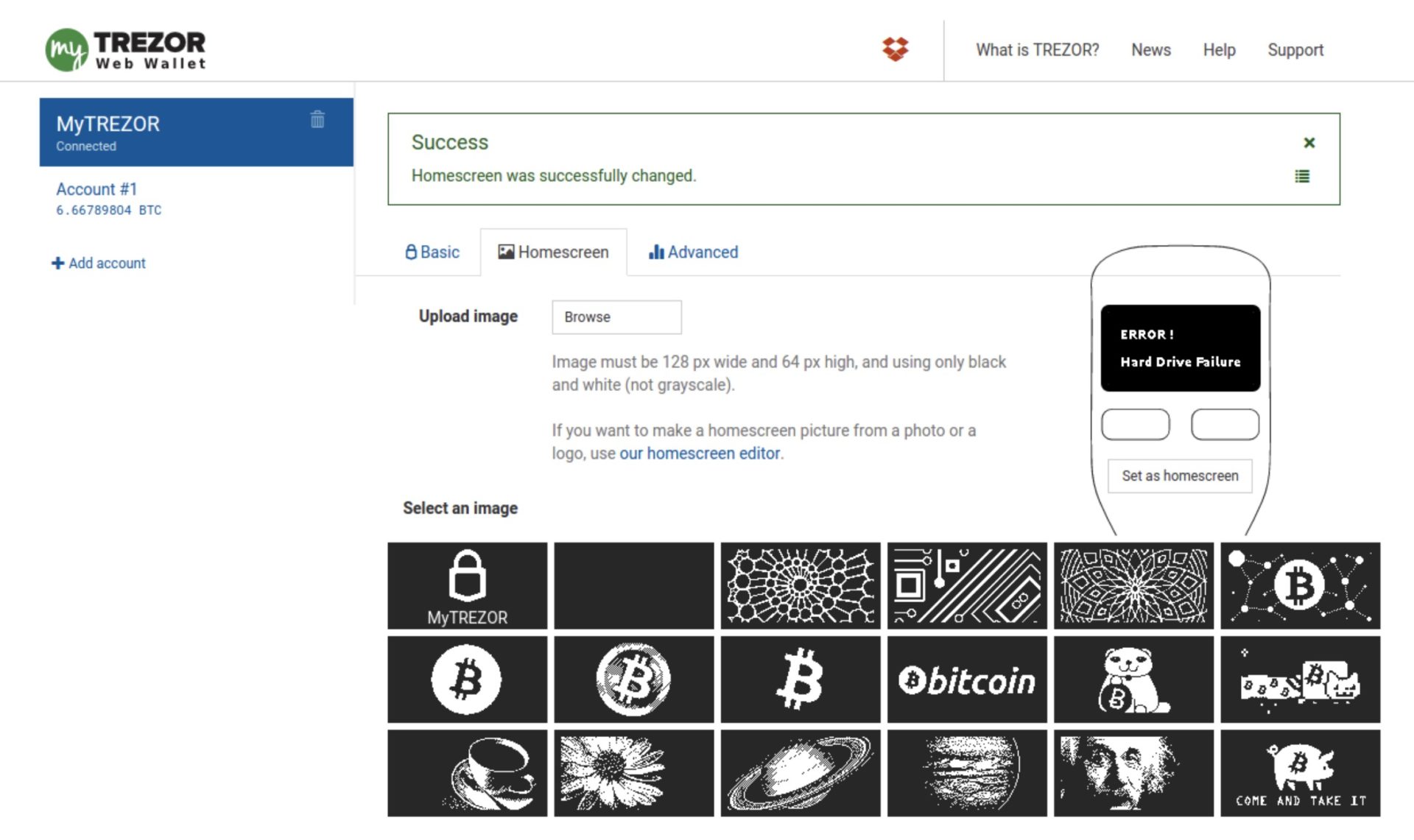 The device has two physical buttons to help users navigate the wallet functions.
It relies on USB type-B for connection to the computer. However, the cable provided is quite short, which can be inconvenient when using the device with your computer.
In terms of portability, the device is conveniently small and can easily fit into your pocket. Additionally, some people would enjoy the home screen customisation function.
Hardware design 4.5/5
Ease of use 4/5
Mobility
The device supports laptops and Android mobile devices. There is currently no support for iOS. Users will need to download the software, Trezor Manager from the Google Play Store. This enables users to use the app to send cryptocurrencies, generate addresses, and view their account details.
With the device, users can also connect with other wallet apps, including Mycelium, MyEtherWallet, Exodus, Electrum and MetaMask.
It also supports integration with Bitstamp and Bitex exchanges. So users can sign in and send cryptocurrencies to these exchanges directly using the device.
Trezor One: Worth it in 2022?
The device is by no means outdated. Save for a few major altcoins as outlined above the device still supports most major cryptocurrencies.
Unless you really want the colour touchscreen of the Trezor Model T, this older Trezor One device still does what most casual cryptocurrency traders need it to do.
And the lower price point is definitely an attractive factor.
Verdict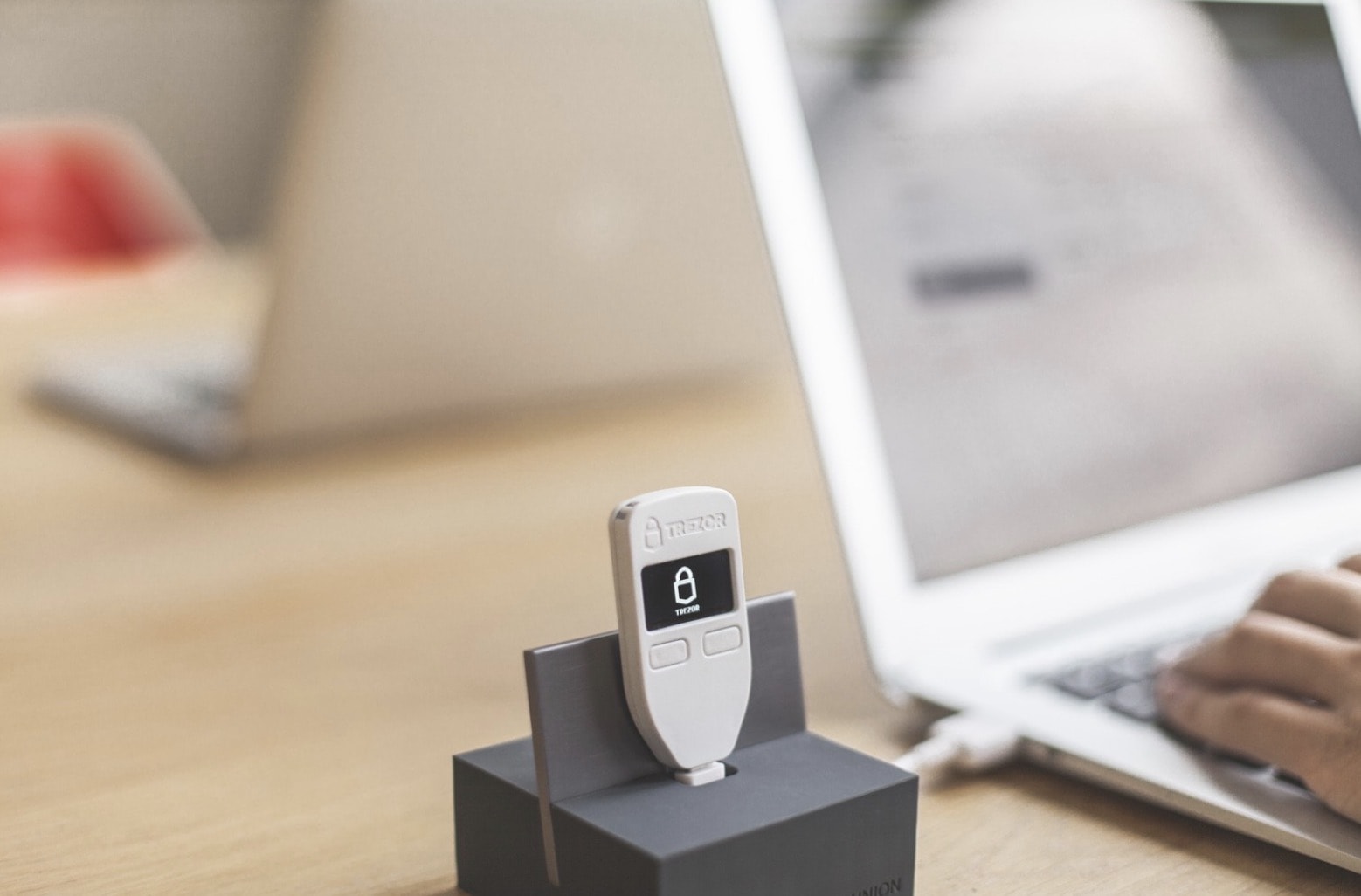 The wallet supports most major cryptocurrencies. However, the lack of support for Ripple (XRP), Cardano (ADA), Solana (SOL) and a number of later ERC-20 coins is a serious disadvantage.
Some will appreciate the recent IDEX, Switcheo and other DEX integrations as an added bonus.
Lack of iOS support is also problematic, though this is for any Trezor device.
The device has a decently sized screen. Whilst not as nice as the colour touchscreen of the Trezor Model T, the buttons make it easy to use. Being able to see the entire address on-screen is a huge plus.
Some users may be enticed by the ability to customise your home screen which is a feature unique to Trezor devices only.
Security Rating: 3/5
Multi-currency Support: 3/5
Hardware design: 4.5/5
Ease of Use: 4/5
Final score: 3.6/5
Reviewed on 30th June 2019 by Angela Wang
Trezor One Product Specifications (Technical Specifications)
Processors
ARM Cortex-M3 processor @ 120 MHz embedded on STM32 F2 microcontroller
Compatibility
64-bits desktop computer (Windows 7+, macOS 10.11+, Linux). Compatible with Android smartphones.

Connector
USB micro-B
Security Certification
Nil
Size
Size: 60mm x 30mm x 6mm
Weight: 12g
Supported Assets
1050+ Supported assets
Updated on 10th March 2020 on the device's security concerns.
Updated on 14th May 2020 on the Trezor One's firmware 1.9.0 update and whether it can resolve the hack devised by Kraken Security Labs.