Ledger Nano S was first released in 2016 with more than 3 million units sold around the world. Ledger announced that they will retire the Nano S in June 2022. This is to let its new and improved version, the Nano S Plus, take its place going forward. Even though Nano S will stop production, firmware upgrades for it will keep rolling out in the future.
The final (and special) edition was called Ledger Nano S Final Edition. It came with a POAP card that allows you to claim an exclusive NFT created by the artist "what is real?". However, it is sold out.
We recommend you get the upgraded Ledger Nano S Plus as it has added DeFi and NFT friendly features. Check out our review of the Nano S Plus here.
The Ledger Nano S Plus retails for USD$79.
CLICK BELOW TO BUY!

Key features of the Ledger Nano S
Top of the line security to keep your cryptocurrencies safe and secure from hackers.

Affordable price- suitable for beginners who want a cheap and reliable hardware wallet.

Unique staking features so you can EARN cryptocurrency whilst keeping them secure. Learn more about staking here.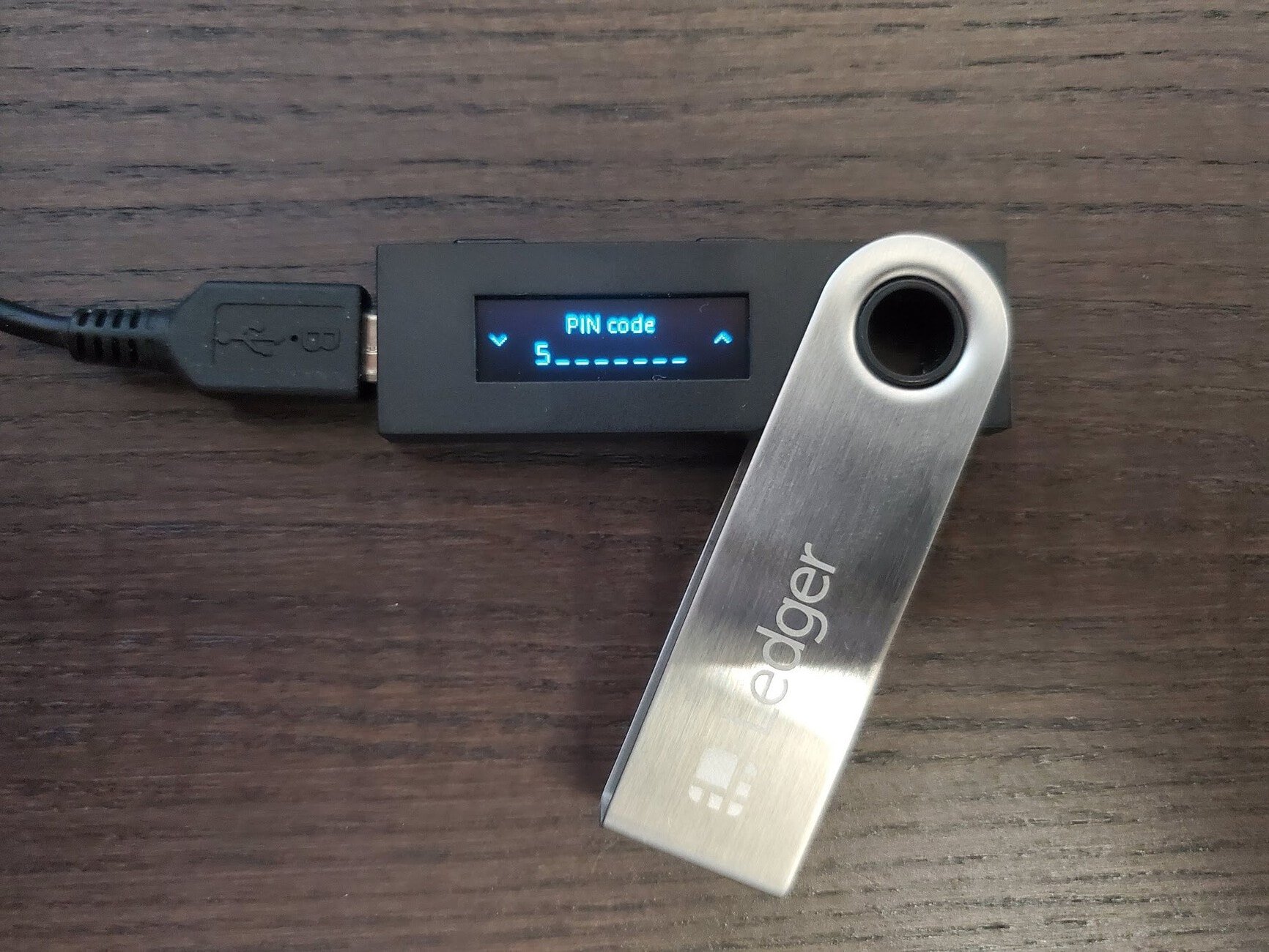 Staking and Earning
Ledger Live allows for staking a growing number of coins, including ETH (Ethereum), SOL (Solana), ATOM (Cosmos) and DOT (Polkadot). Users can lock up their cryptocurrencies and in return they get interest. This feature expands Ledger into more than just a secure place to store your cryptocurrency. It can even help you grow your digital assets.
Depending on the coin, staking can be done natively on Ledger Live, or through a dedicated wallet. For example Yoroi Lite for ADA (Cardano). Staking is done in 3 simple steps for coins that can be staked on Ledger Live.
First, freeze your assets by logging onto Ledger Live. Choose the relevant account for the asset you wish to stake and click "earn rewards". A popup window will appear. There you will be allowed to select the amount in your wallet you wish to freeze. Secondly, vote for your validator(s) who will be making the blocks on your network. The cryptocurrency earned by making these blocks will be redistributed to voters. Lastly, claim your rewards by clicking "Claim" in your relevant account. Rewards are claimable every 24 hours.
Swapping
Ledger has released a Ledger Swap feature which allows users to exchange their cryptocurrencies through Challengly, Wyre, Paraswap and 1inch. You send your cryptocurrency from your device to the exchange, which will then send you back the swapped cryptocurrencies.
To swap you will need: Ledger device, Ledger Live, the app for the crypto you want to swap and receive, and the exchange app.
Lending
Ledger is working with Compound (COMP), Aave (AAVE) to allow users to lend DAI, USDT and USDC through their decentralised finance (DeFi) protocols. The purpose of doing this is that the lender could earn an interest on their loan. Ledger Live has also integrated with Alkemi Earn. This is a lending-borrowing protocol that utilizes a permissioned liquidity pool of digital assets comprising ETH, wBTC and stablecoins. The purpose of which is to generate yield for liquidity providers.
There are numerous benefits when using Ledger to lend:
Control: You have control and proof that the crypto you lend and generated interest belong to you. When you lend on Compound, you receive cTokens as proof of ownership of lent cryptocurrencies and generated interest. You can redeem your assets and interest by sending cTokens back to the smart contract.
Security: cTokens are stored on your ledger hardware wallets.
Convenience: Compound's lending features are available directly through Ledger Live.
You can lend crypto using Compound or Aave and Ledger Live in 3 simple steps. Firstly, on Ledger Live's Manager, install the application for the cryptocurrency you want to lend and create an account. Secondly, enable your account to authorise Compound/Aave's smart contract to interact with your account. Finally, select the amount of cryptocurrencies you want to lend and issue a transaction to Compound/Aave. Verify and approve the transaction on your device.
Security Features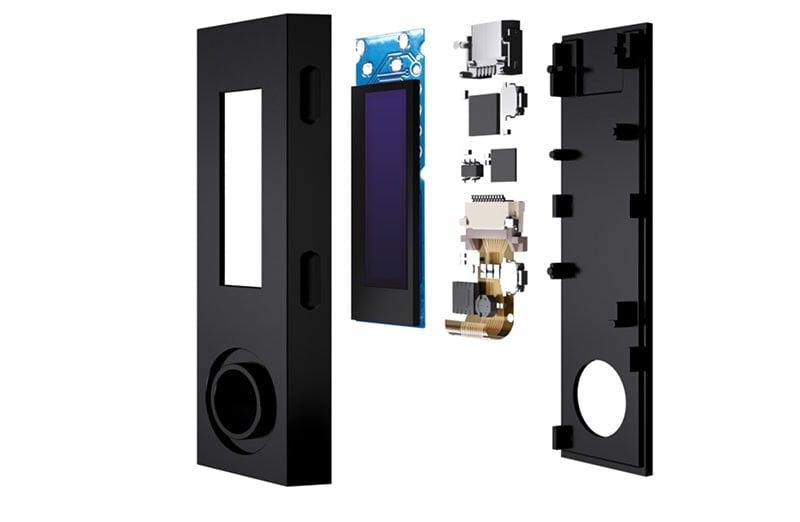 One of the key reasons to buy Ledger hardware wallets is the firms reputation for security. Cryptocurrencies hardware wallets are like bank accounts – they contain full access to funds and need banking grade security. Ledger Nano S contains two hardware chips:
Secure Element: ST31H320 (secure) is independently certified CC EAL5+ and stores the private key and signs transactions
Operating system: STM32F042 chip is responsible for Ledger's BOLOS proprietary Operating System.
Secure elements are separate pieces of hardware (second layer of security). Secure elements have their own storage and limited functionality that hackers cannot breach.
Even if hackers or malware compromise your computer, the Ledger will still keep your cryptocurrencies secure. Devices like the Trezor One and Trezor Model T have chosen not have secure elements. And so only have a single layer of security.
The Nano X, Nano S Plus and Nano S are the only cryptocurrency hardware wallets to receive CSPN (First Level Security Certificate) certification. This is issued by the ANSSI (National Agency for Information Systems Security). The certification scheme evaluates multiple aspects of a device's security. For example firewall, identification, authentication and embedded software by putting it through multiple attack scenarios.
Similar to the Nano X, users can also protect their funds using a PIN code and passphrase. The PIN code is to generally unlock your device to use it. Whilst you can also set up wallets protected by a passphrase in addition to your primary PIN code.
If someone threatens you to unlock your device, you can give them the PIN code to access wallets with fewer funds. Meanwhile, passphrase protected wallets contain the bulk of your crypto assets.
Ledger firmware version 1.6: security enhancements
With firmware version 1.6., the security of the Nano S has been further enhanced.
24 words recovery phrase confirmation has been simplified and shortened. Now for each of the 24 words of the recovery phrase, users will only choose among 4 words. Therefore making it much easier to get through the process;
The Nano S now has the Control Center feature that was originally on the Nano X. Allowing for functions such as accessing settings, locking device or deleting applications possible directly on the device;
Added support for Bitcoin Taproot upgrade;
Added support for the seed derivation algorithm EIP-2333. Thus allowing you to securely sign a deposit contract transaction for Ethereum 2.0 on your device;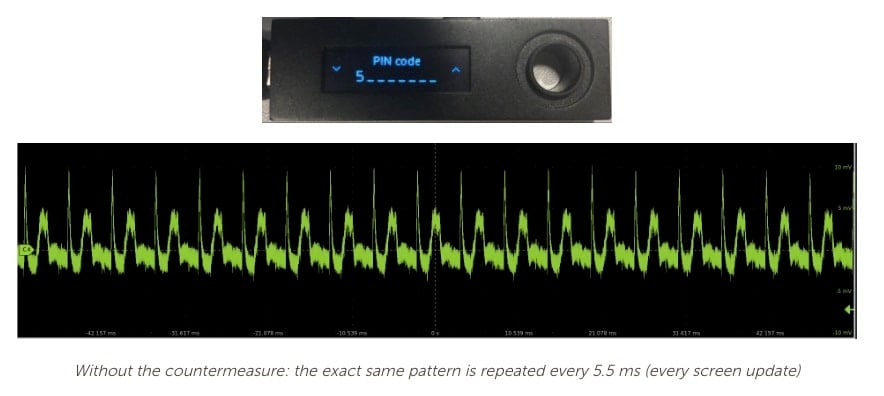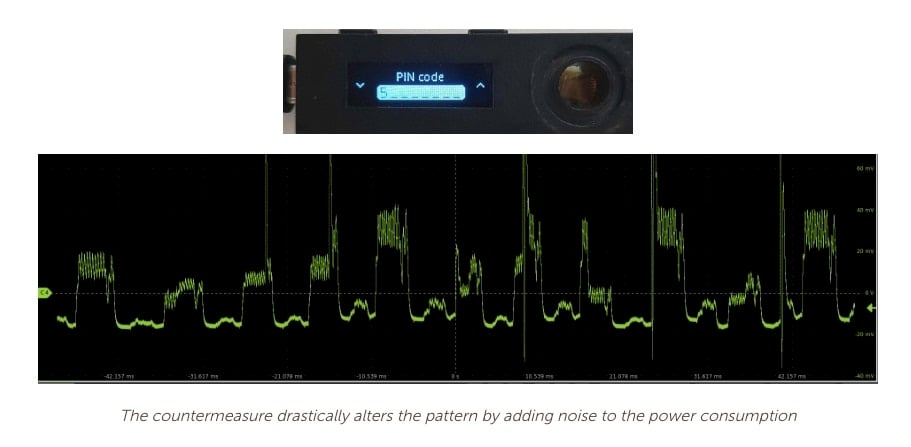 After the update, we find that being unable to enter PIN code digits in order anymore may be slightly inconvenient. However with cryptocurrencies, security always comes up top over convenience. And with the added partial screen inversion, we see that Ledger's bounty program is not just a PR stunt. Ledger actually looked into submissions and made the security improvements even when the suggested hack was only hypothetical.
Ledger Hack?
In July 2020, Ledger confirmed they suffered a data breach. An unauthorised third party had accessed Ledger's e-commerce and marketing database. Ledger collaborated with forensic firm Orange Cyberdefense and determined that the data breach affected around 292,000 customers and exposed approximately 20,000 customer personal records.
Ledger had reported the matter to authorities and are working with Orange Cyberdefense to investigate.
Subsequent the breach, users have reported receiving phishing emails and texts. These emails and texts ask users to download a new version of the Ledger software. Clicking the email link redirects users to a fake Ledger site. If users download the "update", it asks for their Ledger's recovery phrase but is actually malware. The attacker uses the entered recovery phrase to recover the user's wallet and sends the user's cryptocurrencies to the attacker's wallet. For a full explainer on how the phishing attack works see the report from Kraken.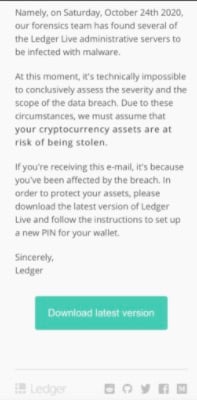 Therefore this incident was a "data breach" rather than a "hack". More importantly, this breach had no link or impact on the Ledger hardware wallets or the Ledger Live app. Cryptocurrencies stored on the Ledger devices have never been at risk.
Even before the firmware update, the Nano S scored full marks on security. We also note that the hack does not affect the Ledger device itself, so our scores remain unchanged.
Security: 5/5
Multi-Currency Support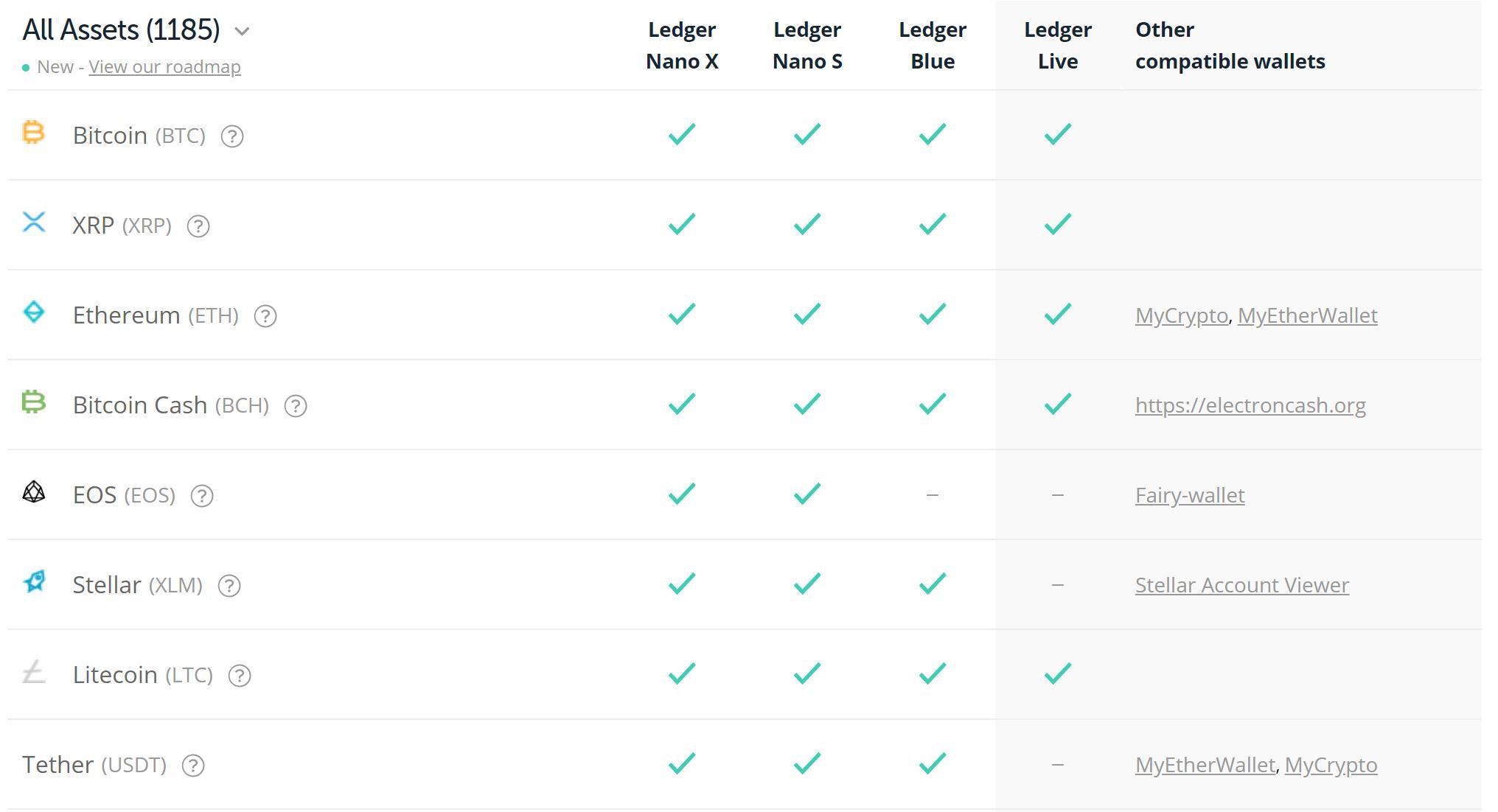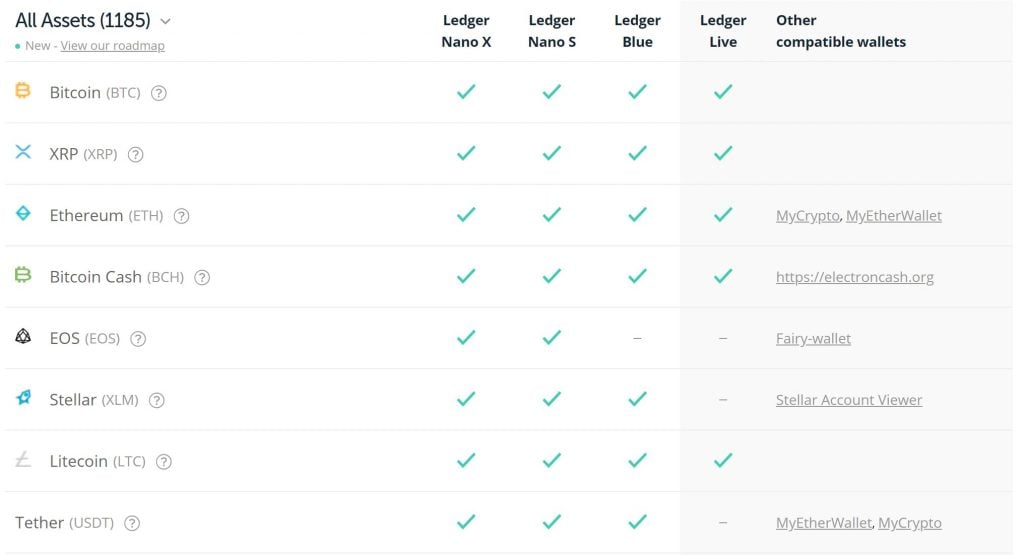 Ledger has one of the most diverse support for different cryptocurrencies such as Algorand (ALGO), Solana (SOL) and Chainlink (LINK). With their open policy to development from project teams, the Ledger Nano S supports 1800+ different assets. Many of these assets like Vechain or NEO are not found on competitors like the Trezor Model T or KeepKey. Thus making Ledger the only hardware wallet available for many coins.
One of the initial weaknesses of the Nano S was that it only fit 2-3 apps on the device. However Firmware Version 1.6 allowed users to install 5-11 apps (depending on the type of app installed). This will certainly answer the prayers of a lot of average cryptocurrency holders who generally hold around 5-10 different coins.
If you need more apps, you can uninstall the ones you're not using and reinstall them later. Uninstalling apps won't delete coins and all account information will remain. The newly released Ledger Nano X fixes this problem by increasing the internal memory to 2 MB.
Ledger's firmware update directly addressed a significant weakness in the Nano S. Whilst it still can't beat the Nano X in terms of multi-currency support, it is good enough for most traders. For this reason, we give our thumbs up and bumped the score up from 4/5 to 4.5/5 for multi-currency support.
Multi-Currency Support: 4.5/5
Hardware Design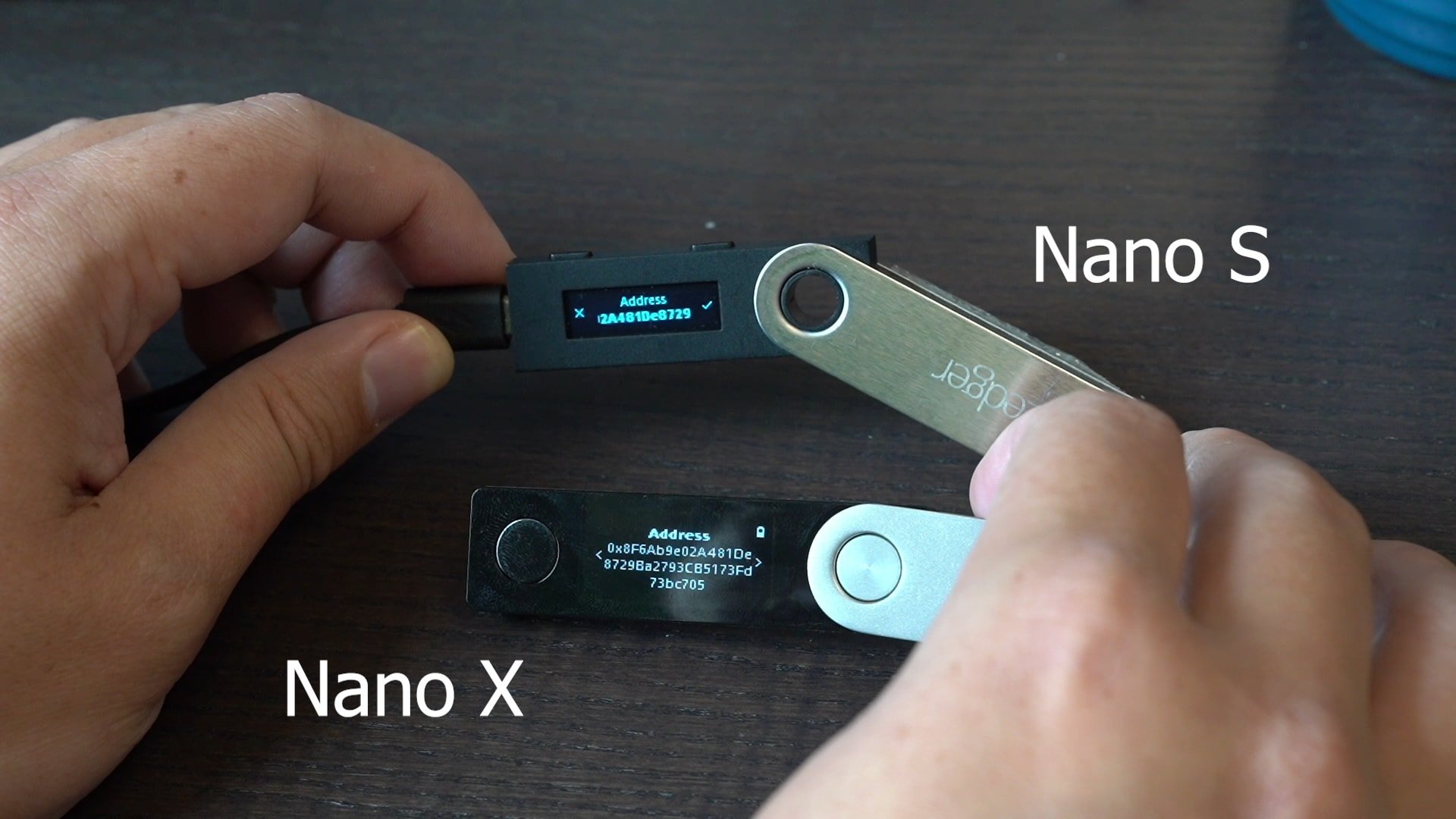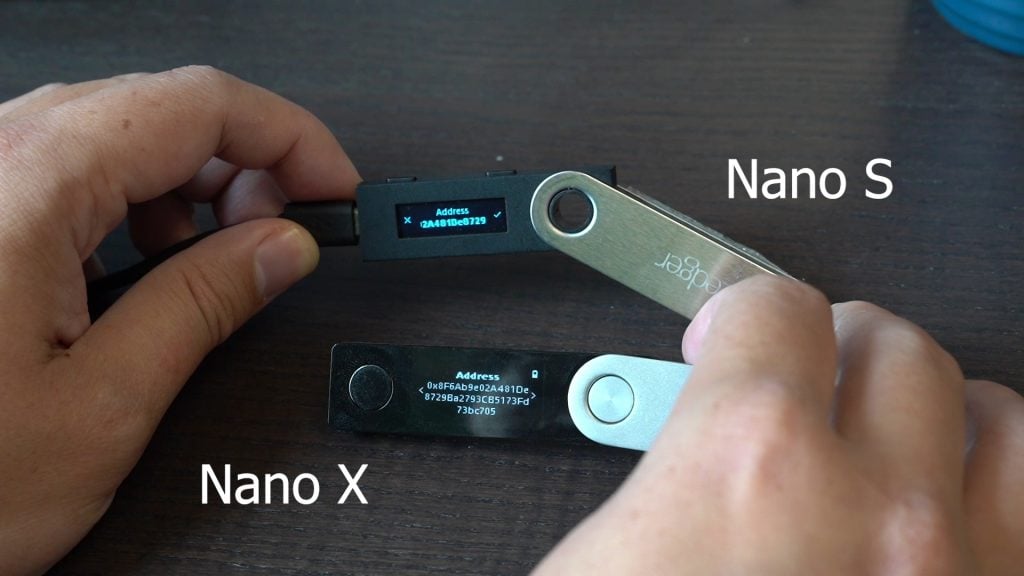 Ledger Nano S has two hardware buttons – located on the top of the device. These two buttons allows us to access menus (hold both buttons), make selections (press both buttons). And even input recovery phrases (use buttons to scroll). We found that entering PINs and recovery phrases to be tedious with only 2 buttons. Perhaps a touchscreen or additional buttons could have helped?
With the update 1.6, the Ledger Nano S has an improved display UI. So, the device displays the full cryptocurrency address without the need to scroll. This allows for easier verification of the target destination. The Nano S uses a USB micro-B interface for charging and connecting to the PC.
With its plans to continue its firmware upgrades in the future, clearly the Ledger will never fully abandon the Nano S.
Hardware Design: 3.5/5
Ease of Use: 4/5
Why Use a Hardware Wallet
With traditional currencies, you, the user, are the most important person. If you have ever lost your bank card, you can always go to the bank with some sort of identification and request for access back to your account.
Cryptocurrencies, however, don't care about the physical person but rather the private key associated with the wallet. You use the private key to verify the account and transactions. Anyone with access to the key can send funds, so you must keep it safe. Additionally, you cannot reverse cryptocurrency transactions.
Hardware wallets can protect you against these things. They add an extra layer of security by storing the private key on the device itself. The only way to hack it would be to have physical access to the hardware wallet or the backup phrase.
Ledger Nano S Worth it in 2023?
In short, the answer is: not really. Ledger has retired the Nano S and even the Ledger S Final Edition. Both are no longer available for sale on the official site. This means that the only places where you'll be able to buy them are 3rd party sellers or second hand. We highly advise against both options because someone might have tampered with the device.
Mind you, Ledger will continue to support the Nano S's firmware so it stays up-to-date. If you were lucky enough to buy the Nano S while it was still available, it is still worth using. Unless, you want the upgraded DeFi and NFT features. If not, your only choice is to get a Nano S Plus. Although this costs an extra 20USD, they did add upgrades to make it worth your while.
The Ledger Nano S Plus retails for USD$79.
Learn how to properly setup your Ledger Nano S with our guide.
Product Specifications (Technical Specifications)
Ledger Nano S Product Specifications:
Processors
ST31H320 (secure) + STM32F042.
Compatibility
64-bits desktop computer (Windows 8+, macOS 10.8+, Linux) excluding ARM Processors. Also compatible with smartphones (iOS 9+ or Android 7+) via OTG cable.

Connector
USB micro-B
Security Certification
CC EAL5+
Size
Size: 56.95mm x 17.4mm x 9.1mm
Weight: 16.2g
Supported Assets
1100+ Supported assets