This setup guide helps you set up your new Ledger Nano S hardware wallet. It will teach you how to backup your wallet and install apps so you can access your cryptocurrencies with it. You can read our full Ledger Nano S review here.
The wallet is one of the most advanced cryptocurrency wallets in the market today. It supports over 1800 cryptocurrencies. The Ledger Nano S also offers better support, compact design, mobility, and security for your crypto-assets. The device retails for USD 59 or you can save 27% when buying a family pack of 3 for USD 129. Important to note that Ledger plans on discontinuing the Nano S sometime during 2022 once they've sold the last 10,000 Final Edition units.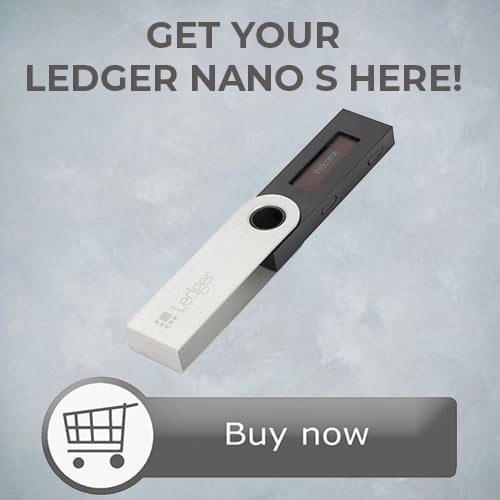 Ledger Nano S Unboxing
You can also follow our step-by-step video setup guide here.
The first step when you receive your hardware from the store is to check if the box is correctly sealed. If the box is not sealed correctly, return it to the store because there is a high chance that the wallet has been tampered with.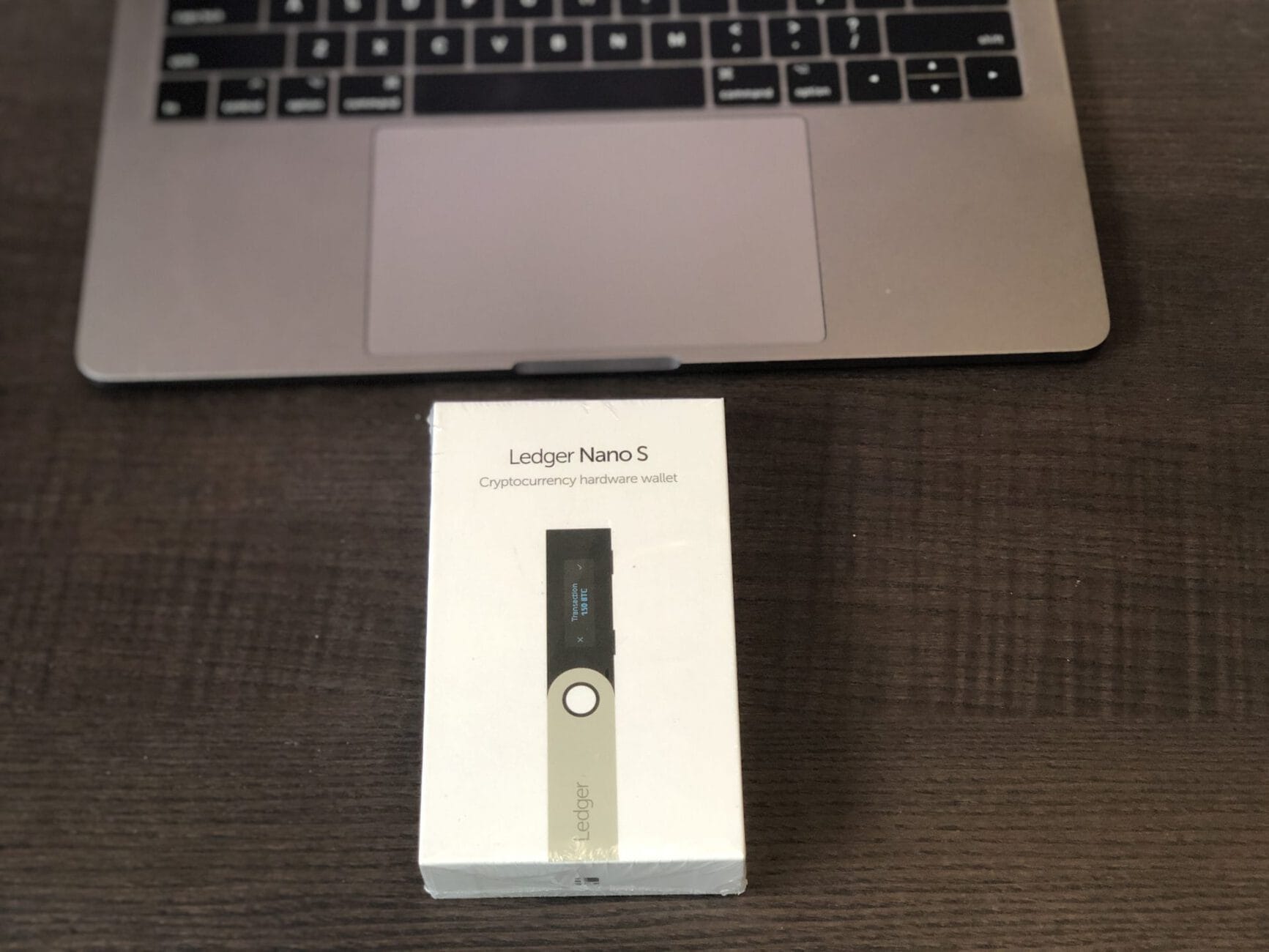 After verifying that the seal is intact then unbox your device and confirm that all the contents are there. The contents in the box should include:
Ledger Nano S device;
Blank sheet to write down your recovery phrase;
USB cable to allow you to connect it to the computer;
Setup guide manual that contains instructions on how to install and use your device; and
Keyring and lanyard to take your device on the go.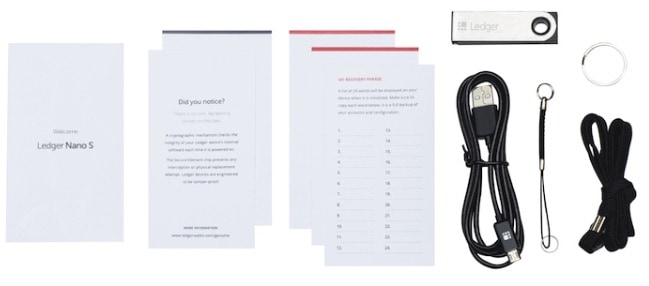 Verify that the 24-word recovery phrase card is blank. This 24-word recovery phrase allows access to your private and public key details in case your login details have been lost. If it is already pre-determined, it means that your device has been tampered with.
Setting up the Ledger Nano S
Connect the device to your computer using the USB cable included.
A welcome screen immediately flashes up your device and prompts you to press the two buttons on top to begin.
It will then ask "Configure as a new device?". Click:
– "x" to restore an old device using your recovery phrase; or
– "✓" to set up a new device.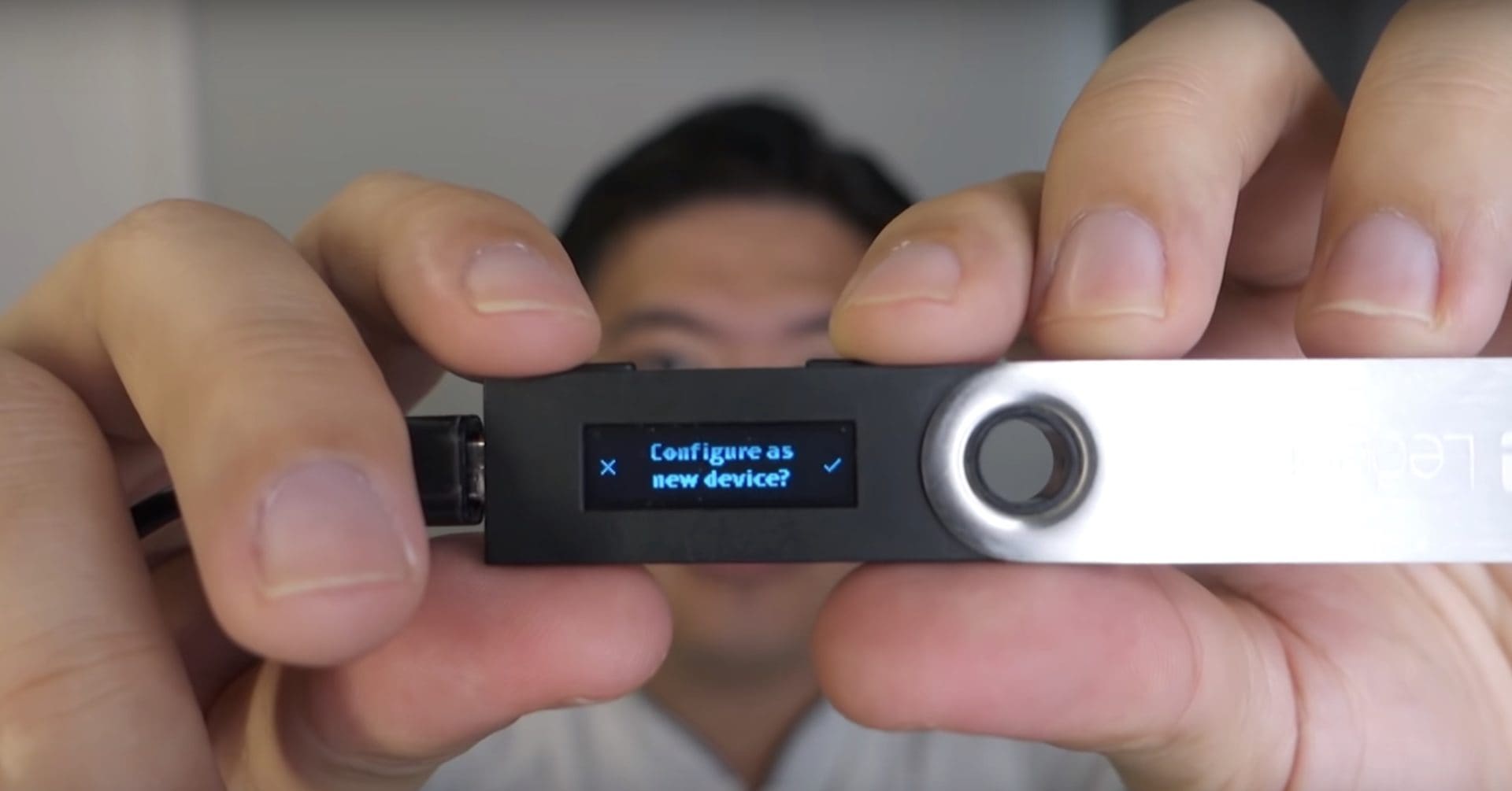 Setting the PIN Code and Recovery Phrase
Setting the PIN Code
The device will ask you to set a new PIN code. In future, this is what you will enter to access your device.
Input your chosen 4 to 8 digit PIN code by pressing the buttons on either side to choose the digit, then pressing both buttons together to confirm. Re-enter your PIN code to confirm and conclude the PIN code setup process.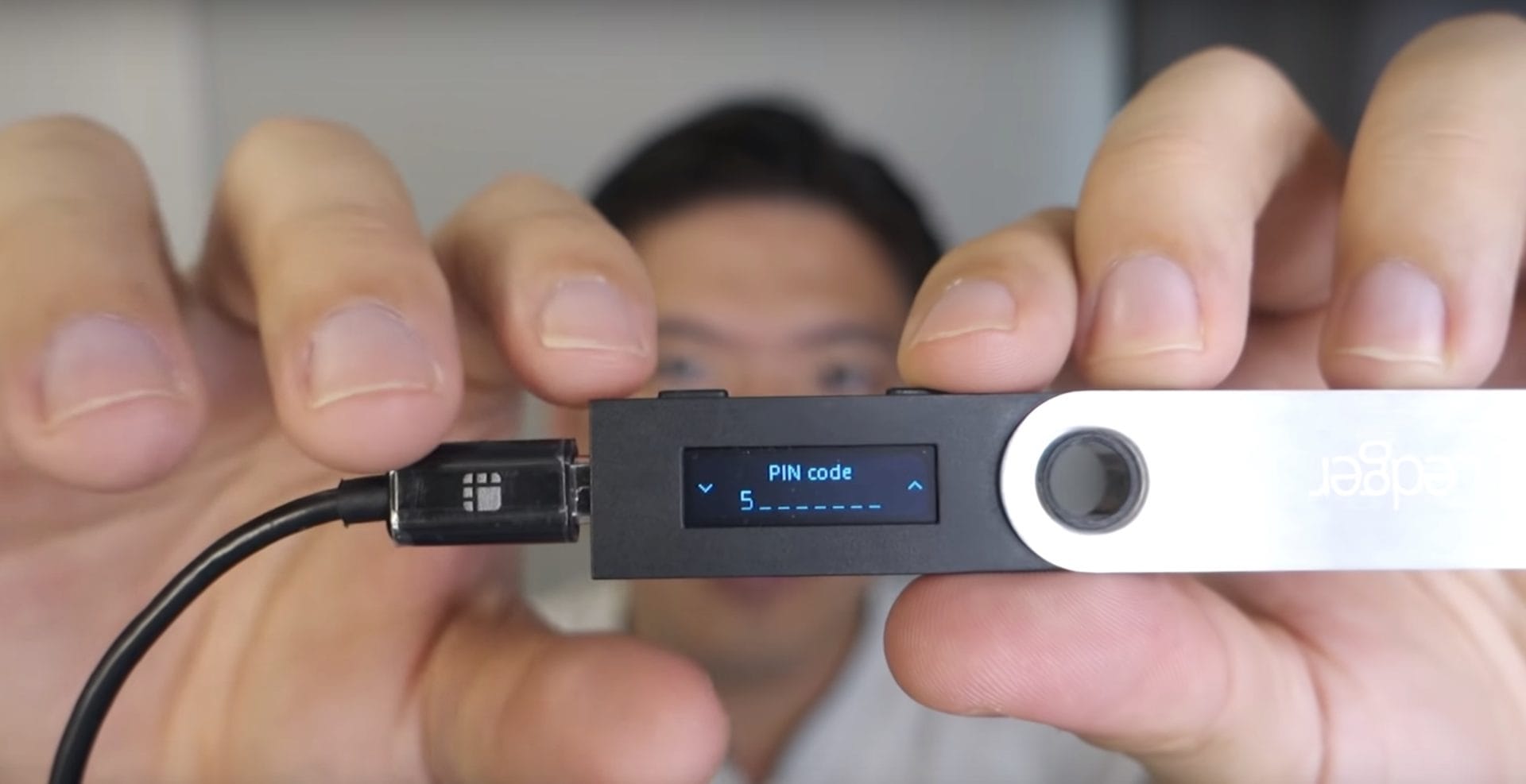 Setting the Recovery Phrase
You now need to set a recovery phrase that you will use to restore your wallet on another physical device.
Press the 2 buttons of your Ledger Nano S device simultaneously to start.
The device will start displaying the 24 words that make up your recovery phrase one by one. Press both buttons simultaneously to move onto the next word. Write them down in order on the blank recovery sheet provided.
DO NOT take a photo of your recovery words or write them down on your computer- keep it locked away. This is because anyone with your recovery phrase will be able to restore your account on another Ledger device and steal your funds.
Afterwards, the device will prompt you to confirm your 24-word recovery phrase by asking you to input some of the words. Do this to complete the recovery phrase setup.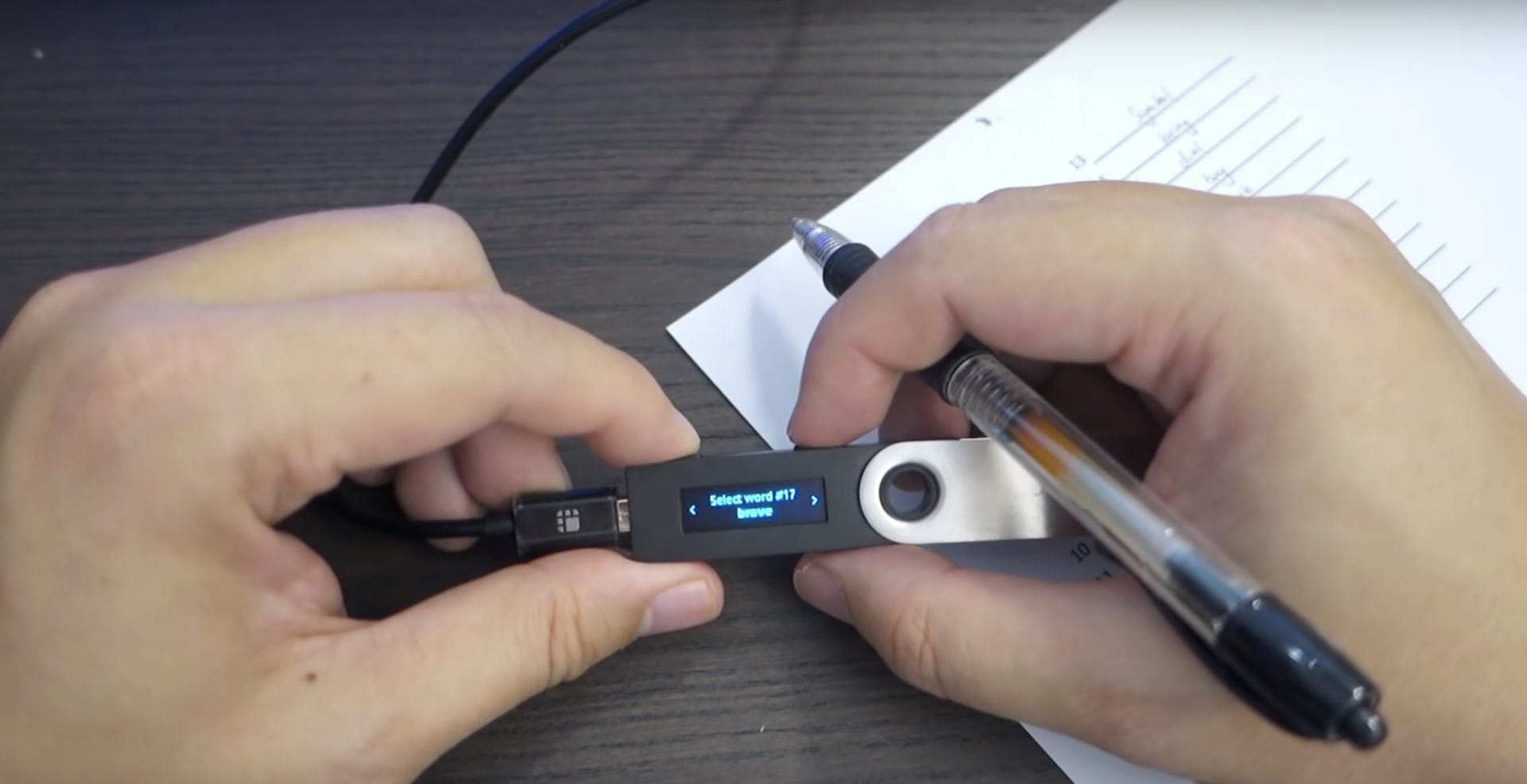 Your device is now set up and ready to use!
Ledger Live Application Setup
Keep your device connected to your computer. You need to download and install the Ledger Live app to your computer.
Open the Ledger Live app and select: "Initialize as new device." Click "Ledger Nano S" and follow the instructions that check whether you have installed your hardware wallet correctly. You will then be asked to setup a Ledger Live password.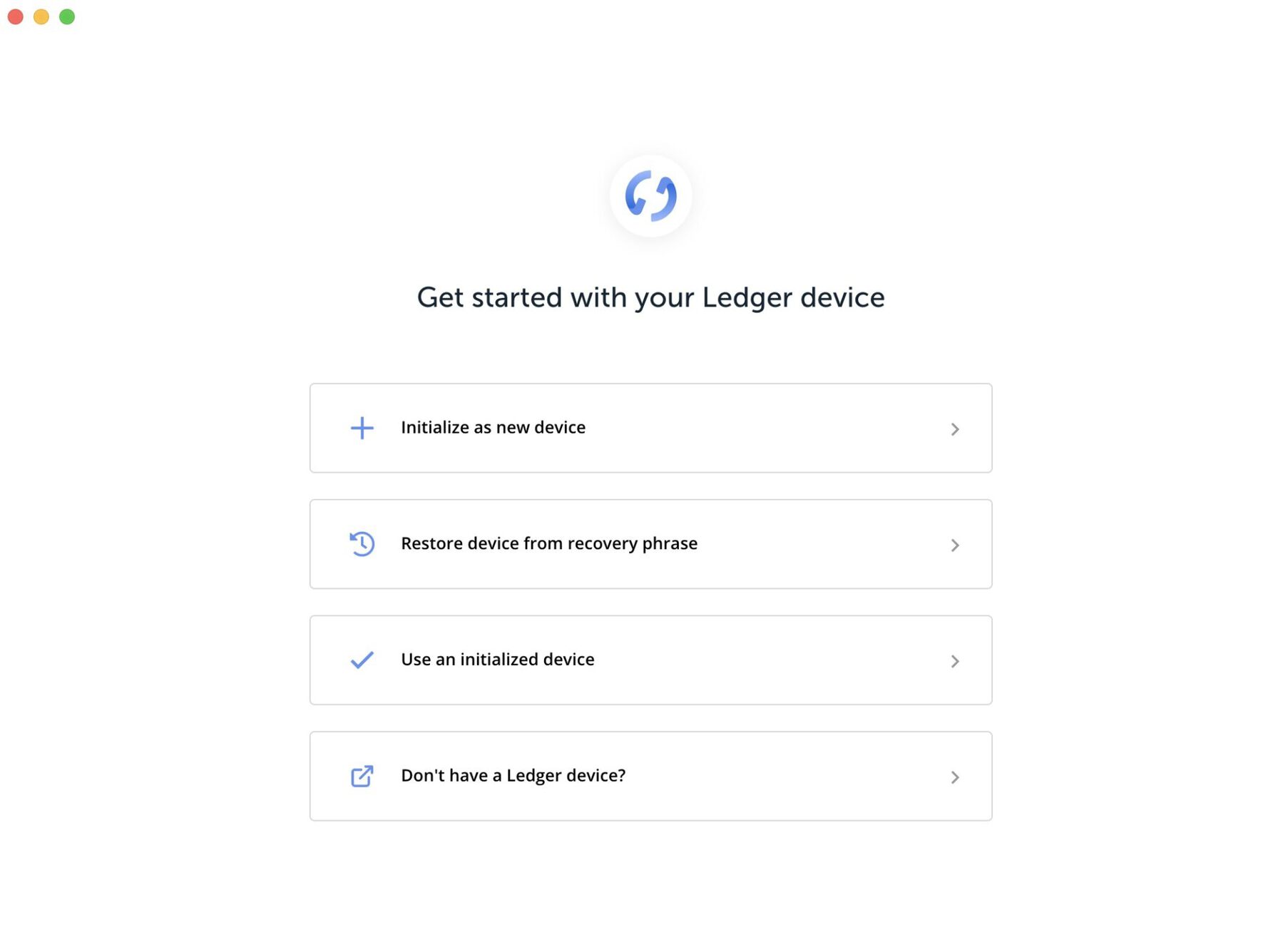 To use the device with a particular cryptocurrency, you will need to download the corresponding app on Ledger Live.
Afterwards, the Ledger Live app will ask you to install apps or add accounts. Select "Open Manager" which will allow you to install or uninstall apps.
For example, to use Bitcoin with your device, select "Open Manager", find "Bitcoin" in the app catalog and simply click "install". You will now see the Bitcoin app on your device.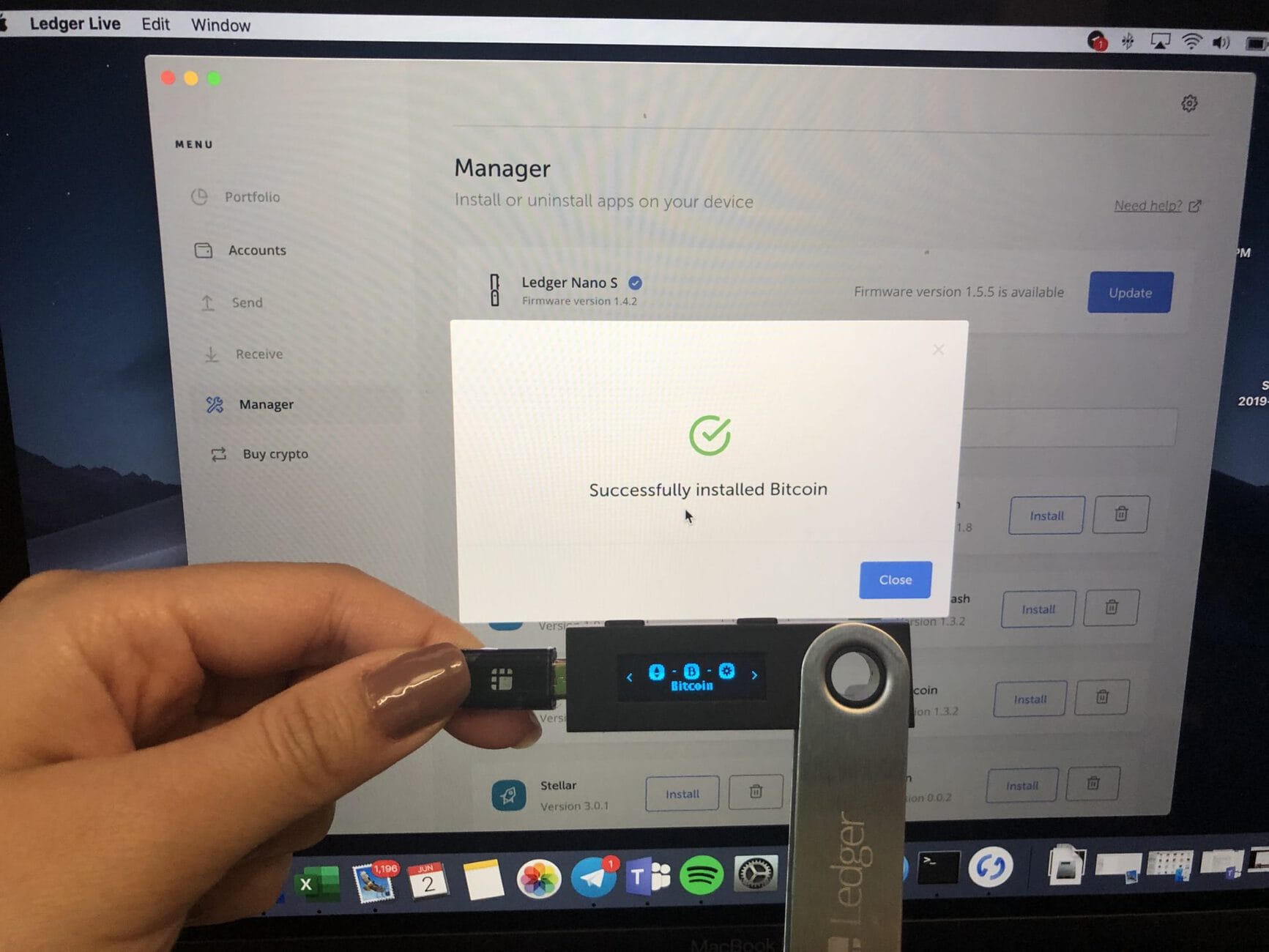 The Ledger Nano S only supports between 3 to 11 apps after its 1.6 firmware upgrade. So if you want to use your device with more than 3 cryptocurrencies, you might find it difficult to fit all of the different apps onto your device in which case you will have to uninstall some apps to make room.
You will not lose your cryptocurrencies if you uninstall the corresponding app. But of course installing/uninstalling apps to use your device is seriously troublesome.
Your Ledger Nano S is now ready to use!
Ledger Nano S setup guide: Conclusion
The Ledger Nano S is relatively easy to set up. The instructions are very clear and intuitive.
Again, ensure that your PIN code and recovery phrase is kept offline and secure. Others can access your funds using your PIN code or restoring your device using the recovery phrase.
The Ledger Nano S is limited to between 3 and 11 apps, depending on the individual app sizes for specific coins. If you have or intend to use more than that amount of cryptocurrencies regularly, you may have to use multiple devices. Or consider getting a Ledger Nano X? Check out our Ledger Nano X review to learn more.