What is DCEP?
Digital Currency DCEP (Digital Currency Electronic Payment, DC/EP) is a national digital currency of China built with Blockchain and Cryptographic technology. This could be considered the world's first Central Bank Digital Currency (CBDC) as it is issued by state bank People's Bank of China (PBoC). The overall objective of the currency is to increase the circulation of the RMB and international reach – with eventual hopes that the RMB will a global currency like the US Dollar. China has recently established an initiative to push forward Blockchain adoption, with the goal of beating competitors like Facebook Libra – a currency that Facebook CEO Mark Zuckerberg claims will become the next big FinTech innovation. China has made explicit that Facebook Libra poses a threat to the sovereignty of China, insisting that digital currencies should only be issued by governments and central banks. DCEP is not listed on cryptocurrency exchanges and will not be for speculation of value.
Update: On Jun 22, it was announced that China had already completed the backend infrastructure of DCEP.
Backing Value:
Currency Basket
To learn more about Bitcoin, cryptocurrencies and generally how to get started. Check out my course created in collaboration with Jeff Kirdeikis of Uptrennd- Bitcademy: Learn, Invest & Trade Bitcoin – In Under an Hour
DCEP is the only legal digital currency in China
DCEP is a currency created and sanctioned by the Chinese Government. It is not a 3rd party stable coin such as Tether's cryptocurrency token "CNHT" which is also pegged to the RMB in a 1:1 ratio. DCEP is the only legal digital currency in China (cryptocurrencies such as Bitcoin are not legal tender in China).
Huang Qifan (Chairman of the China International Economic Exchange Center) said they have been working on DCEP for five to six years now and is fully confident it can be introduced as the country's financial system. It's currently being rolled out, with the People's Bank of China issuing the currency.
DCEP can achieve real-time collection of data related to money creation, bookkeeping, etc, providing useful reference for the provision of money and the implementation of monetary policies

Huang QiFan at the China Finance 40 Forum
Why is China coming up with a digital currency?
The significance of DCEP is that it's designed as a replacement of the Reserve Money (M0) system, cutting back the cost and friction of bank transfers. It is suggested that DCEP will alleviate the risks of offline paper money transactions such as anonymous counterfeiting, money laundering and illegal financing. This is because regulators can better monitor digital currency transactions, which some consider will greatly improve financial and monetary supervision.
DCEP can also reduce the costs involved in maintaining and recycling banknotes and coins.
Furthermore, the issuance of DCEP is conducive to promoting the internationalisation of the RMB and reshaping the current cross border payment system. This is because prior to the RMB Cross-Border Inter-Bank Payments System (CIPS) going live in early October 2015, RMB cross border clearing and settlement was mainly done through CHIPS (Clearing House Interbank Payments System) or SWIFT (Society for Worldwide Interbank Financial Telecommunication). However, some consider that both the CHIPS and SWIFT systems have fatal flaws. Firstly, CHIPS is a US company. Whilst SWIFT, in particular, is seen as a cause for concern to the Chinese because due to its foothold in the international banking system, it is almost essential to use SWIFT for inter-bank transfers across countries. Thus whoever controls SWIFT's data center will have access to information on almost every cross-border remittance, which some in China posit is the US. This is because whilst SWIFT claims to be a neutral international organization, 12 of the 25 directors are either from the US and her allies. Also, its transactional data were found to have been supplied to the US. Hence it is thought that China is being held back by the US via the SWIFT system, and so, in internationalizing the RMB- China requires its own world-wide banking system- i.e. DCEP.
Hence the Chinese consider that it is a requirement to form a new currency clearing network.
According to Chinese media, DCEP is seen as the "3rd Wave" aimed at the US.
History and development of DCEP
Development of DCEP started in 2014 with the establishment of a research institute dedicated to digital currencies and looking at how to improve the Chinese Yuan system with blockchain technology. However during 2014 to 2018, the development process slowed down, probably because the decentralised nature of Bitcoin or blockchain is incompatible with the nature of the Renminbi as a legal national currency. Things rapidly picked up towards the end of 2019 however and this was directly attributable to Facebook preparing to launch Libra, particularly as partner members of the Libra Association and the currencies which Libra was to be backed by had consciously rejected China. Hence, feeling the heat of the competition, China's central bank felt immense pressure to urgently speed up in the global competition towards a digital currency.
Former Vice-chair of the PBoC's National Council for Social Security Fund announced on 22nd June 2020 that China had already completed the backend infrastructure of DCEP. Though China is still undergoing pilot testing as part of the research and development process according to Yi Gang, President of the PBoC during an interview on 26th May 2020. Eventually, other Chinese cities, foreign firms and venues for the 2022 Winter Olympics hosted by China will participate in testing of DCEP.
DCEP is not for speculation
China has made it explicitly clear that their National Digital Currency is not for speculation. Mu Changchun, Head of the People's Bank of China digital currency institute made it is "a digital form of the yuan". It is a centralised, sovereign issued currency and there would be no speculation to its value. This is to the disappointment of the online community in China, where some netizens commented "So there will be no fun in it" on Sina.com
The currency is not for speculation. It is different to bitcoin or stable tokens

Mu Changchun, PBoC's digital currency research institute
It is also not possible to mine DCEP or stake on the DCEP network.
Deployment and Distribution
According to Caijing magazine, the pilot institutions for DCEP will be the 4 major state-owned banks i.e. China Construction Bank, the Agricultural Bank of China, Bank of China and the Industrial and Commercial Bank of China. This initial deployment will serve as an official production test for the currency system, where the network and security will be validated. In the second phase, DCEP will be distributed to large fintech companies such as Tencent and Alibaba to be used in WeChat Pay and AliPay respectively.
DCEP will operate on a two-tiered system
The issuance and distribution of DCEP will be based on a two-tiered system.
The first tier would be transactions between the PBoC and intermediaries. These intermediaries would be financial institutions (e.g. the 4 major state-owned banks i.e. China Construction Bank, the Agricultural Bank of China, Bank of China and the Industrial and Commercial Bank of China) and non-financial institutions such as Alibaba, Tencent and UnionPay. Here, the PBoC would issue DCEP to the intermediaries.
The second tier would be between the above-mentioned intermediaries and participants in the retail market such as companies (e.g. retail stores) and individuals like you and I. In this tier, the intermediaries that have received DCEP will distribute it to the retail participants so that it would circulate through the market e.g. through people buying things at stores etc.
The main difference in the issuance and distribution of DCEP compared to traditional cash however is the fact that DCEP would be transferred through electronic wallets, rather than bank accounts.
China has completed the backend infrastructure for DCEP
China has already completed the backend infrastructure of DCEP, though ongoing testing is still required. According to netizens that obtained screenshots from the closed beta, the DCEP wallet will support several major functions including: digital asset exchange, wallet management, ability to look up past transactions. Other functions include payment via QR code, remittances and mobile payments.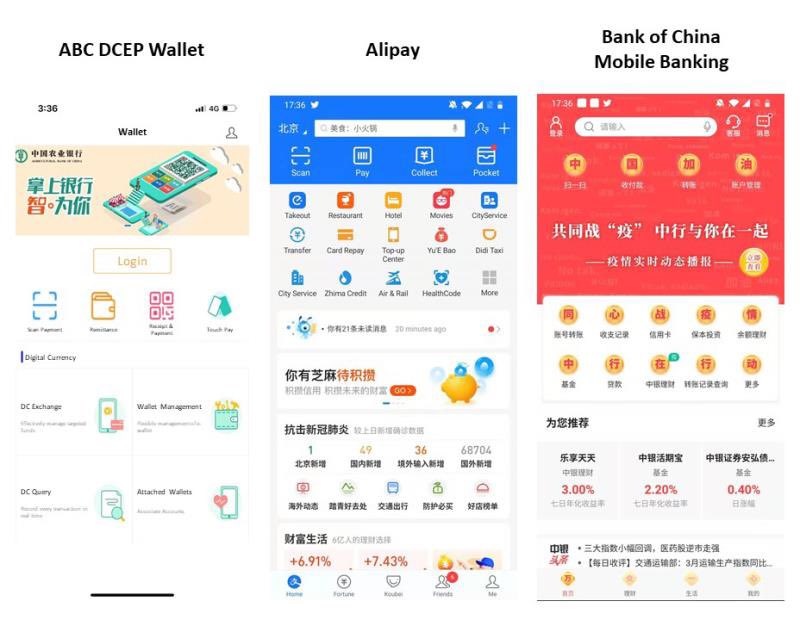 Other pictures circulating online appear to be of the Bank of China's DCEP wallet. As can be seen from the image, the wallet will allow the currency to be sent, received and and converted etc., as well as a simple and clear interface showing the user's transaction history.
Shenzhen, Chengdu, Xiong'an and Suzhou will be first cities to test DCEP
Interviews with Yi Gang, President of the PBoC on 26th May 2020 confirmed the speculation that the central bank will not just initially test DCEP in Shenzhen, but in multiple locations including Chengdu, Xiong'an, and Suzhou.
Specifically in Suzhou, DCEP would mainly be used to pay half of their public sector workers' travel subsidies in May 2020. There are already pictures circulating on social media of DCEP wallets downloaded by public sector employees in Suzhou in preparation for receiving subsidy payments later this month.
Meanwhile for Xiong'an, the testing would mainly involve catering and retail companies. And further down the road, the venues for the 2022 Winter Olympics in Beijing and Zhangjiakou will join in the testing program.
These will be internal closed pilot tests and shows that China is serious about deploying DCEP and also "winning" the digital currency race. Offshore RMB hubs such as Hong Kong will very likely be included in the second wave of cities to test DCEP.
Foreign firms like McDonalds, Starbucks will also test DCEP
Along with some local hotels, unmanned supermarkets, postal lockers, bakeries, bookstores, and gyms, foreign firms such as Starbucks, McDonald's, and Subway have been announced as companies that will participate in testing of DCEP. The announcement was made on 22nd April 2020 at an event organized by the National Development and Reform Commission and a total of 19 companies will participate in the testing.
For the companies that intend to participate, employees reveal they have already received official notices from the central bank. Though details of exactly how the testing would be carried out are not yet known.
Merchants must accept DCEP
The central government has mandated that all merchants who accepted digital payments (such as Apple Pay, AliPay and WeChat) pay must accept DCEP. This will give DCEP a large nation wide acceptance in China, with every merchant obligated to participate or face a potential loss of their business license. This will make DCEP the most accepted digital currency in the world.
Huawei Pay to Support DCEP
Owing to the widespread use of Huawei phones in China and the company's close ties with the Chinese Government, Huawei is rumored to be the first adoptee of DCEP. New leaked images of the Huawei Pay app show direct connections to Chinese merchant banks and the ability to withdraw DCEP. On on Huawei's heels, rival company Tencent has also stated they will support DCEP on the WeChat pay platform.
What is the difference between DCEP, Libra, Bitcoin and Cash? A comparison
Here's a comparison of the different features between DCEP, Libra, Bitcoin and Cash:
| | | | | |
| --- | --- | --- | --- | --- |
| | DCEP | LIBRA | BITCOIN | CASH |
| Anonymous? | Can be made anonymous | Yes | Yes | Yes |
| Type of blockchain technology used? | Smart contract, asymmetric cryptography etc. | Consortium blockchain | Public blockchain | Nil |
| Efficiency? | High | High | Low | Low |
| Decentralised? | No | Partially | Yes | No |
| Volatility? | Low | Low | High | Low |
| Portability? | High | High | Medium | Low |
| Security? | High | High | High | Low |
| Offline payment support? | Yes | No | No | Yes |
| Transaction speed (TPS/sec)? | 220,000 | 1,000 | 7 | N/A |
| Status? | Undergoing testing | In development | In circulation | In circulation |
NFC Contact based payment
According to Official Sina Blockchain, DCEP will have NFC based payment options that don't require devices to be online during the transfer. This will be poised as a direct replacement of paper money, as DCEP will be usable in areas without internet coverage. In addition, DCEP doesn't require the mobile device to be bound to a bank account – meaning the unbanked population will also have access to the digital currency.
Mandate to adopt Blockchain
China has established a countrywide initiative to push forward Blockchain Adoption. President Xi Jinping has mandated that the 'country's development of blockchain technology should be sped up ' on Oct 24th in front of the Political Bureau. This speech has also been echoed by Li Wei, head of the People's Bank of China. In April of 2020, China launched the Blockchain Service Network to unify all the Blockchain related projects in the Nation.
China has adopted the "Blockchain, not Cryptocurrency", whereby the benefits of Blockchain is highlighted. On the other hand, cryptocurrencies that are native to Blockchain are suppressed as Cryptocurrency Exchanges and ICOs are banned in the country.
China is expected to spend $1.42 Billion USD on blockchain development by 2020

Statista Research Report
DCEP is a Centralized Currency
DCEP is a digital currency that is run on a centralized private network – the Central Bank of China has complete access and control of the currency. This is a huge contrast to Bitcoin, which has an open decentralized network where there is no centralized leader. In the case with DCEP, the Central bank of China has the ability to create or destroy DCEP.
Trading DCEP? What platforms support DCEP?
Mere hours after DCEP has been announced, various (potentially scam) Chinese exchanges have listed IOUs or knock-offs clones of DCEP. It's important to know that DCEP is currently only distributed to banks working with the PBoC and will not be available for the public. If you want to find out what are reputable exchanges, check out our top cryptocurrency exchanges guide. It is strongly recommended NOT to trade DCEP until it is officially released as there is no guarantee exchanges have access to the digital currency.
How to buy DCEP?
Currently DCEP is only available to other banks working with the People's Bank of China. This will eventually open up to the general public in 2020. There are currently no cryptocurrency exchanges that trade DCEP.
Is DCEP a challenge to the US monetary system?
The overwhelming view appears to be yes, both from the Chinese and the US perspective. According to statistics from the World Bank, 1.7 billion adults around the world use cash because they don't have bank accounts. However, two-thirds of this population own a mobile phone, which can be used to make monetary transactions. This is what's been happening in China, where mobile payments such as Alipay or WeChat Pay have more than 1.7 billion customers across China. Currently, the two online payment companies handle more payments monthly than Paypal did in the whole of 2017 (i.e. USD $451 billion). It's very common in China to see street vendors accepting Alipay or WeChat pay.
With the mobile wallet payment infrastructure in place, their cooperation with the PBoC could be the answer to distributing DCEP overseas. This would fit China's "Belt and Road Initiative", the aim of which is to build a new trade route connecting Asia with Europe and Africa. The idea is that with DCEP being used by mobile wallets, populations along the Belt and Road can be connected, bypassing existing financial infrastructures completely and giving an opportunity for the unbanked to pay for online purchases and build their savings.
In the US, the government does not see a demand for a digital currency. In a letter from the Chairman of the Federal Reserve, Jerome Powell, he took the view that many of the challenges a digital currency intends to solve does not apply to the US. In his view, the US payments landscape is already highly competitive and innovative, with plenty of digital payments options for consumers. Powell also commented, echoing the sentiments of those US lawmakers opposing Libra, that a digital payment where you would know and be able to track each and every payment would be unattractive for the US.
Whilst the House Committee on Financial Services also sees Libra has potentially raising national security concerns, observers consider the challenge from China is not being taken seriously. Because on the other hand, China is worried that Libra will reinforce the dominance of the US Dollar and is therefore working on fast-tracking the launch of DCEP. And it is likely that China will outrun the threat from Libra.
From a wider perspective, some take the view that DCEP can be used as a weapon against the US in an economic war. This is because as DCEP becomes accepted across the Belt and Road, China will have the power of total surveillance and control over the economic activity of potentially half the world's population. DCEP will allow China to track everyone's spending and transactions, and can seize or lock customer's digital assets in their mobile wallets. We've already seen this in China, where together with its "social credit system", millions of individuals have already been barred from purchasing airline tickets using their mobile wallets.
When will DCEP be officially launched?
On 26th May 2020 Yi Gang, President of the PBoC updated journalists that notwithstanding pilot tests being conducted, this is routine work within the research and development process. It does not mean that DCEP will be officially issued and there is no timetable for when DCEP will be officially launched.
Note: Previous publications have referred to the national currency as CBDC.
Update: 23rd June 2020, new section on history and development of DCEP, updated latest development status.
Is DCEP backed by Gold?
The simple answer is "No". On a recent episode of Kitco News, journalist Max Kaiser claimed that China will launch a gold-backed cryptocurrency, with the intention of destroying the USD as a reserve currency. He added that China has already amassed as much as 20,000 tons of gold. However this is mere speculation – China has no plans to return to the Gold Standard nor issue gold-backed cryptocurrencies.
Will DCEP be interoperable with other Cryptocurrencies
There are many plans to build gateways that allow the swapping of DCEP to other cryptocurrencies. Projects such as Algorand have stated they want to support DCEP and build possible bridges to swap these currencies. However, as the technical details of DCEP have not been fully revealed, such bridges have not been built yet.
Sources:
https://www.asiacryptotoday.com/how-china-and-the-world-reacted-to-xi-jinpings-blockchain-comments
https://venturebeat.com/2019/09/15/wake-up-us-federal-reserve-china-just-showed-how-digital-currency-is-done/
https://www.reuters.com/article/us-china-blockchain-idUSKBN1X704A
https://u.today/just-in-chinese-central-bank-to-launch-digital-currency-called-dcep
https://beincrypto.com/chinas-dcep-to-be-worlds-first-national-digital-currency-says-ccie-vice-chairman/
https://qz.com/1710850/chinas-central-bank-could-gain-from-a-digital-yuan-cbdc/
https://www.asiacryptotoday.com/news/china-digital-yuan-dcep/