Taiko is a ZK-EVM scaling solution for Ethereum, similar to zkSync and StarkNet. They recently launched the Taiko Alpha-3 Testnet and confirmed a token launch, which means early users can potentially earn huge airdrop rewards. In this article, we will explain what Taiko is and how to position yourself for the $TKO airdrop.
Taiko ($TKO) Airdrop Step-by-Step Guide
Here's a step-by-step guide on how to get a potential Taiko ($TKO) token airdrop:
Add Taiko Network to MetaMask
Claim Faucet Tokens
Bridge Testnet Tokens
Deploy a Smart Contract to Taiko A1
Run a Node on Taiko
Complete Galxe Tasks
See below for more details.
What is Taiko?
Taiko is building a decentralized and Ethereum-equivalent (Type 1) ZK-EVM. Taiko's goal is to scale Ethereum in a manner that emulates it as closely as possible – both technologically and ideologically. They have raised $22 million across two funding rounds and launched their latest testnet (Alpha-3) in their mission to build a decentralized and Ethereum-equivalent (Type 1) ZK-EVM.
The Taiko alpha-3 testnet is the latest update and is a significant milestone on the journey towards a decentralized, Ethereum-equivalent ZK-EVM. This testnet will be critical in testing much of the network design and components. It's also known as Grímsvötn. The primary purpose of the alpha-3 test network is to evaluate the economic design and implementation of new protocols, including new fee/reward structures.
Technical Overview of Type-1 ZK-EVM
Ethereum-equivalent ZK-Rollups, also known as ZK-EVMs, are the ideal layer-2 scaling solution as they do not sacrifice security or compatibility. Taiko aims to be a type-1 ZK-EVM, putting perfect EVM/Ethereum equivalence over ZK proof generation speed.
The various types of ZK-EVMs can be distinguished by how closely they adhere to Ethereum's architecture at the base layer, such as the Merkle Patricia Tree for the state trees, the execution client specification, and the gas costs for each opcode.


These ZK-EVMs make compromises between compatibility and proof generation cost, with Type 1 ZK-EVMs prioritizing compatibility over cost. This type is also known as "Ethereum-equivalent" because it does not alter any aspect of the Ethereum architecture, including the hash function, state trees, and gas costs. This allows existing execution clients to be reused with minimal modifications.
Who is the Team behind Taiko?
Taiko Labs is co-founded by Daniel Wang, the founder and former CEO of Loopring — an EVM DEX protocol powered and scaled by zero-knowledge proof technology. In July 2022, Wang brought in Brecht Devos, his former Chief Architect at Loopring, to lead the project's zero-knowledge research and development team. As of now, the company has more than twenty people across thirteen countries with most people having an engineering and cryptography background.
Does Taiko have a Token?
Yes, Taiko Labs confirmed it in their white paper that they will have a Taiko Token ($TKO). The protocol mints $TKO to reward block verifiers. The token is transparent to L2 users, providing a seamless user experience equivalent to that on the Ethereum chain.
Users will pay transaction fees in ETH, and block proposers will receive these fees for each block they successfully propose. In return, block proposers must burn a certain amount of $TKO to participate in the protocol, and pay ETH to Ethereum validators for block inclusion in L1 blocks.
Taiko Alpha-1 Testnet – Confirmed Airdrop Strategy
Taiko launched their Alpha-1 Testnet in late December 2022. It consists of two networks: Taiko A1, a fully decentralized Ethereum-equivalent ZK-Rollup, and Ethereum A1, the latter serving as the L1 network. The testnet includes L1 and L2 nodes with the Taiko protocol contracts deployed and a mining interval of 12 seconds. In their user document, Taiko has a guide for what users can do in the testnet, which strongly hints at a potential airdrop strategy.
The best way to receive $TKO airdrop is to bridge tokens between Ethereum A1 and Taiko A1, deploy smart contracts, and run a node. Completing these steps puts you in a great position to be eligible for an airdrop. Here's a step-by-step guide:
Taiko Alpha-2 Testnet – Confirmed Airdrop Strategy
Here's how to potentially receive an airdrop in Taiko's Alpha-2 Testnet:
Claim testnet tokens using Sepolia Faucet and Horse/BLL.
Add these 2 token contract addresses to your wallet: Bull Token — 0x6048e5ca54c021D39Cd33b63A44980132bcFA66d and Horse Token — 0xCea5BFE9542eDf828Ebc2ed054CA688f0224796f.
Connect your wallet to Taiko bridge.
Transfer tokens from Sepolia to Taiko A2. To do this, go to the "Bridge" tab, choose the Sepolia Network, and choose your token type and amount. Then, click on "Bridge". Remember to also transfer the $HORSE and $BLL tokens!
Transfer tokens from Taiko A2 to Sepolia. This is basically the same steps as point 5 above.
How to Receive Potential $TKO Airdrop for Taiko Alpha-3 Testnet
Here's how to potentially receive an airdrop in Taiko's Alpha-3 Testnet: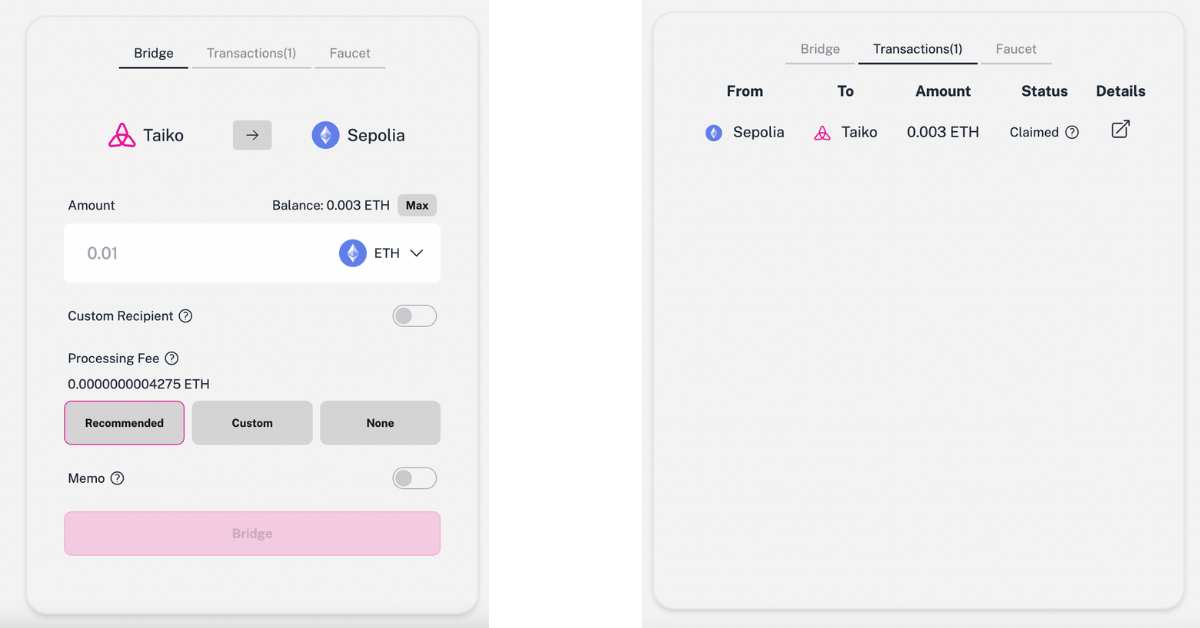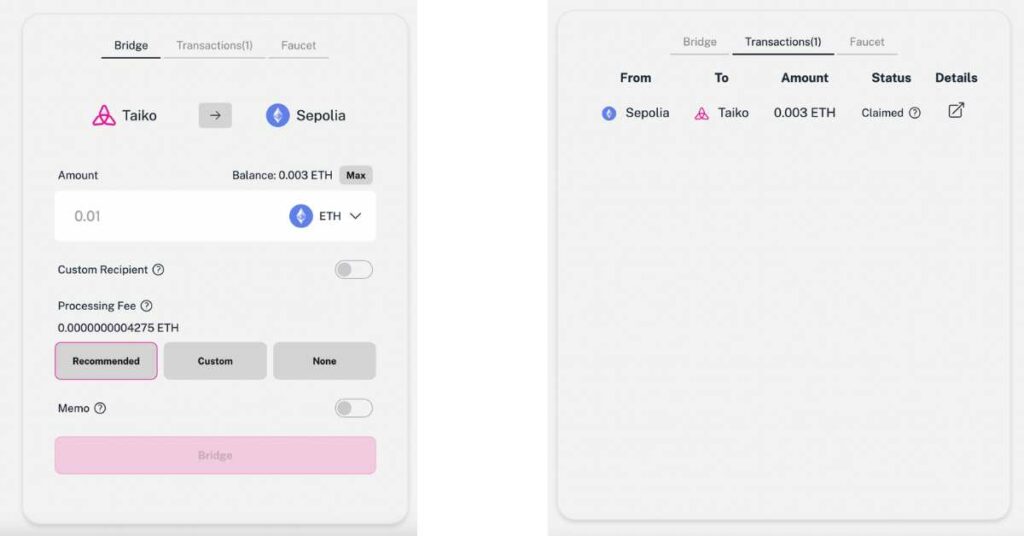 Taiko Quiz Answers
Here are the answers for the Taiko Quizzes on their Galxe page:
Airdrop Review
When reviewing an airdrop, there are several factors to consider. First, the likelihood the project will even do an airdrop in the first place. Then, to look at how many tokens the project intends to allocate towards airdrop campaigns, as well as the difficulty in participating in their airdrop. It is also important to look at the utility of the token so that there will be an actual use and purpose in participating in the airdrop in the first place. Finally, a factor to consider when reviewing an airdrop is whether the airdropped tokens are subject to any lockup period.
Likelihood of Airdrop: Taiko has a guide for what users can do to interact with their testnet, which strongly hints at a potential airdrop strategy.
Airdropped Token Allocation: Taiko confirmed they will have a token known as $TKO, but the tokenomics are unknown.
Airdrop Difficulty: The latest Taiko Alpha-3 Testnet only requires you to use testnet funds to bridge, which is relatively simple. Deploying a smart contract and running a node on Taiko however, may need a bit more technical knowledge.
Token Utility: The $TKO utility is unknown.
Token Lockup: The $TKO token lockup is unknown.