SyncSwap is one of the first and biggest protocols in the zkSync ecosystem. SyncSwap is a DeFi hub that allows users to trade and deposit liquidity into pools to earn trading fees, all with the same security as the Ethereum mainnet. On 1st March 2023, SyncSwap announced their testnet is live on the zkSync Era testnet. In this article, we look at how you can best position yourself to receive a potential SyncSwap token airdrop.
Check out our zkSync Airdrop Guide so you can potentially double your rewards!
SyncSwap Airdrop Step-by-Step Guide
Here's how to get a potential SyncSwap ($SYNC) token airdrop:
Connect your wallet to Syncswap.
Swap tokens.
Deposit liquidity to their Pools.
Join their Discord.
Go to their Guild page and complete the tasks.
See below for more details.
What is SyncSwap?
SyncSwap is a decentralized exchange (DEX) that offers users a secure and low-cost way to access DeFi (decentralized finance). Powered by zero-knowledge technology, SyncSwap provides users with a seamless and secure way to trade Ethereum-based assets. With SyncSwap, users can enjoy the benefits of DeFi without sacrificing security.
Does SyncSwap have a token?
SyncSwap will have a token in the future, called $SYNC. However, there is no official announcement yet, but with the popularity of airdrops and the positive benefits they can bring to a project (See Blur token airdrop), it is very likely that SyncSwap will do an airdrop. Especially since zkSync is also likely to do an airdrop too.
How to receive a potential SyncSwap token airdrop?
The best method of receiving a potential SyncSwap airdrop is to interact with the SyncSwap Era testnet. Here's how to receive a potential SyncSwap ($SYNC) token airdrop:
The first phase of the SyncSwap loyalty program will last for 30 days from April 10th 14:00 (UTC) and to May 10th 15:00 (UTC+1). During this phase, 900,000 $SYNC will be up for grabs. To participate, start trading ETH, USDC, BUSD (Celer Network) and USD+ to earn ySYNC. You will automatically get 1 ySYNC for every $1 generated in trading fees. It is a non-transferable SyncSwap Loyalty Token that can also be converted to veSYNC tokens.
How to save gas fees on SyncSwap
Transaction volume could be the key to getting a potential $SYNC token airdrop. However, gas fees can be very expensive. Here's how to maximize your $SYNC airdrop by saving gas fees on SyncSwap:
Wrap and unwrap ETH on the "Trade" tab. Select "ETH" and "WETH" as the tokens and input the amount of ETH to be swapped, then click "Wrap". Confirm the transaction on Metamask. Then, do the reverse to unwrap your ETH. Gas fees are around $1 per transaction.
Approve token spend. On the "Trade" tab, choose a token and type in "1". Then click "Unlock". On your Metamask, select the custom spending cap and click "Next". Gas fees are around $1 per transaction.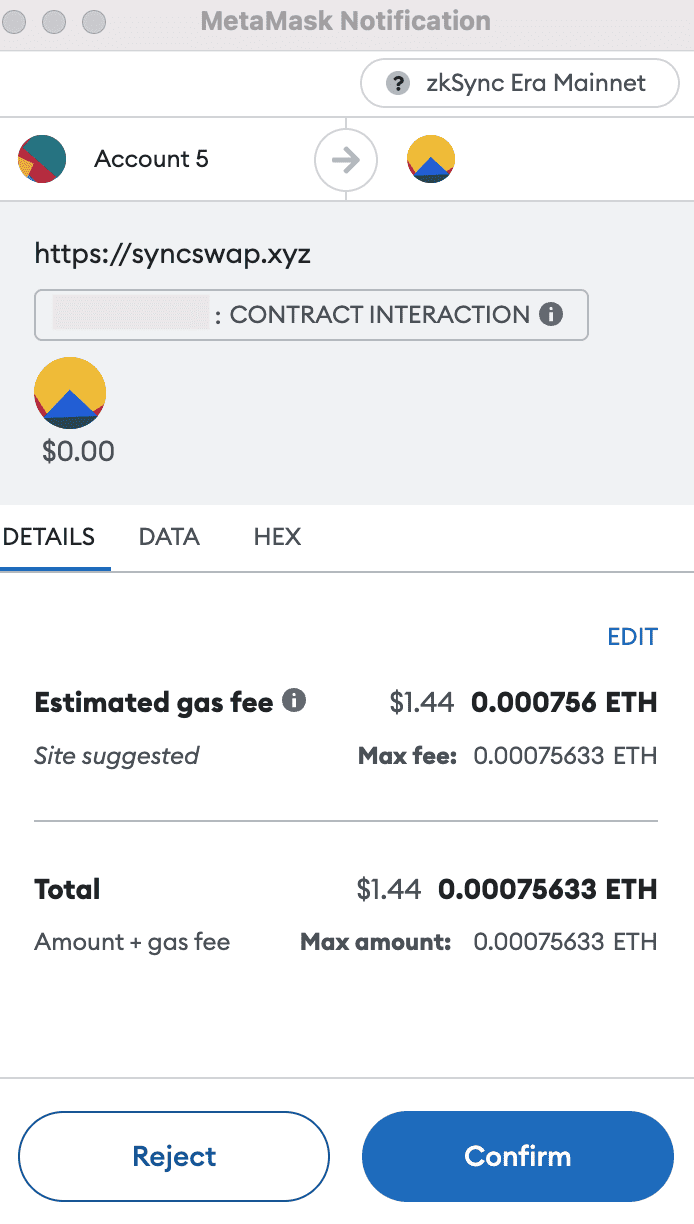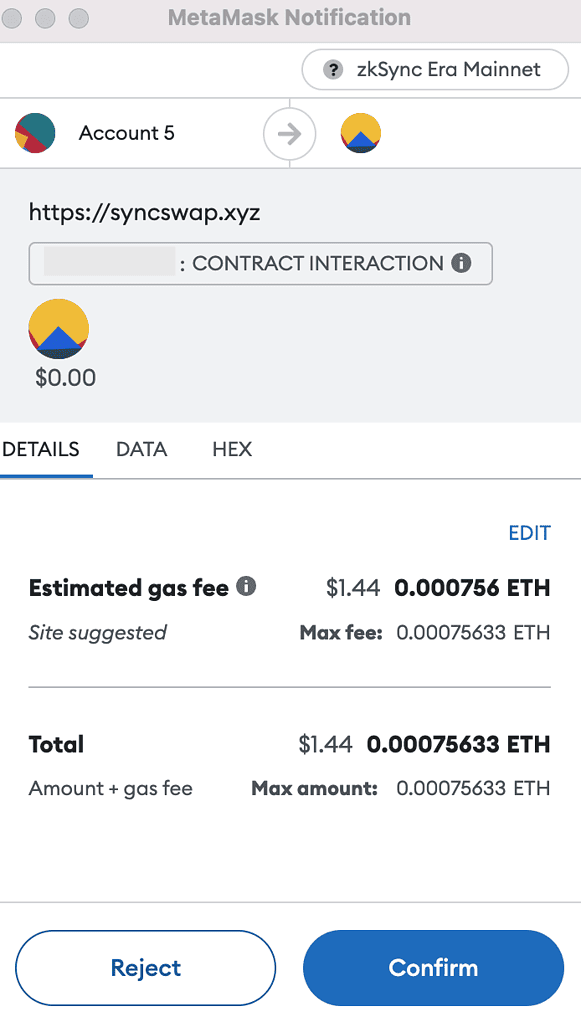 SyncSwap token airdrop review
When reviewing an airdrop, there are several factors to consider. First, the likelihood the project will even do an airdrop in the first place. Then, to look at how many tokens the project intends to allocate towards airdrop campaigns, as well as the difficulty in participating in their airdrop. It is also important to look at the utility of the token so that there will be an actual use and purpose in participating in the airdrop in the first place. Finally, a factor to consider when reviewing an airdrop is whether the airdropped tokens are subject to any lockup period.
Likelihood of Airdrop: SyncSwap has confirmed it will have a $SYNC token. They are likely to do an airdrop considering how it is proven how effective it can be in bringing attention and users to a protocol. Also, SyncSwap is built on zkSync, which themselves are also likely to do an airdrop.
Airdropped Token Allocation: The tokenomics of the SyncSwap token are unknown.
Airdrop Difficulty: The project has not yet released details about any airdrops. However, interacting with their testnet may give you a chance to get a potential airdrop. It also only requires testnet tokens, so it is free to do!
Token Utility: The SyncSwap token utility is unknown.
Token Lockup: The SyncSwap token lockup period is unknown.