Introduction
O3 Swap, a cross-chain aggregation protocol, helps to assist multi-chain liquidity sources on ONE platform. It finds the best prices across multiple chains through its O3 Swap and O3 Hub. With no limits and hidden fees, O3 Swap is the next Trivago comparison site in crypto form.
What problem is O3 Swap trying to solve?
Anyone remember the days we needed to barter, a system of exchange in which one party directly trades goods or services for other goods or services without using a medium of exchange, like fiat money? This leads to tons of problems as both products or services might actually have different values even with the same quantities given. This theory applies to the cryptocurrency system too.
As the traditional Blockchain network is standalone and does not interfere with other blockchain networks, it is tough and difficult for the investors to carry out transactions in between.
This is where a cross-chain protocol comes in and breaks the glass ceiling.
Background of O3 Swap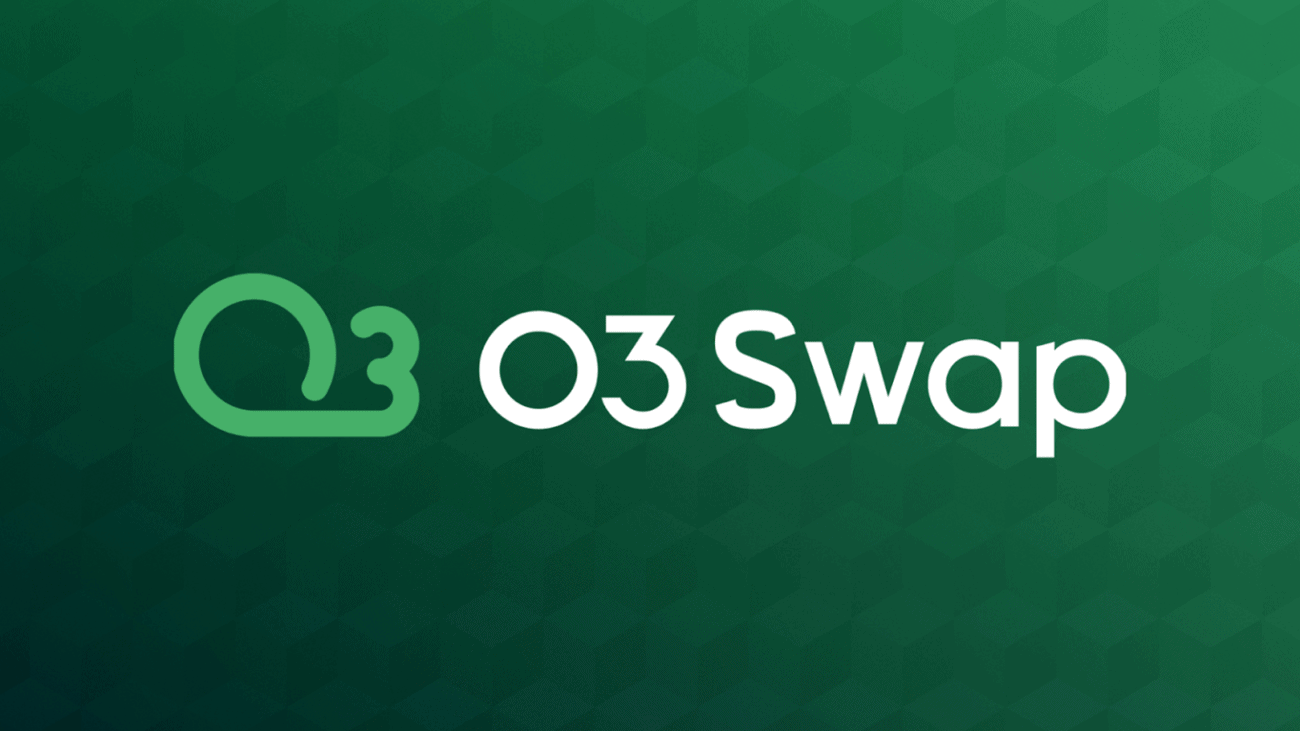 O3 Labs has developed a cross-chain aggregation protocol, named O3 Swap. The aim of O3 Swap is to offer customers access to cryptocurrency-based financial services by allowing them to exchange, or "swap," various digital assets within their O3 Wallet. The tight security and safety systems used in O3 Swap have excelled in the decentralized system of cryptocurrencies.
On their official website, you can find out a few of the liquidity sources O3 Swap supports; Uniswap, SushiSwap, Curve, Balancer, Bancor, 1inch, Paraswap, and 0x Protocol are on the Ethereum blockchain; PancakeSwap. DODO, MDEX, BakerySwap, ApeSwap, BSCswap, and JulSwap are on Binance Smart Chain; Flamingo, Nash, and Switcheo are on Neo; MDEX, LAVAswap, Depth, and Chocoswap are on Huobi system.
Cryptocurrency enthusiasts use O3 Swap as the cross-chain aggregation protocol to access liquidity outlets from different networks, making it simpler than ever to find the best rates. This single platform eases the complexity and hassle of transacting different cryptocurrencies with the lowest rates, no limit, and no hidden fees.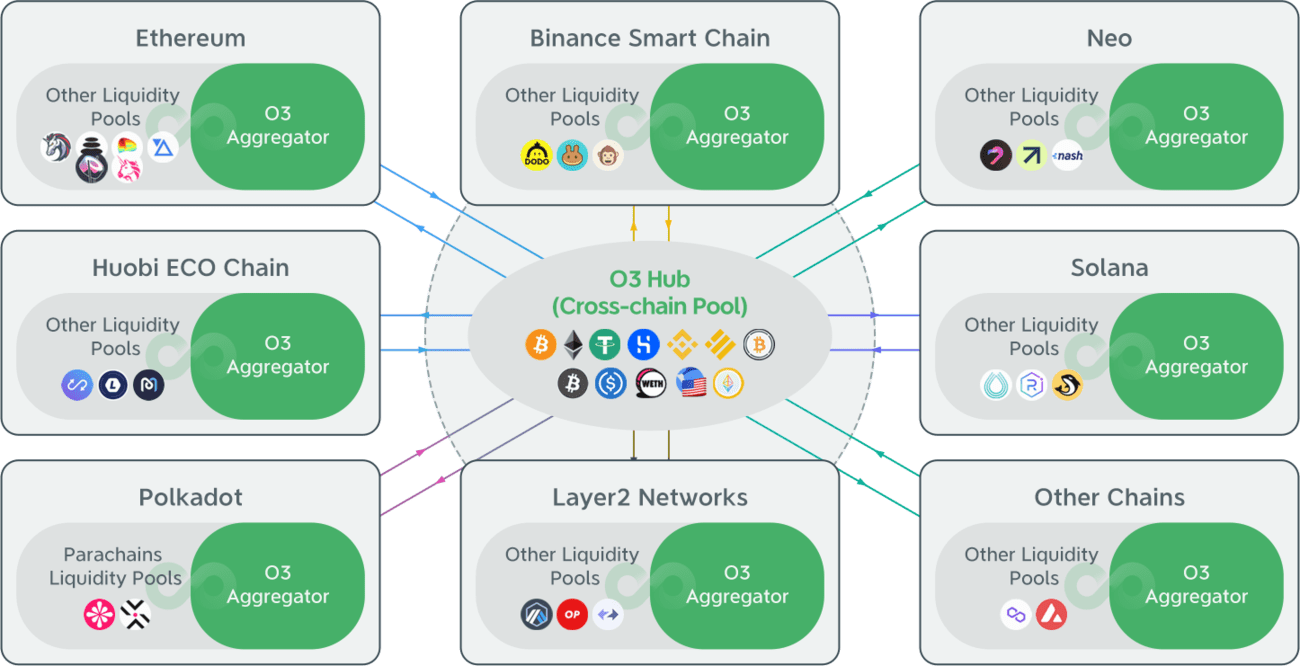 A framework layer and a settlement layer make up what O3 Swap is. The O3 Wallet, O3 Swap, and payment function are the first steps. The O3 aggregator and cross-chain protocol are the seconds. Furthermore, O3 Swap has an automatic market maker, order book, and money market features to offer liquidity. Lastly, there is an O3 Swaps platform layer for a service API that can be combined with a variety of other applications.
Features of O3 Swap
O3 Swap's main technical components are the exchange aggregators (O3 Aggregator) and cross-chain pool (O3 Hub). O3 Aggregators are used to help users find the most cost-effective exchange prices and routes in the network of sought-after blockchains. Whereas, O3 Hub uses the PolyNetwork to provide cross-chain transaction facilities, allowing consumers to perform liquidity by using a single token from several chains to earn money from cross-chain transaction fees and O3 incentives.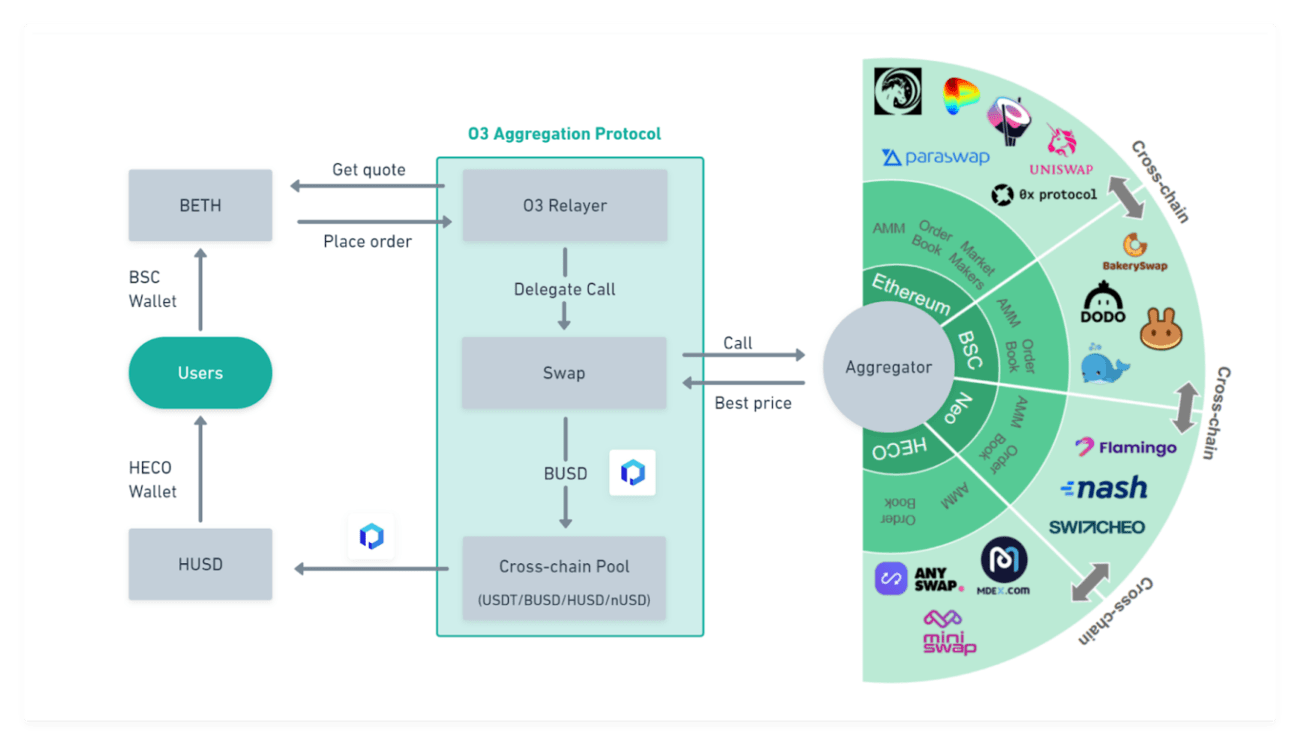 O3 Swap is created using DeFi standards. As a result, everybody will be able to use it. With its aggregation protocol, users will not only benefit from low cross-chain exchange rates, but they will also be able to engage in the governance model, which is built on the O3 Swap Token.

O3 Swap is permissionless, anti-censorship and non-KYC. It means that anybody can access O3 Swap anywhere, anytime without the need for permission of any party.

O3 Swap aggregates the liquidity of multiple chains on its own single network. At the cheapest possible rate, crypto investors can exchange assets through the most efficient trading route by linking their own decentralized wallets.

O3 Swap creates a community-based growth community. It develops decentralized governance and intense community development among the cryptocurrency market players.

O3 Swap utilizes the cross-chain exchange system to the top-notch level. Using the aggregation protocol puts forward all tested and potential cross-chain solutions to let the crypto lovers freely trade their desired assets with a single tap without any hassle.
O3 Swap Token
O3 Swap Token (O3) is a token used by the O3 Swap platform. It acts as a vital link in the development of the O3 Swap network. Via token community governance, both members and developers are invited to engage in the overall ecological network based on the O3 Swap economic model.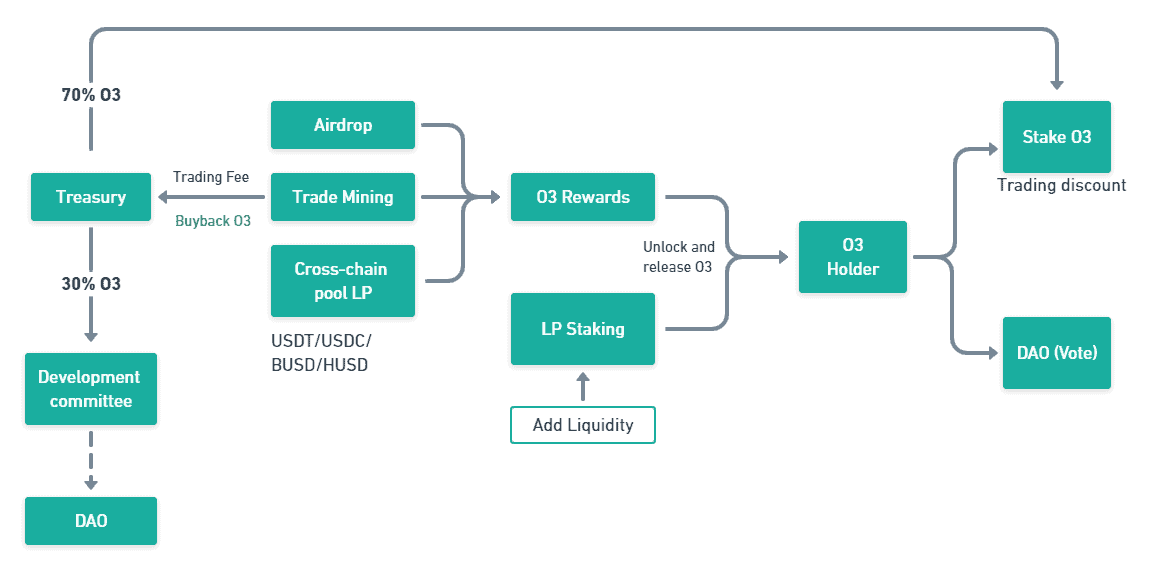 There are 3 methods to earn O3 Swap token in the O3 Swap economic model. Users will first get airdrops by participating in early product testing and community contributions. The second method is that they can use O3 Swap to acquire exchange mining earnings. The final method is through contributing liquidity to the Hub (cross-chain pool) in order to get O3 incentives. When O3 is gained in one of the three ways listed above, it is locked. To unlock the O3 in the account, users must offer liquidity with O3 trading pairings to the main DEXs. The unlocked O3 has 3 main advantages:
Member rights: Stake O3 token to obtain interest and transaction discounts allocated by the O3 Swap treasury.

Community governance: Users can participate in community governance by staking O3 token to initiate proposals, participate in voting, etc.

LP staking: Users can use O3 token to synthesize liquidity equity proof (LP), which can be used for unlocking and mining.
All transaction fees from O3 Swap, on the other hand, will be utilised to purchase back O3 token in open markets on a regular basis. Then the fees will be paid proportionally to O3 stakeholders and development committees.
How to use O3 Swap
Consumers may use the protocol by going to the Swap page on O3 Swap official website. Select it from the exchange section. The user must then bind their wallet (MetaMask, O3 Wallet, NeoLine) in order to choose the token they want to exchange. By clicking the "RFQ" button after entering a number, the user may see the transaction data. Users will validate their transactions and change the network charge accordingly. Also, the time of transaction confirmation may take longer than usual, depending on different network speeds.
O3 Hub
O3 Hub is technically a big pool of the collected assets across the multiple assets in the platform. It is a cross-chain asset pool, such as a stable coin pool, and a cross-chain protocol built on the Poly Network. To earn O3 incentives, liquidity providers can deposit one or more funds into the cross-chain pool and stake the LP shares. Only stable currency cross-chain exchanges and liquidity provision are required throughout the testing period.
The usage method is identical to O3 Swap. Users just need to choose their tokens, add or delete liquidity. Users must choose the "Deposit" or "Withdraw" option to validate a transaction.
IDO Launch
On May 12th, 2021, O3 Swap had its public sale.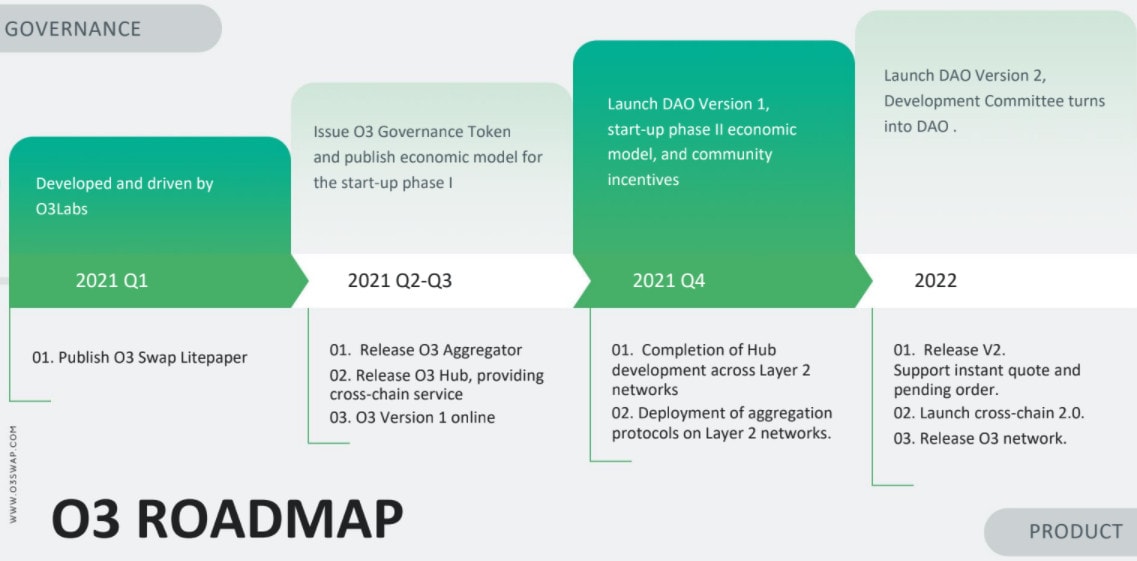 This shows the aggressive innovation and determination for O3 Swap to disrupt the traditional cryptocurrency market as soon as possible. According to the roadmap, they have achieved the launch of the official website, released the Neo swap module, and published O3 Swap Litepaper in Quarter 1 of 2021. They soon will succeed in supporting ETH and BSC swaps, and be ready for O3 Version 1 online that allows the crypto users to enjoy all the perks in a more wholesome and comprehensive way.
A decentralized autonomous association (DAO) will be formed by the end of the year 2021. O3 Swap's aggregation protocol will have been implemented on Layer 2 networks. The whole O3 Hub development across the network will be completed by then.
In 2022, Version 2 of O3 Swap will make its debut with the support of instant quotes and pending orders. It will also launch cross-chain 2.0 and release the O3 network.
Conclusion
According to O3 Swap, it is created in reaction to an immediate issue on the Ethereum blockchain: network congestion and low scalability. While alternative networks for retail investors have emerged, DeFi is still unable to realize its full potential due to barriers between blockchains. This project aspires to have the winning approach that will put an end to network seclusion.
O3 Swap is changing the game so that every cryptocurrency enthusiast can enjoy the interchange between different blockchains freely. At the same time, they can enjoy the best price quote from more than 10 DEXs to optimize their best rates for the "swap".
Disclaimer: Cryptocurrency trading involves significant risks and may result in the loss of your capital. You should carefully consider whether trading cryptocurrencies is right for you in light of your financial condition and ability to bear financial risks. Cryptocurrency prices are highly volatile and can fluctuate widely in a short period of time. As such, trading cryptocurrencies may not be suitable for everyone. Additionally, storing cryptocurrencies on a centralized exchange carries inherent risks, including the potential for loss due to hacking, exchange collapse, or other security breaches. We strongly advise that you seek independent professional advice before engaging in any cryptocurrency trading activities and carefully consider the security measures in place when choosing or storing your cryptocurrencies on a cryptocurrency exchange.