BakerySwap ($BAKE) operates on Binance Smart Chain (BSC) and combines the 3 hottest trends in the cryptocurrency and blockchain space- yield farming, non-fungible tokens (NFTs), and initial DEX offerings (IDOs).
One of the benefits of BSC is that the Ethereum blockchain has been plagued lately by exorbitantly high fees and delayed transaction processing times. This has resulted in retail or average users getting priced out and unable to participate in decentralised finance (DeFi) or NFT activities. For some investors, it's simply too much to pay $15-30 per transfer and $50-100 per Uniswap asset conversion.
Therefore, BSC has risen up to the occasion to alleviate some of these problems by cloning and porting Ethereum's most used DApps over to its blockchain. Thereby offering an attractive alternative with its low fees and near-instant transaction processing time.
Background
Binance Smart Chain (BSC), the blockchain Bakerswap runs on, is a project from Binance – the largest cryptocurrency exchange in the world by traffic volume and traded amount. It is an Ethereum fork with a Proof of Staked Authority (PoSA) consensus mechanism and the ability to integrate with the Ethereum Virtual Machine (EVM). There are 21 validators staking large amounts of BNB, who process activity.
The identity of these validators isn't known but is largely believed to be Binance permissioned actors. These validators need permission from the Binance network to run the validator node. Furthermore, the BNB token holdings are greatly controlled by the Binance team or founders. It's a permissioned network.
But, it does have its benefits. It ensures high throughput transaction processing and low fees for the users. It's an experience for the users, who otherwise won't be able to experience DeFi and NFTs. Binance further returns some part of the transaction fees to the developers to give them the incentive to develop on the BSC network.
BakerySwap
BakerySwap is a Uniswap clone that allows for orderbook-less automated market maker (AMM) services and NFT trading. It runs exclusively on the Binance Smart Chain (BSC). It's marketed by Binance as having "cheaper fees and faster confirmation time than Ethereum". Also included are the functionalities for staking with users providing liquidity and earning new tokens, combination NFTs and pets feature.
In the place of orderbooks, liquidity pools are used to conduct swaps. In a similar manner to Uniswap, the participants receive Liquidity Pool (LP) tokens and can redeem them for assets supplied and fees earned when liquidating them. That's according to their share in the pool gathered from the assets. Recently, an Initial DEX Offering (IDO) has also been introduced which allows projects to raise capital.
BakerySwap Fees
BakerySwap has a 0.30% fee for every activity on the platform, 0.25% goes to the liquidity providers and the remaining 0.05% will be used to buyback BAKE from the market and distributed to BAKE holders.
How To Access BakerySwap Through MetaMask
It's pretty simple to access BakerySwap through Web3 wallets like MetaMask. Simple click the MetaMask button and open the dialog box and it will show Ethereum mainnet by default.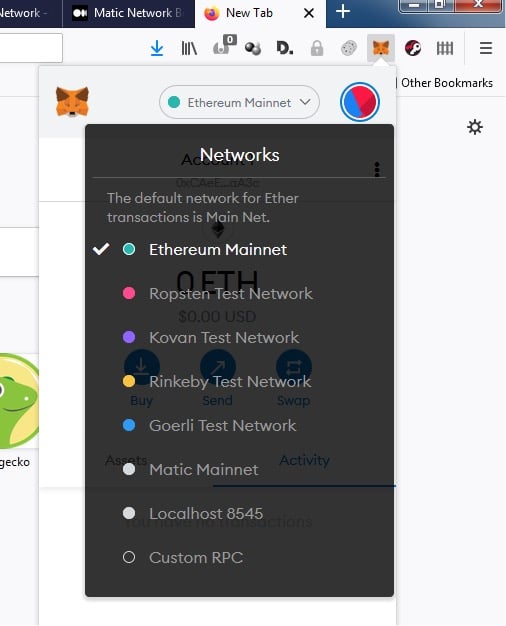 Then, enter the following information in a case-sensitive manner.
Network name: Binance Smart Chain
Added RPC URL: https://bsc-dataseed1.binance.org/
ChainID: 56
Symbol: BNB
Block Explorer URL: https://bscscan.com/
Click Save and then switch to Binance Smart Chain. Now you can access BakerySwap. To transact on the BSC network, you need to have Binance Coin (BNB) on your wallet, so buy and withdraw them to your MetaMask as BEP20 standard tokens.
BakeryToken ($BAKE)
The native token of Bakeryswap is called BakeryToken or BAKE, which is earned by providing liquidity to asset pairs and staking liquidity pool tokens or by staking BAKE itself. Since this is a food-themed clone, it's possible to deposit the liquidity pool tokens into different pools of Doughnut, Waffle, Rolls, Croissant, Latte, etc. with different ROIs.
There was no pre-mine and/or presale of BAKE tokens. The tokens reserved for the team are only 1% because of their belief in a fair distribution model. Its distribution is skewed in favor of people staking tokens and the total supply is 731,745,000 BAKE. The tokens will be gradually released with the community's consultation and advice.
NFTs
On the Binance Smart Chain, BakerySwap is the first AMM plus NFT project. The native BAKE token can be used to create a "food meal" – a fancy term for a NFT, which can be used to farm BAKE again.
Every food meal has a different staking multiplier and earns proportional rewards. Plus, it can be traded for other NFTs and burned to yield BAKE.
The platform also has an NFT Supermarket which allows artists to turn their artworks into NFTs through the minting process and to sell them. Users can buy artwork at the Supermarket using BAKE tokens.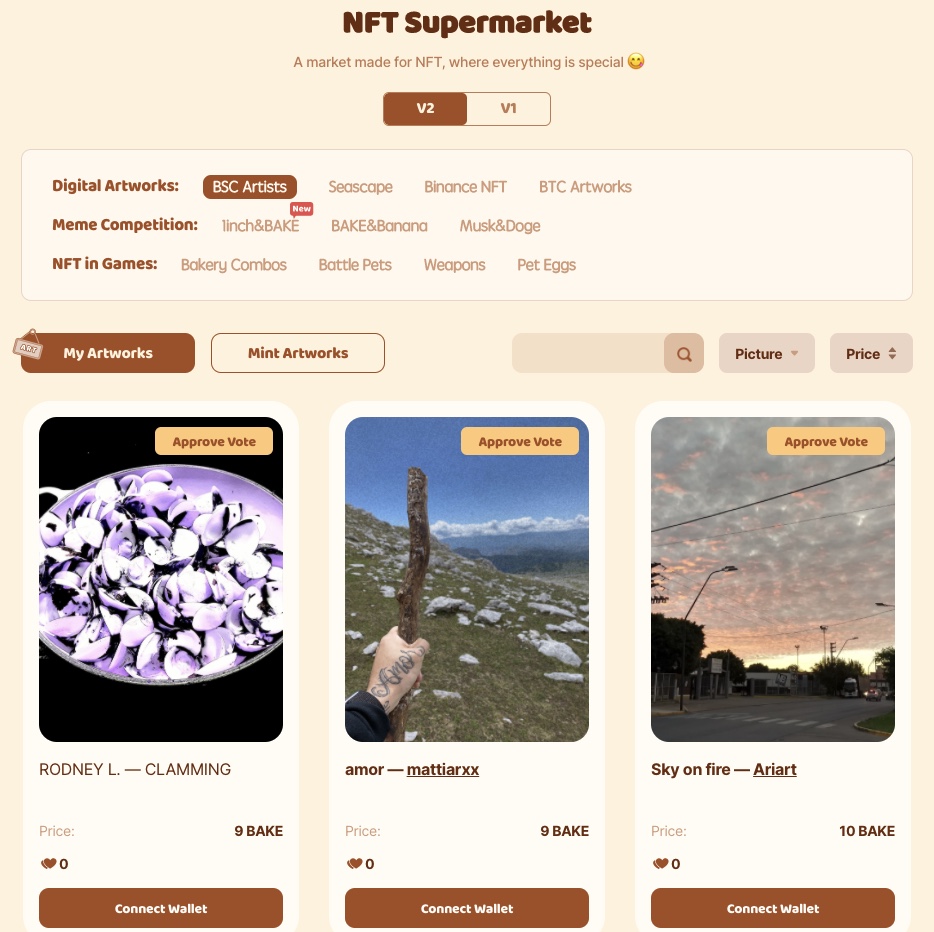 Future Plans
Despite having an interesting overlap of two emerging fields in blockchain tech, the innovation doesn't seem to slow down at BakerySwap. As such, the team has announced that they would introduce the stake to farm NFT functions like MEME. A novel bidding and auctions system would also be developed.
In DeFi and NFTs, gamification is key to engage users and keep them involved. BakerySwap will create raffles and rewards for completing BAKE tasks. AMM/NFT data analytics and token price charts are also under development. At some point in the future, margin trading and derivatives would also be deployed on BSC.
BakerySwap Ethereum 2.0
Like any emerging unconventional DeFi protocol, BakerySwap has had its fair share with procuring and managing liquidity for the yet-to-be-launched Ethereum 2.0. It has been reported to be working to integrate Ankr staking services aETH – a synthetic asset representing deposited Ether tokens, which will be used to create new farming pools.
BakerySwap has also launched its own Eth2 BETH token, in partnership with Binance.
Conclusion
BakerySwap marks the introduction of an interesting experiment and an attempt to include users, which have been left out because of the high fees on the Ethereum network. At a fraction of cost and rapid transaction processing, retail users can try out the asset swap and NFT minting functions without clearing out their wallets for fees.
The project takes Uniswap one step further, adding elements of NFT and gamification. Plus the tokenomics ensure value accrual and incentives for users to continue holding the token. The trajectory of BakerySwap doesn't appear to be descending and notable features are waiting to be implemented in the coming days.
Disclaimer: Cryptocurrency trading involves significant risks and may result in the loss of your capital. You should carefully consider whether trading cryptocurrencies is right for you in light of your financial condition and ability to bear financial risks. Cryptocurrency prices are highly volatile and can fluctuate widely in a short period of time. As such, trading cryptocurrencies may not be suitable for everyone. Additionally, storing cryptocurrencies on a centralized exchange carries inherent risks, including the potential for loss due to hacking, exchange collapse, or other security breaches. We strongly advise that you seek independent professional advice before engaging in any cryptocurrency trading activities and carefully consider the security measures in place when choosing or storing your cryptocurrencies on a cryptocurrency exchange.