Enjin Wallet Review
Enjin wallet is a secure and easy to use mobile cryptocurrency wallet (iOS/Android). It's extremely simple to use and contains advanced features such as Dapp Browser, QR code airdrops, Cryptocurrency Exchanges and Enjin's own NFT marketplace integration. It's the most secure mobile wallet we've tested with a two-layer security encryption and secure keyboard. Enjin wallet supports a wide range of cryptocurrencies such as Bitcoin, Ethereum (all ERC-20 and ERC-1155 Tokens), Binance Chain, Litecoin, Polkadot and Kusama. Enjin wallet is created as a companion to the Enjin Platform.
Best Software Wallet Award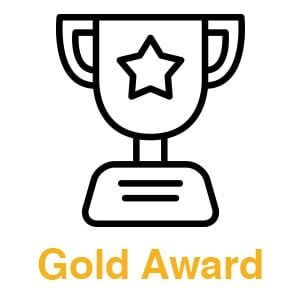 Enjin Wallet is our Gold Award winner in the Free / Software wallet category. We were impressed by the wallet's security features such as custom memory sweeps and double encryption. Enjin wallet is our top recommendation for any beginner who wants to keep their cryptocurrencies safe.
Is Enjin Wallet Safe to Use?
Security is the biggest concern for wallets as hackers are known to attack various wallets and attempt to steal funds. Enjin wallet offers the best in class security for mobile wallets.
Two-layer encryption: Hardware AES and software encryption is employed on the lower and application layer respectively
Secure keyboard: The protected keyboard bars keyloggers and/or data sniffers from tapping into your mobile device to steal data. It can also be randomized to increase security.
Screenshot blocking and Random Access Memory (RAM) encryption: The wallet's operating system level restricts screenshots and video recording. On the memory level, transactions are conducted on a secure RAM.
Custom libraries: Enjin Wallet features custom libraries that remove the private keys from the device memory after use – significantly reducing the attack service.
Protection processor flaws: special code is put in place to deal with flaws in ARM processors.
Security Audited: ORU security team found no issues that could be used to compromise the wallet or the cryptographic keys stored in the system (full security report here)
Samsung Blockchain Keystore support: Enjin supports the Samsung Blockchain Keystore for private key protection under Samsung's military grade security Knox.
Mobile wallets are classified as a "Hot Wallet" – meaning this wallet is connected to the internet. The Enjin team has devised special counter-measures to deal with hackers attempting to steal cryptocurrencies. All private keys are double encrypted, so even if hackers stole the file it cannot be decrypted. On top of this, the special designed Enjin keyboard deals with keyloggers – making sure that the on-device decryption process is safe. Lastly Enjin used custom libraries to wipe the private key from device memory once the transaction is sent – unlike other mobile wallets.
We added many security features that regular wallets don't have. Enjin Wallet cannot be Keylogged and not affected by CPU flaws like Meltdown and Specture.

Witek Radomski CTO of Enjin
Hot wallets are generally considered less safe due to possible device based vulnerabilities (CPU or Memory flaws) which could compromise the security of the mobile phone. That being said, Enjin wallet's can be considered to be the best out of all mobile wallets. For large amounts of cryptocurrency storage, we recommend the use of cold wallets like the Ledger Nano X.
We found the security of Enjin Wallet to be the best among mobile wallets, with external security audits confirming our viewpoint. We give it the highest security rating of 4/5 – the highest possible rating for "hot wallets".
Security: 4/5
What Cryptocurrencies does Enjin Wallet Support?
The Enjin wallet supports the storage of Bitcoin (BTC), Ethereum (ETH), Litecoin (LTC), Binance Coin (BNB), Binance Chain tokens (BEP2), Polkadot (DOT), Kusama (KSM) and Ethereum-based tokens. For Ethereum-based tokens, Enjin supports those created using the ERC20 and ERC1155 standards. Select ERC-721 collectible tokens are also supported, namely for God's Unchained, CryptoKitties, Blockchain Cuties and Axe Infinity.
Did you know that Enjin introduced the ERC1155 token standard? Learn more with our ERC1155 token explainer.
The ERC1155 tokens fit into the Enjin ecosystem as these tokens can represent in-game assets. This fits perfectly into Enjin's game development ecosystem for blockchain-based games.
The wallet allows users to sort, view, and show virtual currency balances in your local currency. Enjin's partners Bancor, Kyber, and Changelly allow you to easily swap tokens.
Multi-currency Support: 4/5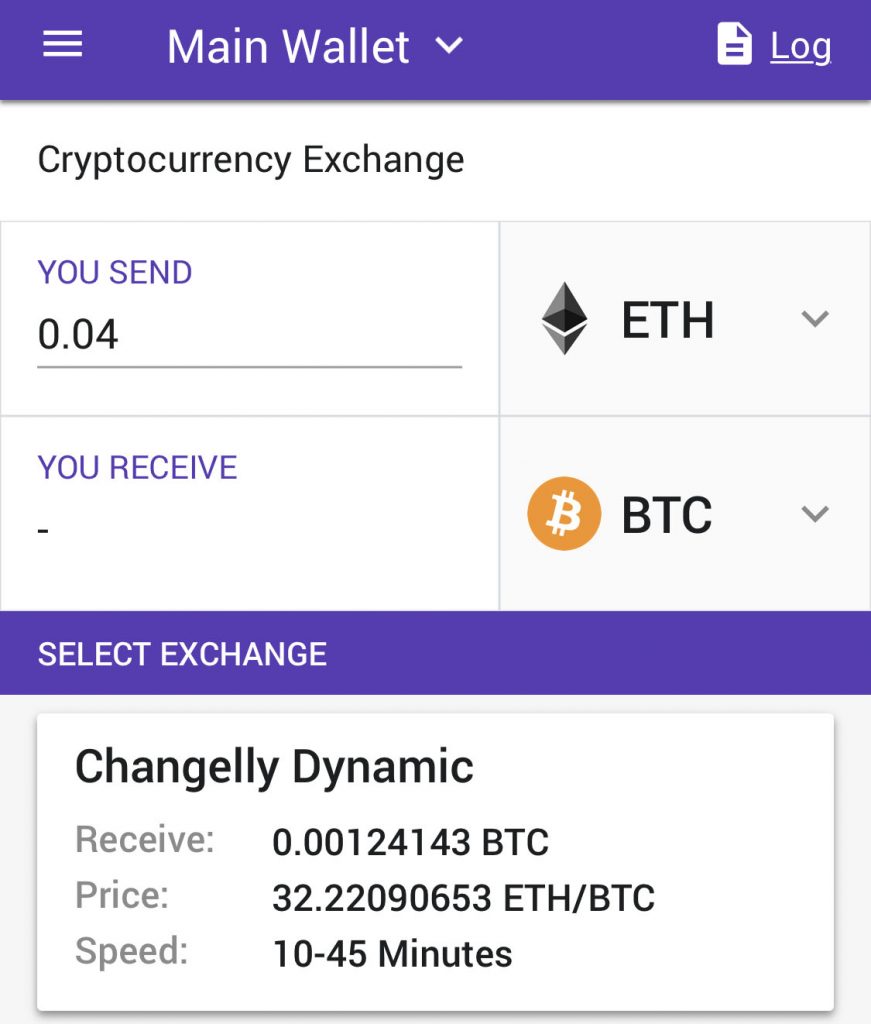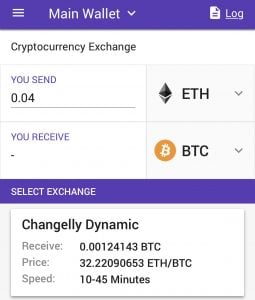 Design and interface
The Enjin wallet sports a clean and intuitive design. The wallet also allows you to easily switch from viewing your balances in cryptocurrency or the equivalent in your local fiat currency. This is extremely helpful in allowing you to know how much your portfolio is worth with a simple glance.
What is also helpful is the ability to easily create additional wallets. So say if you send or receive cryptocurrencies for different purposes, you can create a wallet for each of them (kind of like having partitions in your actual physical wallet) which makes managing your finances very convenient and easy to trace.
One slight gripe I have about the Enjin wallet is that when you look at the individual cryptocurrency balances in your wallet, there is a discrepancy in the balance shown at the top and the bottom (which is the correct balance). Though this does not affect your usage of the wallet, you just need to know and accept that the bug is there.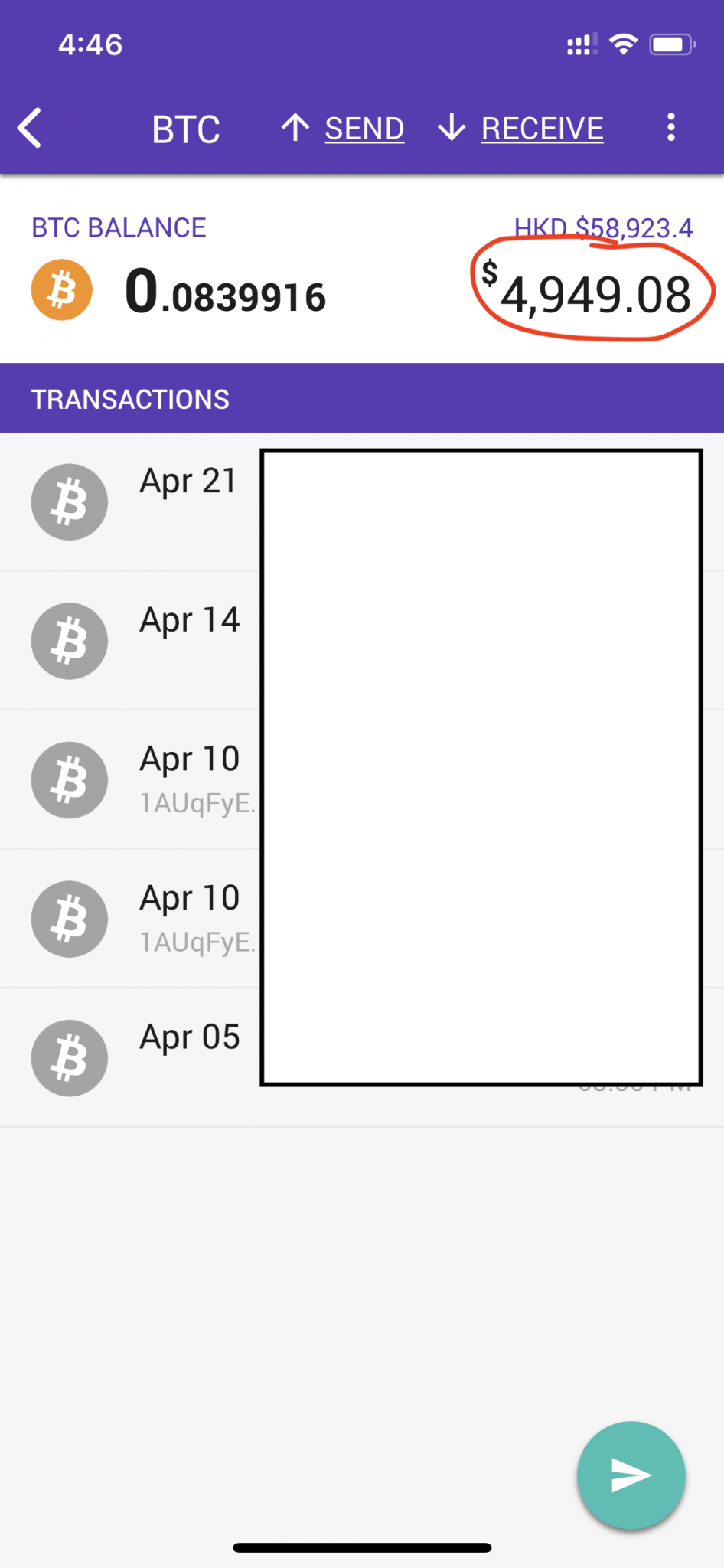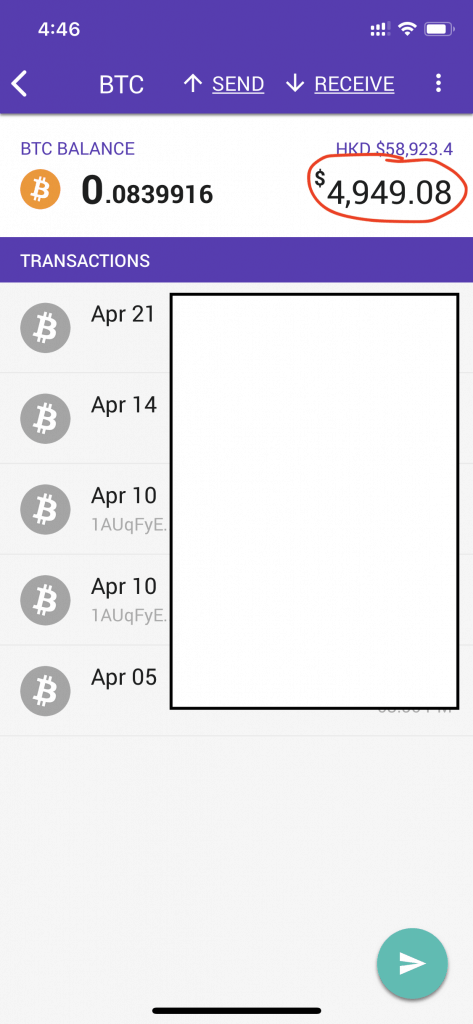 Despite this, Enjin wallet makes up for it with the fact that features the cleanest interface out there and additional functions not seen in any other software wallet. Because as we will see below, the Enjin wallet is more than a really good software wallet. The wallet is only one small part of Enjin's whole gaming ecosystem. Rather, the wallet opens up additional features such as a QR code scanner, wallet for in-game collectible items and marketplace for you to trade these collectibles.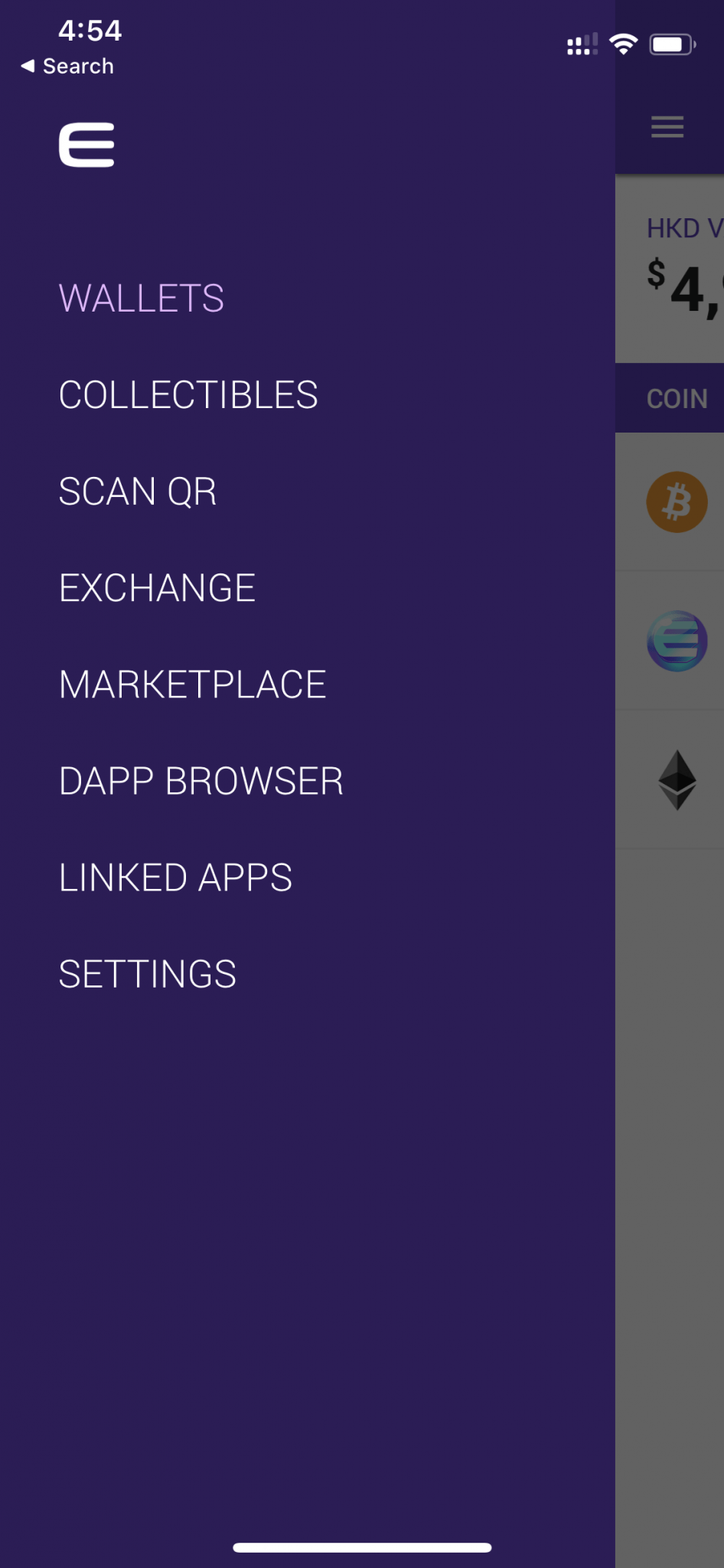 Software design: 5/5
Ease of use: 5/5
Final thoughts- my experiences with Enjin wallet
I personally store small amounts of crypto on the Enjin Wallet so I can trade, or pay or receive crypto on the go. It has an easy to understand interface with a wide range of supported coins. So I have no hesitation to use it as my primary wallet. I had friends who were new to cryptocurrency and were completely overwhelmed when hearing other people talk about hardware wallets, exchanges and crazy hacks. I showed them my Enjin Wallet and it only took them less than 30 minutes to install and master. My guess is that without Enjin wallet's simple and easy to understand design, they would have not bothered with cryptocurrencies at all. 6 months on, they are now trading cryptocurrencies regularly.
Enjin Wallet Ecosystem
Collectable Token Support
Enjin has created its own ERC-1155 digital token standard which can be used to create both fungible (currencies) and non-fungible (NFT) (digital cards, pets and in-game skins) assets on the Ethereum Network.
With the Enjin wallet, you can receive, send or melt these NFTs. The NFTs can be collectable items or in-game assets.
You can use the wallet to trade NFTs with your friends and there are Telegram forums dedicated to buying and trading collectibles!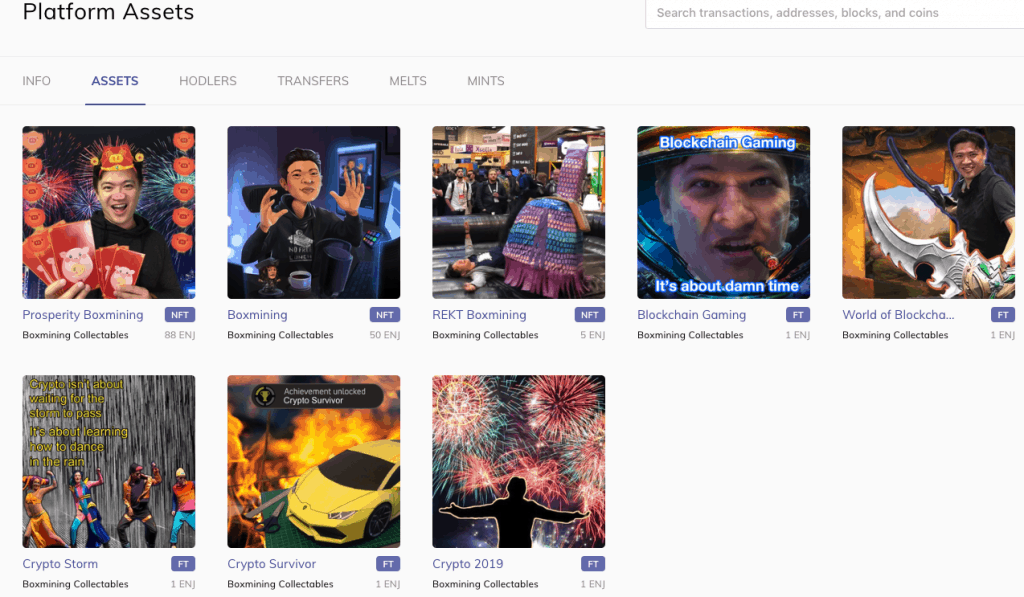 To learn more about all the games and the Enjin Multiverse, check out their website. Though a fantastic feature, the Enjin Mintshop, where you could mint your own NFTs was unfortunately deprecated upon launching the public mainnet of the Enjin Platform in 2020.
Boxmining collectable items are frequently given out as a way to say "Thank you!!" to our fans. Subscribe to Boxmining's YouTube channel and click the notification bell so you don't miss out!
Scan for QR Airdrops (Enjin Beam)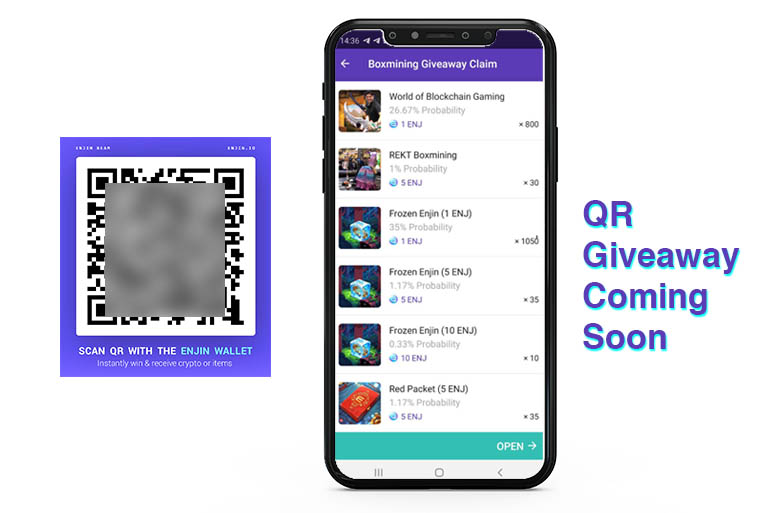 These giveaways could be found on various websites, games, and promotions on the Boxmining Channel. The Enjin Beams can take two forms: Airbeam, which sends all users the same collectible, or Lootbeam, which includes a variety of assets of varying rarities, so each user is likely to get different combinations of these loot assets. Read more about Enjin Beam here.
Enjin Wallet Marketplace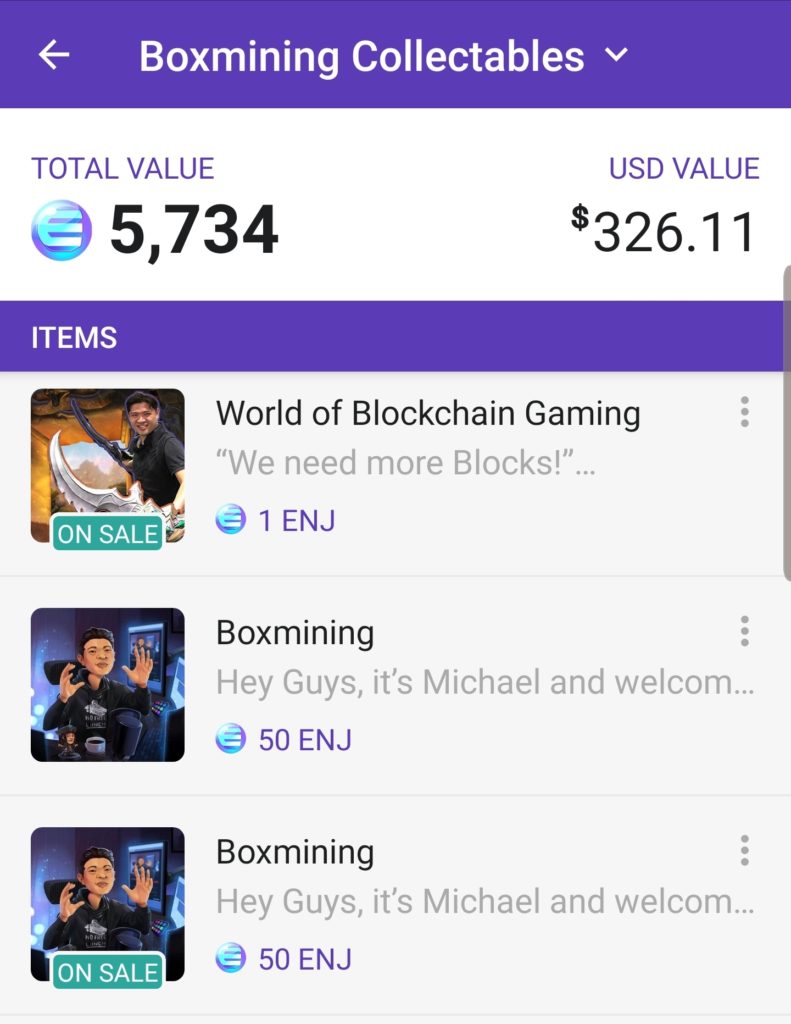 Digital Collectible items (ERC-1155 tokens) can be directly sold on the Enjin marketplace using the built in features of the Enjin Wallet. This first of a kind feature allows gamers to trade items safely without any risk by using ethereum smart contracts. Items can be listed on the marketplace by using the "sell" feature in the Collectibles tab. The procedure is a 1 step process where seller directly inputs a selling price and confirms by executing the contract on Ethereum (paying gas in the process). The item will be directly listed on the Enjin Marketplace for public purchase.
Exchange Function
Enjin's partners Changelly, Bancor, and Kyber allow users to easily swap between different cryptocurrencies. All you need to do is type in the amount and type of cryptocurrency you want to convert and the cryptocurrency you want to convert it to. The amount you will receive and the details of the transaction will be automatically calculated and displayed you. If more than 1 exchange offers the type of conversion you want, the information will be displayed for you to compare and choose the one that's best for you. Then all you need to do is press "convert" and it's done!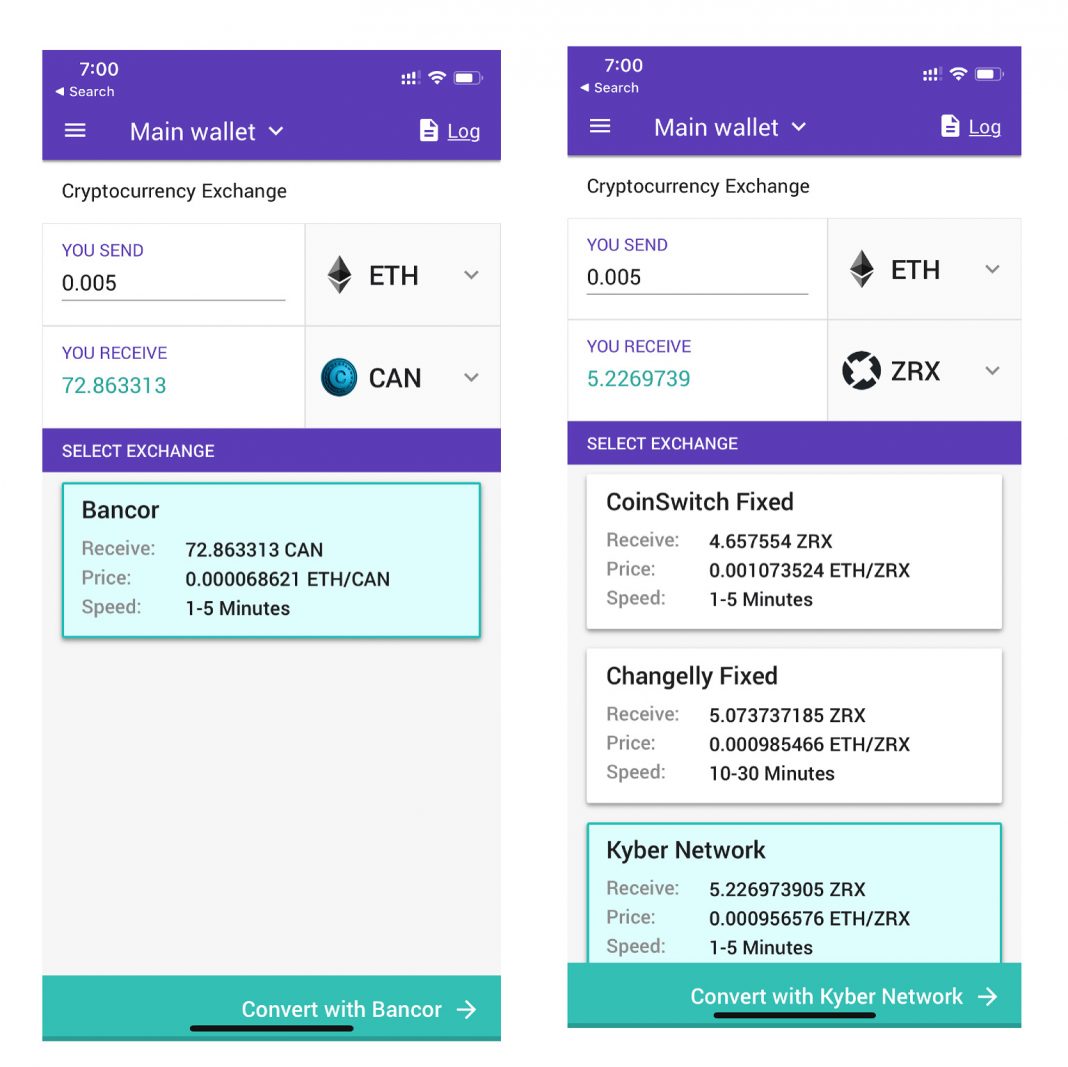 Marketplace
The Enjin wallet also allows you to directly access their Marketplace, where you can browse and buy various NFTs. Payment can be made directly from your Enjin wallet.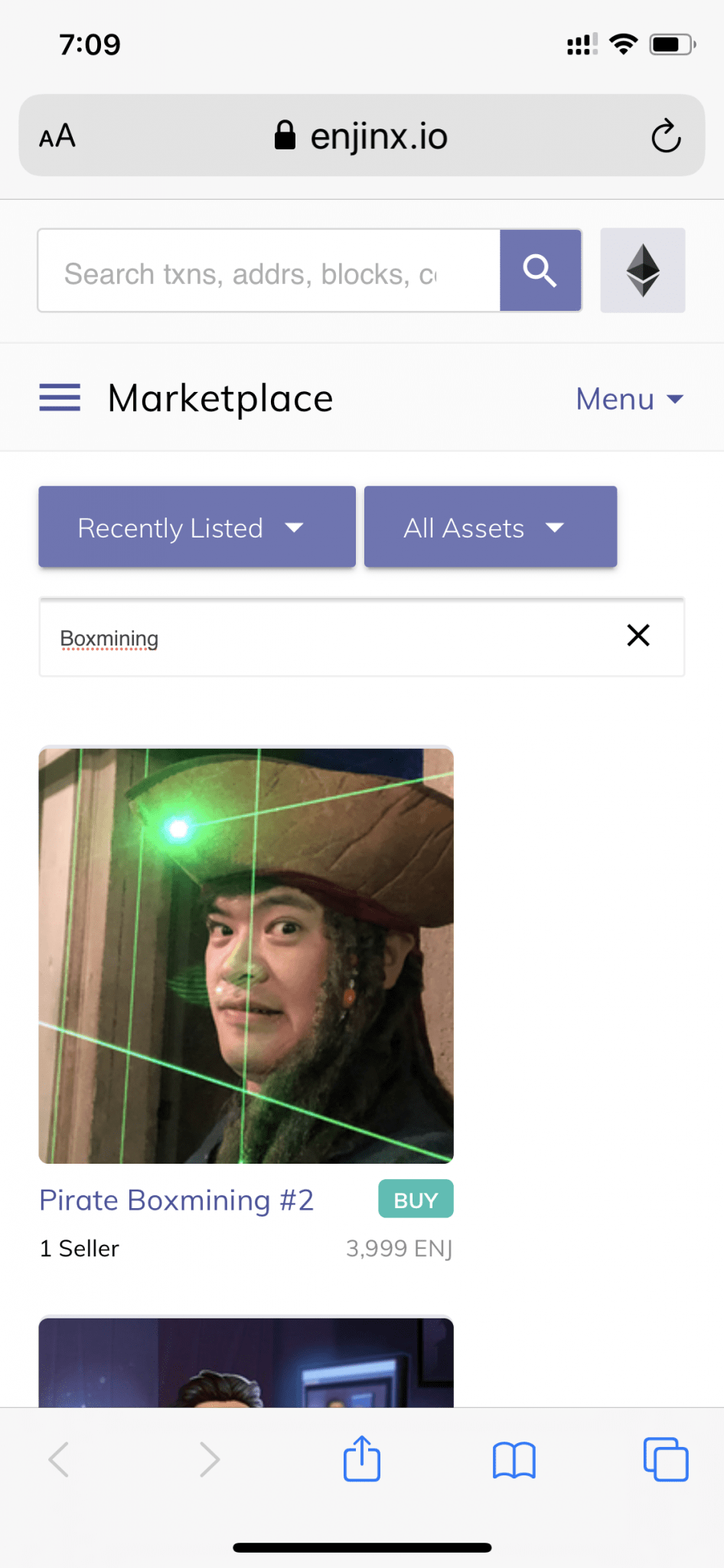 Dapp Browser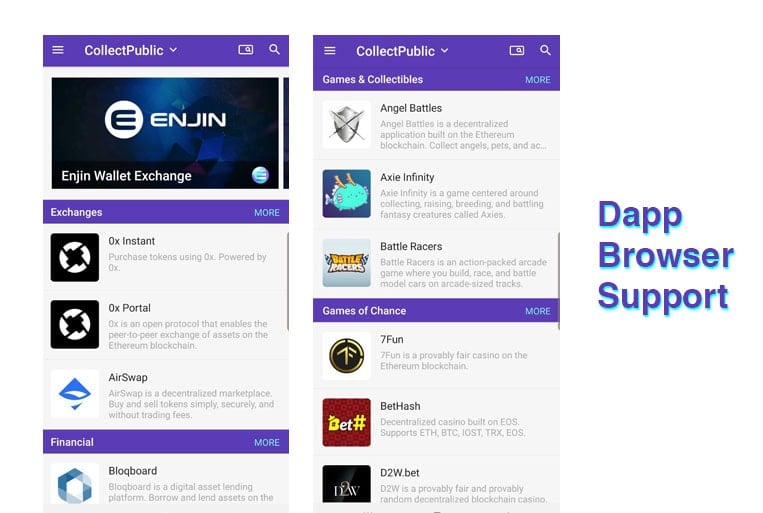 Enjin wallet includes one of the best Decentralized App Browser we've ever seen. The clean user interface displaces the various Exchanges, Financial, Games and Social Media Services.
Remember to check out our Enjin Guide to learn more about Enjin's ecosystem and what's next for Enjin.
Enjin Wallet Tutorial: How to Set Up Enjin Wallet
Downloading and setting up your Enjin wallet is super easy and most importantly, its FREE.

First you will need to download the Enjin wallet app from the Apple App Store or Google Play Store.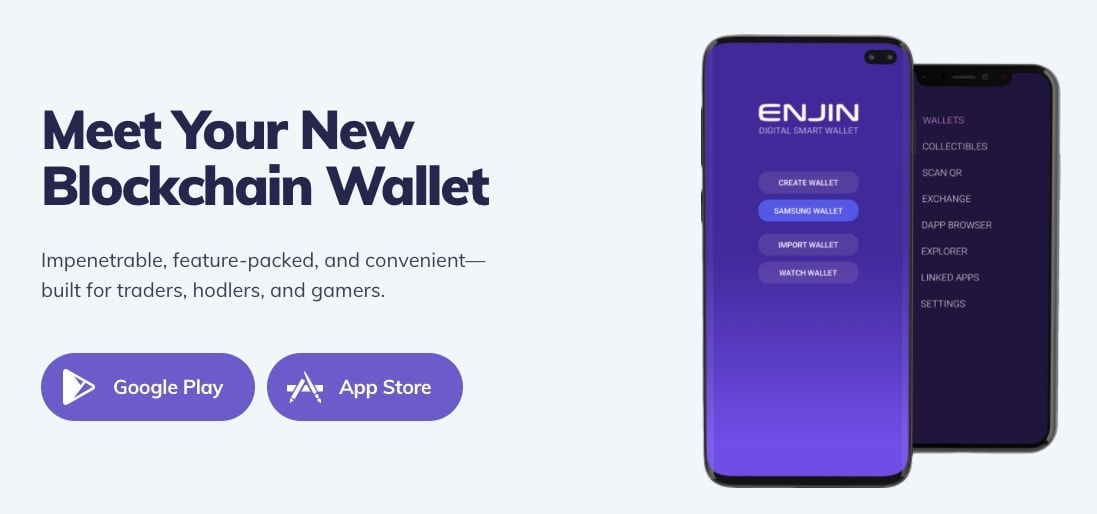 Open up the app, select "crypto wallet" and then "create wallet".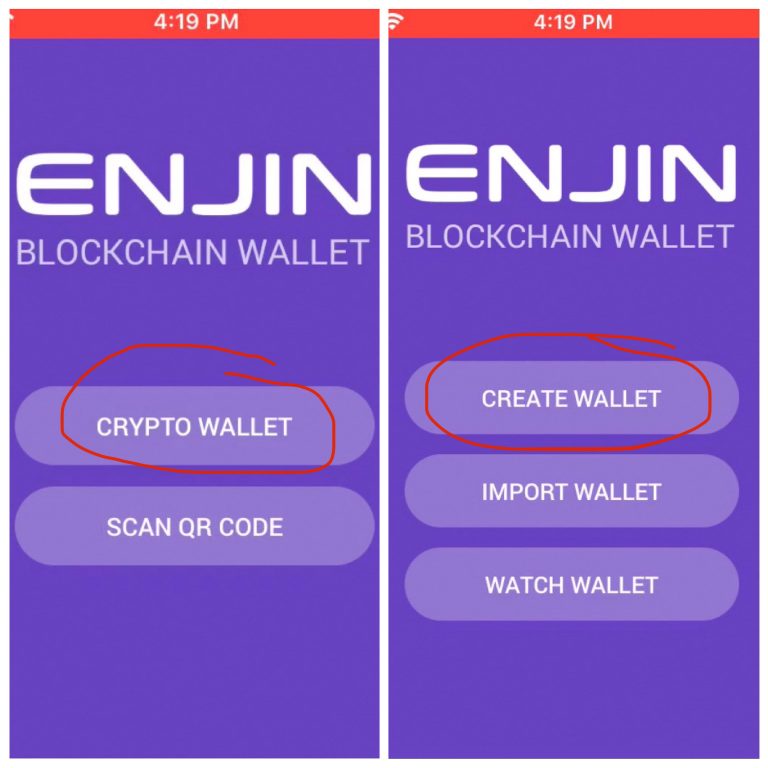 Select the password you want for your wallet. When setting up your passwords and later backing up your wallet, make sure you are in a secure environment where you are not being recorded. Thieves will be able to access your wallet if they obtain this information.
Then, select which cryptocurrencies you would want to hold in your wallet. You can always add or remove more types of cryptocurrencies later. Then press "create wallet".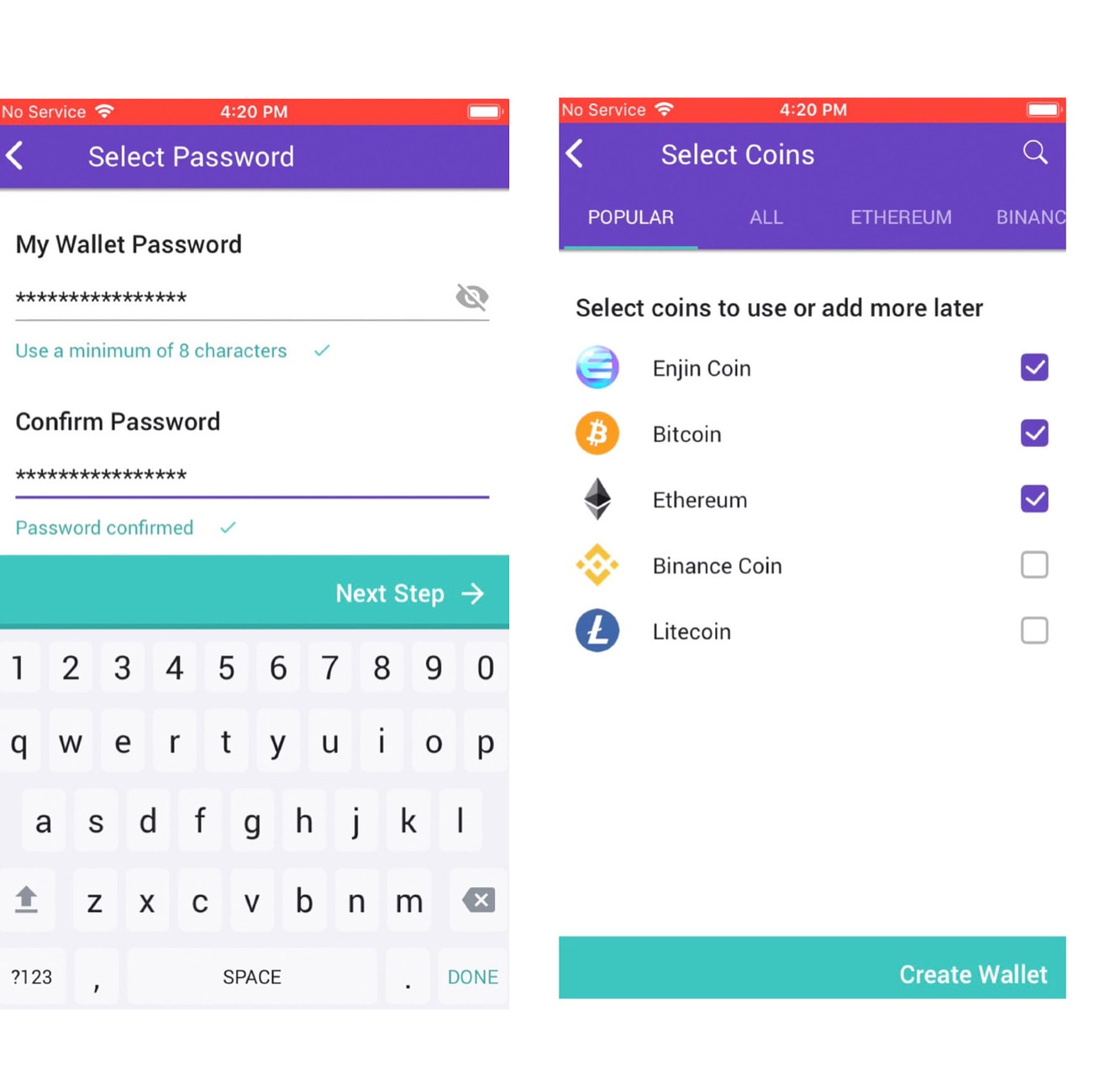 The app will then ask if you want to backup your wallet. This is so that you can reinstate your wallet at a later date, for example when you change your phone and need to reinstall everything. So it's highly recommended to do this step, even though it may seem tedious.
The backup is a 12 word recovery phrase that you will need to correctly re-enter to reinstate your wallet. So keep these 12 words recorded and stored in a safe place. See here for some ideas and tips on how to keep your recovery phrase safe.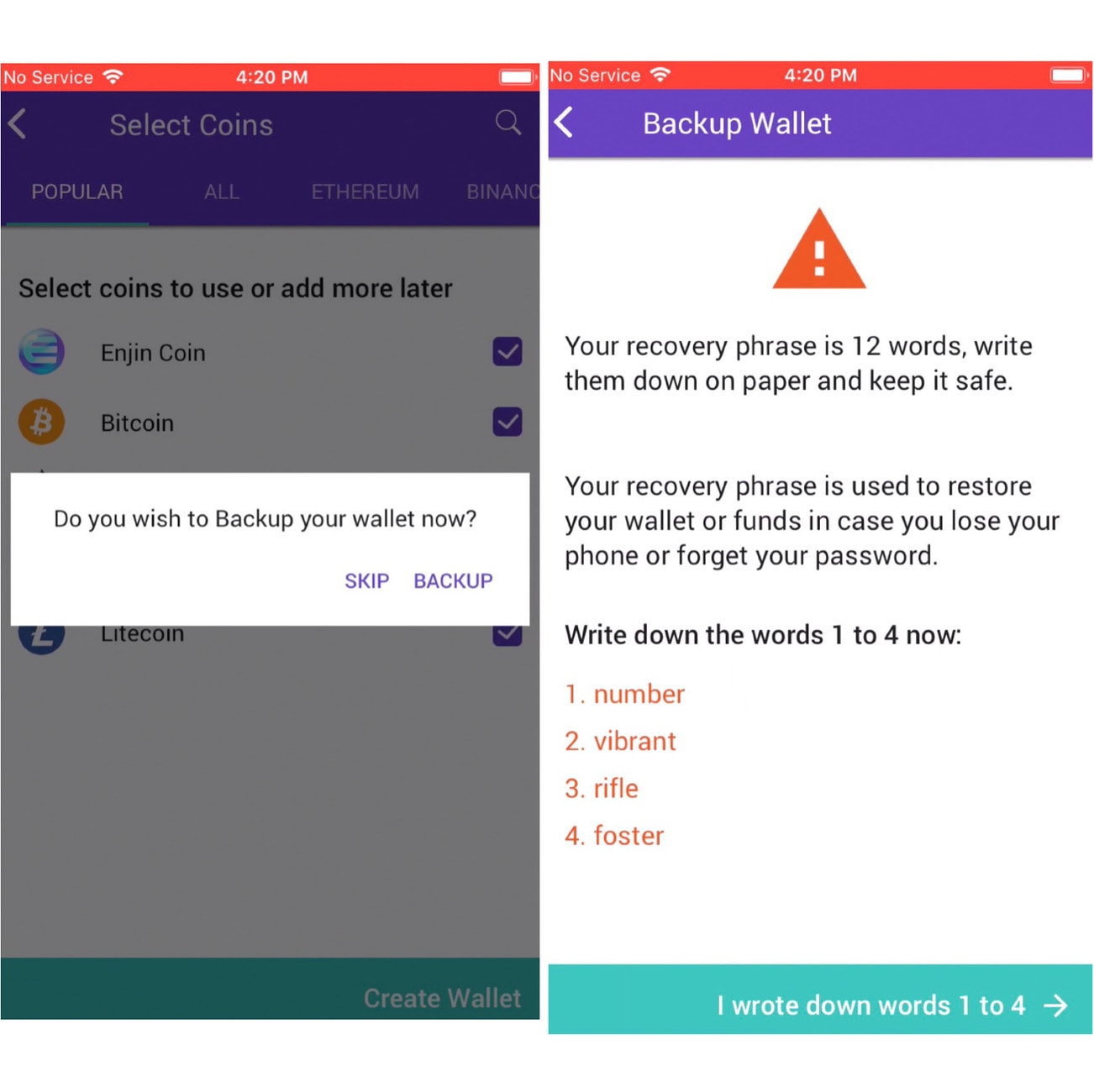 You will then be asked to verify your passphrase by entering 2 of your 12 word recovery phrase at random. You will then be taken to the select coins menu where you have another chance to select the coins you want to hold in your wallet. Again, you can choose to add other coins later. If you are happy with the list of coins selected, click "create wallet". The setup is then completed and you will then be taken to the main page of your wallet.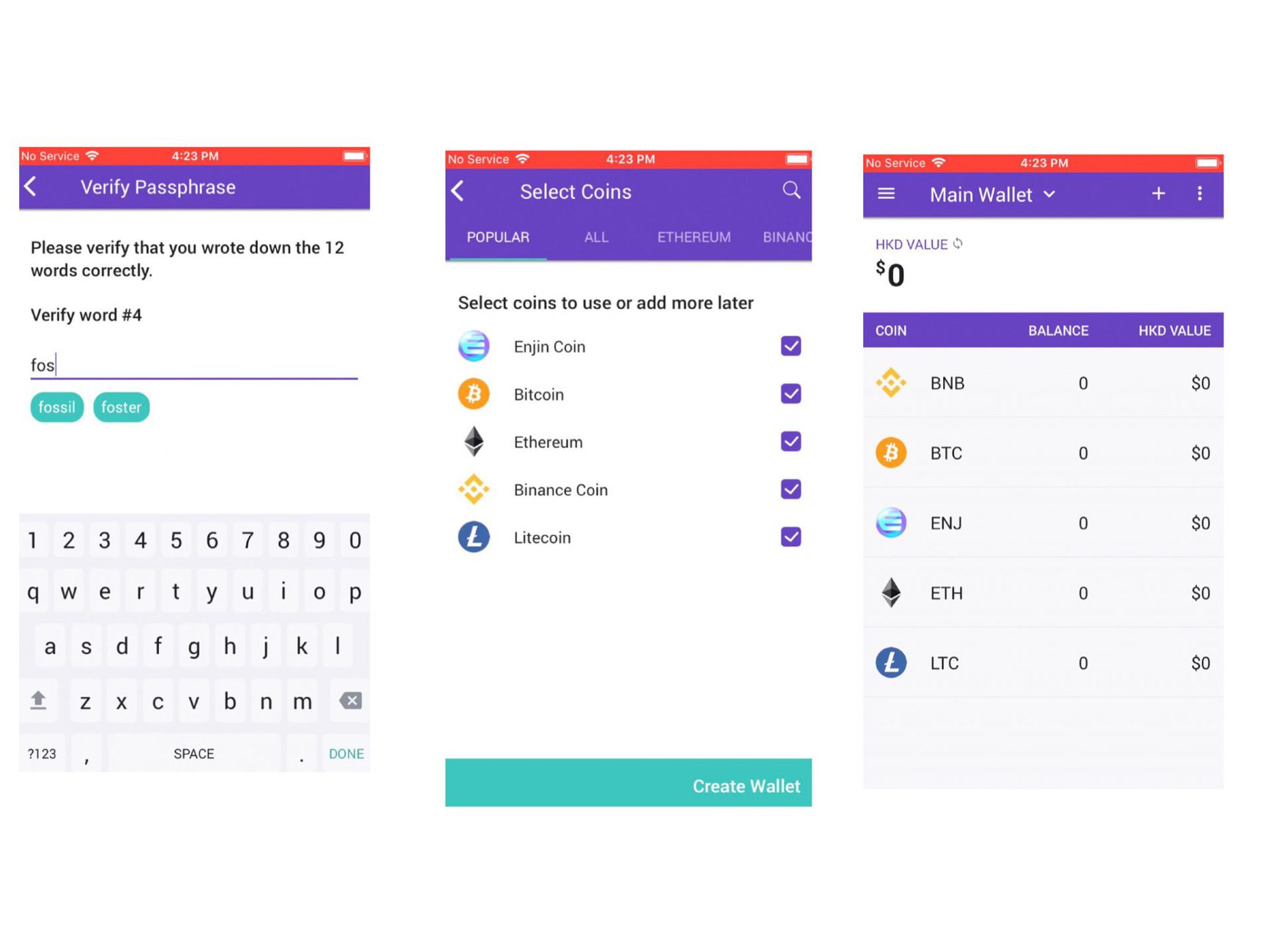 How to Send and Receive Cryptocurrency Using Enjin Wallet
Sending Cryptocurrency
On the main page of your wallet, select the cryptocurrency you wish to send.
For this demo I will be sending Bitcoin, so I selected "BTC".
Then on the following page (second picture below), select "send". On this page you can also see your transaction history for this cryptocurrency. Note: the balance shown on the top left hand side of the second picture below is sometimes inaccurate. This is a bug in the app which hasn't been fixed yet. However this is only a display issue and does not affect your actual wallet balance which is displayed in the larger font.
On the send page (third picture below), I usually select "Advanced mode" which allows you to type in the number of satoshis per byte you wish to send your cryptocurrency with. The more satoshis per byte, the faster the send and of course the higher the transaction fee.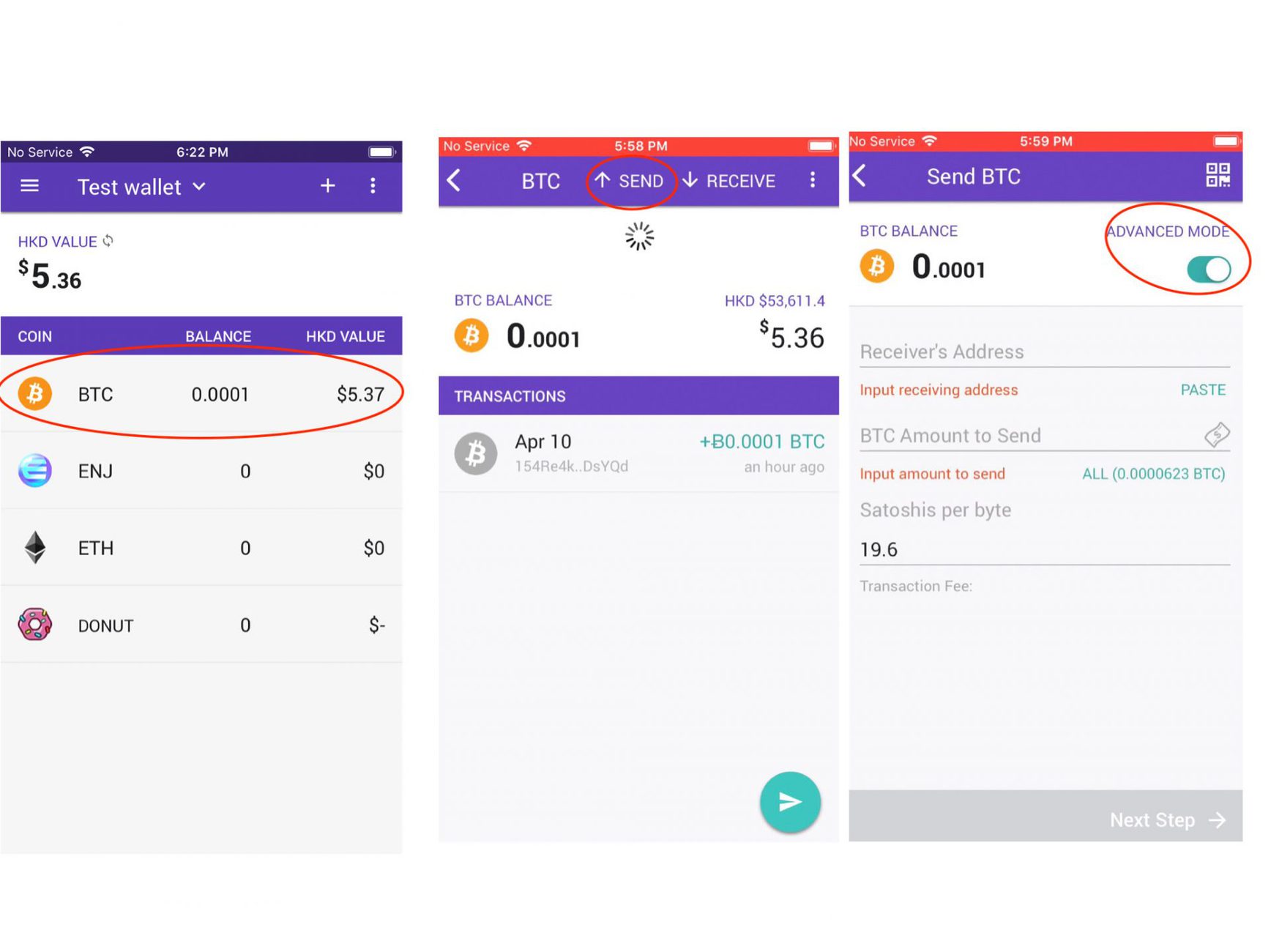 On the send page you have 3 options for inputting the receiver's address, either: (a) type in the address; (b) paste the address; or (c) scan the recipient's QR code address.
For the demo I will scan the recipient's QR code address, so I selected the QR code icon on the top right hand corner, which opens up my phone's camera, as shown in the second picture below. There I can either choose a QR code from my photo gallery, or in this case, I scanned the QR code of the recipient.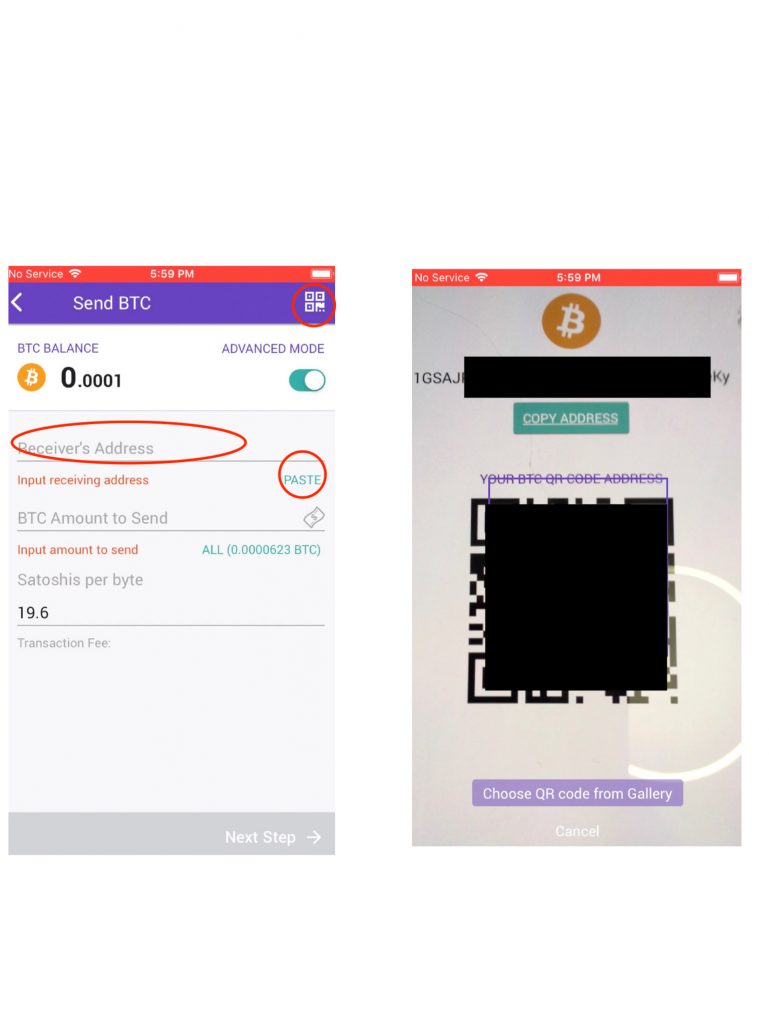 Once you've scanned the recipient's QR code you will be brought back to the send page (first picture below) with the recipient's address filled in. In the second entry you can enter in the amount you wish to send or simply click "ALL" to send the entire balance in your wallet. And in the third entry the number of Satoshis per byte, which as mentioned will determine how fast your transaction will be sent.
To see how many satoshis per byte I would want to send my cryptocurrency with I go on the website whatthefee. This website gives an estimate of how fast my transaction will go through at any given time (second picture below). On the table, the figures in black represent the percentage likelihood a transaction will take a given length of time. The figures in the middle represent the number of satoshis per byte. So for example, the green shaded entry on the top right hand corner means that with 20.1 satoshis per byte, there would be a 95% chance your transaction will go through in 0.5 hours. The higher the satoshis per byte, the faster my transaction and consequently the higher the transaction fee.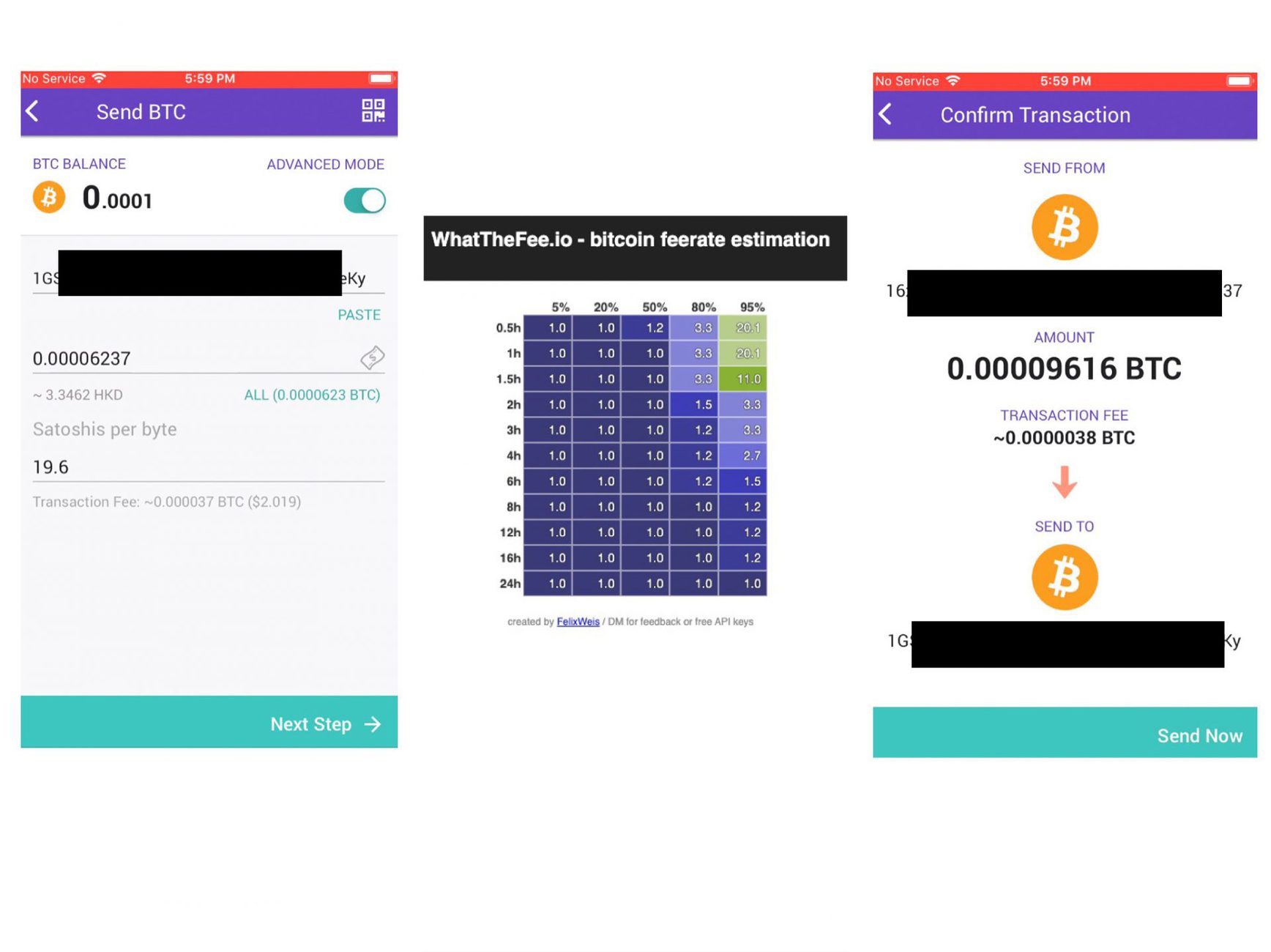 Once you've entered in the recipient's address, send amount and satoshis per byte, click "next step". This will bring you to the confirm transaction page (third picture above). Here you can double check that the details are correct, if it is, click "send now". Now you are all done!
Receiving Cryptocurrency
On the main page of your wallet, select the cryptocurrency you wish to receive. If the cryptocurrency you want to receive is not shown, click the "+" button on the top right hand corner, select the coin you want to receive and then click "update coin list".
For this demo I will be receiving Bitcoin, so I selected "BTC". Then on the following page, select "receive". Your Bitcoin address will then be displayed in the form of a string of letters and numbers, or a QR code representing your address. You can then either (a) copy the address and give it to whoever will be sending your cryptocurrencies; or (b) have them scan your QR code address.
Note: the balance shown on the top left of the second picture below is sometimes inaccurate. This is a bug in the app which hasn't been fixed yet. However this is only a display issue and does not affect your actual wallet balance which is displayed in the larger font.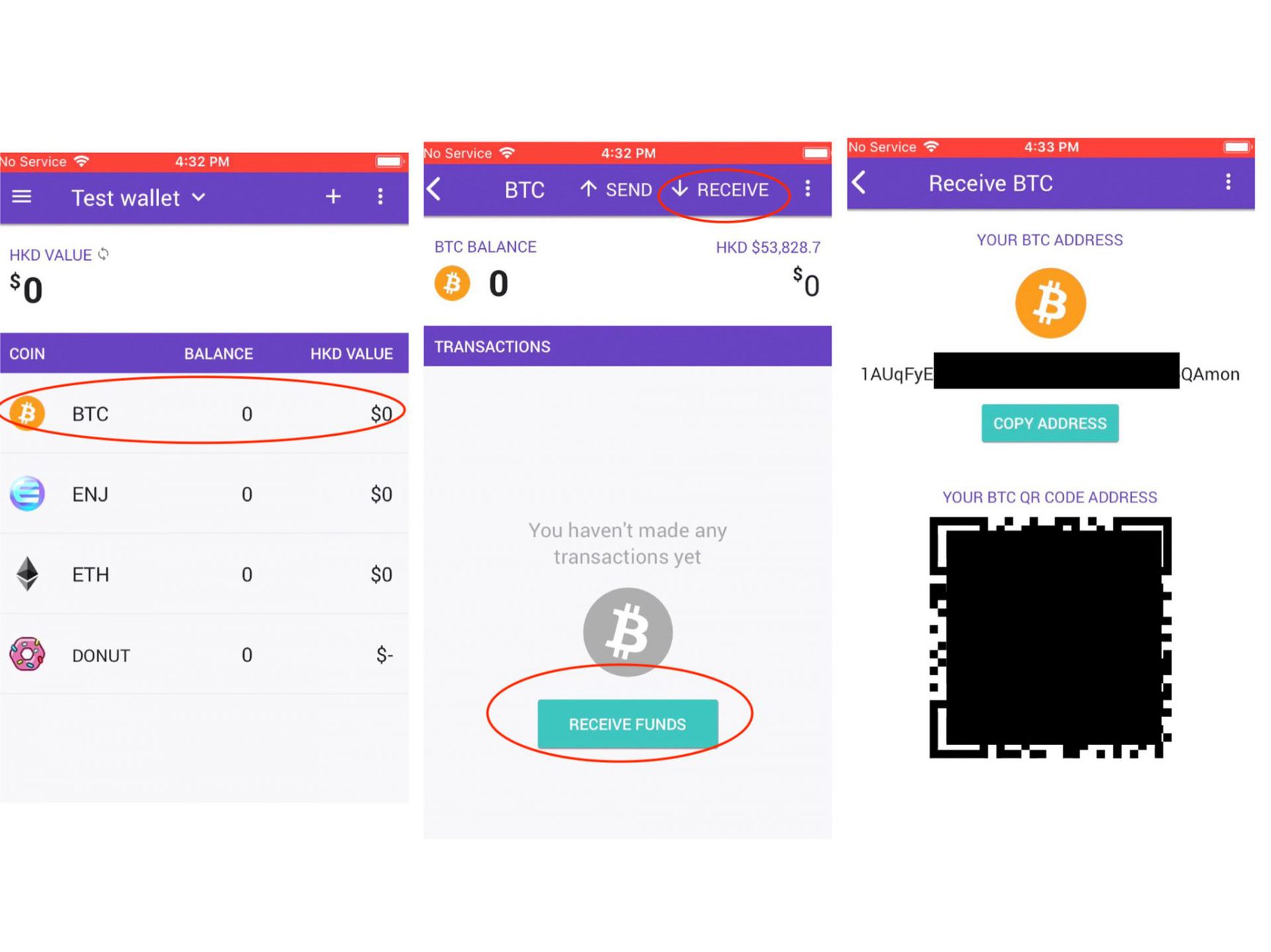 When the cryptocurrency is successfully sent to your wallet, the balance on your main page will be updated. Tip: You can select the small circular arrows next to "value" to display the balance in your local currency or the cryptocurrency itself.
Congratulations! You are all set!
Successfully set up your Enjin wallet? Learned how to send and receive crypto? Now it's time to get started with trading Bitcoin and other cryptocurrencies! Check out my course created in collaboration with Jeff Kirdeikis of Uptrennd- Bitcademy: Learn, Invest & Trade Bitcoin – In Under an Hour
Enjin Wallet 2.0
Enjin is also currently enrolling users in testing its Enjin Wallet 2.0 Beta, although it's only available for Android users. This new wallet will be a completely re-written Enjin Wallet from the ground up, including all of the code to ensure better performance, stability and reliability, as well as a completely new UX and design.

If you want to participate in testing the Enjin Wallet 2.0 Beta, you can sign up here!
FAQs
How to download the Enjin Wallet?
The wallet is available for use on mobile devices powered by iOS or Android operating systems. Download the Enjin wallet on the Apple App Store or Google Play Store.
Can I import cryptocurrencies from other wallets to the Enjin wallet?
The Enjin wallet allows coins to be imported from other cryptocurrency wallets. Examples of cryptocurrency wallets are: Bread, Eidoo, Exodus, Coinomi, MetaMask, Trezor Model T, Ledger Nano S, Ledger Nano X and Jaxx.
The wallet uses an extremely interactive and secure user interface. This eliminates the confusion of copying and pasting addresses.
How does Enjin bring NFTs to Video Games?
One of the key features unique to the Enjin Wallet is the ability to bind the wallet to various video games. So together with the ability to send and receive, scan QR codes and their Marketplace, players can obtain NFT tokens representing various in-game items and import them into different video games. This allows players to truly own digital assets – the items are not stored centrally on databases but on the Ethereum blockchain instead.