Enjin is a blockchain gaming platform focused on the creation of digital collectible items that are truly owned by the user. The platform offers methods for creating digital assets (known as ERC1155 tokens) for use across multiple Video Games. Their uses include collectible art or even in-shop coupons. Blockchain gaming allows gamers to have true ownership of their in-game items and trade them for value.
Enjin Platform uses Blockchain technology for these key benefits:
True item ownership – with transactions that cannot be censored powered by the Ethereum blockchain.
Convenient Exchange of value – digital items can be traded or sold instantly. The Enjin Wallet also allows users to access decentralised exchanges such as Kyber Network and Changelly.
Reserve Value – unwanted digital items can be "melted" into the Enjin Coin cryptocurrency.
Single Wallet for all items – the Enjin Wallet users to keep all digital assets in one single location.
ERC-1155 Token Standard – a superior version of the ERC20 and ERC721 token. Its transaction bundling and multi-send features mean it will save users' costs.
What is Enjin Coin (ENJ)?
Enjin coin's (ENJ) value comes from its use case as a stored reserve value in every item created on the Enjin Platform. $ENJ is locked up when items are created and released when items are destroyed.
Items store (lock up) a certain amount of ENJ, with items such as the infamous "Monolith" storing 1,155,777 ENJ. ENJ from items can only be extracted by destroying the item ("via the melting process"). This creates a situation where more and more ENJ is locked up and overall supply is reduced as the platform is used by more games.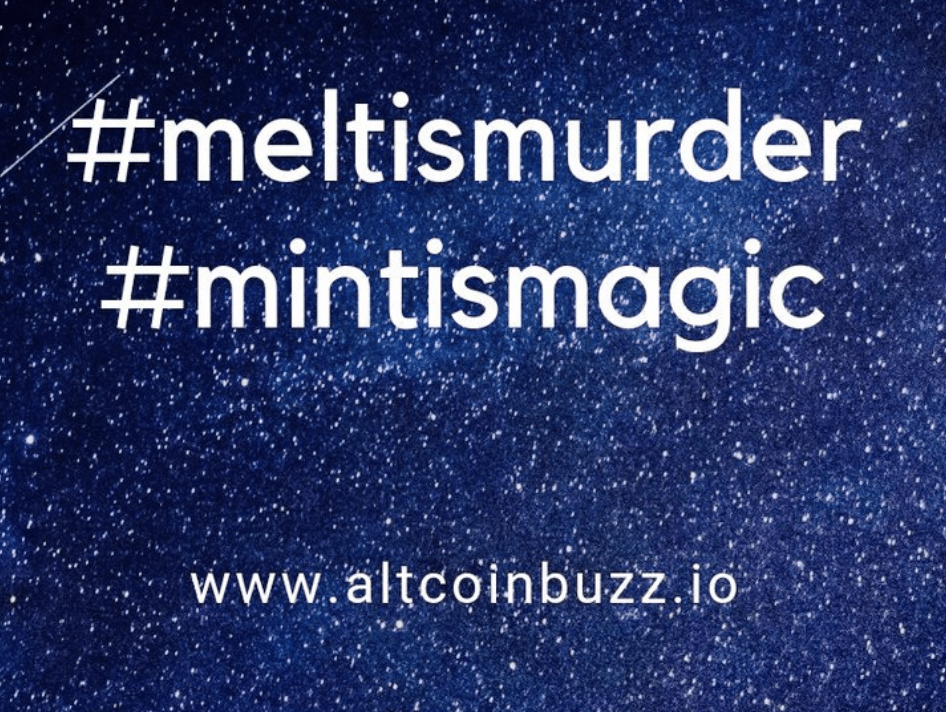 In terms of economics ENJ is a scarce resource and each game acts as a "value trap" for ENJ – locking up ENJ reserve and increasing the scarcity of $ENJ. With a limited supply of 1,000,000,000 $ENJ, this cryptocurrency acts as a form of "Digital Gold" – its value determined by the dynamics of supply and demand within the game's ecosystem.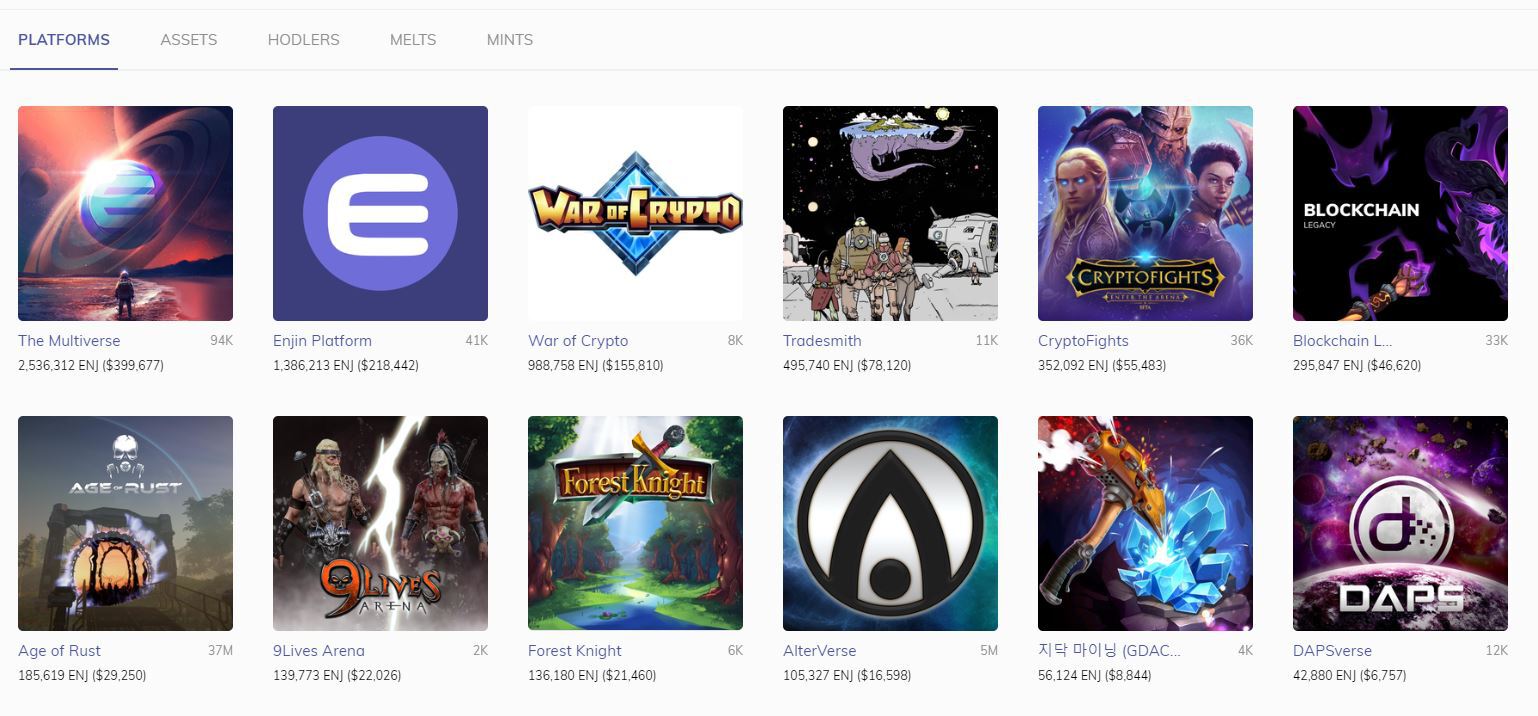 Cross-game items – Enjin Multiverse
One of the unique advantages of Blockchain gaming is the ability to create items that can be used across different games by different developers. This means players can carry their items between games like it is a single world (also known as the Multiverse).
Multiverse items are possible because assets are stored on a decentralised blockchain – so independent developers can all access the item. To encourage the development of cross game items, Enjin announced its newest asset the Stormwall. It is an example of what we can expect with its gaming assets. Stormwall is a shield that moves across Enjin's Multiverse of games.
In the below video we see Stormwall being as a playable item in 32 different games including 9Lives Arena, Age of Rust, Cats in Mechs and more.
Why is a Multiverse Beneficial?
One of the biggest questions asked about cross-game items is – why is it beneficial for game developers and players? For developers, supporting cross-game items mean that they gain the benefits of additional exposure from games participating in the multiverse and increased retention from players who want to test out the item. This is especially important in this age as player attention is extremely valuable and having players "check out" how an items works in a different game drastically improves player interest.
For players, having cross-game items mean that their items are naturally move valuable, especially long term value. This means that the effort used to earn valuable items are not wasted if they can be used in new upcoming games.
The Enjin Coin Ecosystem
Enjin have created an entire ecosystem where you can create, store, trade and use these items.
Enjin Wallet – Cryptocurrency wallet to safely store cryptocurrencies, blockchain gaming assets and exchange value. For more information check our EnjinWallet review.
EnjinX – Blockchain explorer to view transactions and items
Unity Plugin – Allows game developers to directly implement and issue items in games on multiple platforms like iOS, android, PC and MacOS.
Marketplace – buy and list items with the safety of smart contracts that independently facilitate the trade.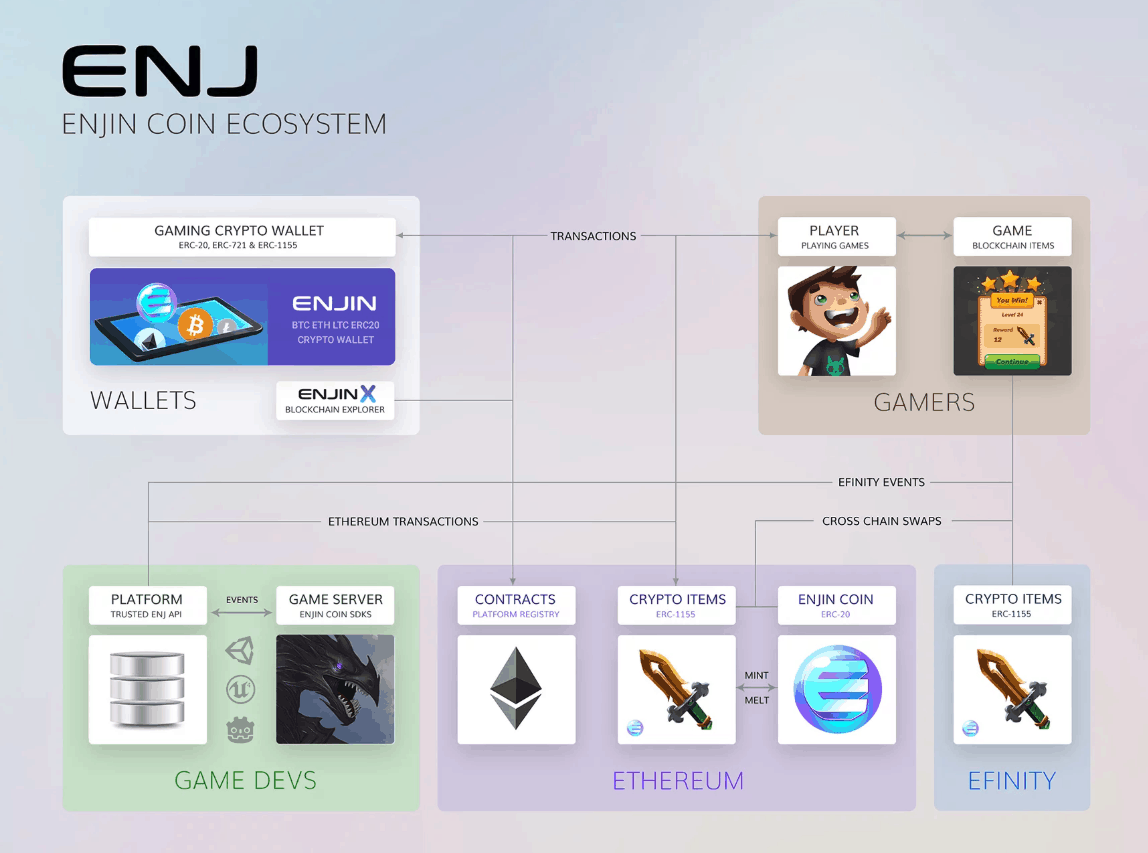 Enjin for Mobile Games
One of the biggest use case for non-fungible tokens is in mobile games. Mobile gaming is currently valued at $63.2 billion USD globally and growing on a year by year basis (Source: newzoo). Enjin has a direct partnership with game engine Unity which hosts the Enjin SDK which allows for easy integration of Blockchain assets directly into the game.
Enjin Partnerships
Enjin has a strategic partnerships with increase the rate of adoption of Blockchain Gaming and growth of the ecosystem. On the gaming side there is a partnership is with cross-platform game engine Unity with the introduction of the SDK
The Enjinwallet has recently become the first wallet to offer full Binance Chain and all BEP-2 (Mithril, ChangeNow) based tokens.
Enjin and Samsung Partnership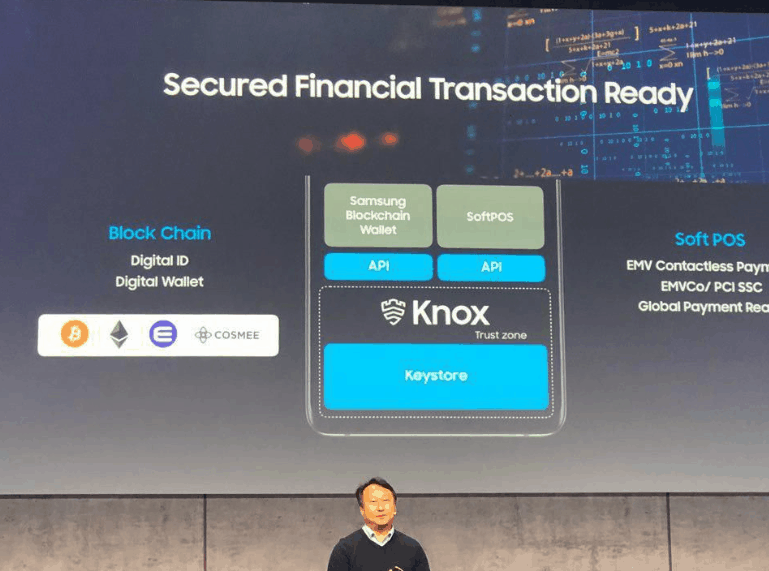 Enjin has been partnered with smartphone manufacturer Samsung Electronics to as a technology provider. Enjin Wallet directly interacts with the Samsung's Blockchain Keystore, a trusted zone on new Samsung devices which is specifically designed to key cryptographic private keys safe. Samsung will also support Enjin's ERC-1155 token standard and increase the adoption of Blockchain based non-fungible tokens.
Enjin and Microsoft Partnership
Microsoft has chosen Enjin as technology provider with the deployment of Azure Heroes, a program that will directly use ERC-1155 non-fungible tokens as a reward. This Blockchain-based reward will be given to contributors who help produce material for the Microsoft Azure platform, with participants given cute badge(r)s. For example, makers that contribute to the developer community or content heroes will be given rare badgers.
These collectable badgers are a proof of achievement as an Azure Hero which you can show off on your social media. As these are tokenized assets on the blockchain, they cannot be faked. So no fake achievements or heroes here!
Enjin has entered the (DeFi) game
Enjin Coin (ENJ) is now supported by the Aave Protocol. This means users can deposit ENJ in the Aave Protocol and earn interest whilst others borrow your ENJ. The Aave Protocol protects your deposits as it is controlled by immutable and transparent Ethereum smart contracts. Your ENJ is also secured by other cryptocurrencies left on the Protocol as collateral.
How to connect Enjin Wallet to Aave Protocol
Now with the Enjin-Aave partnership, you can directly interact with the Aave Protocol with your Enjin Wallet (which in our opinion is the best mobile wallet EVER). Here's how: On the Enjin wallet, go to "DApp Browser". On the search bar, go to app.aave.com. Click "Browser wallet" and when asked to choose your market, choose "Aave Market".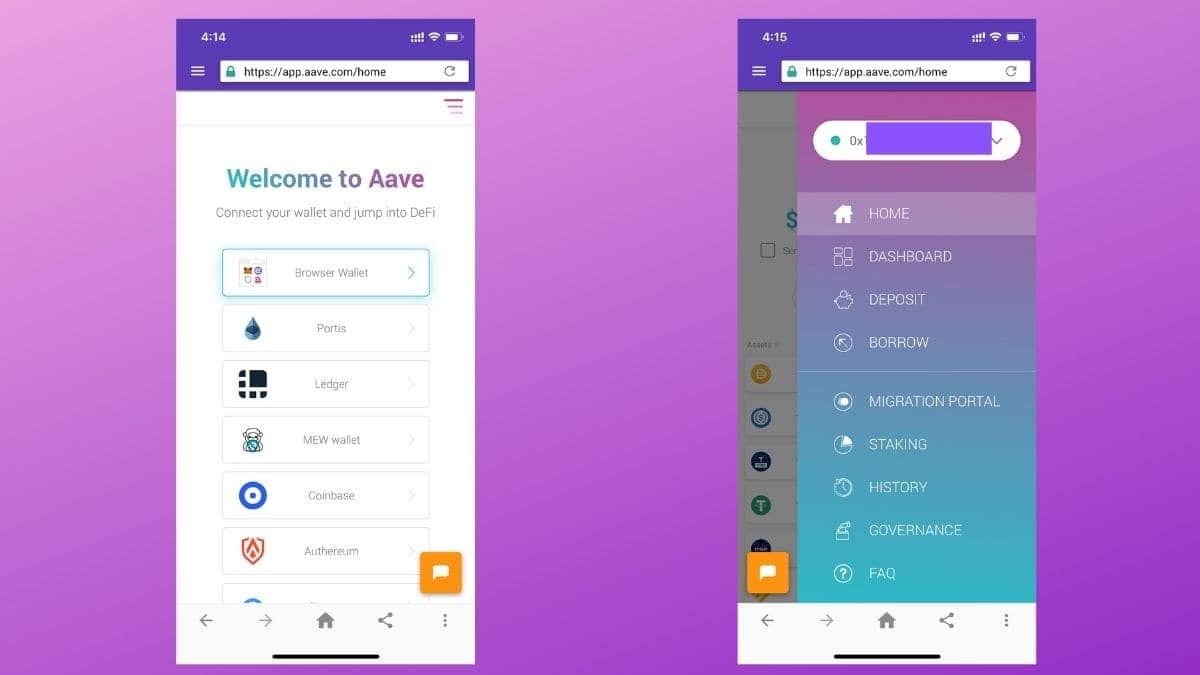 Enjin and BMW
After much speculation, Enjin has confirmed they are partnering up with BMW to integrate Enjin Coin token swap into BMW's Vantage App. The Vantage App is a Korean customer loyalty app for car-owners. Users can use the app to pay for goods/services such as gas, highway tolls and parking fees. There will also be referral rewards for dining and shopping.
Purchases on the BMW Vantage app are rewarded with BMW Coins which can be used as spending for various activities and be swapped for ENJ.
Note the token swap feature is not available on the Vantage App yet and according to Enjin, more details will be available once it is live.
Enjin putting property on NFTs with LABS Group partnership
Enjin is helping LABS Group put property on NFTs and the blockchain with its partnership.
LABS Group will be using Enjin's NFT minting platform to tokenise real estate on the blockchain. LABS Group will be offering fractionalized deeds of real estate for as low as USD$100, allowing retail investors (particularly millennials) to finally enter and invest in the real estate market.
The range of real estate on offer will include buildings, hotel rooms and apartments. Trades will all take place securely through the regulated LABS Security Exchange.
This marks the introduction of blockchain into the world's oldest and largest asset class, valued at approximately USD$228 trillion.
Enjin enters Japanese cryptocurrency market
Enjin will be the FIRST gaming cryptocurrency to be listed on Japanese cryptocurrency exchanges. And it is going straight for the top with one of the largest cryptocurrency exchanges- Coincheck.
Enjin ($ENJ) will be listed on Coincheck from 26th January 2021.
This is a significant first step for Enjin into the Japanese market. Enjin's aims are twofold- for ENJ to be approved by Japan's finance regulators and to promote adoption of the Enjin Platform in the Japanese gaming industry.
This listing was one and a half years in the making, having to pass the rigorous auditing and monitoring of the Japanese Virtual Currency Exchange Association (JVCEA)- formally recognised by Japanese financial regulators, the Japanese Financial Services Agency (FSA). The approval process for cryptocurrencies in Japan is notoriously difficult, with only 15 cryptocurrencies (including Enjin) being approved for listing on Coincheck.
Japan also has a fiercely competitive cryptocurrency exchange market with over 20 exchanges in operation. Coincheck is one of the largest cryptocurrency exchanges in Japan based on volume, founded in 2014 with over 1.7m users and counting, and prides itself on being the top downloaded cryptocurrency app in Japan.
As Enjin now has its foot in the door of the Japanese market, the Enjin team is now in discussions with various domestic companies and projects. With Japan being the pioneers of the gaming world (think Super Mario, Pokemon and Final Fantasy), it will be interesting to see what innovations Enjin can bring to the space.
See Enjin's official announcement on the Coincheck listing.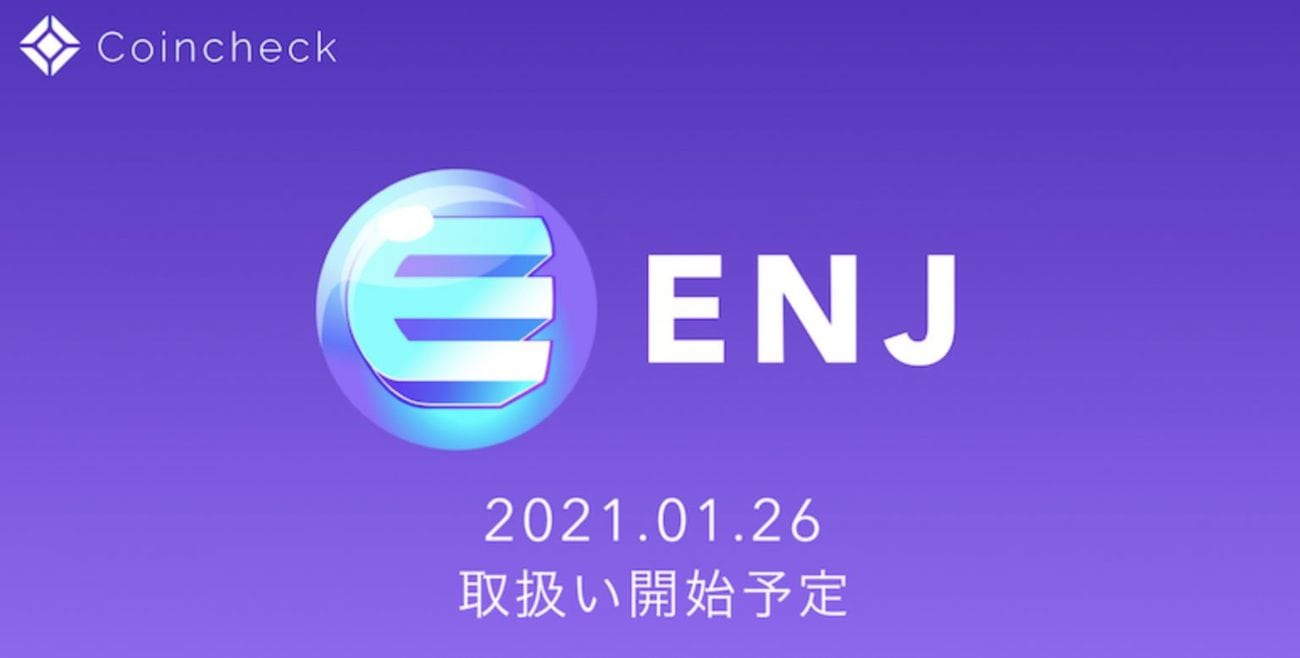 Frequently Asked Questions
Does it cost ENJ to transfer tokens on Enjin Chain?
Enjin isn't a blockchain, rather it's a project built on Ethereum. In order to transfer Items (non-fungible tokens), you'll need to use ethereum (similar to how ERC20 tokens work). In the future Enjin is explorer additional scaling options (Efinity) to allow for free item transfers.
What is the most EXPENSIVE item on ENJIN
The Monolith is the most expensive item on ENJIN, with 1,155,777 ENJ locked in the item. At the time of writing, this item is worth $168,000 USD!
What makes ENJIN valuable
ENJIN is a scarce resource, used to lock value into ever item created on the ENJIN platform. This means as time progresses and more games create items on ENJIN, more and more $ENJ will be locked up creating scarcity in supply
Where can I buy Enjin
$Enj is listed on all major exchanges, such as Binance.
Other Resources:
EnjinX – Blockchain explorer that tracks the Ethereum Blockchain, ERC-20 and ERC-1155 items
Egamers – Enjin Games news website
Everything Enjin – Great site covering Enjin Related News
Multiverse Era – Telegram Channel about the Enjin Multiverse
Castle Crypto – Coverage of Enjin games
AsiaCryptoToday – cover of Enjin Platform
Disclaimer: Cryptocurrency trading involves significant risks and may result in the loss of your capital. You should carefully consider whether trading cryptocurrencies is right for you in light of your financial condition and ability to bear financial risks. Cryptocurrency prices are highly volatile and can fluctuate widely in a short period of time. As such, trading cryptocurrencies may not be suitable for everyone. Additionally, storing cryptocurrencies on a centralized exchange carries inherent risks, including the potential for loss due to hacking, exchange collapse, or other security breaches. We strongly advise that you seek independent professional advice before engaging in any cryptocurrency trading activities and carefully consider the security measures in place when choosing or storing your cryptocurrencies on a cryptocurrency exchange.