ChainLink ($LINK) has been a standout project in the cryptocurrency industry since its creation in 2017 by San Francisco based company, SmartContract. The Company is renowned for being a decentralised oracle solution, they act as a middleware agent between traditional data sources, blockchain projects and smart contracts (which drive Decentralised Finance (DeFi) projects) using their $LINK token. Partnership wise, the Company has been linked with national governments like the Chinese government and are consistently building new partnerships with major brands. Clearly, ChainLink is a company that any crypto or blockchain enthusiast should have an understanding of, so here we have compiled a complete guide to this revolutionary project.
What is ChainLink?
ChainLink has prominence because they solved the Oracle Problem. The oracle problem originates from an issue with smart contracts, which are coding instructions that would automatically execute under specific conditions on blockchain networks. Smart contracts are. also immutable, cost effective and self-executing, so technically they are perfect for automating transactions which are transparent and have zero chance of failure. These smart contracts derive their data from "Oracles" (i.e. data sources, APIs etc) , and this is where the problem lies. Smart contracts are only as "smart" as the information fed to them by the oracles. If you feed a smart contract with malicious code or bad data, the smart contract will still process it anyway because it is just code, and what comes out would be incorrect or unpredictable. This is known as the "Oracle Problem".
That all changed when ChainLink worked out how to retrieve and share information from the Oracles without jeopardizing the security of the blockchain. This was by creating a decentralised blockchain which bridges between the Oracles and the smart contracts. The system is built on a collection of individual nodes which act as smart contracts on their own to gather the information and as a result have created a smart contract infrastructure. Now, instead of having to blindly trust a source, smart contracts can now access resources like data feeds, traditional bank account payments and web APIs.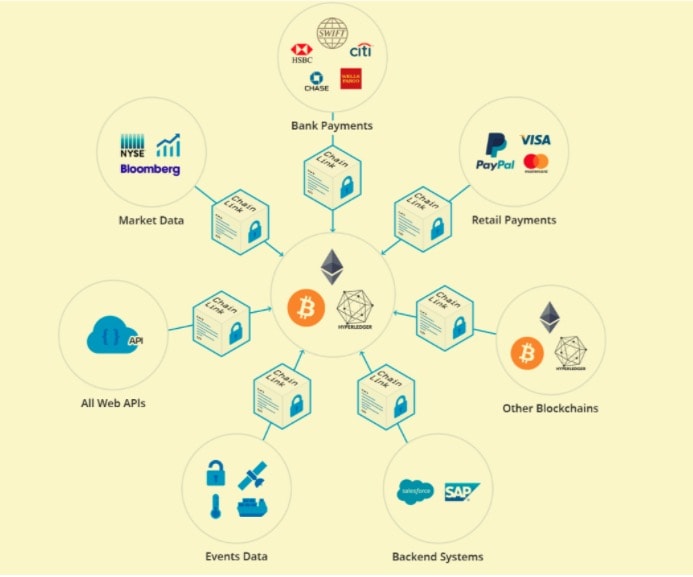 Why is this important? It is because ChainLink believes its technology will do away with traditional legal agreements and instead the information will be stored on blockchain forever.
For a summary of the top 3 features of ChainLink, check out this video from Cryptonauts:
What is the $LINK token? What are its uses?
ChainLink is also relevant to the cryptocurrency industry because its Oracles also provide a solution for decentralized applications (dapps) as they too provide a bridge to the outside world.
The $LINK token is ChainLink's native cryptocurrency and was set up on the Ethereum network using an ERC677 token whose functionality is based on the ERC-20 token standard, it also boasts 'transfer and call' functionality. The $LINK token is used as staking for a bidding system for provision of information and for rewards, as will be seen in the following paragraph.
The decentralized oracle network works through a two way system between those who wish to purchase data and those who bid to be the providers of the said data. Providers, also known as "Node Operators" stake ChainLink's $LINK tokens to make bids to the intended data purchaser. If they win, they must provide the information required by the purchaser on chain through their APIs. The "winning" Node Operator's payout is determined by the number of operators using the site, and the Oracles implement this decision. Payouts are in the form of the $LINK token.
This system has a number of benefits. When ChainLink is popular with Node Operators, then their value increases. Not only that, but Node Operators are also rewarded for accumulating $LINK tokens through easier access to larger contracts, also increasing $LINK's value. Those who act maliciously, however, are punished by removal of $LINK tokens.
As you can see the $LINK token allows for self regulating governance of the ChainLink network. Some have suggested that payouts needn't be in $LINK, but rather any other cryptocurrency would have done the job. Yet, ChainLink's price performances in recent times have suggested the team in San Francisco were right to go down the native token route.
The $LINK token can be traded on exchanges and is gaining in popularity too. Currently it ranks as the 8th highest market cap according to Coingecko. Available on most major exchanges like Coinbase Pro, Binance and OKEX ChainLink's token has been a standout performer in recent months. Check out our Coinbase Pro review, Binance review and OKEX review.
ChainLink Partnerships
Unlike other companies who rely on PR and word of mouth to promote themselves, ChainLink has gone about it by courting various companies and governments around the world. Their CEO Sergey Nazarov has been on a charm offensive for a while and has secured numerous allies. This is because ChainLink provides businesses the benefits of decentralization, trust and immutability, all without them having to make a new system. Here's some of ChainLink's key partners.
Other Cryptocurrencies- Bitcoin and Hyperledger
In terms of the cryptocurrency field, ChainLink's oracle services are available on other blockchains such as Bitcoin and Hyperledger. This openness has also opened up the door for a number of high profile partnerships with other blockchain projects that have made commentators and traders take notice of the Company.
Synthetix Network
In March 2019, ChainLink and Synthetix announced a partnership with the aim of improving the Synthetix platform's price feeds. SNX, the company's native token, receives data feeds using Chainlink's decentralized oracle network.
Celer Network
ChainLink has been used by Celer to bring accurate real world data to their layer-2 scaling solution. Now, payments executed off chain can be registered on chain making the real world and blockchain more cohesive. Their joint statement described their union as, "a combination of off-chain conditional state transition with an on-chain oracle dependency. Or put it simply, introducing the capability to combine real-world information and layer-2 scalability."
Google and ChainLink
ChainLink and their oracles are not just reserved for the cryptocurrency industry. The use cases and partnerships stretch to major internet companies like Google. The search engine company integrated ChainLink's oracles for its blockchain cloud service. According to a blog post, the oracles will help with data communication between Big Query and other blockchains on the cloud.
Chinese Government Blockchain Service Network (BSN)
In June, the Chinese state backed Blockchain Service Network (BSN) announced its intentions to bring ChainLink in on a consultancy and application basis to help develop the BSN. Reports at the time suggested ChainLink will foster the creation of a "service hub" which would form the bedrock of its "internet of blockchains." For a full breakdown of the partnership which also involved Cosmos, click here.
SWIFT
SWIFT is a major financial institution/telecommunications company which connects the banking world. They have brought ChainLink on board and are regularly using their technology. SWIFT began using ChainLink's technology as now any real-world money transfer can be sent into the blockchain from SWIFT via Chainlink. So ChainLink now allows cohesion between traditional banking and the crypto sphere.
Other partnerships
The partnerships don't stop there. ChainLink has teamed up with betting company, BetProtocol to provide decentralized Esports and Sports Oracles on their website. DocuSign, an online contract company has also brought them onboard.
Future of ChainLink and $LINK prices
Overall, it is clear that ChainLink is an important figure within the blockchain and cryptocurrency industry. Quite how important the oracle technology proves to be will be easier to judge as the world understands and develops blockchain technology. Though currently, all signs point towards a more optimistic outlook
As for the $LINK token, they are clearly a standout which has risen rapidly in the past few months, having gone from $3.72 in early May 2020 to reach a new all-time high of over $14. In fact, as a Forbes report noted in July 2020, the $LINK token has "soared 1,000% in just over 12 months". One factor in the token's recent success is the increase in partnerships since 2019. Another reason is definitely the recent DeFi fever, especially since ChainLink and the DeFi space are so interlinked as ChainLink provides oracles for the smart contracts that power various DeFi projects.
We can also see that people also have positive thoughts on the project, a huge majority of users on Coingecko voting positively.
ChainLink vs Zeus Capital LLP
Zeus Capital, purportedly an asset management and research firm published a report on 15th July 2020 accusing Chainlink of being a classic "pump and dump". The Report alleges ChainLink of using techniques such as inside trading, artificial transactions, overhyping the project, and questioning whether ChainLink actually has partnerships with companies like Google and Oracle. According to Zeus Capital, this was to drive up the price of $LINK prior to the team dumping the coin onto innocent investors. They concluded their Report saying that "Based on our findings we have opened a short position in LINK and recommend you doing the same with a target price of USD0.07 and potential upside of nearly 100%."
In addition to promoting the Report through advertisements on Twitter, screenshots have also been circulating saying that Zeus Capital was offering Twitter cryptocurrency influencers rewards of up to 5 Bitcoin to post price analysis indicating that LINK prices would fall.
Supporters of ChainLink retaliated, accusing Zeus Capital of spreading fear, uncertainty and doubt (FUD). On the day the Report was published, prices for LINK went up to $8.73. Meanwhile, the real Zeus Capital, a prominent investment banking operation based in London came forward on 20th July 2020 to say it did not produce the Reports.
Zeus Capital then doubled down on their allegations against ChainLink by publishing a follow-up report on 31st July 2020 titled "Exposing Chainlink's Pump and Dump Scheme". They also doubled down on their stance in the Report: "The current tokenomics and lack of commercial applications cannot justify LINK's price. As a result, we recommend short selling LINK with a target price of 7 US cents". The Follow-up Report also concludes with a disclosure that they hold a short position on $LINK.
Despite these damning reports, prices for LINK continued to remain strong. This meant that those who were shorting LINK, i.e. counting on prices to drop, were getting squeezed out of their positions. This all came to a head on the morning of 8th August 2020 when prices for LINK crossed over the USD $11 threshold. During that time, data showed that millions worth of Chainlink short positions were partially or fully liquidated. A notable example of this was a short position worth around USD$20 million which seems to have been entirely liquidated, leaving the wallet pretty dry with only USD $299.66 remaining.
It is noted that there is no conclusive evidence to say that any of these liquidated accounts belonged to Zeus Capital. However one thing is certain- ChainLink, helped by its supporters i.e. the Link Marines were able to successfully shake off the FUD. And as at the time of this update, LINK prices had peaked at USD$14.34, almost double the prices when the first Report was published.
What has 2020 brought to Chainlink?
2020 has been a favorable year for Chainlink ($LINK). It has been one of the best performing coins and secured its spot in the top10 assets ranking by mcap. It is now sitting at n°9 with a market cap close to $8 billion dollars.
Chainlink is widely recognized as the most used oracle in crypto and has been a backbone for Defi's explosion. Many are the collaborations announced, over 300, not only on the Ethereum blockchain. Chainlink is also expanding to other chains such as Polkadot and Tezos. Results have exceeded expectations and the company has also been recognized, among 6 other blockchain companies (Lightning Labs, MakerDAO, Elliptic, Bitmark, Ripio, Veridium Labs) by the World Economic Forum among the 100 most promising Technology Pioneers of 2020.
The team has allegedly doubled its size and acquired important strategic pieces. Ari Juels, now Chief Scientist at Chainlink Labs, was one of the 2 writers of the first Proof of Work paper. He has also developed Deco, a privacy-preserving technology now acquired by Chainlink, at Cornell University together with other researchers.
"Deco allows oracles to attest to the validity of information in trusted databases/systems without exposing it to the public or even the oracle itself using … Zero-Knowledge Proofs. Essentially, the oracle can join a user-initiated web session to attest to some requested information— possibly to verify someone's identity, approve their financial information, or check key government records".
The data will never leave the selected database so the info will remain stored in trusted locations, enhancing the privacy and usability of the blockchain. An important possible application could be transactions that can meet KYC (Know Your Customer) or AML (Ant Money Laundering) requirements without exposing sensitive information on-chain.
2021 looks certainly promising. The company will continue with its focus on security while bringing as much data as possible on-chain, from different sectors. This will provide huge improvements and development to the whole crypto space.
Decentralised Finance (DeFi) series: tutorials, guides and more
With content for both beginners and more advanced users, check out our YouTube DeFi series containing tutorials on the ESSENTIAL TOOLS you need for trading in the DeFi space e.g. MetaMask and Uniswap. As well as a deep dive into popular DeFi topics such as decentralized exchanges, borrowing-lending platforms and NFT marketplaces
The DeFi series on this website also covers topics not explored on YouTube. For an introduction on what is DeFi, check out Decentralized Finance (DeFi) Overview: A guide to the HOTTEST trend in cryptocurrency
Tutorials and guides for the ESSENTIAL DEFI TOOLS:
More videos and articles are coming soon as part of our DeFi series, so be sure to SUBSCRIBE to our Youtube channel so you can be notified as soon as they come out!
Disclaimer: Cryptocurrency trading involves significant risks and may result in the loss of your capital. You should carefully consider whether trading cryptocurrencies is right for you in light of your financial condition and ability to bear financial risks. Cryptocurrency prices are highly volatile and can fluctuate widely in a short period of time. As such, trading cryptocurrencies may not be suitable for everyone. Additionally, storing cryptocurrencies on a centralized exchange carries inherent risks, including the potential for loss due to hacking, exchange collapse, or other security breaches. We strongly advise that you seek independent professional advice before engaging in any cryptocurrency trading activities and carefully consider the security measures in place when choosing or storing your cryptocurrencies on a cryptocurrency exchange.