ArcadeLand is placing back control in the users' hands – the gamers, the builders, the visionaries – with the Ultimate Gaming Metaverse. Hundreds of top-quality games, advanced cross-platform avatars with NFT wearables, and a blockchain-optional UI to make ArcadeLand's platform easy to use. Welcome to the Ultimate Gaming Metaverse!
ArcadeLand is Coming, Why Do You Need It?
ArcadeLand sees the Metaverse as the natural evolution of the web experience in terms of socializing, gaming, exploring, and learning. While it took nearly a decade to catch on, the world-wide-web quickly gained significant market share while antiquated competitors in the areas of postal, television, newspapers, education, entertainment, and gaming either adapted or were left behind by the new companies that embraced this technology.
For example, what happened to Blockbuster when Netflix came along, and this trend is expected to repeat as the newest generation of Web 3.0 technologies emerge. While P2E games and Metaverse platforms are relatively new to the market, there are still significant barriers to overcome before mainstream audiences can fully embrace them.
Blockchain remains a double-edged sword, in the sense that, although it grants the benefits of ownership, security, and the ability to earn great rewards from playing games; it also represents a significant learning curve. This comes with a number of dangers for new users, and it's largely seen in a detrimental way due to the many negative media headlines of bad actors within the industry.
Many P2E games in development, and currently on the market, require players to be knowledgeable about blockchain technology. This limits their total addressable from the billions worldwide, down to around roughly 400,000 to 500,000 players, the "niche within a niche" of savvy crypto users who still find time to play such games. User acquisition becomes a battle for these games, as they struggle to compete for adequate DAU numbers within a narrow audience.
While the definition of the Metaverse, according to Wikipedia, is: "a network of 3D virtual worlds focused on social connection" the current offerings fall short of this important network aspect. Leading Metaverse platforms suffer from a lack of compatibility and interconnectivity, which are hallmarks of a "true Metaverse". They create a restrictive environment where games of high quality cannot exist, as developers are forced to build within them using only the tools provided by the platform. Avatars and their accessories are only compatible with their own platform, and users cannot show off their costumes or treasured digital wearables elsewhere. By all measures of what a fun, interconnected Metaverse should be, they simply come up short.
ArcadeLand is creating a platform that will serve game developers, gamers, and the entire community that supports the future of P2E gaming. Arcadeland is connecting games, guilds, studios, and publishers with players from within and beyond the crypto community accelerating this future and removing the obstacles to mass adoption. Increasing the reach of this rapidly growing industry.
ArcadeLand Will Push the Boundaries of Gaming
A Metaverse must be complete in its offering and for its intended purpose, as it is by nature a platform to host many applications. A true Metaverse is an environment for exploration, socialization, and play. Compatibility and interoperability with a total array of ecosystem products and services are paramount, as the sandbox-style of exclusivity limits the variety, replayability, and quality of the games within. ArcadeLand understands this and has shaped the platform accordingly.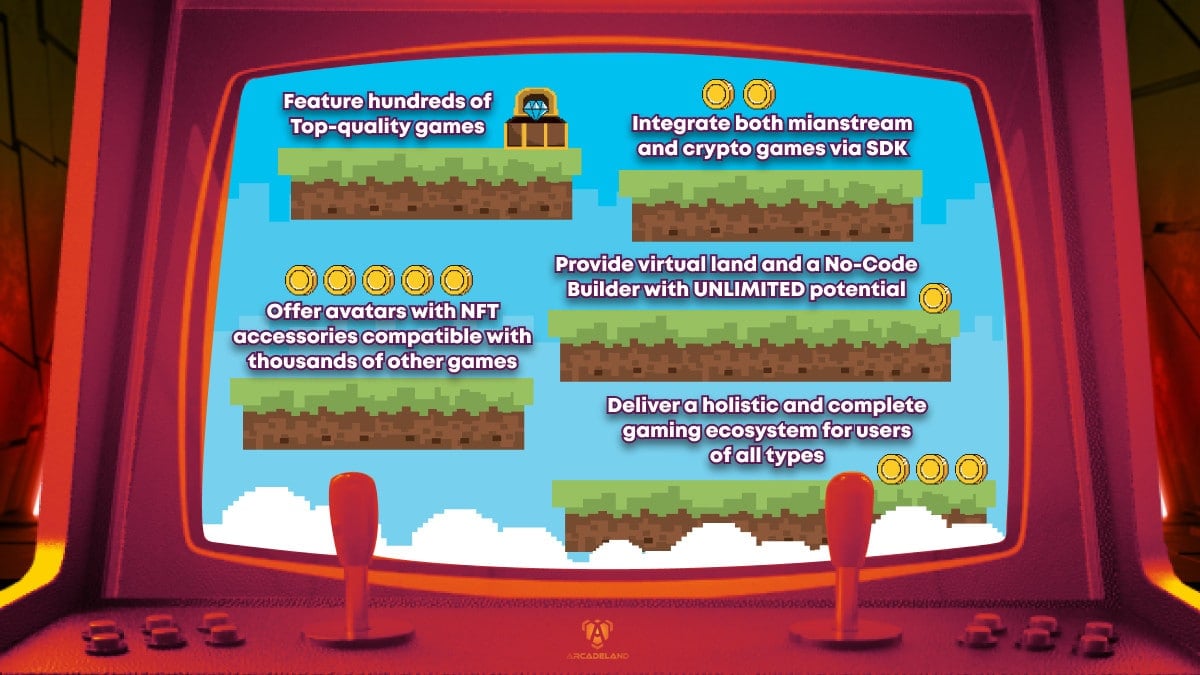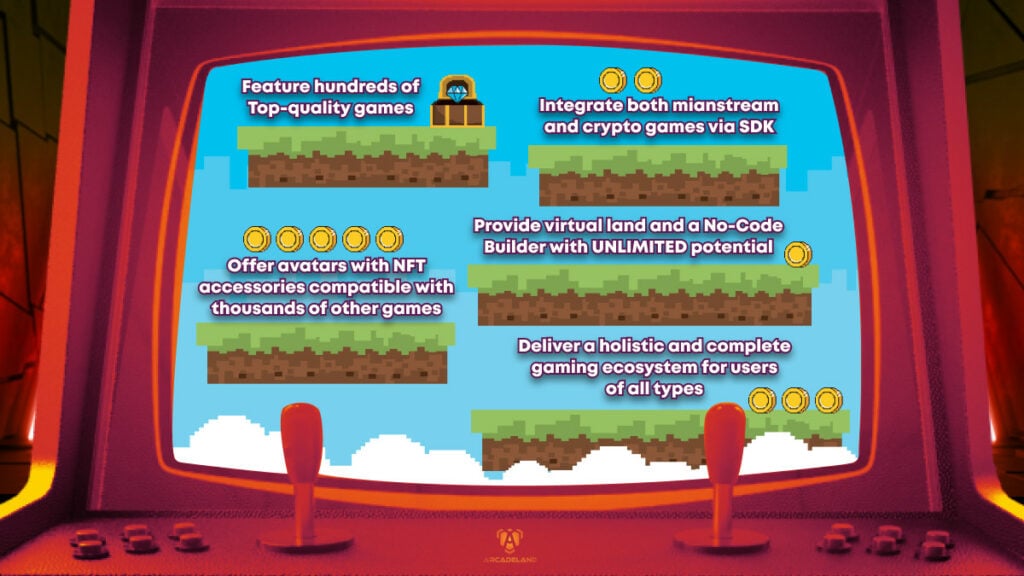 ArcadeLand will:
Feature hundreds of top-quality games
Integrate both mainstream and crypto games via SDK
Provide virtual land and a No-Code Builder with UNLIMITED potential
Offer avatars with NFT accessories compatible with thousands of other games
Deliver a holistic and complete gaming ecosystem for users of all types

To address the issue of game quality, ArcadeLand is onboarding top-quality game partners with successful titles from both the mainstream space as well as crypto. The objective is to make the developer's jobs as easy as possible by providing a comprehensive suite of tools to allow for rapid integration with little labor required.
ArcadeLand can apply its dual-tokenomics model to mainstream games with dynamic rewards and tournament payouts. This allows game owners and users to benefit from an easy to deploy and use P2E model that can be adopted by any type of game.

On the crypto gaming side, ArcadeLand can support the seamless integration of games along with the important token features to allow players to take full advantage of the games and their earning potential.
ArcadeLand provides a safe environment and tools for newcomers with no crypto knowledge to acquire, manage, and sell their NFTs with their built-in wallet and native marketplace. ArcadeLand provides native and easy-to-use interfaces to share updates on social media channels.
Land within ArcadeLand can be developed in over a dozen ways. Builders can create their own shops, entertainment venues, or virtual headquarters for almost any type of business or service. Assets generated via ArcadeLand's No-Code Builder tools can even be listed and sold on the platform's marketplace to allow players to monetize their designs and speed up the building process. Games can import all popular file formats of their 3D objects without the need to recreate their designs to use them in their virtual spaces. This expands compatibility and creativity in those who wish to thrive with their plots in the Metaverse.

People love to display their achievements, express their individuality and creative style in real life and virtually. So, what good is clothing you can only wear to one place? ArcadeLand has taken a unique approach by comparison to other existing Metaverses and chose to incorporate one of the most advanced avatar systems on the market.
The tokenized avatar accessories issued are already compatible with 1,750+ other games and that number is increasing weekly. Any costume or wearable created, earned, or purchased in ArcadeLand's Metaverse will be the players' to show off in hundreds or thousands of other games on all platforms including AR/VR.
ArcadeLand is taking an inclusive and cooperative approach to bringing in all the best games, partners, and ecosystem-related services needed to create the Ultimate Gaming Metaverse. Whether you're a gamer, creator, developer, business owner, social butterfly, eSport champion, or some combination of these, you'll find everything you're looking for in ArcadeLand.
Start Getting Pump!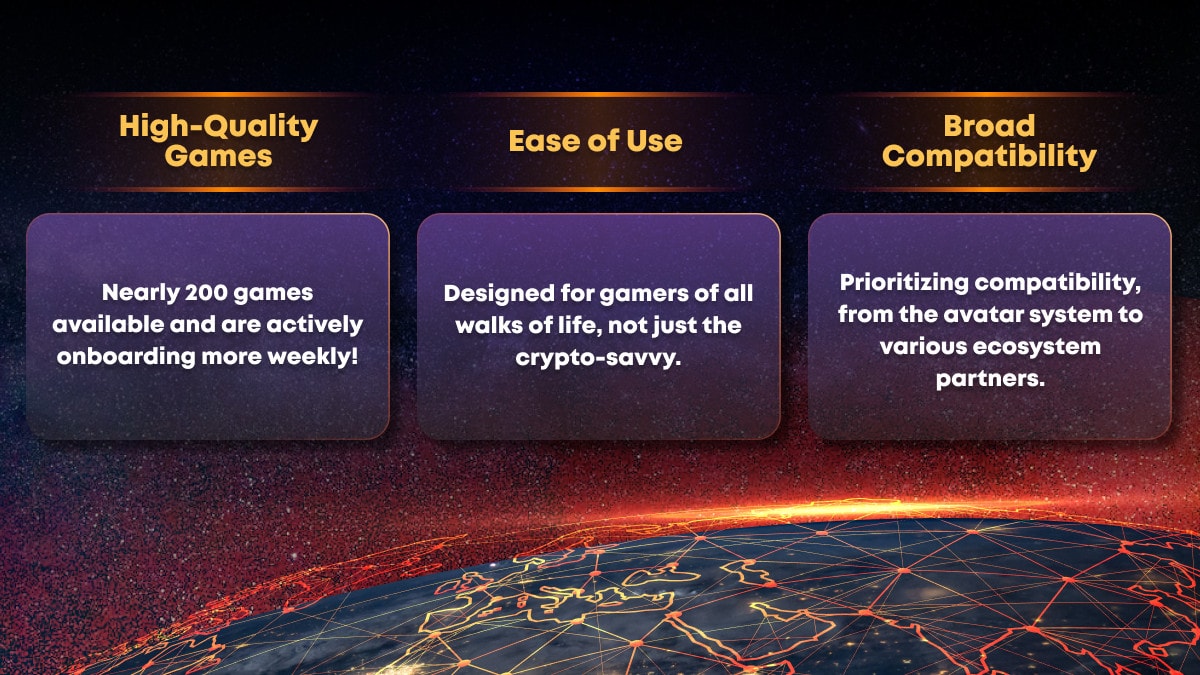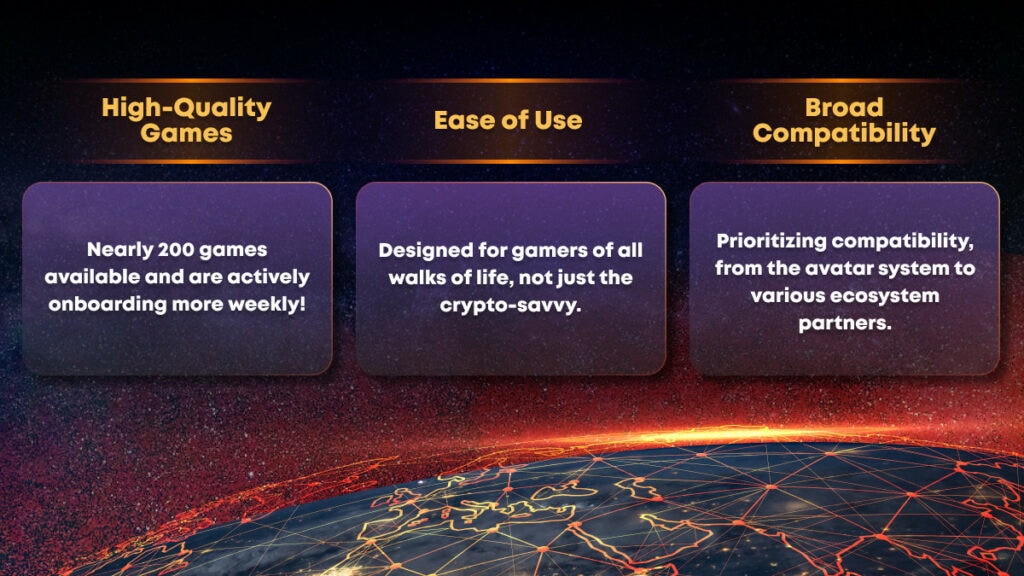 To sum up, ArcadeLand is addressing three of the most critical issues halting the widespread adoption of play-to-earn gaming:
High-Quality Games – They have nearly 200 games available and are actively onboarding more weekly
Ease of Use – Their platform is designed for gamers of all walks of life, not just the crypto-savvy.
Broad Compatibility – Arcadeland prioritizes compatibility, from their avatar system to their various ecosystem partners.
Join ArcadeLand's social media channels below to stay abreast of developments. There's much more to reveal about how it all works.
About ArcadeLand
ArcadeLand is building the ultimate gaming Metaverse. Its mission is to deliver the most rewarding experiences with the best selection of high-quality games and an ecosystem designed to serve gamers, developers, and the community, to propel the future of gaming.