Trezor One and the Trezor Model T (Model T) are cryptocurrency hardware wallets produced by Satoshi Labs in 2014 and 2018 respectively. Comparing the two, Trezor One is good for budget-conscious people or those who don't need a diverse portfolio. Those willing to pay a lot more primarily for better displays can consider the Trezor Model T.
In this article, we compare the 2 models and give our verdict on which model would suit you best.
For an in-depth look at each device, check out our Trezor One Review and Trezor Model T review.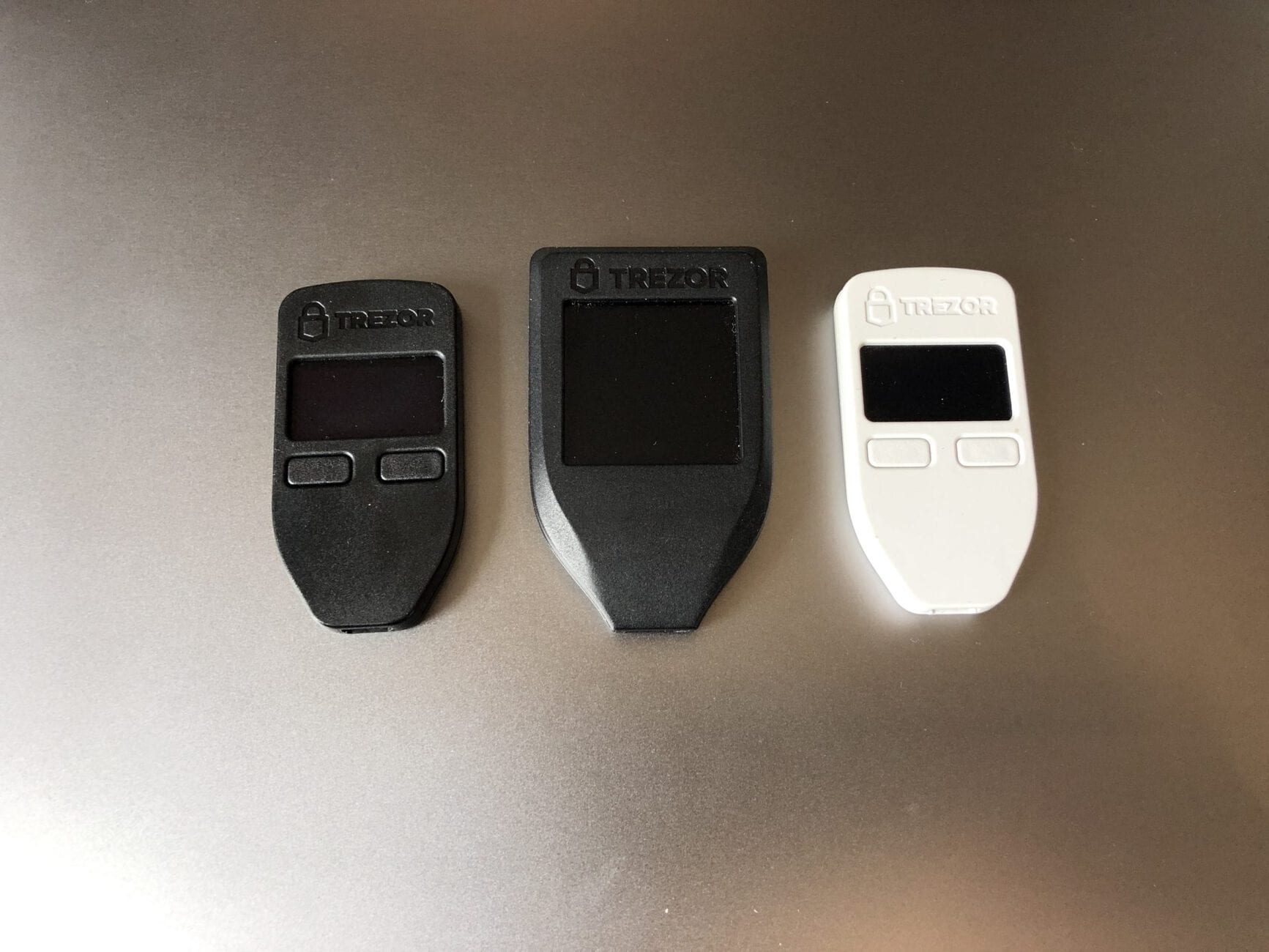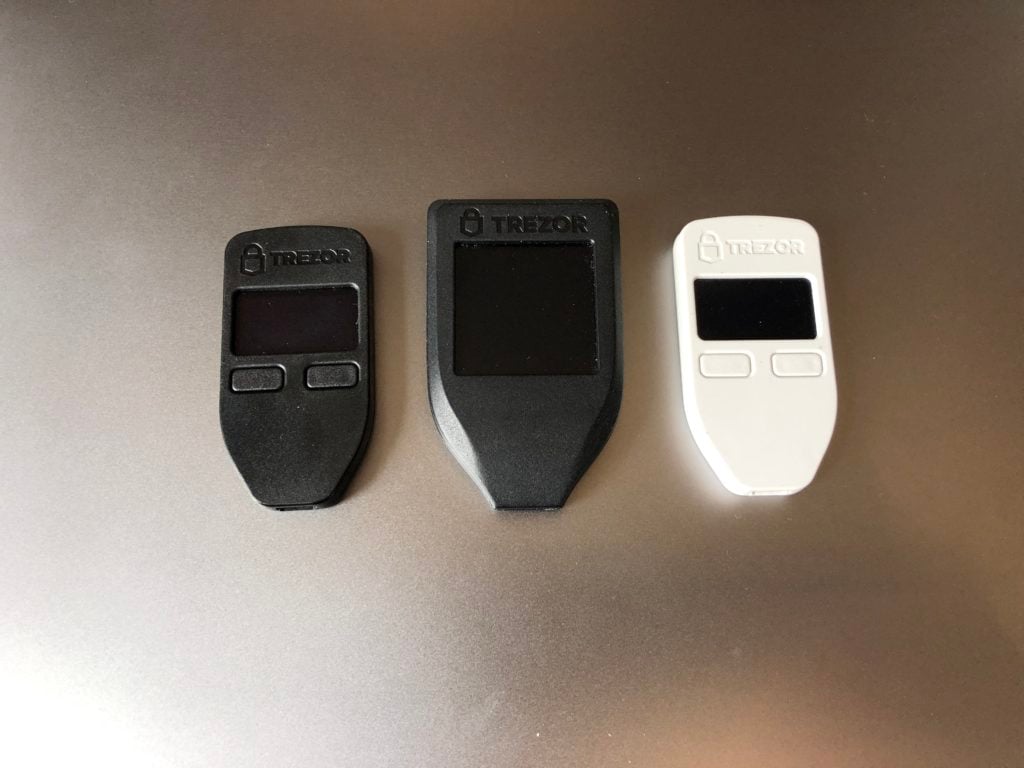 Who is Trezor One for?
Those who care about affordability. Retailing at 69 EUR, it is relatively affordable as a mainstream branded hardware wallet.
Users who just want to trade the major coins. The Trezor One has comparatively fewer supported coins.
Those interested in a smaller, more portable wallet. It is lighter and around 20% smaller than the Model T.
Get your Trezor One here.
Who is Trezor Model T for?
Sophisticated traders who trade or are interested in trading numerous different altcoins. For example the Trezor One does not support Ripple (XRP), Cardano (ADA), Solana (SOL) and a number of later ERC-20 coins.
Users who want clear and vivid displays: The Model T has an almost 2x larger colour touch screen.
Get your Trezor Model T here.
Security Features
Hardware wallets are generally impossible to hack. Most vulnerabilities are rather from users who accidentally disclose their passwords and recovery phrases. However, in 2020 a serious hardware vulnerability was found by Kraken Security Labs for both of the devices that allows a hacker to crack the PIN code within 15 minutes of physically having the device. This is an inherent flaw contained within the Trezor's microcontroller that cannot (and has not) be fixed with a firmware upgrade.
Trezor have since released several firmware updates and recommendations that help minimize this risk. One such recommendation was to protect the wallet with a password in addition to a PIN, that way this vulnerability is completely overcome.
Both models have similar security features starting from a protective seal on its box to alert you of any tampering. Both models allow you to set:
1. PIN code (up to 50 digits) to access your device,
2. Passphrase for accessing specific sub-wallets; and
3. Recovery phrase to restore your device.
The major distinction between the 2 models is that for the Trezor One, the PIN code, passphrase and recovery phrases are all inputted on your computer or mobile. Whereas you input on the device itself for the Model T.
Multicurrency Support
This is one area where you can clearly see the different times the wallets were released.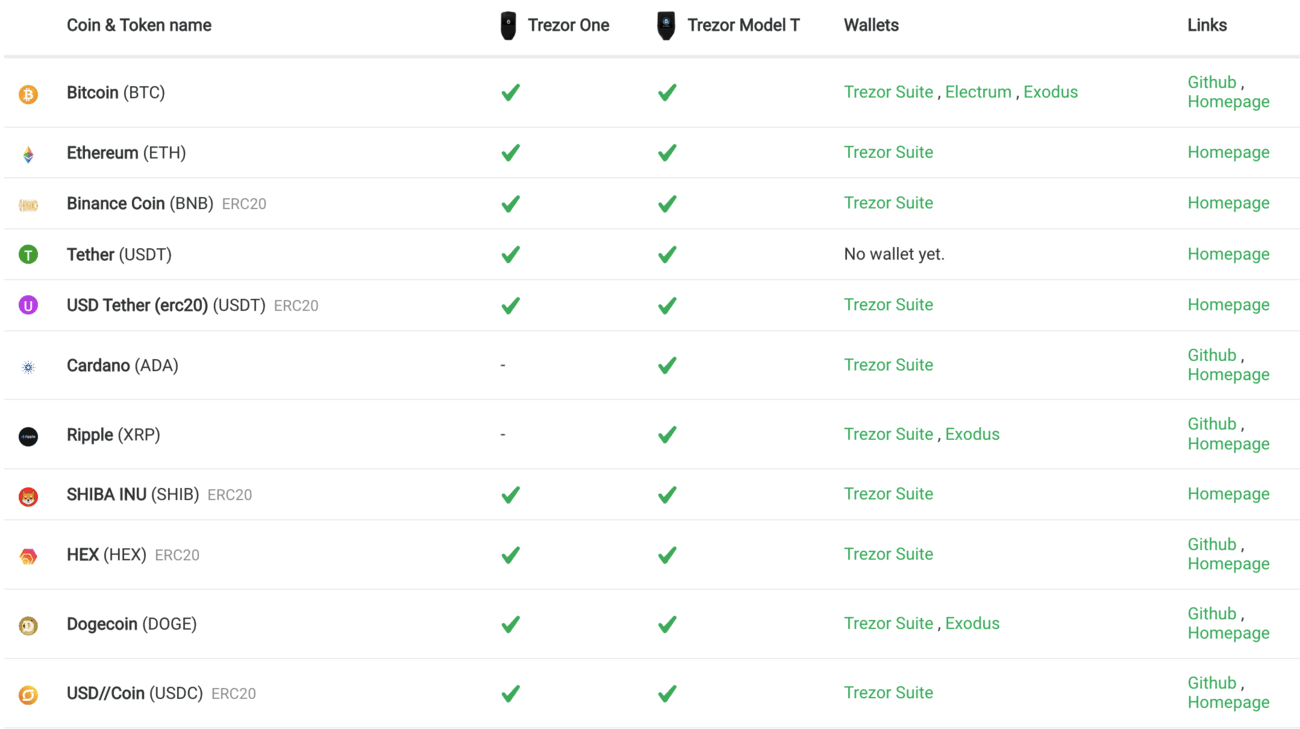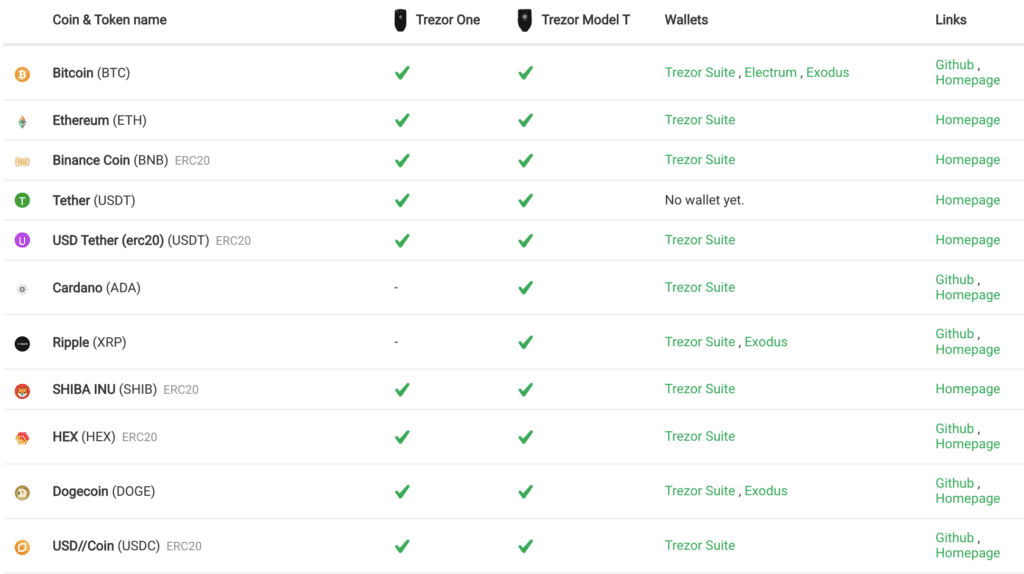 Trezor One
Can handle fewer coins but supports most major coins like Bitcoin, Ethereum, Litecoin and many others. However, subsequent coins such as Cardano, Monero, Ripple, and Tezos are not supported. Since firmware upgrade 1.5, the wallet supports every ERC-20 token.
Trezor Model T
It is capable of supporting these new coins. For this reason, cryptocurrency investors looking to trade more types of newer coins generally should use it.
Similar to Trezor One, Model T does not support Cardano, Solana, Ripple and others, but does support Tezos and ERC-20 tokens.
Click here for a full list of the cryptocurrencies supported by the two devices.
Hardware Design
Both devices have a plastic exterior which make them less susceptible to damage due to drops. This I can certainly attest to since I've accidentally swept the device off my desk and onto the floor numerous times- and it still works fine.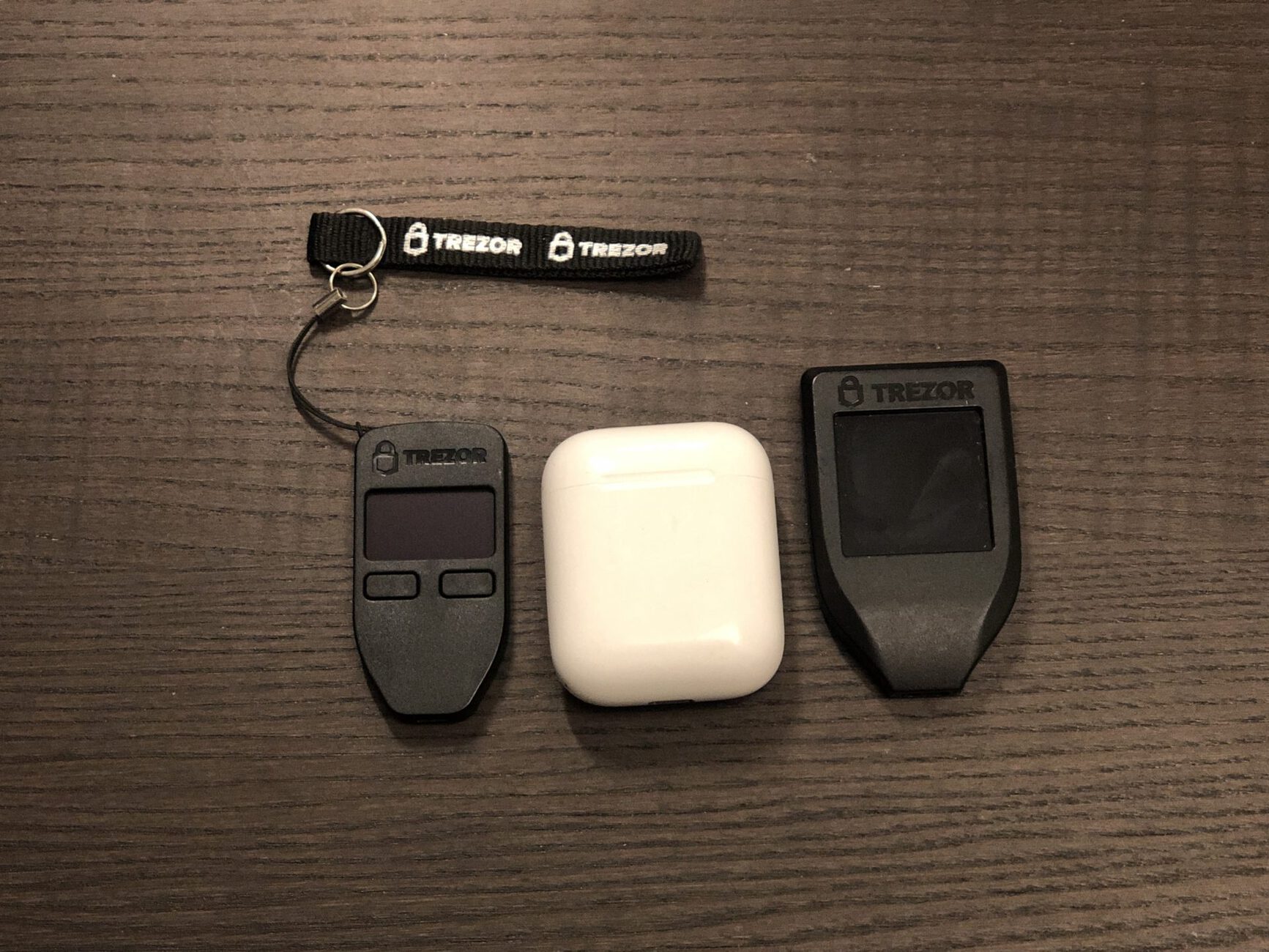 Trezor One
It is a smaller device at 2.36 x 1.18 x 0.27 inches (60x30x6mm), and weighing 0.42oz (12 grams). It has a 128 x 64 pixel monochrome display. With 2 buttons below the screen for operating the device.
The device uses a USB micro-B connection to connect to your computer.
Trezor Model T
Slightly larger and heavier at 2.52in x 1.54in x 0.39in (64mm x 39mm x 10mm) and weighing 0.77 oz (22 grams). The display is substantially improved with at a 240 x 240 pixels coloured LCD touchscreen.
The device uses the newer and more durable USB Type-C connection.
Verdict
Both devices offer exceptional security for your digital asset needs. The Model T obviously has the edge by virtue of being newer and its features and greater currency support shows for it.
The clear standout new feature of the Model T is its larger colour touch-screen display. Having tried both devices myself I still prefer the physical buttons on the Trezor One. This is because whilst the Model T has a larger screen is still not large enough to easily press accurately.
However I do appreciate not having to squint to read the addresses displayed on the Model T's screen.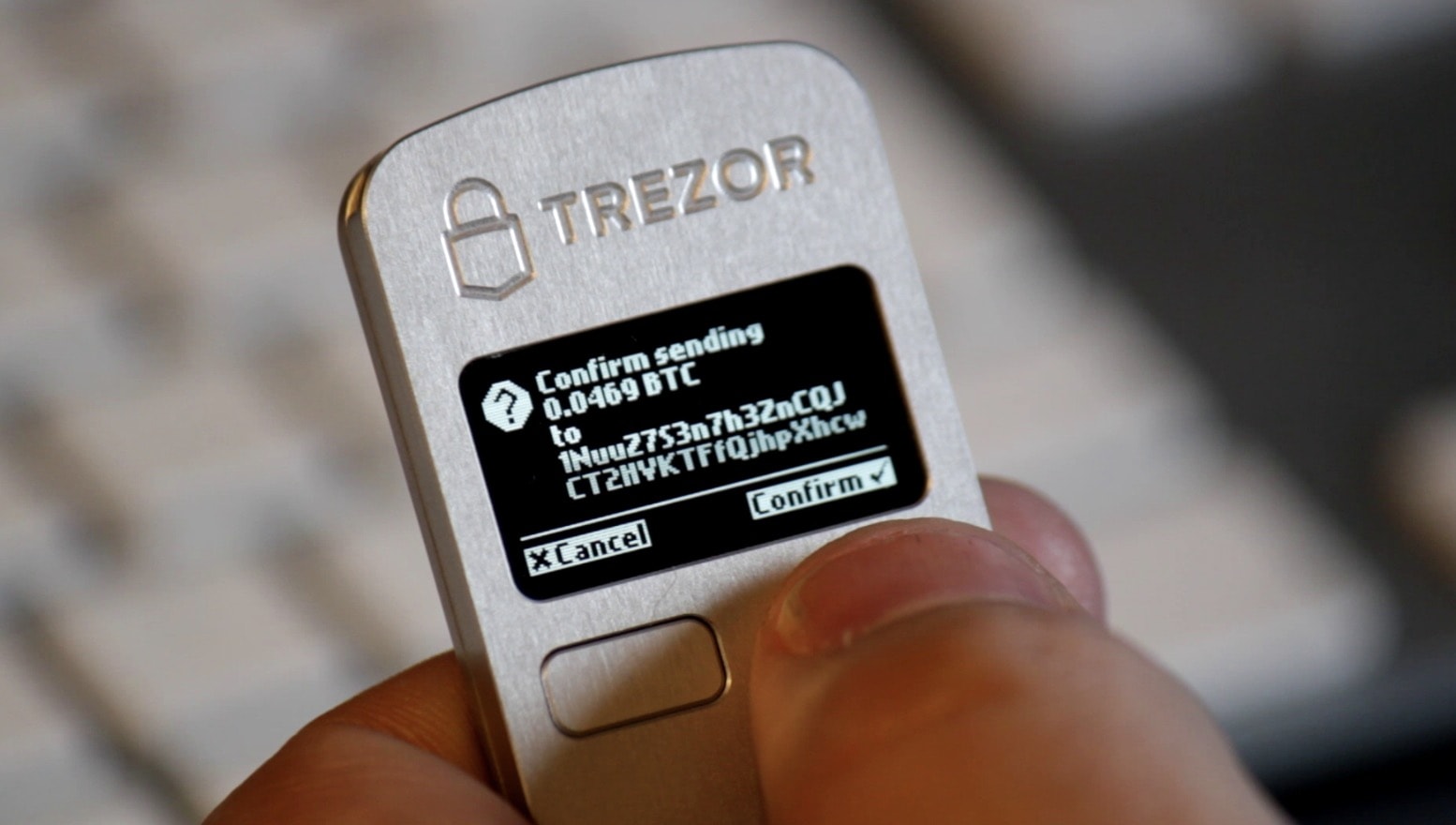 However, you do have to pay top dollar for the Model T. At US$170, it costs 46% more than the Model One. Does it accordingly offer 46% more features? Honestly, no- and that is accounting for the additional cryptocurrency support- which I consider the most important upgrade.
For investors with diverse crypto holdings, the Model T is definitely an obvious choice. It is newer and supports hundreds more coins. Alternatively for casual users or those with a limited budget, Trezor One still does what it needs to do in terms of securing your cryptocurrencies.
Further reading
Want to know how the Trezor stacks up against other brands? Check out our comparison of the top 3 cryptocurrency hardware wallets!