For those looking for a reliable and legitimate cryptocurrency exchange, Liquid is a great place to start, as the platform has seen a surge in popularity in recent years. This Liquid review will provide you with all the information you need about the features and benefits of the Liquid exchange, so you can decide if it's the right choice.
Sign up here to get started
What is Liquid?
Liquid is a Tokyo-based cryptocurrency-fiat exchange platform that was established in 2014 and granted an official license from the Japan Financial Services Agency in 2017. It offers a comprehensive solution to modern financial trading problems, providing traders with a secure and reliable platform to buy and sell digital assets. Liquid's services are designed to be user-friendly and secure, allowing traders to access a wide range of features such as advanced order types, margin trading, and more. With its cutting-edge technology and customer-centric approach, Liquid is the perfect choice for traders looking for a reliable and secure platform to trade digital assets.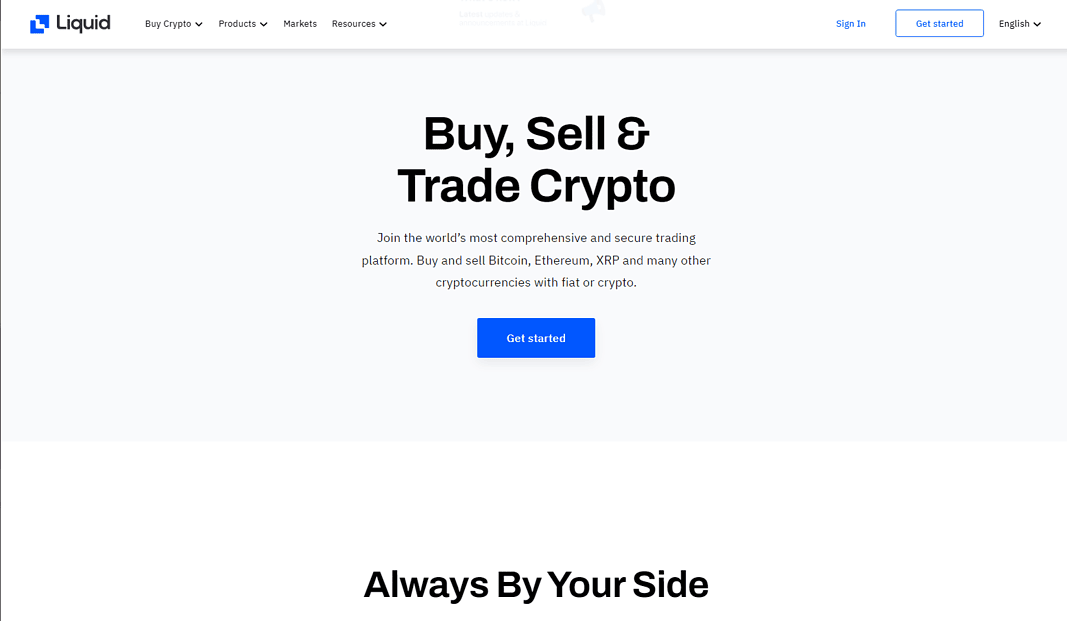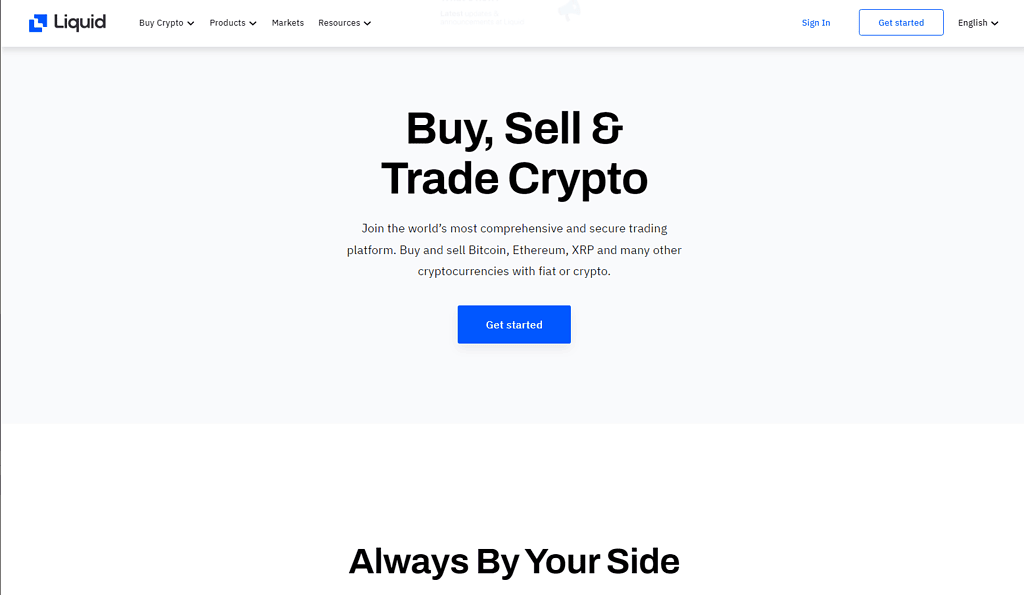 Liquid is dedicated to establishing a safe crypto space that enables every trader and customer to benefit from secure financial transactions and exceptional blockchain technology. Its position in the top ten regulated crypto platforms not only benefits the organization but also serves as a robust platform for customers to enjoy excellent services with optimal security. With its creative interface, Liquid has successfully incorporated effective features and measures that provide users with a great experience. Liquid places a high emphasis on ensuring user satisfaction.
Key Features of Liquid
Some of the core features of Liquid are as follows:
The trading environment is excellent, facilitating the exchange of various cryptocurrencies, such as Bitcoin and Ethereum.
Innovative security measures are in place.
There is a strong focus on fintech innovation.
Advanced trading capabilities are available.
The interactive interface includes live price charts and analytical tools for professional traders.
Greater liquidity and fund control are provided.
The website is easy to navigate, allowing for effective information mining.
The search and browsing experience is smooth.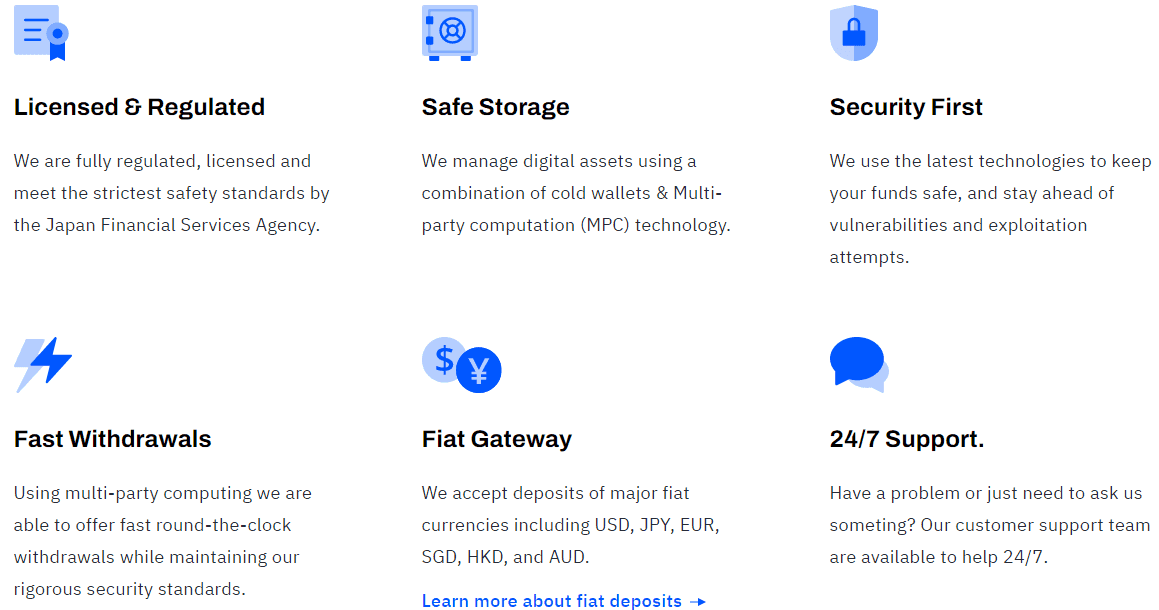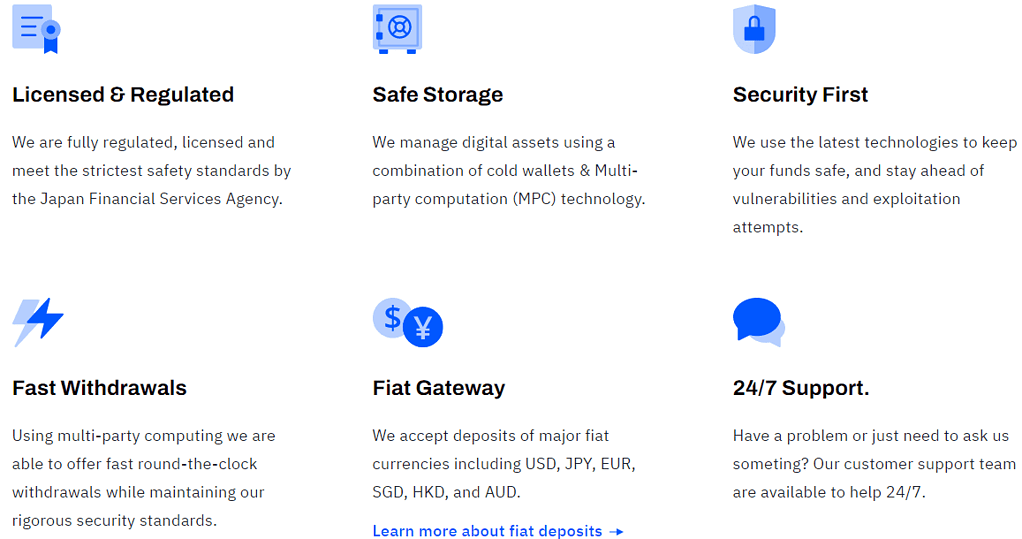 Key Advantages of Liquid
As usual, we will begin our review of Liquid by examining the features and advantages that this Singapore-Japan exchange provides to its users. Subsequently, we will delve into some of the more noteworthy grievances. Finally, I will demonstrate how to register on the platform and make your first cryptocurrency purchase.
Supports a Wide Range of Cryptocurrencies
At present, there are over 7000 cryptocurrencies available for discovery, trading, and utilization, each with its unique approach. Although an average crypto enthusiast won't require even 1/100th of them, the point is that the popularity of cryptocurrencies is on a steady rise. With this increased popularity comes an increase in the public interest. Through user Liquid reviews found online, it's apparent that even cryptocurrency newbies do their research before entering the industry. The result is asset diversification and a move beyond Bitcoin.


As a result, people seek cryptocurrency exchanges that allow them to trade more than just Bitcoin or Ethereum. That's where Liquid exchange comes in. In Liquid crypto, users can access over 100 different cryptocurrencies for trading, which is quite a high number. While no single trader may require such a vast portfolio of crypto assets, having a wide range of choices is always appreciated. This aspect is frequently mentioned in user Liquid reviews, and understandably so – it is one of the exchange's most significant features.
Bank Transfers and Credit/Debit Card Purchases are Accepted
The Liquid exchange is a popular platform for buying and trading cryptocurrencies. It supports multiple payment options, including bank transfers and credit/debit cards, making it easy to purchase Bitcoin and Ethereum. The exchange also offers a wide range of other coins, with some exceptions. Reviews of the exchange are generally positive, with users praising its user-friendly interface and secure transactions. With its wide range of payment options and secure transactions, Liquid is a great choice for those looking to buy and trade cryptocurrencies.

Account and Asset Security is Taken Seriously
This platform offers users a secure trading platform. With its advanced security measures, users can rest assured that their accounts and assets are safe from potential hacks. Liquid reviews have praised the exchange for its security features, which include two-factor authentication, cold storage, and advanced encryption. With these measures in place, users can be sure that their cryptocurrencies are safe and secure.
It utilizes mandatory 2FA, withdrawal protection, IP address whistling, cool-down periods of certain setting changes, and 98% of user crypto assets stored in cold storage devices. Furthermore, it also implements KYC and AML checks and verifications to ensure the security of its users. All these measures make Liquid one of the most secure cryptocurrency exchanges on the market.
Some Extra Features
Liquid is a cryptocurrency exchange that offers users a wide range of features, including traditional cryptocurrency trading, Infinity trading (CFD trading), futures trading, margin trading, and more. With up to 100x leverage available, users can take advantage of the platform's features to maximize their profits. Additionally, Liquid has a mobile app that allows users to trade and exchange on the go. With its extensive list of features, Liquid is a great choice for those looking to get involved in cryptocurrency trading.

Key Disadvantages of Liquid
Now, let's determine whether they are significant problems or minor inconveniences.
Issues for Users in the United States
US-based customers can only trade on the exchange using crypto-crypto pairs as fiat-crypto pairs are reportedly inaccessible for residents of the States. This limitation is not surprising as many cryptocurrency exchanges have issues with the Securities Exchange Commission (SEC), and do not allow US investors to trade on them.
However, trading with crypto-crypto pairs can cause inconvenience for newbie crypto traders as they have to acquire cryptocurrency, transfer it to Liquid, and trade it for another crypto coin of their choice. This process is long and tedious, and not beginner-friendly. As a result, Liquid may not be the ideal choice for US-based customers who are new to crypto trading and would prefer to buy cryptocurrency with fiat money.
Mediocre Fees
Liquid exchange reviews note that the platform offers a 0.3% trading fee for both market makers and market takers. This is considered to be rather high when compared to other exchanges. However, market makers have many more benefits, such as no fees when trading under $10,000 per month. Additionally, both categories of traders can reduce their fees by performing more trades, with makers having a faster reduction. Finally, users can also use the Liquid exchange native token, QASH, to reduce their fees even further. All of these factors combined can help traders get some good deals, fee-wise.


How to Register on Liquid?
We'll start with the registration.
Step 1: Visit the Liquid official website and click the "Get started" button.
Step 2: Enter your legal name, email address, referral code (if applicable), and country of residence.
Step 3: Confirm your email address by clicking the verification link in your inbox.
Step 4: Sign in to your account and start trading!
The registration process on Liquid is straightforward and quick, taking less than a minute to complete. Unlike other exchanges, KYC verifications are not required during registration, making it beginner-friendly.
How to Start Trading on Liquid?
Liquid Exchange makes it easy to fund your account and start trading quickly, with its optimized process.
Step 1: Log in to your Liquid account.
Step 2: You'll be sent to your dashboard. Here are some useful hints on how to correctly set up your account – two-factor authentication, KYC, account funding, and so on. You'll also notice a Buy | Swap button and a small VISA sign in the upper right corner of the screen. Click the button.
Step 3: Following the completion of some legalities and confirmations, you will be presented with a trading screen. You can use a credit or debit card to purchase cryptocurrencies or exchange one asset for another.
Step 4: The final step may be a little confusing, as you will be routed to your profile page and requested to complete KYC verification as well as secure your account with 2FA, if you haven't already.
The "complicated" element here just refers to the fact that you will need to take the time to authenticate your identity and set everything up in order for your order to be processed. Keep in mind, however, that this is a typical procedure – while you were able to avoid the tedious formalities during registration, they are still required.
Conclusion
In conclusion, the Liquid exchange is definitely worth checking out, especially if you're located outside of the US and looking for a secure and reliable alternative crypto trading platform. With a wide variety of cryptocurrencies to choose from and an assortment of different features, Liquid offers a smooth and streamlined trading experience. While the platform's default fees are slightly high and US investors can only trade crypto-crypto, these are minor drawbacks in the grand scheme of things. Overall, Liquid is one of the better exchanges in the industry, suitable for both beginners and experts. However, if Liquid doesn't quite fit your needs, there are plenty of other cryptocurrency exchanges available, such as Coinbase or Binance, to explore.
Disclaimer: Cryptocurrency trading involves significant risks and may result in the loss of your capital. You should carefully consider whether trading cryptocurrencies is right for you in light of your financial condition and ability to bear financial risks. Cryptocurrency prices are highly volatile and can fluctuate widely in a short period of time. As such, trading cryptocurrencies may not be suitable for everyone. Additionally, storing cryptocurrencies on a centralized exchange carries inherent risks, including the potential for loss due to hacking, exchange collapse, or other security breaches. We strongly advise that you seek independent professional advice before engaging in any cryptocurrency trading activities and carefully consider the security measures in place when choosing or storing your cryptocurrencies on a cryptocurrency exchange.