KuCoin is a cryptocurrency exchange launched on 15th September 2017 and has over 20 million users worldwide. The recent bankruptcy of the FTX Group and "hack" however have resulted in a "contagion effect" resulting in speculation as to which other crypto companies might collapse. In this article, we answer the question- is KuCoin safe from the collapse of FTX.
What is KuCoin?
KuCoin is a centralized cryptocurrency exchange, meaning that users' cryptocurrency deposits are stored and held in custody by the exchange. KuCoin refers to itself as "The People's Exchange" and is headquartered in Seychelles. The exchange has over 20 million users worldwide and 660 million US dollars in trading volume daily. This certainly puts them in the top 10 most popular exchanges in the market.
How might the collapse of FTX affect KuCoin?
On 11th November 2022, FTX, FTX US, and Alameda filed for bankruptcy in the United States. This came after several days of withdrawals being suspended on the exchanges and rumours already circulating that they were in trouble. On the same day, it was reported that over US$600 million were drained from FTX by a hacker. This hacker was eventually identified to be a former employee of FTX exchange. It was also revealed that one of the reasons for FTX's collapse was because Alameda Research, which was FTX's trading house, had burned through nearly US$10 billion in cash belonging to its clients.
The collapse of FTX has brought the safety of all centralized cryptocurrency exchanges to the forefront. This is especially since FTX was one of, if not, the largest cryptocurrency exchanges. The revelations that FTX had been wrongfully handling client funds have also sent fear amongst cryptocurrency traders.
As a result, in the days leading up to the announcement of FTX's bankruptcy filing, cryptocurrency traders were rushing to withdraw their funds stored on exchanges. There were rumours circulating as to which crypto companies had funds on FTX. And, if so, how much and whether they would be affected by the collapse of FTX. Meanwhile, some cryptocurrency services such as BlockFi have also suspended withdrawals and are rumoured to be filing for bankruptcy. Of course, being a major exchange, KuCoin was also subject to rumours and questions about its solvency and whether they are safe from the FTX contagion.
KuCoin addresses rumours of outflows following FTX collapse
On 9th November 2022, KuCoin's CEO Johnny Lyu wrote a letter addressing the FUD (Fear, Uncertainty and Doubt) surrounding the exchange. The rumour surrounding KuCoin originated from a stablecoin outflow chart by Nansen, a blockchain analytics firm. The flowchart showed that US$300 million had left the exchange. However, it was quickly clarified by Nansen CEO Alex Svanevik that the US$300 million was merely a swap from USDT network to Tron. Therefore, the funds had in fact not left KuCoin exchange.
In the letter, KuCoin also notes that it was probably the 10th time in 6 months that there are circulating rumours on Twitter that KuCoin is insolvent. It is also admitted that KuCoin did suffer a hack in 2020 with over US$275 million worth of cryptocurrencies, resulting in a liquidity crisis. However, KuCoin was able to cover 100% of their users' funds and so users did not suffer any loss.
As seen below, KuCoin has also denied having any exposure to FTX or its native FTT token.
Does KuCoin have any exposure to FTX or FTT?
Lyu has also clarified on Twitter that KuCoin does not have any exposure on FTX or FTT. This dispelled the speculation by Cobie, host of the UpOnly podcast.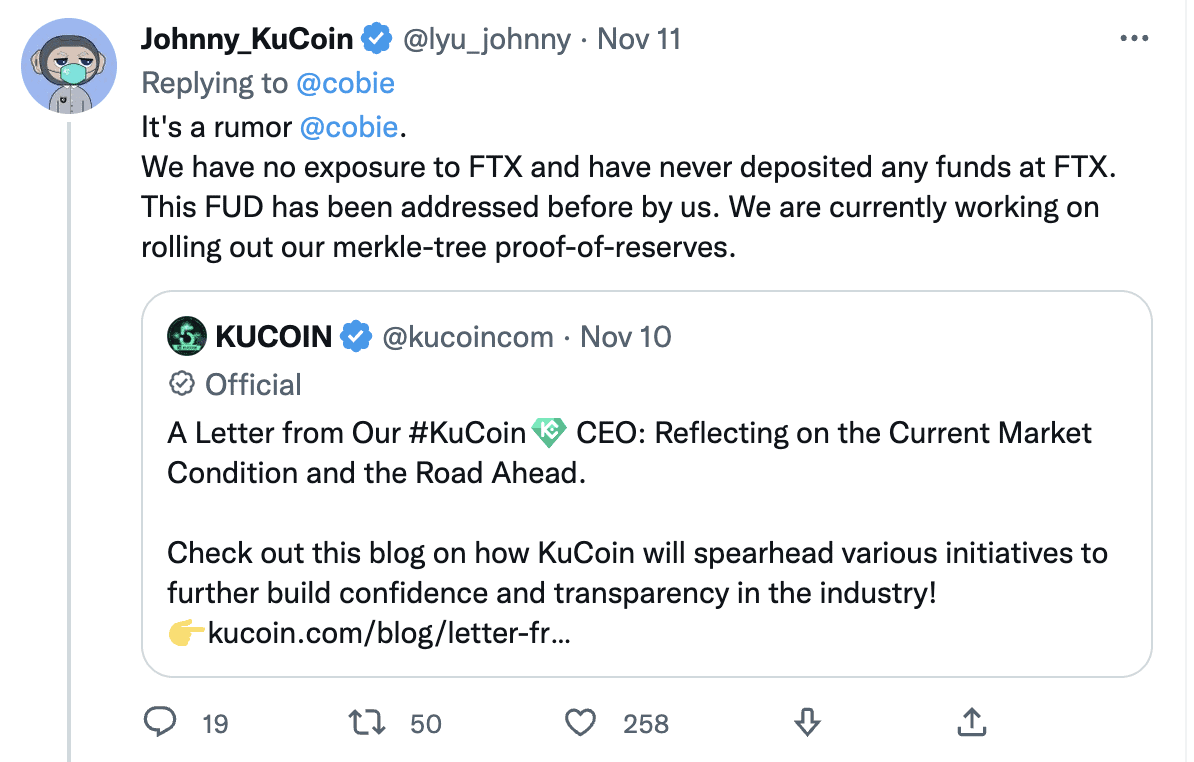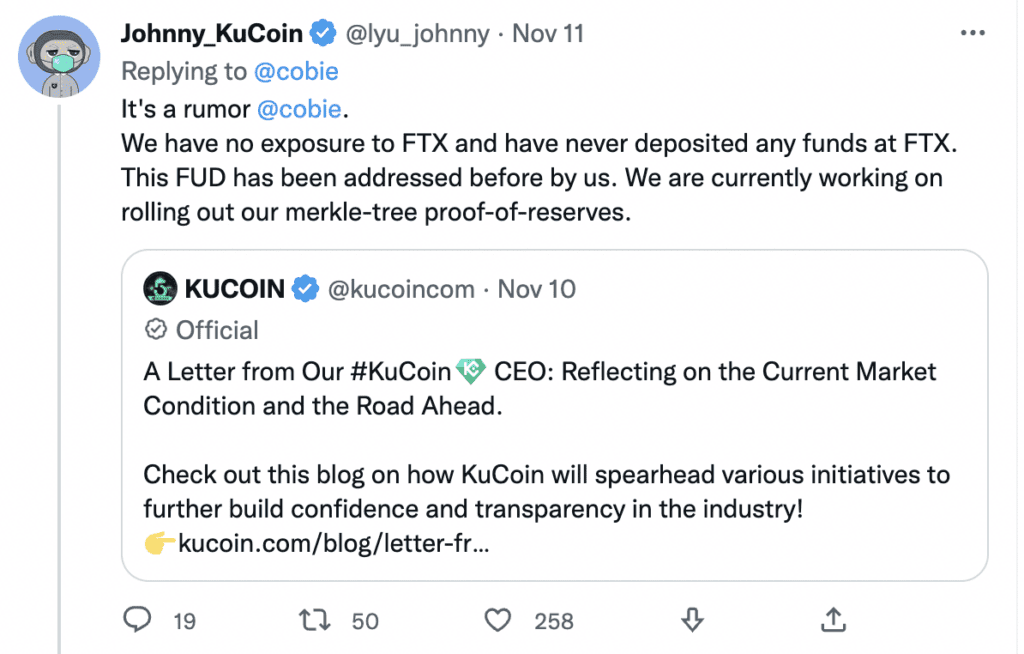 Is KuCoin safe?
As seen above, KuCoin has already expressly denied they have any exposure to or deposited any funds at FTX. To reassure its users, KuCoin has promised to release its Merkle tree proof-of-reserves (POF) in one month.
Meanwhile, Nansen has listed KuCoin's portfolios and explanatory statements of accounts here.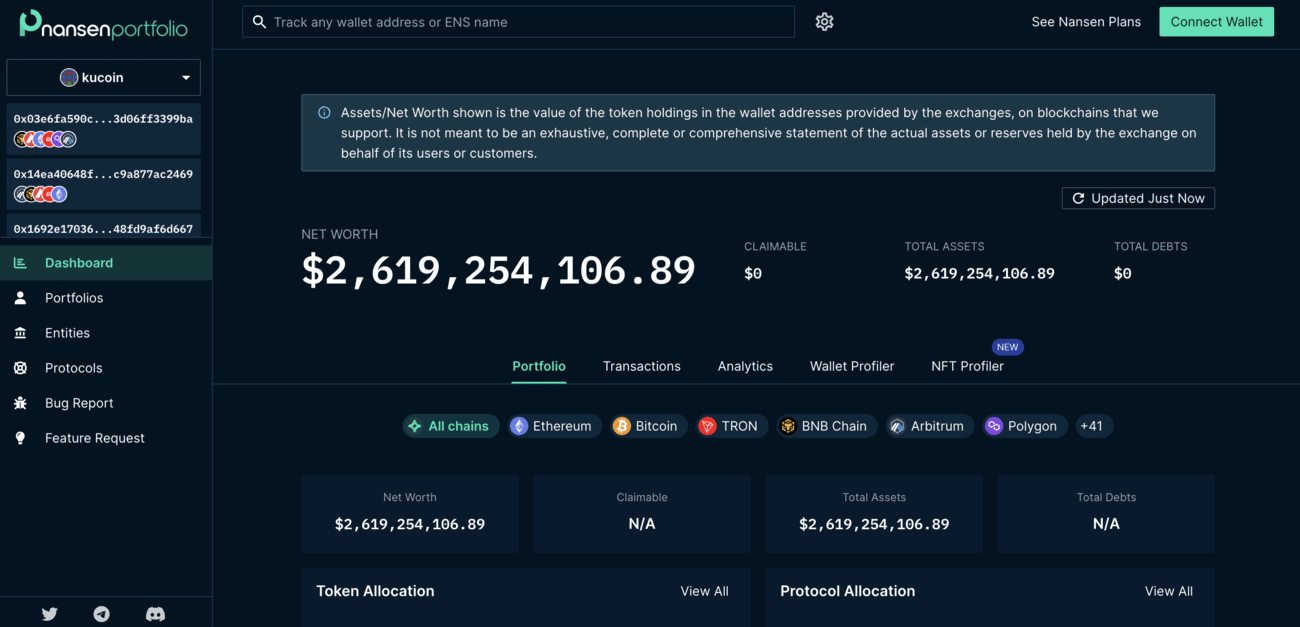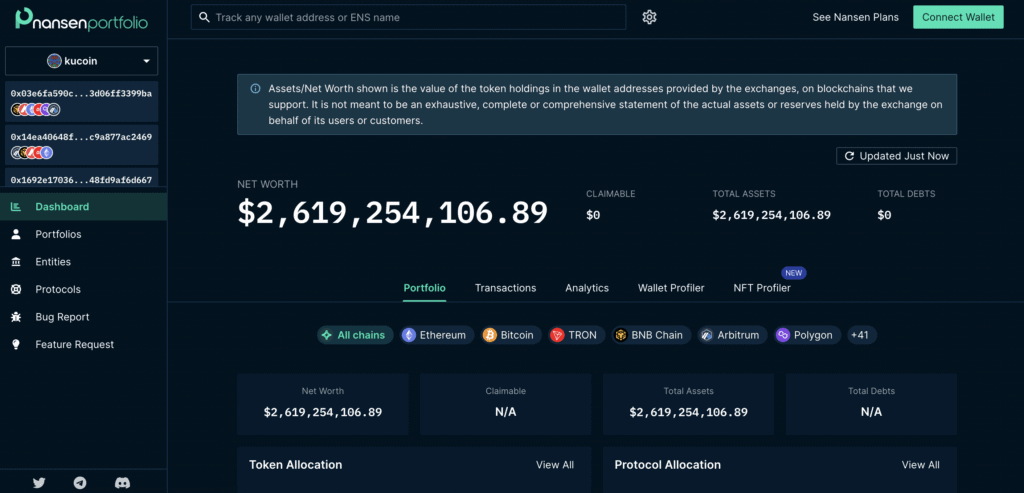 The "total assets" and "net worth" figures in the portfolio show the sum of the cryptocurrencies in the wallet addresses provided by KuCoin. These wallets are continuously monitored by Nansen, although they cannot be taken as a complete statement of the actual assets or reserves held.
On 11th November 2022, Lyu also provided an overview of their hot and cold addresses and holdings. KuCoin's holdings as of 7:00 UTC on 11th November 2022 comprised of 20,504 BTC, 180,299 ETH, 1,075,909,241 USDT, 365,722,839 USDC, and 69,601,075 KCS.
As mentioned, KuCoin is working on the Merkle-tree proof-of-reserves. The exchange is also expecting the completion of an audit by third-party auditor Aarmanio LPP. Both are expected to be completed in a month's time i.e. in around early December 2022.
Therefore, it seems that KuCoin exchange is safe from the FTX collapse for now. However, users are still recommended to keep their funds off of any exchanges. Instead, users should consider storing their cryptocurrencies in hardware wallets as it means the cryptocurrencies are in their own custody. Check out our reviews for some popular hardware wallets: