The KeepKey wallet was released in 2015. Retailing for USD$49, it is a hardware wallet that digital asset holders can use to store their cryptocurrencies safely. This is a relatively affordable price tag compared to its competitors. But its lacking features and security issues do make it lag behind in the cryptocurrency hardware wallet competition.
The wallet supports well over 40 different types of cryptocurrencies. However, the wallet does not have the reputation of its competitors: the Ledger Nano S, Ledger Nano X and Trezor Model T. Regardless, the wallet still features certain structural and aesthetic features that could make it a decent option.
At the moment, the future of ShapeShift, its hardware division KeepKey, and its namesake hardware wallet are up in the air. In 2021, ShapeShift began winding down its operations as a business and transitioning governance and ownership to a DAO holding its FOX tokens. Given that this is a substantial change for such a project with not just software products but also hardware, our readers should think twice before committing themselves to a product from a company with such an uncertain future.
Key features of the KeepKey:
Larger screen– Displays full cryptocurrency addresses without scrolling
Weighty luxury feel– Smooth finish and does not feel like it would break easily.
This multicurrency wallet can provide you a less costly alternative with a lot of the features of premium hardware wallets. Despite lacking the reputation of its counterparts, its beautiful design and ease of use still makes it a contender in the cryptocurrency wallet market.
Packaging
KeepKey comes with a unique product design and packaging. The box already has security seals on two sides to confirm it has not been tampered. Inside the box, you will find the KeepKey wallet, a USB-A to USB-C nylon braided cable to connect it to your computer, a card to write your recovery sentence on, and a warranty card. A leather case is also included to store your card safely.
The wallet also features a 2nd screen protection like Trezor which guards against Keystroke spying.
At the time of launch in 2015, KeepKey retailed a high price. With more established competitors, the price is now considerably lower at US$79.
This is more affordable than the Ledger Nano X at US$119 and Trezor Model T at US$173, albeit they are newer.
Security Features
KeepKey stores your private keys on its air-gapped chip, completely offline from the internet and other devices.
In addition, the KeepKey can be protected by a PIN code and is backed up by a 12 word recovery sentence. These features however are basically expected in hardware wallets nowadays with both the Ledger and Trezor having the same.
Specifically, the KeepKey has number randomisation to prevent hackers from stealing your cryptocurrencies with malware. This is where the location of the PIN numbers is randomised each time.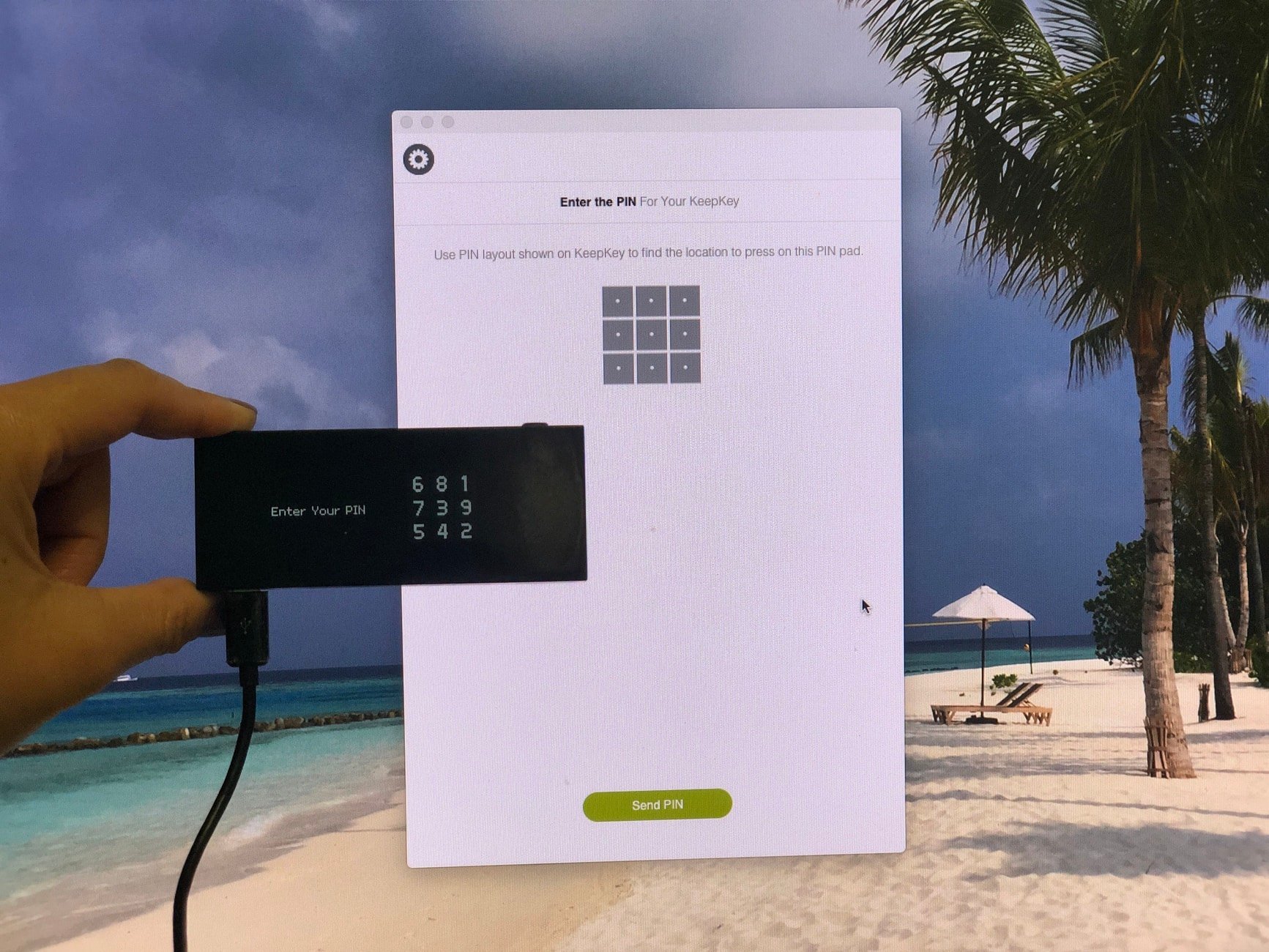 KeepKey, however, does not go into any further details on its security features.
Update: KeepKey PIN Vulnerability Discovered by Ledger team
Ledger (yes the ones behind the Ledger Nano X) has previously discovered a physical vulnerability in the Trezor and KeepKey hardware wallets which allows hackers to access to your recovery phrase in less than 5 minutes if they physically have your device. Unfortunately this vulnerability appears to be completely unfixable as it relates to how the devices are manufactured. Here we discuss this vulnerability in a bit more detail in relation to the Trezor.
Now the Ledger team have discovered another vulnerability, this time in relation to PIN verification. This hack involves creating a database of the differing voltage output compared with the secret values mixed with the PIN code stored in the KeepKey's memory. This database can then be used to recover the secret values in any KeepKey device. So if a hacker has physical access to your KeepKey, they can connect your device to read your chip's voltage output and compare it against the database. From there the hacker can recover your PIN code.
ShapeShift, the manufacturers of the KeepKey have patched the PIN verification vulnerability in their firmware version 6.4.1. Despite this, we have still had to revise our security rating from 3.5 to 3 out of 5 for the KeepKey, as the physical vulnerability remains unfixable.
3/5 Security Rating
Multi-Currency Support
Keepkey natively supports 7 of the most common cryptocurrencies: Bitcoin, Bitcoin Cash, Bitcoin Gold, DASH, Dogecoin, Ethereum and Litecoin, as well as 40+ ERC-20 tokens.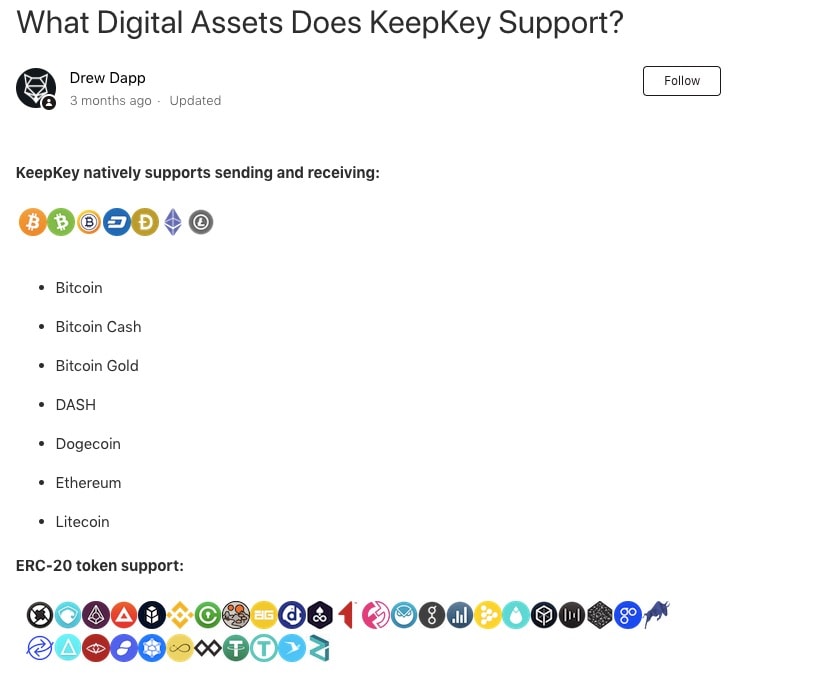 This is far less than the over 1800+ cryptocurrencies supported by KeepKey's competitors.
At the release of my video in August 2018 comparing the Trezor Model T, Ledger Nano S and the KeepKey, the latter did not support ERC-20 tokens.
However, KeepKey does continuously work on developing their firmware and ERC-20 tokens are now supported.
Nearly 4 years later, there is still no support for it by KeepKey. And seeing the rate at which they're adding new non-ERC-20 tokens, they're unlikely to make much progress with that or any other top coins like SOL, DOT or ADA, among many more.
2.5/5 Multi Currency Support
Hardware Design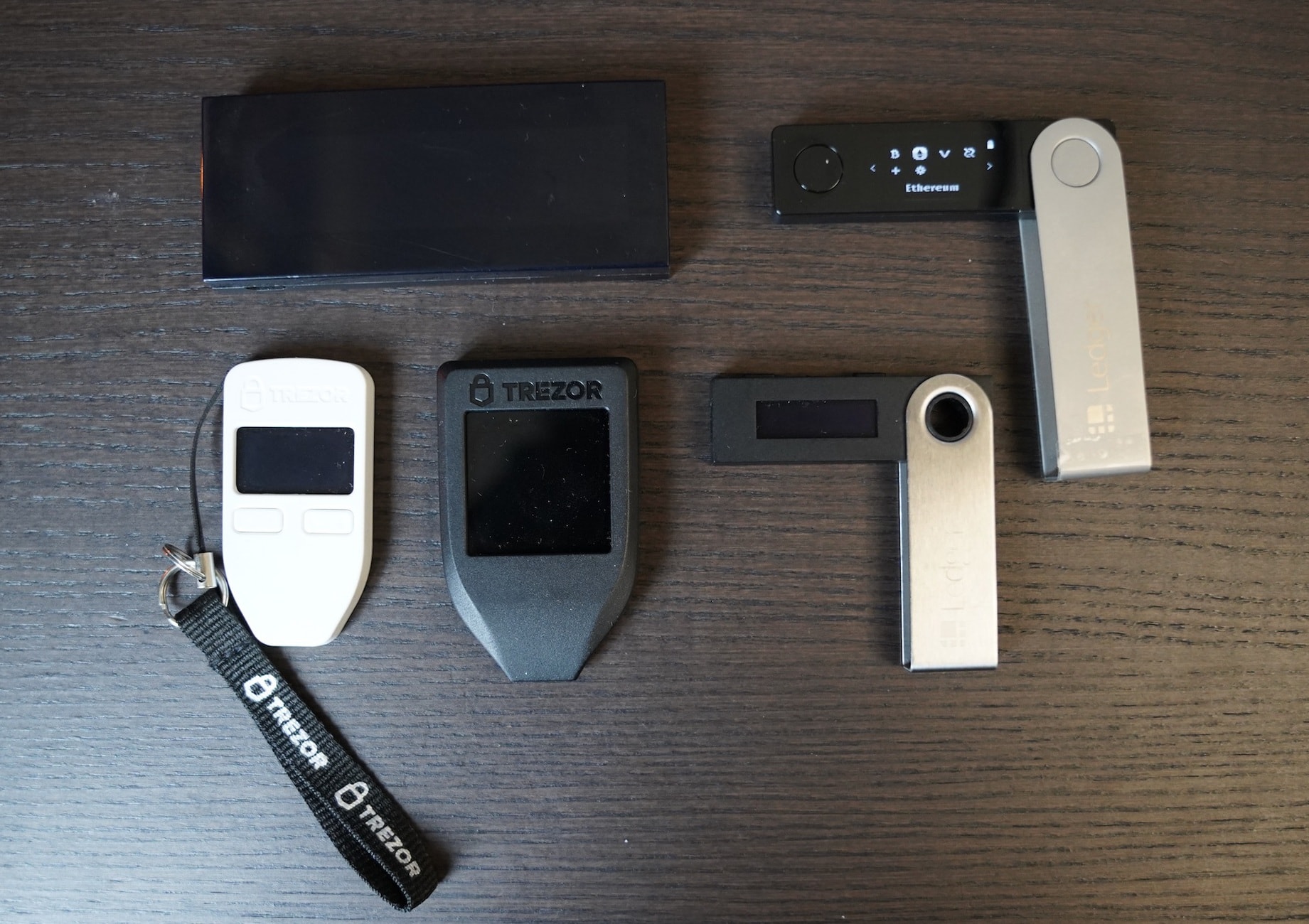 The KeepKey is one of the largest cryptocurrency hardware wallets at 38 x 93.5 x 12.2 mm. It also has a substantial feel making it more luxurious than other cryptocurrency wallets. However some people, myself included, would prefer smaller sized wallets.
The KeepKey also boasts a simple design by only having 1 button.
One may be concerned that having only 1 button will mean that it will take ages to set up the recovery seed and enter PIN numbers. However, KeepKey makes it simpler by having most of the processes done via its app. The button is generally only used for on/off and as a confirmation button.
The KeepKey also has the largest display screen sporting a 256×64mm 3.12″ OLED screen. The screen is protected by a polycarbonate casing although its still easy to scratch. The scratches, however, are only cosmetic and do not affect the use of the device.
The benefit of this large display screen means it can display cryptocurrency addresses and even the recovery phrase in its entirety. This saves users from scrolling back and forth, which is a huge plus.
The KeepKey uses a USB-A to USB-C interface for charging and connecting to the PC. Windows users would surely prefer this. One problem with Ledger Nano S devices is that the USB micro-B connection becomes unstable after prolonged use. With the updated USB-C connection, its longevity should be greatly improved. However, it is unknown whether this is also a problem in the KeepKey wallet because frankly, we do not use it often.
Installation
Since ShapeShift acquired KeepKey and retired the KeepKey Chrome extension, the setup of your KeepKey can only be done through the official ShapeShift web platform. It's also important to point out that during the setup you'll also have to download and install the KeepKey updater software, so one should take extra care in making sure that they're interacting with the real ShapeShift website to avoid installing malware and losing your digital assets.
It goes without saying that when writing down the recovery phrase; ensure there are no cameras recording and do not save a copy of it onto your computer. This is because anyone with the recovery phrase can use it to restore your device and potentially steal your assets.
4/5 for Hardware Design
4/5 of Ease of Use
Shapeshift Integration
The main selling point of the KeepKey is its integration with Shapeshift. This means that the wallet already has an in-built crypto-to-crypto exchange inside. This makes trading between cryptocurrencies easy and convenient.
This feature is held back by its limited cryptocurrency support. However it should not be a problem for users who do not intend to trade in any cryptocurrencies other than the major ones supported by Shapeshift.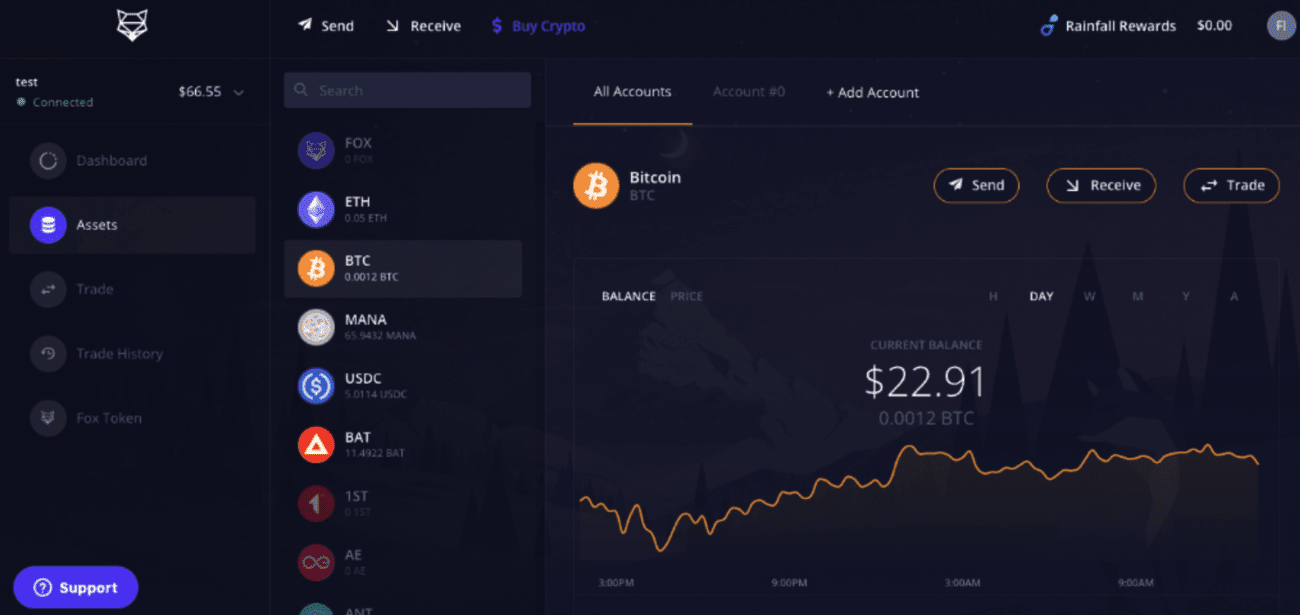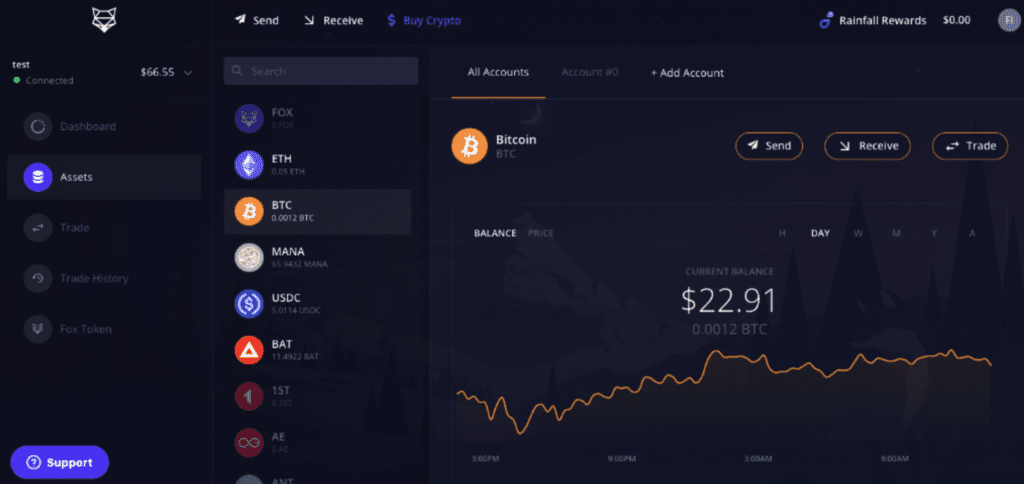 Verdict: Is the KeepKey still worth buying in 2022?
Whilst their newest firmware update has fixed the recently discovered PIN code vulnerability, there are other vulnerabilities which directly relate to KeepKey's hardware and are not fixable.
And whilst the KeepKey is the most affordable wallet at USD 49, the security issues are enough to make consumers seriously consider spending an extra USD 10 for a Ledger Nano S (soon to be retired), or a USD 30 extra for the new Nano S Plus, both of which are more secure, compact, and have a wide range of cryptocurrency support available.
Security Rating: 3/5
Multi-currency support: 2.5/5
Hardware design: 4/5
Ease of use: 4/5
Final Score: 3.38/5
KeepKey Product Specifications (Technical Specifications)
Processors
ARM Cortex-M3 processor
Compatibility
64-bits desktop computer (Windows 8+, macOS 10.8+, Linux). Also compatible with Android smartphones.

Connector
USB micro-C
Security Certification
Nil
Size
Size: 38 x 93.5 x 12.2 mm
Weight: 54g
Supported Assets
40+ Supported assets