KeyTango is an investment solution built on Web3 technologies that function as a gateway for DeFi products and services.
While the decentralized finance (DeFi) market is growing, the struggle to keep up is getting bigger for many users. And sometimes, because of so many rug-pulls in DeFi, scam tokens, and underdeveloped projects in this space, people choose to avoid it altogether. KeyTango is a solution to these concerns.
KeyTango offers a one-stop shop for various, reputable, and secure DeFi projects to minimize the risk that a new cryptocurrency holder or trader absorbs. It also offers learning options that can help anyone better understand what DeFi's underlying concepts and technicalities actually mean.
Background
The growth of DeFi projects has been outstanding, posting 725% growth within just 3 months. However, there are still a lot of investors who are unfamiliar with how the ecosystem functions. Most of the new retail traders find themselves into sketchy projects that claim to be DeFi, only to find out later that these projects cannot actually deliver their promise.
KeyTango is developed with the help of experts from cryptocurrency, financial technology, and investments. The project is also supported by many Outlier Ventures staff members as their angel investors. The goal of the team behind it is to introduce an easy-to-use, Robinhood-like platform, where users can easily trade in the DeFi space within just a few clicks.
What is keyTango?
KeyTango is a Web3-based investment solution that functions as a gateway for DeFi products and services. It is connected with multiple projects on a variety of DeFi markets. This gives users a wide selection of financial tools to choose from if they are looking for ways to maximize the capacity of their assets in making a profit.
KeyTango features a user-friendly interface for any cryptocurrency or DeFi user and focuses on three main goals: discover, learn, and invest.
Moreover, the platform offers its users a tailored recommendation on the products they could access based on the history of their activity on the wallet they linked. This makes it easier for the users to choose which asset fits their profile and easily avail of the products and services in the instruments suggested for them.
Discover
One of the things KeyTango gives to its users is exposure to different DeFi products, such as yield farming and liquidity mining. The platform is backed by a team of investment experts and venture capital managers. More than that, any product posted on the application is carefully curated by MIT and Y-Combinator Alumni, which assures users that the DeFi projects they discover through the protocol are guaranteed of good quality and reputation.
Learn
To address the problem of most cryptocurrency holders who do not completely understand some of the complex DeFi projects that they could potentially benefit from, KeyTango introduced a "Learn" layer on the application. Every technical knowledge that any user would need to know will be made accessible on this part of the platform.
Invest
Once a user has already understood what it means to put their assets in DeFi, from how they can earn yields to DeFi protocols' underlying risks, they can easily use the platform to start their investments. The process is simple. Users just need to link their cryptocurrency wallet.
Products
Liquidity Pools
Users who are looking to put their idle assets in a liquidity pool can now easily do so using the platform. In this product, a holder of a token can supply them to the liquidity of any supported decentralized exchange (DEX) to earn additional tokens from trading fees.
The products that can be accessed on this market are DEXs like Balancer, Bancor, Curve, SushiSwap, and Uniswap.
Yield Farming
DeFi projects have their own native utility tokens. Holders of these tokens earn rewards for keeping them and using them to participate in the network's activities. What yield farmers do is they stake their tokens to DEXs where these utility tokens are traded and supply their liquidity there.
This way, they can also earn rewards in the form of the token that they supplied liquidity to. There are various yield farming protocols in the market today, however, they can be too difficult for others to access because due to the challenges is finding a safe platform. KeyTango makes it a safer opportunity for investors since they have also curated the projects they support on the application.
DeFi Trading
DeFi applications that offer spot trading and leveraged trading functions can be easily found in KeyTango. In these platforms, users will be able to access exchanges powered by automated market makers (AMM). Some of the platforms that are known for this product are 0x, Aave, and Sushiswap.
Derivatives and Other Products
As the DeFi economy continues to grow, KeyTango will also adapt accordingly. The application will be working on providing access to new DeFi opportunities such as NFTs, derivatives, and many others.
TANGO
TANGO is the platform's native, utility token. It can be used to pay for the protocol's transaction fees and to participate in the platform's governance functions. A portion of TANGO's total supply will also be allocated to the community treasury.
Staking
The platform will have four staking pools: Earlybird Staking, Pro Staking, Expert Liquidity Mining ETH, and Expert Liquidity Mining USDT. They have specific maturity periods and pool sizes which users can see in the interface. Users can also have an estimate of their potential profit as the pools also indicate their APY for each one.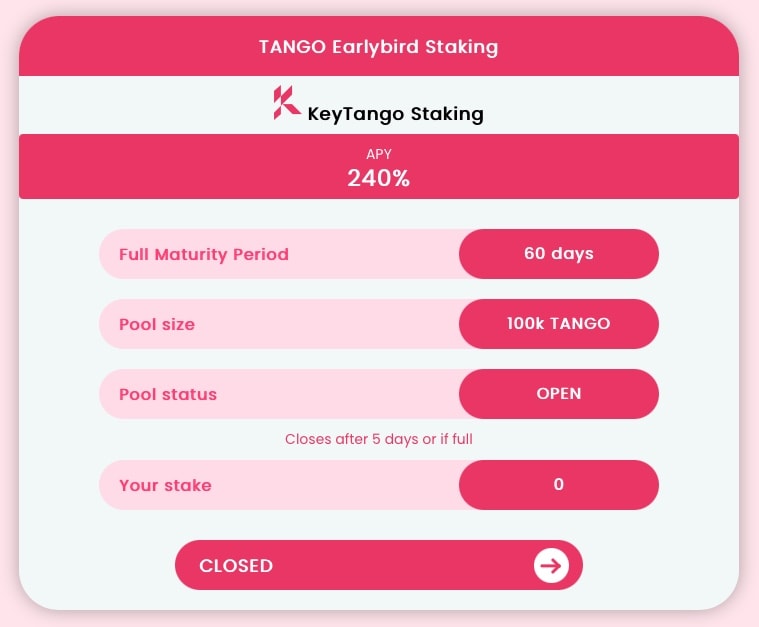 Conclusion
KeyTango is a project that the whole DeFi space could benefit from. Having assembled a team of experts to curate the projects that will be made available on the platform provides a tremendous advantage. More than the minimization of risks and breaking the psychological barrier that keeps people from adopting DeFi, it also raises the awareness of the public as to what DeFi can offer.
This is why the project is a promising complement to the DeFi ecosystem. Getting people to understand how DeFi works and enabling a way to easily supply their assets in the best projects available can be a huge boost when it comes to achieving wider adoption.
Decentralised Finance (DeFi) series: tutorials, guides and more
With content for both beginners and more advanced users, check out our YouTube DeFi series containing tutorials on the ESSENTIAL TOOLS you need for trading in the DeFi space e.g. MetaMask and Uniswap. As well as a deep dive into popular DeFi topics such as decentralized exchanges, borrowing-lending platforms and NFT marketplaces
The DeFi series on this website also covers topics not explored on YouTube. For an introduction on what is DeFi, check out Decentralized Finance (DeFi) Overview: A guide to the HOTTEST trend in cryptocurrency
Tutorials and guides for the ESSENTIAL DEFI TOOLS:
More videos and articles are coming soon as part of our DeFi series, so be sure to SUBSCRIBE to our Youtube channel so you can be notified as soon as they come out!
Disclaimer: Cryptocurrency trading involves significant risks and may result in the loss of your capital. You should carefully consider whether trading cryptocurrencies is right for you in light of your financial condition and ability to bear financial risks. Cryptocurrency prices are highly volatile and can fluctuate widely in a short period of time. As such, trading cryptocurrencies may not be suitable for everyone. Additionally, storing cryptocurrencies on a centralized exchange carries inherent risks, including the potential for loss due to hacking, exchange collapse, or other security breaches. We strongly advise that you seek independent professional advice before engaging in any cryptocurrency trading activities and carefully consider the security measures in place when choosing or storing your cryptocurrencies on a cryptocurrency exchange.