There is a lot to consider when you start trading cryptocurrencies, which trading platform to choose? How to convert fiat into crypto, and a thousand other things.
When it comes to crypto trading there are hundreds of trading platforms and exchanges, some of which have a great reputation, others with reputations riled with controversy and fraud. The decision on which one to use can be nerve-wracking for any crypto novice. Thankfully FTX from the start feels approachable and simple to use, whatever your experience level.
FTX is a crypto exchange with a robust reputation for being safe and secure. FTX is one of the biggest cryptocurrency exchange and trading platforms.
FTX EXCHANGE (INCLUDING FTX INTERNATIONAL AND FTX.US) ARE NO LONGER IN OPERATION
Both exchanges have filed for bankruptcy. Subsequently, the exchange was "hacked" and more than US$600 million worth of cryptocurrencies drained. The hacker is strongly rumoured to be a former FTX employee. For more about how this story unfolded and the latest news, check out these articles:
Background
Founded by Sam Bankman Fried in 2019, FTX is a cryptocurrency trading platform that specializes in crypto margin trading, offering options, leveraged trading and volatility products in the crypto space. The founder of the company has also founded the trading research company Alameda Research, a company that develops specialized algorithms for cryptocurrency trading. The company is backed by Binance, which invested in the company in 2019.
FTX's in-house team is one of the best in the world, with the CEO being an experienced Wall Street trader, and the engineering team coming from big tech companies from Silicon Valley. The CTO of the company is an ex-Googler, and the engineering team is head by an ex-Facebook highflyer. The company's technical expertise is of a very high standard.
FTX exchange was founded due to the founder's search for a crypto trading platform that had it all from a trader's perspective. His search arrived at a dead end, which prompted him to start FTX, a trading platform created by traders for traders to cater to their every need.
Simplicity, security and an abundance of features were important parts of FTX's core philosophy. Even though the exchange was designed for traders, the UI/UX was not kept complicated, so novices do not become overburdened.
How to open an account on FTX?
Opening an account on FTX is really simple. Navigate to the FTX website and you'll directly see the registration page. Simply sign up with the email address you want to create your account with. You then have to validate the captcha and in a few simple steps you have created a basic FTX level 0 account, now you can start trading on the platform and the withdrawal limit is kept at $1,000.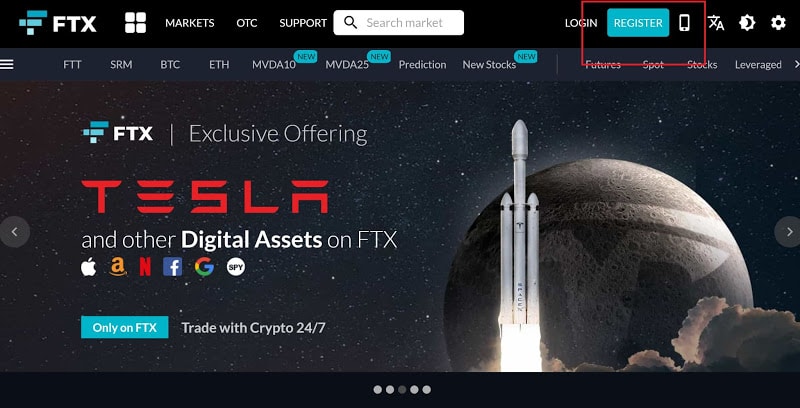 The withdrawal limit is set for compliance with Know Your Customer (KYC) requirements. To increase your withdrawal limit, you need to provide further information for KYC, the limit increase happens in three different levels, the first level increases your daily withdrawal limit to $2,000 and almost $9,000 if your transfer volume is more than a threshold. The KYC requirement for this level includes information about your residence and your full name as well. Most of your limit will be tied with the trade volume, which is defined as the 30- day trading volume of the person, higher trading value means you might just milk out a bigger withdrawal limit. The volume is calculated through the transactions that are not between subaccounts.
Security is very important when it comes to these exchanges, so it is important that you enable Google Authenticator as secondary security.
How to add funds to your FTX account
Enable two-factor authentication (2FA) on FTX
The first step for adding funds into the FTX account is to enable 2FA, without 2FA, you will not be able to add any payment method into the exchange. To add 2FA, you click on your email address, go to settings, click the 'security' menu, and from there you will be able to enable 2FA to your account.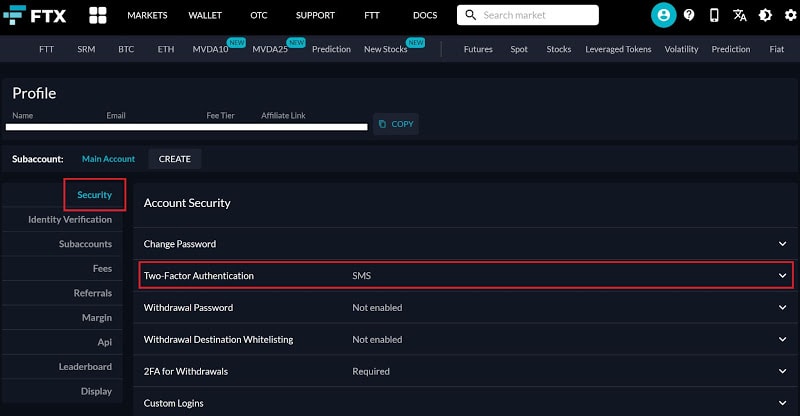 Depositing funds onto FTX
FTX accepts cryptocurrency or fiat deposits. Cryptocurrency can be deposited to the exchange by connecting it with an existing crypto wallet or using the deposit function. Alternatively, you can deposit fiat currency directly through a credit card or a debit card. This option will depend upon your KYC level, a KYC level 3 account is required for you to deposit fiat directly into your FTX account.
You can connect your BTC, TRX, ETH wallets with the exchange however, that will also require at least level 1 KYC. Stablecoins such as USDT, PAX, BUSD can be deposited with level 0 accounts as well.
If you meet KYC level 3 requirements you can deposit directly to your account by going to your wallet and selecting fiat, there you will find a tab labeled 'deposit', once you click this, a box pops up asking you to give details about the card you are using to transfer fiat by following the instructions. You can then convert your fiat into crypto by using the exchange.
How to trade on FTX

Once you have funded your account you can now trade cryptocurrencies on FTX quickly and simply, the interface of the trading platform will depend solely on your trading preference, you can either use the markets interface or the OTC portal.

Let's just run through an example of how to exchange your USD/USDT for BTC on spot markets orders.
First, click on the 'markets' tab, the the 'spot' tab.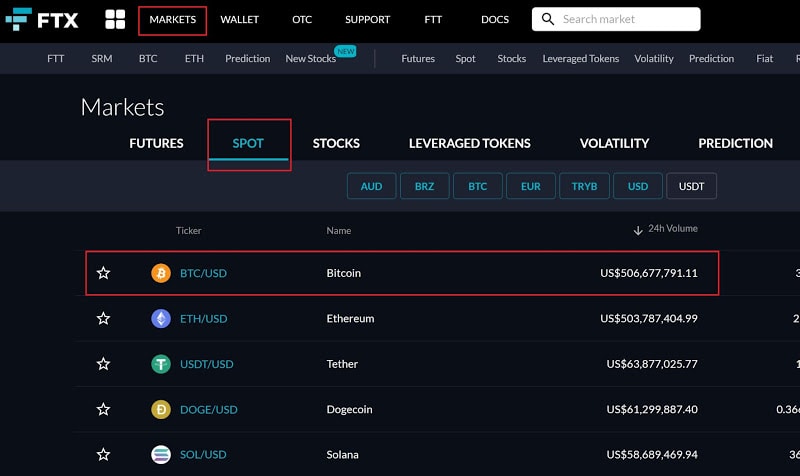 There you can see the BTC/USDT pair, or the BTC/USD based on the currency you are starting with. Once you click the pair, you are taken to the "trading view" which shows you the chart, and the order book as well, the order book shows you the previous transactions with Buy and Sell tabs.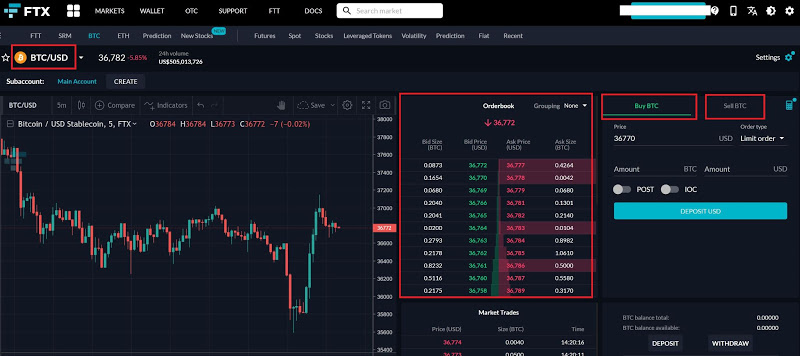 Once you click on 'Buy', you will find a pop-up that will show you a screen, where you can type the amount of conversion and you will get the preview of the conversion and once you agree, you can deposit fiat to your account (in this case USD) and the transaction goes through.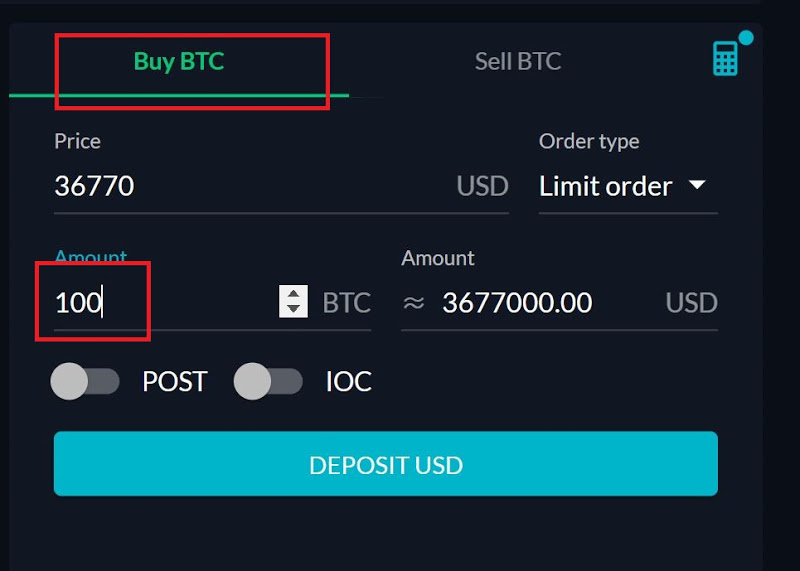 There are different types of orders that can be executed:
Limit order, that allows you to buy or sell at the specific price.
Market order, that allows you to buy and sell at the market price, that is the price you see on screen as soon as you make the trade.
Stop-Market order that allows you to execute a market order once a price that is according to your reached
Stop-Limit order, that allows you to execute a limit order once an asset price is reached that you have set.
Derivatives trading on FTX
FTX offers derivatives trading- this is where a contract is created between FTX and yourself and is based on an underlying asset, in this case, a cryptocurrency. FTX offers trading on many cryptocurrencies such as BTC, ETH, EOS, XRP and USDT.
To learn more, and how to trade derivatives on FTX, check out our FTX Derivatives Trading Guide.
Futures trading on FTX
Futures are a type of derivative financial contract that creates an obligation for the parties to exchange the asset-in this case a cryptocurrency, at a price and date that is predetermined. FTX lists over 100 types of futures contracts, and what makes FTX futures unique is that they are stablecoin settled, meaning that you can easily transfer your positions with the same base currency.
Learn how to trade crypto futures on FTX with our Crypto Futures Trading Guide.
And check out our guide on how you can earn money with our FTX Funding Rates Guide.
How to swap with FTX on the Ledger hardware wallet
The Ledger hardware wallet is now fully integrated with FTX exchange in the "swap" section of the Ledger Live app. This means that if users wish to trade on FTX, they no longer need to first transfer the funds onto the Ledger device.
Here's a simple guide on how to swap cryptocurrencies with FTX through Ledger:
Open the Ledger Live app and go to the "swap" section on the top right hand corner;
select the 2 cryptocurrencies and the amount you wish to swap;
on "provider", select "FTX". Log into your FTX account as prompted on the Ledger Live app. Note that new FTX users will need to create an account and complete the KYC process (SIGN UP HERE FOR 10% OFF TRADING FEES);
double-check the swap details;
click "Swap";
on your Ledger device, confirm the swap by clicking the 2 buttons simultaneously;
now your cryptocurrencies will be swapped on FTX and automatically sent back to your Ledger account!
You can buy a Ledger crypto wallet here.
How to sell cryptocurrencies on FTX?
The selling part is similar to the buying part, you can sell the crypto according to the pair through the 'market' tab.
First, go to the market tab, then the 'spot' tab.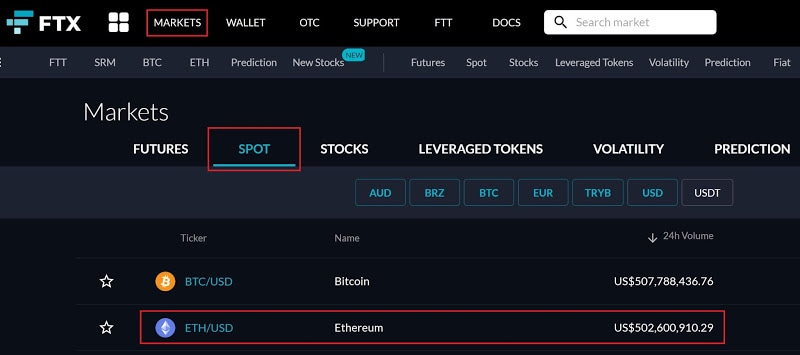 Then you go to the BTC/USDT or ETH/USD, based on the crypto you want to sell, and what kind of money you are exchanging it for. You can sell in the same way as you buy the crypto through the exchange's order book.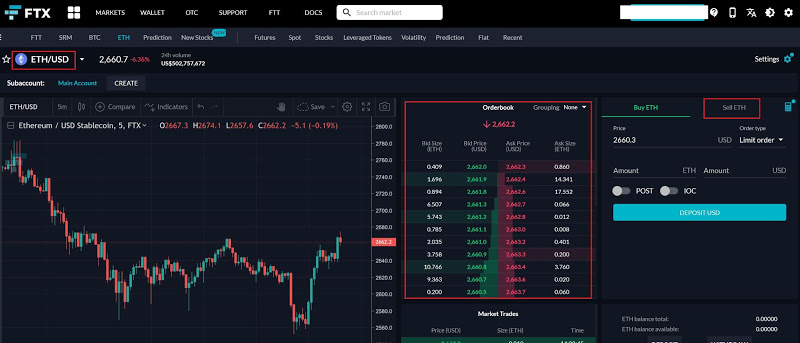 Once you click the 'selling' feature you are redirected to a 'selling' pop-up that asks you to enter the amount of crypto you want to sell and then you execute the order after previewing it, providing you have the ETH in your account.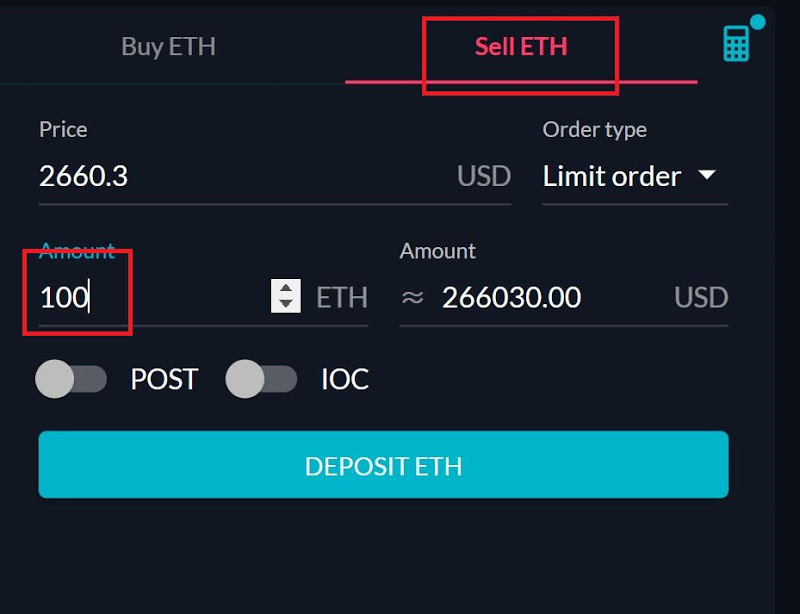 How to withdraw fiat currency from FTX (off ramp)?
To withdraw fiat from your FTX account you need to be at least on the second tier of KYC. FTX's tier 2 KYC requires the following information: name, date of birth, country of residence, valid ID and address proof, description of your source assets, and facial verification. Once you have this you can withdraw fiat from the exchange directly into your bank account.
To withdraw the fiat currency, you will need to first convert your cryptocurrencies to USD.
Then, go to your wallet and click "withdraw" under USD.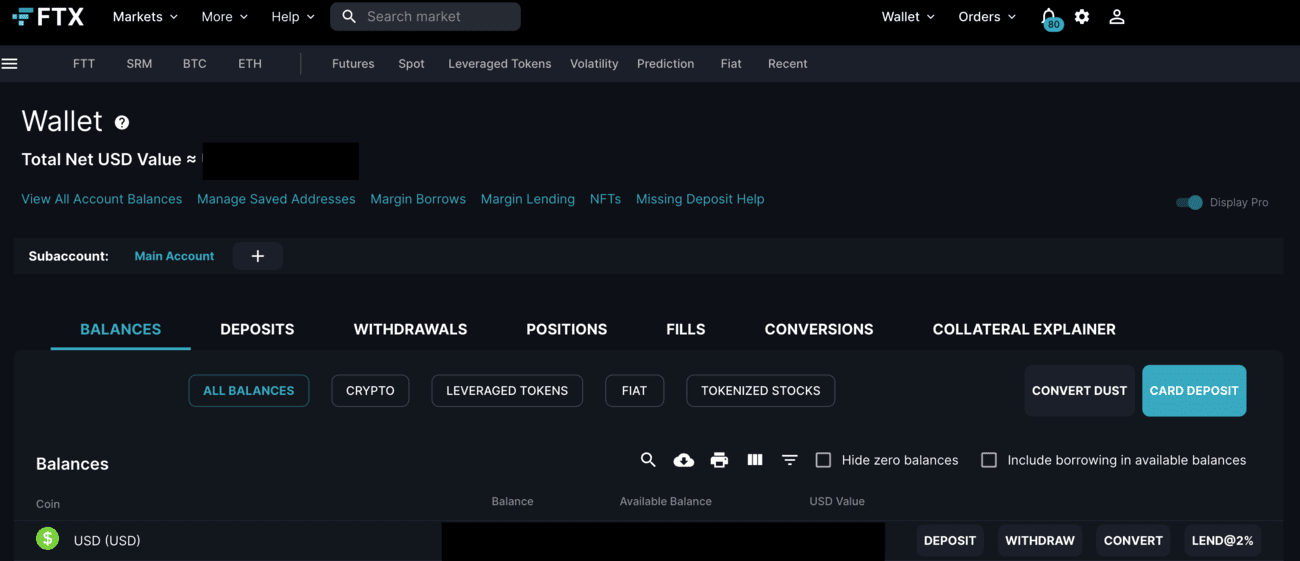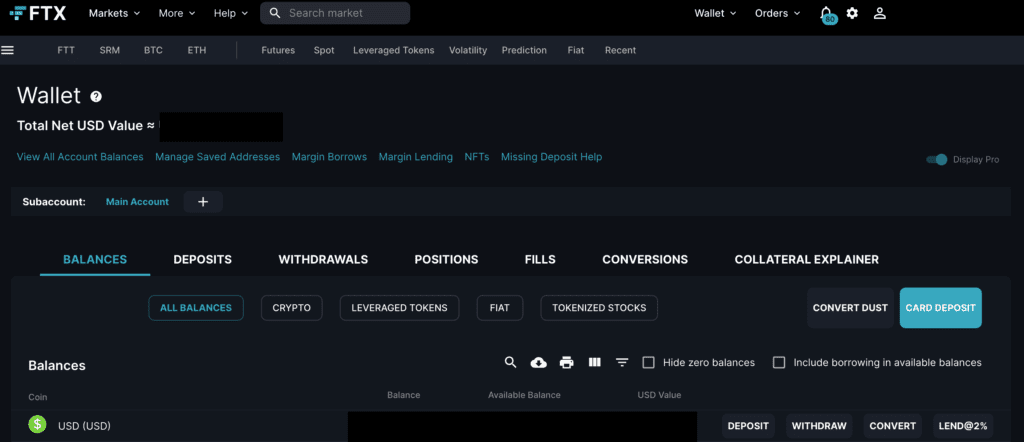 On the Withdraw USD page, select "Withdraw Fiat" and input the withdrawal amount, type, and bank information.
The fiat is then transferred to the linked account and the money is sent to you directly through your bank, or via a wire transfer.
There are a few conditions you need to meet in order for you to withdraw the funds. First, FTX only supports withdrawals to a bank account under the same name as the owner of the FTX account. Also, there is a minimum withdrawal amount of 100 USD.
The time taken for the withdrawal to complete can vary based on the bank you are using, and the currency being transferred. FTX only processes wire transfers on weekdays in the evenings (UTC time). USD wire transfers can take up to 1 weekday to process, whilst foreign currency (non-USD) transfers can take longer.
FTX's fiat transfers are handled through a third-party OTC desk, and FTX doesn't take any responsibility for the transfer.
Where can users see their transaction records on FTX?
The record of the transactions can be accessed through the wallet, once you click the 'wallet' tab on the right-hand side of the screen the window that opens has in the middle of it two options, deposits and withdrawals.
By clicking both the options you can easily check the deposits as well as the withdrawals you have made on the exchange.
Security: Is FTX exchange safe?

The security of an exchange is important. You trust the exchange with your hard-earned money so security should be a big priority for the exchange. In the case of FTX it is a big priority for the exchange, when signing up for the exchange you are asked to create a very strong password.
These strong password requirements are very strict. Once you have created the account you are also asked to enable two-factor authentication, two-factor authentication is made compulsory for you to unlock the main features of the exchange.
The exchange also notifies you of every transaction or trade made on your account through email, and if any suspicious activity is seen, the trades also get blocked until you complete two-factor authentication again, so all in all the security of the exchange is very solid.
What is staking and how to stake on FTX
FTX also has its own cryptocurrency the FTT token. It allows users to stake their crypto on the FTT platform and earn rewards from it, users who stake their FTT token get referral bonuses, additional rewards in addition to their stakes, they also get more voting power as well as maker rebates. All users with at least KYC level 1 can stake their FTT through FTX.
Staking is a very good way of making money off of your dormant assets. Currently, there are some projects that offer staking rewards for holding their tokens, like Cardano, Cosmos, and Algo, but many more are moving towards allowing users to stake tokens.
This can provide a reliable passive income for people who would like to stake their crypto in exchange for a reward. It also points towards a more general trend in cryptocurrency in 2021, where we are seeing more projects transition from a proof of work consensus method to proof of stake method, which many believe is less energy-intensive.
To stake FTT you first need to get some FTT in your wallet. You can do this through the 'markets' tab, in the same way you would buy any other crypto with the USD or USDT.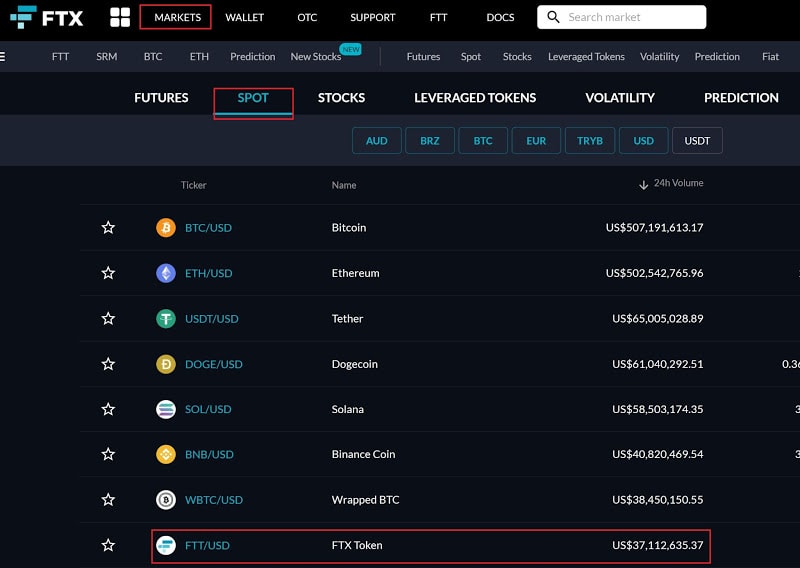 Once you have bought FTT, you can go to the 'FTT' section on the main page, once you have clicked on the tab you would be able to see the FTT staking option further down the page.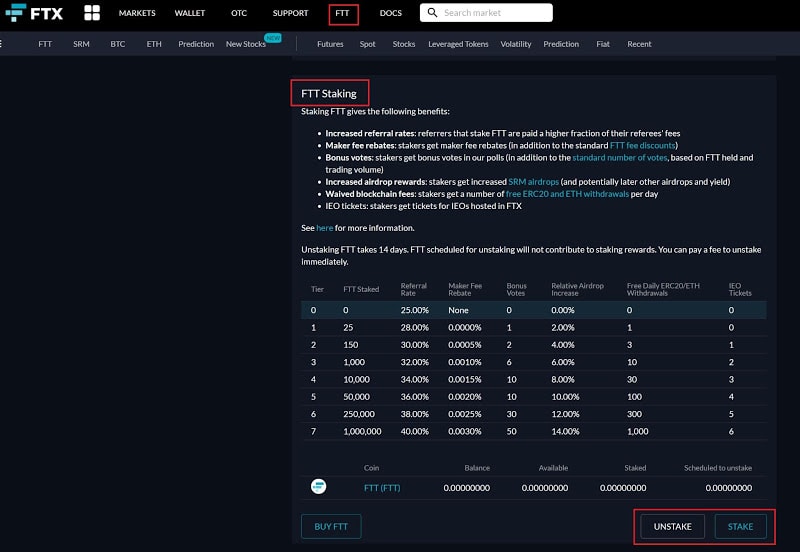 Once you click you get a pop-up where you enter the amount of FTT you would like to stake and press "stake", allowing you to instantly start reaping rewards from the amount of FTT you decide to stake.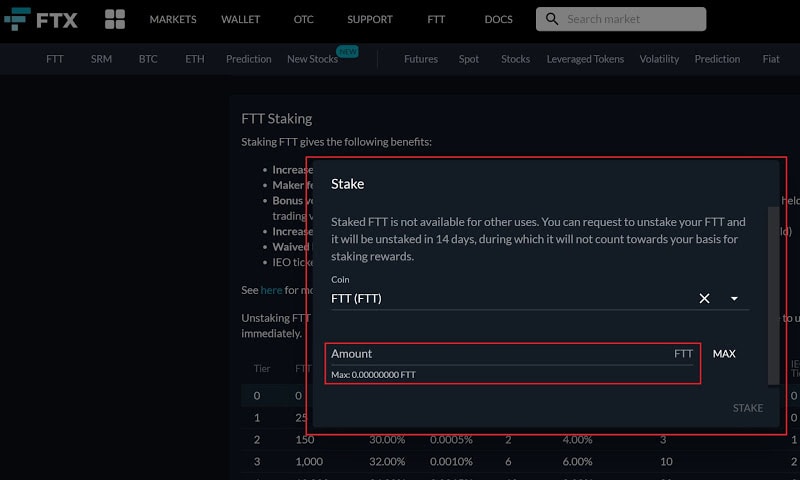 New Launches
FTX Europe and the Middle East
FTX has announced on 7th March 2022 its establishment of FTX Europe to expand its presence into Europe and the Middle East. The company has obtained approval from the Cyprus Financial Market Regulator and would have a regional base in Cyprus. FTX Europe itself will be headquartered in Switzerland.
FTX Europe will begin to offer its products and services to European clients (which includes the European Union and 3 other countries) through a licensed investment firm with passportable licenses across Europe.
FTX Chicago
FTX.us will be opening a new headquarters in Chicago in Fall 2022 with an intention to house 70 employees. More importantly, this launch is part of their partnership with Equity and Transformation (EAT) and is part of a pilot scheme known as the Chicago Future Fund. This pilot is set to provide US$500 per month in supplemental income, a visa debit card, financial literacy education, and a zero fee bank account with access to investment products to 100 Chicago residents. The aim of this pilot is to both tap into their history of fostering innovation in financial technology, and to become a resource for those in Chicago who are financially underserved.
Conclusion

The vision of the founders of FTX was for a platform created for the traders by traders, and that gives its users a unique set of features.
The FTX exchange has been created with a simple, sleek UI/UX that makes it possible for even novices to sign up and start trading, while also including advanced functionality experienced traders have come to expect. So, it really delivers on two fronts, keeping experienced traders and new investors happy through some very impressive design.
FTX also has a great emphasis on security and creates a secure environment for everyone to trade-in. The native cryptocurrency, the FTT token, allows holders to stake it on the exchange and earn passive rewards over time as well,
The company right now is in the customer acquisition phase and is offering 0% transaction fees on all the transactions made through the exchange.
Frequently asked questions
Can I open an FTX account if I live in the United States?
FTX users must FTX.us, which is the US equivalent of FTX international, however due to US regulations, some features may not be available on FTX US.
Has FTX been hacked?
FTX is one of the safest exchanges out there and so far has not been hacked. However we don't suggest people leave large amounts of cryptocurrencies on exchanges just to be safe. One way to keep your cryptocurrencies safe is to keep it offline on a hardware wallet. Check out our hardware wallet reviews here.
What fees does FTX charge?
FTX has different tiers of fees depending on your 30 day trading volume. For those trading less than 2mil USD per month, the maker and taker fees are 0.02% and 0.07% respectively.
Are there any trading fee discounts on FTX?
Holders of FTX's FTT token are entitled to discounts on trading fees.
Disclaimer: Cryptocurrency trading involves significant risks and may result in the loss of your capital. You should carefully consider whether trading cryptocurrencies is right for you in light of your financial condition and ability to bear financial risks. Cryptocurrency prices are highly volatile and can fluctuate widely in a short period of time. As such, trading cryptocurrencies may not be suitable for everyone. Additionally, storing cryptocurrencies on a centralized exchange carries inherent risks, including the potential for loss due to hacking, exchange collapse, or other security breaches. We strongly advise that you seek independent professional advice before engaging in any cryptocurrency trading activities and carefully consider the security measures in place when choosing or storing your cryptocurrencies on a cryptocurrency exchange.