What is Ethereum Mining?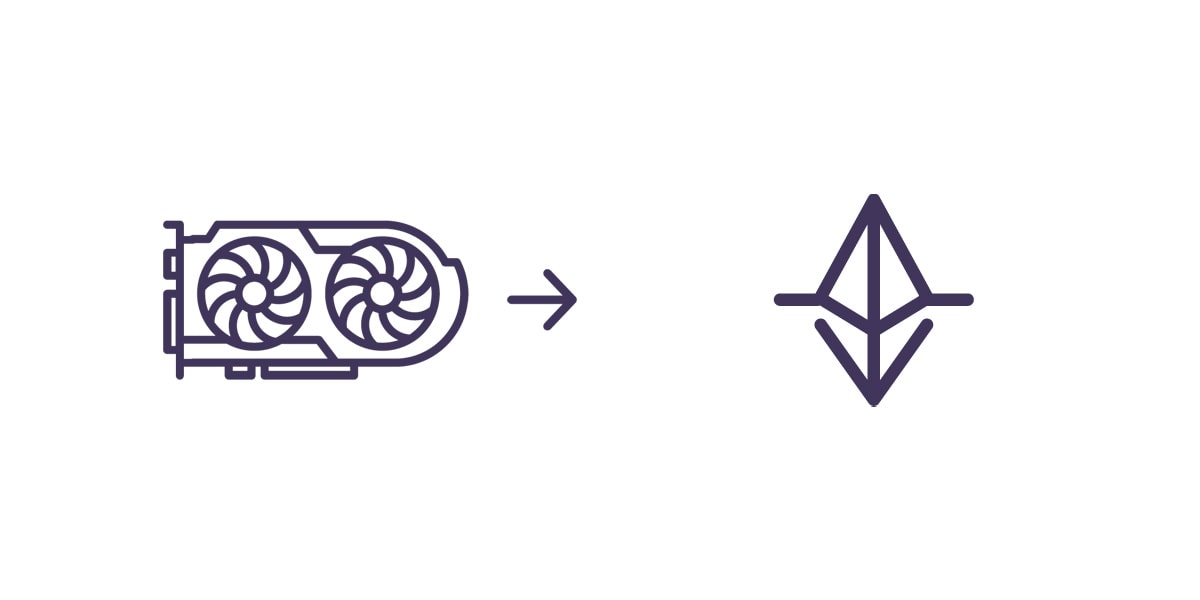 Ethereum is one of the easiest cryptocurrencies to mine, using idle computer resources to earn daily revenue in Ethereum (ETH). This is especially true if you have a high end computer, as they usually have the necessary hardware to mine Ethereum. This guide will cover the basics of Ethereum mining and will get you started in less than 5 minutes. In order to get mining, you'll need a Graphics Processing Unit(GPU). GPUs are usually in gaming computers and high-end computers (eg MacBook Pro or Dell XPS). Miners frequently sell mined Ethereum on top cryptocurrency exchanges or Over-the-Counter to generate passive income.
[wp-compear id="5148″]
Ethereum (ETH) is the cryptocurrency used on the Ethereum network – decentralized smart platform for running decentralized applications (dApps) and decentralized finance (DeFi). To learn more about Ethereum check out our Ethereum Guide.
Note: If you don't have a GPU, check the bottom section of this guide and we'll teach you how to buy and install one.
Note 2: In 2021, Ethereum will deploy a new consensus mechanism called Proof of Stake that no longer requires mining. This will eventually phase out mining on Ethereum all together. Read more about Proof of Stake.
How Profitable is Ethereum Mining?
Daily Revenue from mining rewards differ everyday – this is because mining difficulty changes and hence the daily reward. Revenue is dependent on the power of the Graphics Processor Unit (GPU) involved, with higher Hashrates being faster and more profitable. There are two major manufacturers of GPUs: Nvidia and AMD. Generally speaking, the more powerful (and expensive) the GPU higher the Hashrate for mining Ethereum. For example, the expensive Nvidia RTX 2080 mines at 36.90 MH/s whilst the less expensive Nvidia GTX 1660 mines at 20.50 MH/s. Check out the latest up-to-date daily revenue for different hardware on https://whattomine.com.
| | | |
| --- | --- | --- |
| | Daily Revenue | Yearly Revenue |
| Nvidia RTX 2080 | $0.50 | $182 |
| Nvidia GTX 1060 | $0.30 | $109 |
| AMD Vega64 | $0.54 | $197 |
| AMD RX480 | $0.40 | $146 |
Potential Revenue mining Ethereum (Calculated on Oct 29 2019)
We calculated the costs and profits for mining Ethereum, and how does it compare to Ethereum staking? Which one is better?
Easiest way to mine Ethereum (Honeyminer)
Honeyminer is an all-in-one mining solution that automatically mines on your computer without any technical knowledge. Honeyminer automatically joins a mining pool, so you can get daily payouts of the revenue you generate from mining.
Once installed, the software will automatically mine the best cryptocurrency (including ethereum) using all available hardware – both CPU and GPUs available on the machine. To see the daily revenue, open up the "see full activity panel" to get a breakdown of the hardware being used.
When Honeyminer is running, the computer's hardware will get 100% utilized. It's still run simple tasks on the computer, like web-browsing or composing emails. However, running video games or editing photos/videos will become slower. It is advised to turn-off honeyminer when doing resource intensive tasks.
It is important to note that Honeymoney will mine the most profitable cryptocurrency at the time (including ethereum) and convert the revenue into Bitcoin (displayed in Sats, satoshi). If you want to specifically mine ethereum and earn ethereum, check the advanced guide below.
One disadavantage of Honeyminer is the platform fees. Currently, Honeyminer takes 8% fee for the 1st GPU and 2.5% for additional GPUs. This means a portion of the revenue will go to Honeyminer. If you don't want to pay platform fees, you can try the advanced Ethereum Mining option
To install Honeyminer, download it here: https://honeyminer.com/
Operating System Requirements
To mine Ethereum, you can easily use any modern operating system: Windows 10, MacOS and Linux. For beginners, it's suggested to try out HoneyMiner on either Windows 10 or MacOS to get the feel of mining. This is because it's the easiest to setup up and can work alongside regular tasks on the computer. For higher mining performance, a dedicated linux based operating system is recommended – this allows for optimisation of the caching properties and remote management. Currently popular custom mining OS include: HiveOS, NicehashOS and ethOS.
How to Mine Ethereum (Advanced)
There are 3 main software miners for mining Ethereum. For each of the Ethereum mining software, there are advanced settings possible such as customization for the memory usage, caching and efficiency. For example, Claymore's Dual Ethereum miner have advanced options such as optimized memory timings (increase performance by ~10-20%) and support for mining pools. Top 3 Ethereum miners are:
To setup Ethereum, you need to have an Ethereum address. In order to get an address, you can look at our Enjin Wallet for a free software wallet or Ledger Nano X – a secure hardware wallet.
Ethereum Pool Mining
There are two main ways to mine ethereum – solo mining or pool mining.
Pool Mining (working together)
Work with others to mine and share rewards
Get paid per share, on a hourly or daily basis
Less random / dependent on luck
Pools take some fees (0.5-3% depending on pool)
Solo Mining
You mine the entire block reward (3 ETH per block) – no pool fees
Random Chance and probability – you can go days or months without rewards
Not viable if Hashrate is low – single GPU will take years to mine a block
Top Ethereum Mining Pools
There are 2 factors to consider when picking a Ethereum mining pool – the location of the pool and it's market share. The top priority would be location – the closer the pool is to you geographically the better. This is because sometimes due to network latency, shares that are mined could be "stale" – as new blocks are created rendering older blocks obsolete. It's also important to know that Chinese servers are behind the Great Firewall of China, meaning that connections could periodically break. This means that choosing a server with low latency and close geographical location would give the highest yield.
The second factor is the market share of the pool. The larger the market share, the more consistent the rewards. This is because blocks are continuously mined by the pool, and hence they can pay out at a consistent rate. This reduces the impact of the randomness of block creation.
We recommend finding a pool close to your location with a high market share.
Is it possible to solo mine Ethereum in 2020
Currently it's not feasible to solo mine Ethereum in 2020. It would take 67 years to solo mine a block (assuming 30 MHash/s and current total hashrate of 181 THash/s). This would mean it would likely take an entire lifetime before the solo miner finds a block with a single GPU.
How long will Ethereum be able to be mined
With the upcoming changes coming to Ethereum 2.0, Ethereum mining will eventually be phased out. Mining will be deprecated in phase 3 of the ETH2 roadmap, expected to come sometime in 2022 at the earliest. At this point, there will no longer be any rewards for mining Ethereum as the network will full be proof of stake.
Ethereum Cloud Mining
In 2020, Ethereum Cloud mining contracts are not profitable. This is because mining has become more competitive with lower margins – forcing miners to reduce costs. Cloud mining is hit the hardest because of they have large overheads like advertising spends and legal costs. In our latest research, we found that cloud mining providers were charging 184% for the same hashrate than home-made solutions.
What is Ethereum ProgPoW and how does it impact mining
ProgPow is a proposed extension to the mining algorithm of Ethereum, designed to resist centralization of miners via ASICs (specialized mining equipment). The ProgPoW upgrade is meant to help Graphics Cards become more competitive by using more RAM and features unique to the GPU. Overall this will help Ethereum mining be more accessible and viable with commercial off-the-shelf hardware. Currently ProgPoW is in an 'audit' phase, and if passed will be included in Ethereum's next hard fork.
Ethereum Mining Difficulty Bomb
Ethereum network has a built in mechanic to decrease the effectiveness of mining over time called the "Ethereum Difficulty Bomb". This is designed as a hard mechanic to ensure that Ethereum eventually moves to proof of stake, an eco-friendly consensus mechanism that doesn't require mining. Proof of stake will be part of Ethereum 2.0 which is stated to release in 2020, at which point mining on Ethereum will slowly be phased out. However, the Ethereum team is known to delay the deployment of proof of stake and consequently the difficulty bomb. On the 6th of January 2020, the difficulty bomb was delayed once again via the "Muir Glacier" update, which effectively delayed the difficulty bomb for another ~600 days.
Update 9th Jan: Fixed typos and included extra information about Ethereum Hashrate
Disclaimer: Cryptocurrency trading involves significant risks and may result in the loss of your capital. You should carefully consider whether trading cryptocurrencies is right for you in light of your financial condition and ability to bear financial risks. Cryptocurrency prices are highly volatile and can fluctuate widely in a short period of time. As such, trading cryptocurrencies may not be suitable for everyone. Additionally, storing cryptocurrencies on a centralized exchange carries inherent risks, including the potential for loss due to hacking, exchange collapse, or other security breaches. We strongly advise that you seek independent professional advice before engaging in any cryptocurrency trading activities and carefully consider the security measures in place when choosing or storing your cryptocurrencies on a cryptocurrency exchange.