Decentral Games is the first community-owned casino ecosystem offering a chance to participate in a seamless, anonymous and decentralized gaming ecosystem, all the while being rewarded for your participation.
Thrill-seekers from any part of the world have had the pleasure of enjoying their favorite casino games on-the-go. Despite the fact that these games have been available on the internet since the 90s, their popularity has only recently soared to the roof! This is in part thanks to the abundance and accessibility of mobile devices.
Background
In 2019, with the power of Blockchain technology, a group of innovators has been able to give the online casino sphere a gigantic push forward with the formation of Decentral Games.
The founders were able to seize an opportunity to leverage the Ethereum blockchain to develop a non-custodial social 3D casino on the internet. The team, which is made up of about ten people, is based in San Ana, Costa Rica.
What is Decentral Games?
Decentral games is a casino ecosystem that is owned, governed, and maintained by its users (holders of the $DG token), through a Decentralized Autonomous Organization (DAO). Essentially, the platform allows casino game lovers to control its system and ensure that rules are followed and issues are resolved through the DAO.
The ecosystem leverages two previously existing Blockchain platforms. One is Decentraland, where its users are able to create, experience, and monetize contents and applications. The other is Matic Network, which provides seamless, fast, and cost-effective transactions on the Ethereum network.
Decentral Games puts the affairs of the game itself into the hands of its users. For instance, the users are in-charge of funds. And thanks to its open-source logic, a fair evaluation for every result (in case of disputes). Furthermore, each user is able to enjoy fast transactions and anonymous participation.
Decentral Games Ecosystem
Every element on the ecosystem interacts with the $DG token. And these interactions all happen via the dgTreasury, which serves as the casino house fund. It is open and observable to all users.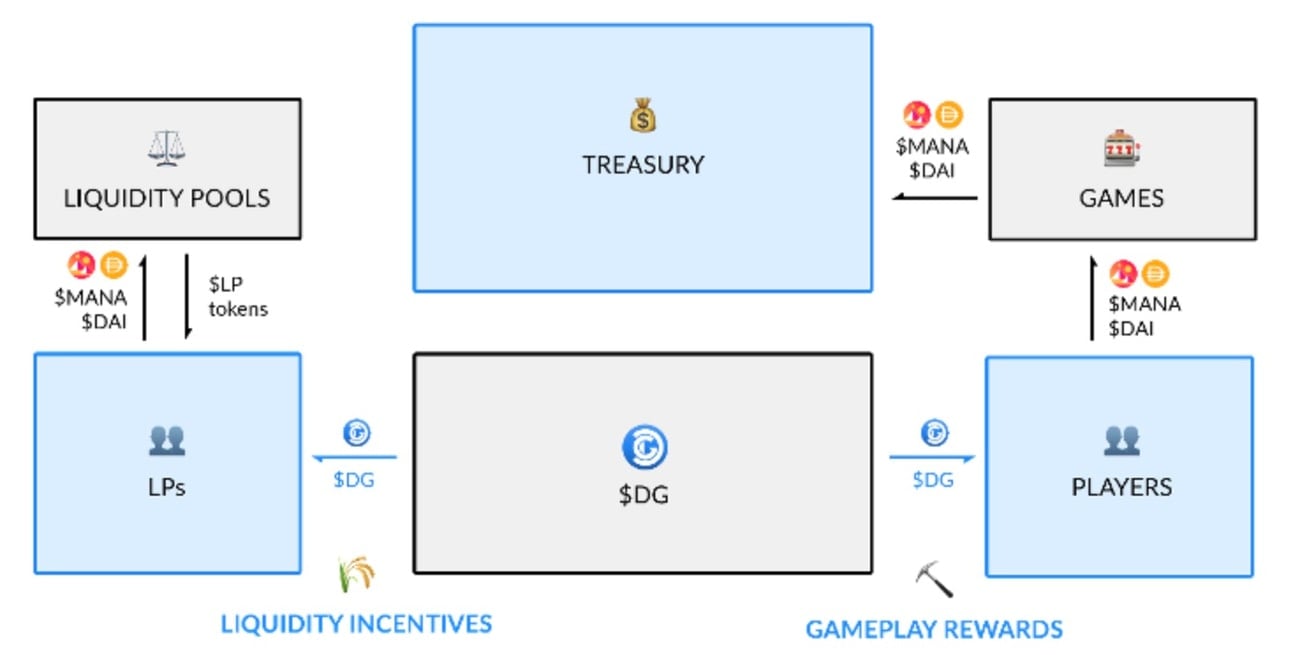 The treasury is responsible for bankrolling and funding all games. Therefore, for it to function effectively at all times, it must always have enough funds. Fees collected from players (in $MANA and $DAI) would be collected and kept in the dgTreasury, which is also from where winnings would be paid out.
By incentivizing players to stake their digital assets, the treasury gets enough buffer to fund gaming activities.
And players who stake digital assets are rewarded with $DG tokens, a process popularly known as mining. However, this is not the only means by which you can mine on Decentral Games.
What is $DG token?
$DG is Decentral Games' native utility token based on Ethereum's ERC-20 standard and made mainly for use on the DG platform. There are 3 main uses and ways to earn the $DG token which will be explored in detail later on in this article. These are: governance, liquidity mining, and gaming rewards.
Holders of the token can propose and vote on governance proposals concerning the features and/or parameters of Decentral Games' ecosystem. Decentral Games also has a staking mechanism which rewards users with $DG tokens. Finally, $DG tokens are also rewarded to players for playing games with MANA or DAI.
$DG Allocation and tokenomics
At launch, a total of 1 million $DG will become accessible to be distributed strategically over 6 years. 62% (620,000 DG) would be allocated to the community, 20% (200,000 DG) to the development team with 3 years vesting, and the remaining 18% (180,000 DG) to early participants with 2 years vesting.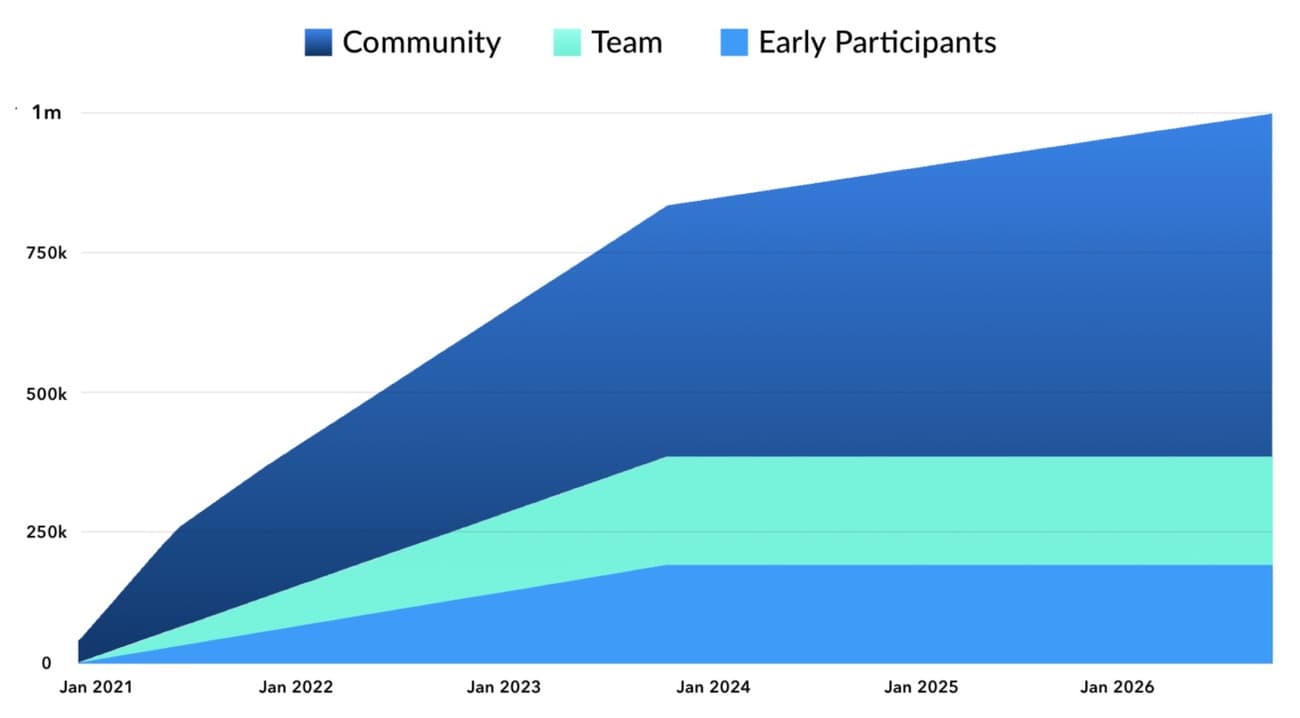 How to earn $DG tokens on Decentral Games
Governance incentives
As a DAO-based community, users are able to come together to deliberate on important decisions. And decisions are made through the results of a vote. With this system, the platform's future is carved and decorum is maintained.
This system of self-regulation is known as Governance.
To submit a proposal or vote on them, you must own $DG tokens. Users can stake their token to submit proposals, as well as vote on them.
According to the encoded rules of the DAO, 1% of the total $DG supply is required to submit a proposal. While at least 4% of the total $DG supply must be pooled together within 7-days for a decision to be made.
The amount of $DG you have staked determines your voting power. Users are able to stake their tokens through the governance dashboard available to every user.
Participants in governance are often rewarded with more $DG tokens. This makes the second means by which you can mine on the Decentral Games.
It should be noted that issues deliberated and voted on are restricted to those within the platform and its eco-system itself. It does not extend to the management of the staff, assets, or affiliates. It also does not represent any right with respect to Decentral Games itself.
Liquidity Incentives: mining/farming $DG
The earning process, also known as mining, is conducted through several different processes on DG. It enables users to get $DG in return for providing liquidity to the MANA-DG and DAI-DG 98/2 balancer pools. Farming on $DG is done in 4 simple steps:
Hold $MANA or $DAI on your Ethereum Mainnet wallet on Metamask. and connect your wallet to Decentral Games.
Choose either Pool 1 (98% MANA- 2% DG) or Pool 2 (98% DAI- 2% DG).
Select "Add liquidity" and fill in your preferred deposit amount. If you are a first-time Balancer user you may have to sign up to 4 transactions: setup proxy, MANA/DAI authorisation, $DG authorisation, and add liquidity to pool. Once you have added liquidity to the pool, you will receive balancer pool tokens (BPTs) which can be staked to farm $DG.
Connect your Metamask wallet to the $DG Liquidity Farming Dashboard. Then, enter the BPT amount you wish to stake and confirm by selecting "Stake BPT".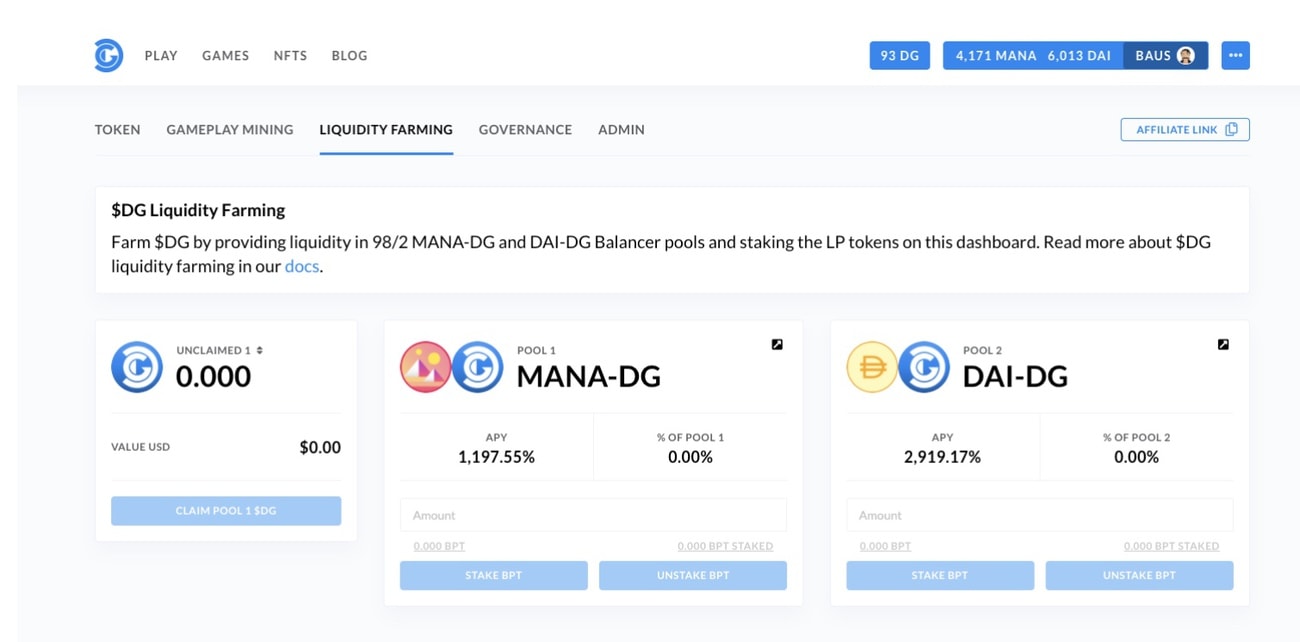 More details on how to farm $DG are available here.
Gameplay Rewards
But perhaps the most important means of mining on the platform is through gameplay. As you are enjoying the thrill of your games, you get rewarded in DG tokens.
Rewards are distributed based on specific activities you perform during gameplay. Some of those activities involve placing a wager, playing with multiple players on the same table, referring other players, and having your avatar wear DG non-fungible token-based wearables when playing.
You can bring your digital assets into the ecosystem using MANA or DAI tokens, both of which are fast and effective transactional stablecoins that run on Ethereum and are noted for their value exchange stability.
So in addition to any winnings players may receive, they will also receive $DG.
Available games on Decentral Games
At present, a good number of popular casino games are already available on Decentral Games. These include: Blackjack, Roulette, Slots, Backgammon, and Poker.
Decentral Games expanding into virtual land ownership?
On 21 January 2021 Decentral Games has transferred 403 Decentraland LAND parcels to the $DG DAO worth USD $500,000. Each of these land parcels is a unique and transferable non-fungible token representing 16×16 meters of virtual space in a specific location on the Decentralad map. Users can choose to own adjacent land parcels for building structures such as casinos and galleries.
$DG holders will be able to create proposals to direct how these land parcels should be developed.
Conclusion
As people spend more hours within virtual worlds, Decentral Games aims to grow to hundreds of thousands of users by the end of the year. And since it is part of a greater ecosystem called Decentraland, the casino platform can easily tap into a vast network of users.
Disclaimer: Cryptocurrency trading involves significant risks and may result in the loss of your capital. You should carefully consider whether trading cryptocurrencies is right for you in light of your financial condition and ability to bear financial risks. Cryptocurrency prices are highly volatile and can fluctuate widely in a short period of time. As such, trading cryptocurrencies may not be suitable for everyone. Additionally, storing cryptocurrencies on a centralized exchange carries inherent risks, including the potential for loss due to hacking, exchange collapse, or other security breaches. We strongly advise that you seek independent professional advice before engaging in any cryptocurrency trading activities and carefully consider the security measures in place when choosing or storing your cryptocurrencies on a cryptocurrency exchange.