ZigZag Exchange will do a total of 7 airdrops totaling around 35 million $ZZ (35% of total supply). They recently finished their first airdrop round for market makers. This means that everyday users of the protocol are up next! The second airdrop criteria have been announced! So we compiled the latest guide to help you position for the $ZZ airdrop.
ZigZag Exchange ($ZZ) Airdrop Step-by-step Guide
Here's how users were eligible for the second round of ZigZag Exchange ($ZZ) token airdrops. There is speculation that the third round of airdrops may have similar eligibility:
Trader airdrop ✅ (open)
Market maker bots airdrop ❌ (closed)
IDO participant airdrop ❌ (closed)
Atlendis liquidity provider airdrop ✅ (open)
Discord member airdrop ✅ (open)
Gitcoin donator airdrop ✅ (open)
POAP holder ✅ (open)
See below for more details
What is ZigZag Exchange?
ZigZag Exchange is a decentralized order book exchange powered by zkSync and Arbitrum. It provides users with a familiar trading experience similar to that of a centralized exchange (CEX), except they have full control of their funds. Users can trade directly from their wallets on ZigZag with low fees. This is possible because the platform's market makers extract price feeds from centralized exchanges (CEXs) and relay them to the order books on ZigZag. As a result, the price quotas on ZigZag are the same as CEXs, allowing users to trade at competitive prices.
Who is the Team behind ZigZag Exchange?
An open community of coders, designers, mathematicians, cryptograph experts, high-frequency traders, researchers, market makers and other contributors, developed ZigZag Exchange. Their code is public on GitHub, and smart contracts are regularly audited by the community.
Does ZigZag Exchange have a Token?
ZigZag Exchange has its $ZZ token. $ZZ can be purchased on their own platform and Uniswap. The total supply of $ZZ tokens is 100 million, of which 60.7% will be allocated to the community. This community allocation is further divided into three categories: ecosystem (DAO, marketing, incentives, liquidity), community contributors, and airdrops.
The ZigZag token is a governance token and will also share the revenue from fees that are generated on the ZK-Rollups.
How to be Eligible for Round 2 $ZZ Airdrop?
Round 2 of the ZigZag $ZZ token airdrop has just been completed! It was a record breaking airdrop with over 100,000 users receiving an airdrop of 34% of the total $ZZ token supply. There were seven subcategories of users who were eligible for the $ZZ token airdrop:
Trader airdrop ✅ (open)
Market maker bots airdrop ❌ (closed)
IDO participant airdrop ❌ (closed)
Atlendis liquidity provider airdrop ✅ (open)
Discord member airdrop ✅ (open)
Gitcoin donator airdrop ✅ (open)
POAP holder ✅ (open)
The following categories were eligible for airdrops in season 2: Traders, Atlendis liquidity providers, Discord members, Gitcoin donors, and POAP holders. Follow these steps to be eligible for the upcoming $ZZ airdrop:
Trade on ZigZag Exchange for Trader Airdrops
Although ZigZag stated that trades between 5th November 2021 and 31st December 2022 are the base criteria, there is no list with eligible addresses yet. So it is worth a shot to make frequent trades now on the platform if you haven't yet. Go to trade.zigzag.exchange and connect your MetaMask or Argent Wallet. If you don't have funds, you can use their bridge to transfer assets.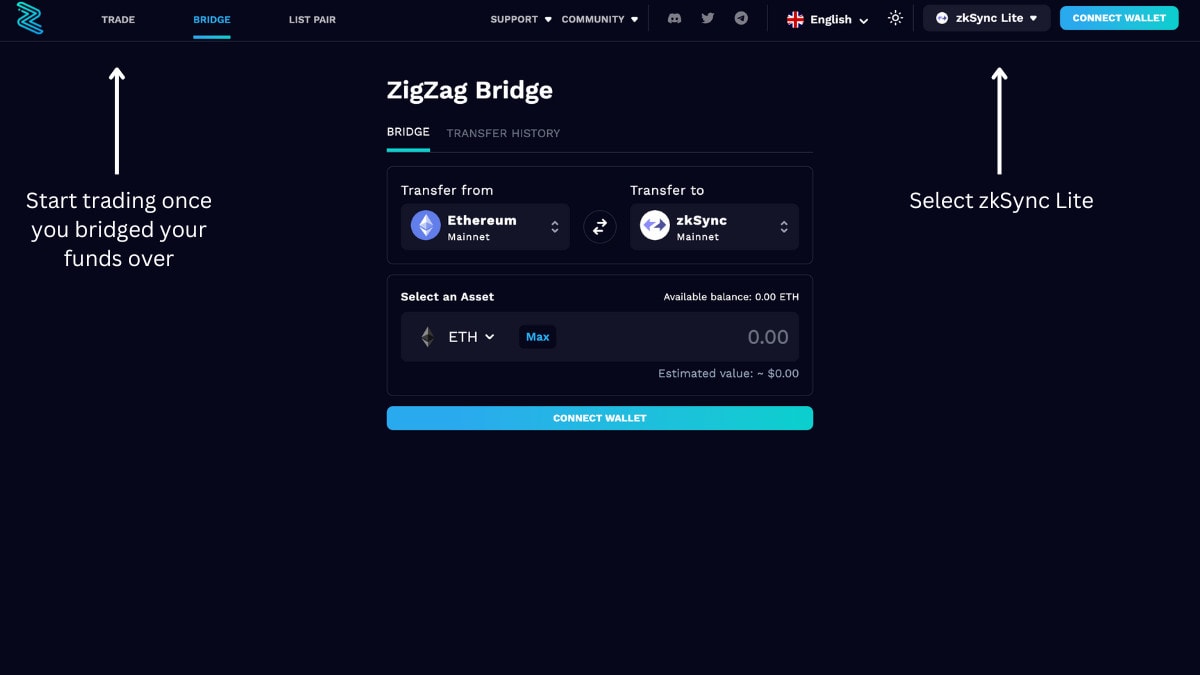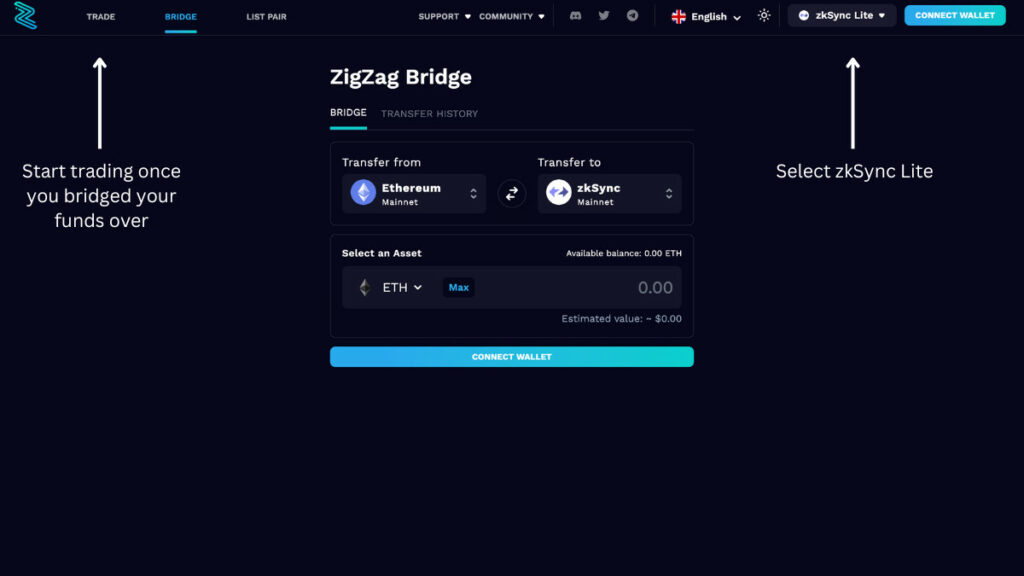 A total of 92,000 addresses qualified for this airdrop. There are 3 categories of those who will receive trader airdrops based on a snapshot taken on 31st December 2022: Base Criteria, November 2021 traders, and December 2021 traders. Those who (1) had 1-month activity (first and last swap 30 or more days apart); and (2) 4 unique days with swaps qualify for Base Criteria and would receive 300 $ZZ. Those who reached Base Criteria and made their first swap before December 2021 qualify as a November 2021 trader and will get a 300 $ZZ early adoptor bonus. Users that reached Base Criteria and made their first swap before 1 January 2022 qualify as a December 2021 trader and will receive a 100 $ZZ bonus. In short, the eligibility criteria for ZigZag Exchange Trader Airdrop are:
300 $ZZ for only reaching Base Criteria.
400 $ZZ total for December 2021 trader.
600 $ZZ total for November 2021 trader.
Obtain Discord Roles for Discord member airdrop
ZigZag will airdrop $ZZ to three Discord roles: (1) Member, (2) Senior Member, and (3) OG. As they are still working out the details, there is still time to get to "Member" at least. You will need to actively engage with the community, help other users, give feedback to the team, find bugs on GitHub, create content or write Twitter/Medium posts.
253 addresses qualified for the Discord member airdrop. The amount of $ZZ airdrops depends on your Discord member role. 1,000 $ZZ to Og, 750 $ZZ to Senior, 500 $ZZ to Member.
Donate on Gitcoin for Gitcoin Donor Airdrop
Go to their Gitcoin and donate to their grant's address 0x9B67d3067fA606BE28E56C1aB184725c07b7B221 on zkSync, Polygon, and Ethereum.
7,600 addresses qualified for ZigZag's Gitcoin Donor airdrop. Gitcoin donors will receive 2 $ZZ for every USD donated (minimum US$3 donation).
Atlendis liquidity provider airdrop
2,100 addresses qualified for the Atlendis liquidity provider airdrop. Atlendis liquidity provider will receive 500 $ZZ per depositor (minimum US$5).
POAP holder airdrop
In February 2022 ZigZag launched a Lantern Festival Trivia event for its Chinese users. POAP holders will receive 300 $ZZ per POAP.
How do I claim my ZigZag Exchange ($ZZ) airdrop?
The airdrops have been distributed. $ZZ tokens will automatically be airdropped on zkSync Lite. You can check how many $ZZ tokens were airdropped to you by viewing your zkSync wallet at https://zkscan.io/. Check frequently as the tokens were airdropped by the team over multiple rounds.
Will ZigZag Exchange do airdrop season 3?
ZigZag Exchange will definitely do a third round of airdrops. This is because they have confirmed in their Documentation they will do a total of 7 airdrops. Whilst ZigZag has not announced details of when they will do their third $ZZ airdrop yet, we it will be after the second round of airdrops in March 2023.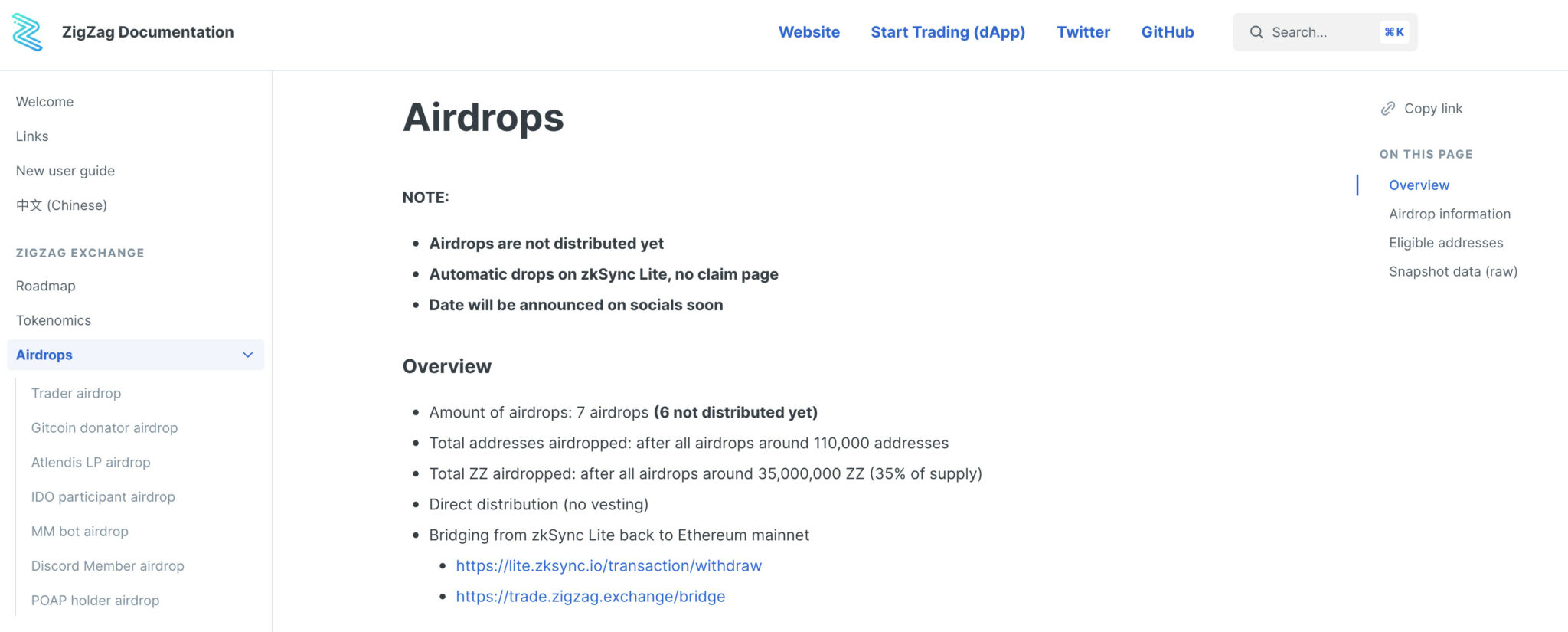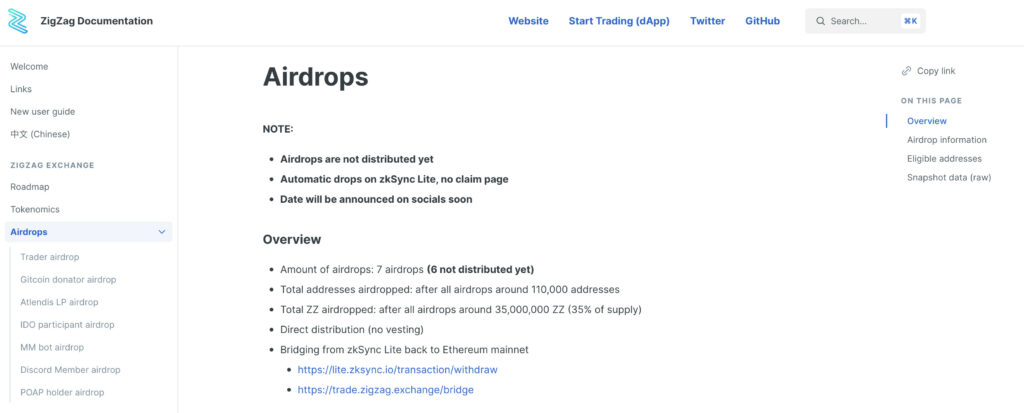 ZigZag has just announced their Zap bridge supports zkSync Era. Go onto ZigZag Bridge, bridge assets to and from zkSync Era to position yourself for a potential ZigZag (and zkSync) airdrop!
Check out our zkSync ($ZKS) Token Airdrop Guide!
Airdrop Review
When reviewing an airdrop, there are several factors to consider. First, the likelihood the project will even do an airdrop in the first place. Then, to look at how many tokens the project intends to allocate towards airdrop campaigns, as well as the difficulty in participating in their airdrop. It is also important to look at the utility of the token so that there will be an actual use and purpose in participating in the airdrop in the first place. Finally, a factor to consider when reviewing an airdrop is whether the airdropped tokens are subject to any lockup period.
Likelihood of Airdrop: ZigZag Exchange confirmed they will do a total of 7 airdrops.
Airdropped Token Allocation: Around 35 million $ZZ will be distributed over 7 airdrops (35% of its total token supply)
Airdrop Difficulty: For the second round of airdrops, there were 7 eligibility criteria. For example, trading on their platform, donating on their Gitcoin or obtaining a Discord "Member" role. This makes the ZigZag airdrop relatively easy.
Token Utility: $ZZ is a governance token built on the ERC-20 standard that enables token holders to participate in the decision-making process for ZigZag Exchange's multi-chain ecosystem. The ZigZag token will also share the revenue from fees that are generated on the ZK-Rollups.
Token Lockup: $ZZ tokens will be directly distributed in the airdrops without any vesting.
Disclaimer: Cryptocurrency trading involves significant risks and may result in the loss of your capital. You should carefully consider whether trading cryptocurrencies is right for you in light of your financial condition and ability to bear financial risks. Cryptocurrency prices are highly volatile and can fluctuate widely in a short period of time. As such, trading cryptocurrencies may not be suitable for everyone. Additionally, storing cryptocurrencies on a centralized exchange carries inherent risks, including the potential for loss due to hacking, exchange collapse, or other security breaches. We strongly advise that you seek independent professional advice before engaging in any cryptocurrency trading activities and carefully consider the security measures in place when choosing or storing your cryptocurrencies on a cryptocurrency exchange.