Friend.tech is a decentralized social media platform on Base that allows users to tokenize their social networks. Users can buy "Keys" of other users on the platform, which gives them the right to communicate with them directly. Meanwhile, it allows creators to build a community and monetize their influence, while offering access to exclusive conversations with the creator in chat rooms for shareholders. Here's our secret strategy guide on how to get maximum Friend.tech points.
Check out our other SocialFi platform strategy guides:
What is Friend.tech?
Friend.tech is a social media app that allows creators to connect with their audience in a unique way. It is built on a decentralized network called Base and leverages blockchain technology and cryptocurrencies.
The app converts users' influence into tokens, which are known as keys. You can purchase these keys to gain access to exclusive private chat rooms and other benefits. The price of these keys is determined by supply and demand conditions. Meanwhile, creators have the freedom to experiment with ways to enhance their influence and attract new shareholders.
In essence, Friend.tech enables creators to build a community and monetize their influence. For the audience, it offers access to their favorite creators where shareholders enjoy privileges such as exclusive conversations with the creator in chat rooms.
How does Friend.tech work?
Users can buy others' Keys for ETH. Holding someone else's key lets you unlock private chatrooms with them which is very useful if you want to connect with them. The overall purpose of this is in the hopes that holding more keys will make them eligible for a bigger potential airdrop. Whilst some others might buy Keys and resell them later for profit, and earn transaction fees in the meantime.
Friend.tech will calculate your total chat activity; trading volume and fees earned every week. Then, every Friday they will airdrop reward points to users. These reward points are promised to have a special purpose when the Friend.tech app enters official release status. Read below for our guide on how you can potentially get maximum Friend.tech points!
Will there be a Friend.tech token airdrop?
Friend.tech will be doing an airdrop every Friday where they will airdrop points to users based on their chat activities, trading volume and earned transaction fees. According to Friend.tech, these points will have future uses on their platform when it is officially released. But details of its exact uses are unknown.
How to use Friend.tech?
Here's how to set up, use and start earning Friend.tech points.
Login

Login to https://www.friend.tech/ using your SMS number, Google or Apple account.

Find invite code

You will need an invite code to start using Friend.tech. Here's some invite codes you can use:
ft-r2oaxg8x
ft-t6z7vq10
ft-0hijo50f


Link Twitter account

Follow the steps to link your Twitter account.

Deposit ETH

Deposit some ETH on Base so that you can buy and sell your friends' keys. Friend.tech recommends you have at least 0.01 ETH (approx US$20). Remember to use Base network to transfer your funds!

Find and buy/sell users keys

Click on "Explore" on the left hand side. There you can see other users and how much their Keys cost. To buy a Key, click on their username, and "Buy" on the top right hand corner. You can also sell your Key on the same page
How are Friend.tech points calculated?
Friend.tech points are calculated based on a combination of your chat activities, trading volume and earned transaction fees. How the points are calculated exactly is unknown.
This is quite different from other SocialFi platforms such as Post.tech or Tipcoin where the points calculation mechanism is very transparent.
How to get maximum Friend.tech points: Strategy guide
Here our guide to some strategies to get maximum Friend.tech points:
Join the (3,3) (fren,fren) (bro,bro) circles: You can find some users will have (3,3), (fren,fren) or (bro,bro) at the end of their user name. This means they promise to hold your keys if you do the same for them. Buy their Keys and you might be able to benefit together!
Use tools such as https://frentech.octav.fi/ to see other users' statistics. For example, total spent/sales, which is an indicator of activity on the platform. This information is useful because you would want to buy keys from users that are active. Another important statistic is their (fren,fren) score, this is because a high (fren, fren) score could be a good indicator that they will honour their promise of holding your Key if you hold theirs.
Know when to sell others' Keys: Prices of Keys fluctuate, and one factor that determines its prices is the Friend.tech platform's popularity. If Friend.tech becomes less popular with users, then Key prices will drop. When that happens, you do not want to be holding a lot of Keys which are worth less than what you paid for. Users should also be aware of people who break their promise to hold Keys for others. This is because all buying/selling activities can be tracked, and if a person starts selling Keys, it may cause others to also sell. This will create a waterfall effect of everyone selling each other's Keys, which will decrease its value.
Where can I trade Friend.tech points?
Friend.tech does not have a token yet, nor can you trade Friend.tech points per se. However, Hyperliquid has a FRIEND-USD index which is available for trading. The FRIEND-USD index is based on the median price of a static set of 20 top subjects. Hyperliquid however does warn potential traders that the FRIEND-USD index is similar to a basket of illiquid spot assets, and so it shares many of the risks associated with perps on illiquid spot assets.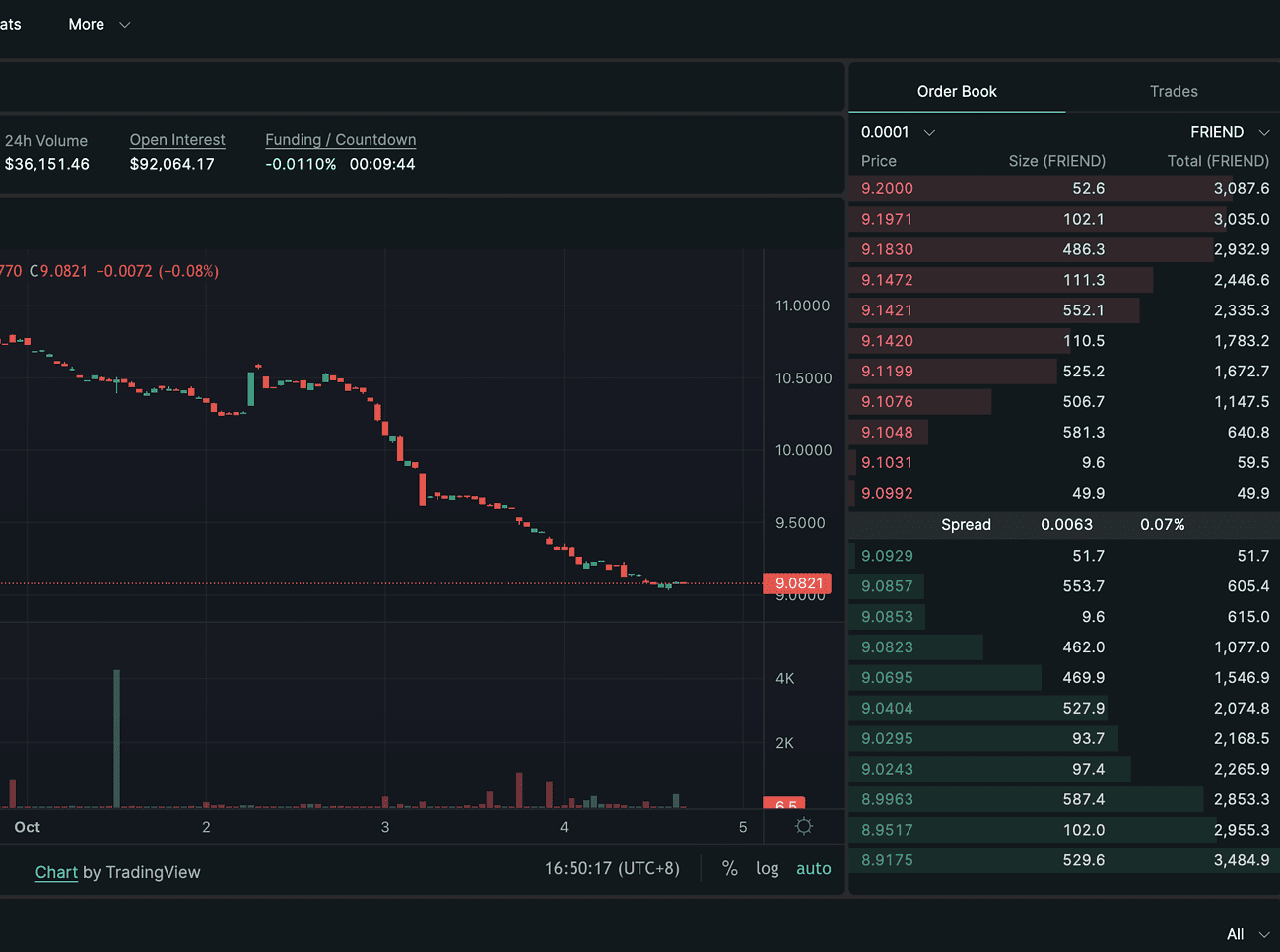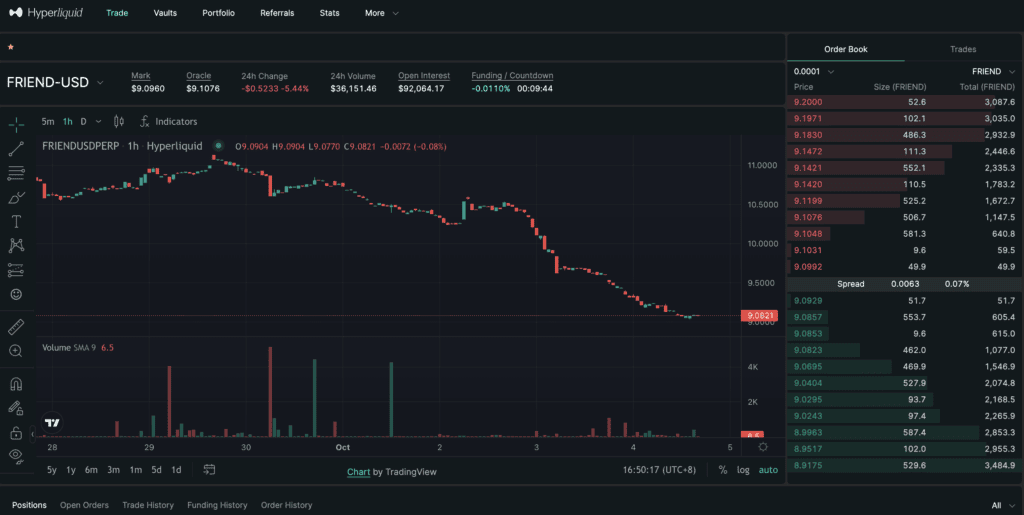 Conclusion
Friend.tech is the original SocialFi platform, paving the way for others such as Post.tech and Tipcoin. However, this does not mean that Friend.tech has lost its popularity. In fact, according to DeFi Llama, Friend.tech has a TVL of nearly US$48 million and over 12,700 active addresses in the past 24 hours. So Friend.tech is likely to be here to stay, considering trading activities on the platform amounts to 20% of Base network's transaction fees. With this Friend.tech guide and our strategies, you can earn maximum points! Good luck and support us by following us on Twitter!