Holding Ethereum has been very profitable for many crypto enthusiasts. But did you know that you can also multiply your holdings by earning interest on your Ethereum deposits through an Ethereum savings wallet?
When you open an Ethereum savings wallet, you can deposit your Ethereum holdings into the savings wallet. The savings wallet provider will then loan out your ETH to borrowers, providing you with a percentage of interest in exchange. It is more profitable than only relying on the price appreciation of Ethereum. You can earn interest as high as 8% for your holdings, which is far higher than what many traditional banks and other financial institutions offer on fiat currencies. 
Thanks to the efficiencies of blockchain technology and lending markets, cryptocurrency users are able to earn high interest rates on their digital assets. And thanks to platforms like FTX Exchange, Nexo and BlockFi, it's easier than ever to earn passive income from your cryptocurrencies. If you are interested in long-term investing, an Ethereum savings wallet can help you accrue interest while keeping your Ethereum safe.
Why Earn Interest Using An Ethereum Savings Wallet?
Easy Process
You can start earning interest on your Ethereum deposits after completing a few easy steps. All you need to do is sign up for an Ethereum savings wallet, complete the KYC process, and deposit Ethereum to your savings account. That's it! Your interest accruals will begin automatically as soon as your savings account receives Ethereum deposits. Some savings wallet providers even provide you bonuses for signing up.
Low Risk
Compared to the products offering similar high interest rates, earning on your Ethereum deposits is a low-risk option. Such high returns are possible as savings wallet holders lend cryptocurrencies and fiat currencies to borrowers at very high-interest rates and share their earnings with other savings wallet holders in the form of interest. Most savings wallet providers manage the risk by making over-collateralization mandatory to borrow from them.
Passive Income
Passive income is income that requires minimal labor to earn and maintain. Automatic payouts by savings wallet providers means your earnings are paid directly into your savings wallet. You can either choose to withdraw them straight away, or leave your earnings in your savings wallet to compound and grow exponentially. Who doesn't want to earn money for their Ethereum holdings even while asleep?
24/7 Access to Funds
Unlike traditional banks, your Ethereum savings wallet will be open 24/7. You will always have complete access to ETH in your savings wallet. Some providers even allow you to buy and sell Ethereum instantly from your savings wallet.
Which Ethereum Savings Wallet Should I Choose?
When it comes to Ethereum savings wallet providers, there is no shortage of options available for you to choose from. Let's explore some of the best Ethereum savings wallets.
FTX Earn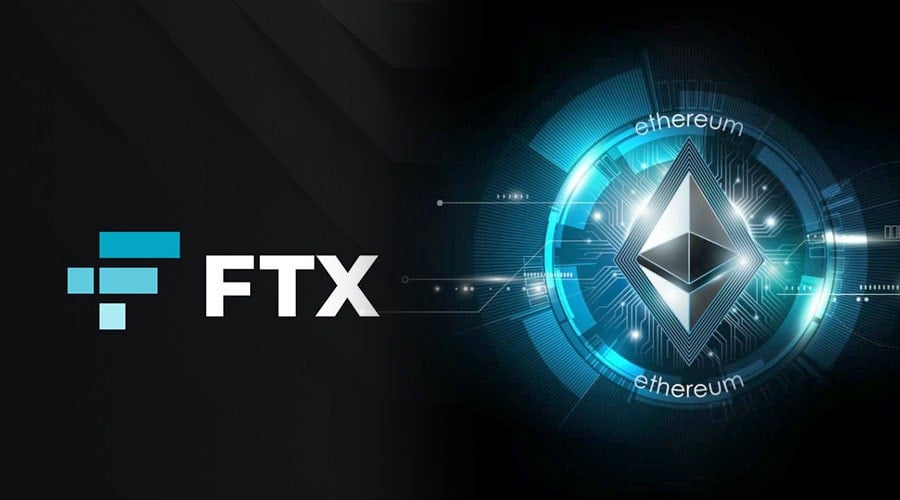 FTX Exchange is a cryptocurrency derivatives trading platform built by professional traders Alameda Research. FTX will deposit interest earnings calculated hourly. Interest will be compounded on principal and yield you have already earned. It is really easy to get started and you can earn interest immediately after you have opted into the program.
The FTX Earn interest rate for Ethereum is 5 – 8% APY.
FTX Earn tiers their interest rate differently than any other platform, in which the first $10,000 USD of deposited funds earns 8% APY regardless of coin/token. All funds beyond that earn 5% APY. There are no lockup terms for your deposits but it is worth noting that withdrawal fees do apply for ETH.
Nexo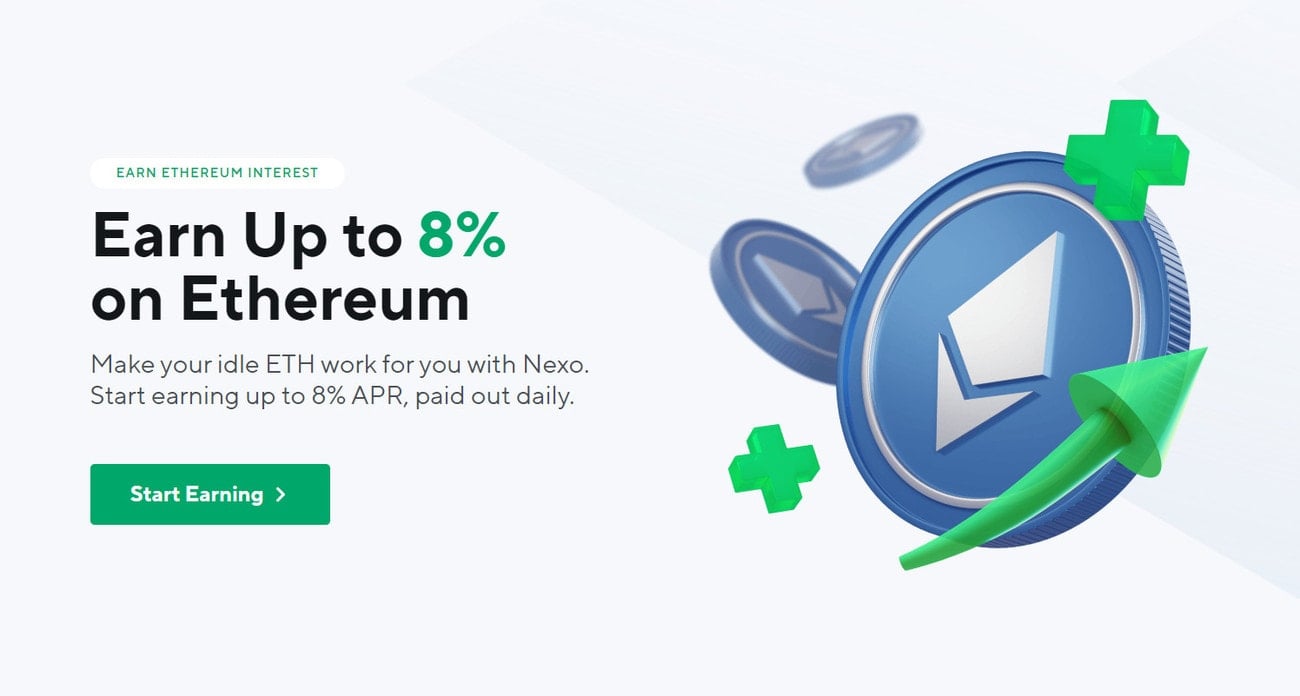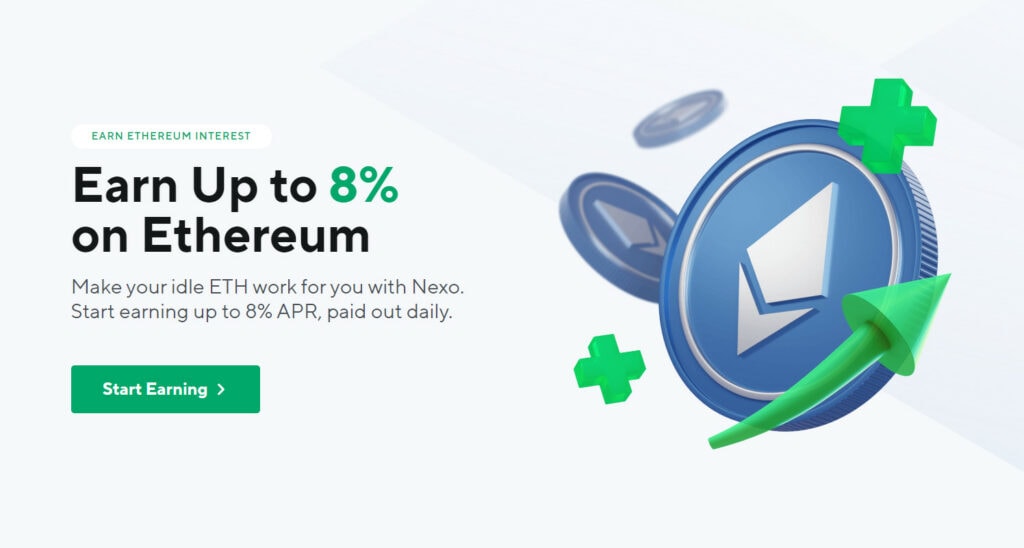 Nexo is a unique lending platform based in Switzerland. It allows you to take out loans based on the amount of cryptocurrency in your account without selling your coins and buying them back. Though you cannot currently buy or sell Ethereum through the Nexo platform, the Nexo savings wallet offers a high-yield method for investors to earn money on idle ETH.
With Nexo, you can earn up to 8% APR for your Ethereum savings.
Opting for the Nexo FLEX offering will give you an additional 1% interest on your ETH, as well as compounded daily payouts. Nexo also offers zero fees and top-tier security and insurance to protect your funds.
BlockFi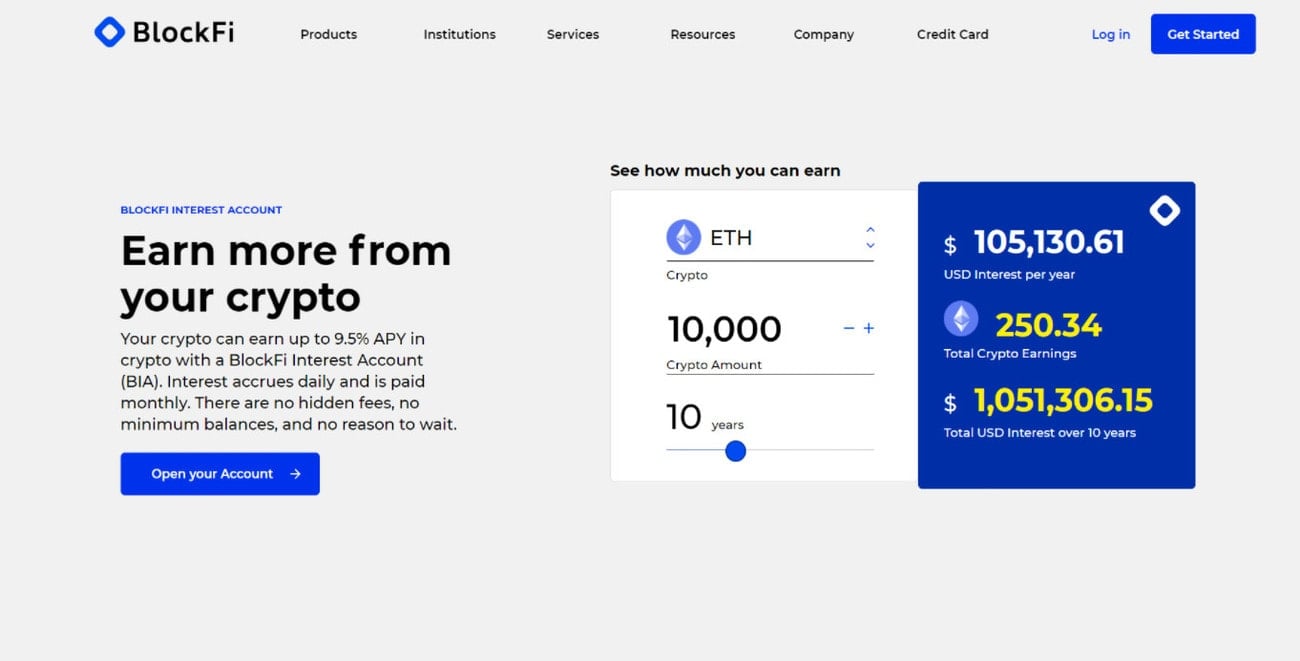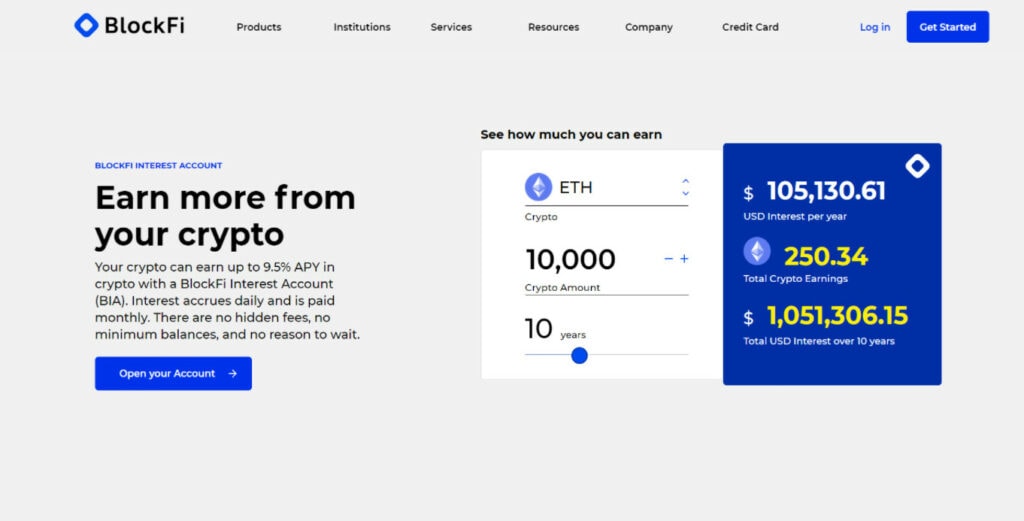 BlockFi is one of the most competitive and well-known cryptocurrency savings account providers for a reason. BlockFi was founded in 2017 and is a fully regulated and licensed bank-like provider of cryptocurrency savings wallets, loans, and exchange services.
BlockFi uses a tiered interest structure that can go up to 5% APY for Ethereum holders.
The BlockFi platform is easy to use and gives you full transparency and control of your assets. They even have a mobile app so you can manage your savings wallet from any smart device. BlockFi is also one of the safest savings wallet providers with trusted crypto asset manager, Gemini as its custodian.
YouHodler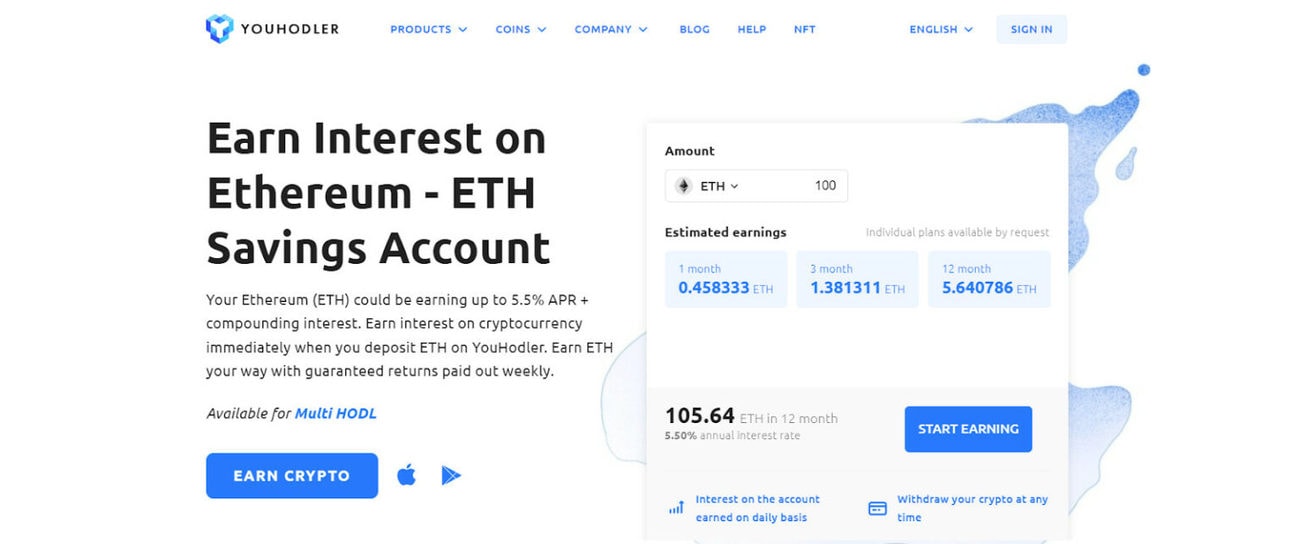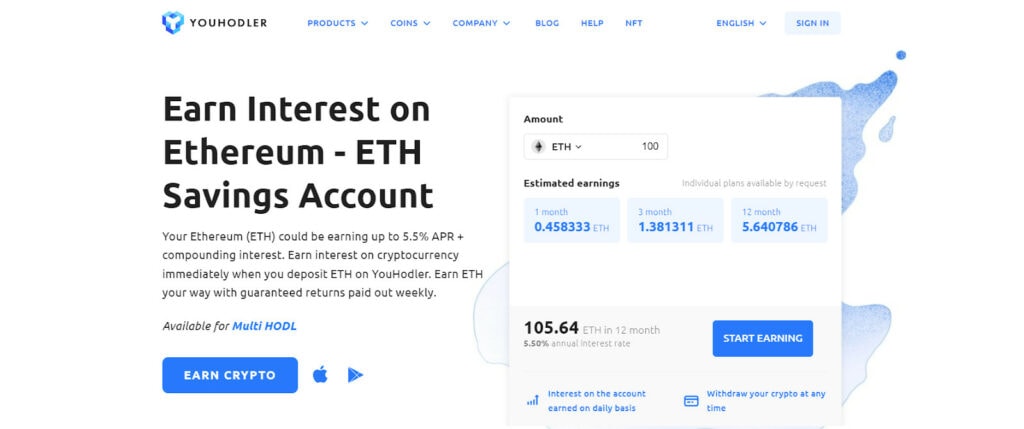 Launched in 2019, YouHodler is an EU and Swiss-based cryptocurrency platform with both a web interface and mobile app. Ilya Volkov, the CEO and co-founder of YouHodler, has more than 15 years of experience in the FinTech industry, making the platform a serious competitor among savings wallet providers.
Ethereum holders can earn 5.5% APR plus daily compounding interest on YouHodler.
Payouts are made every week and you can start earning interest immediately after depositing ETH into your savings wallet. There is, however, a minimum deposit of $500 worth of ETH at market price to begin. Some fees may also apply.
Celsius Network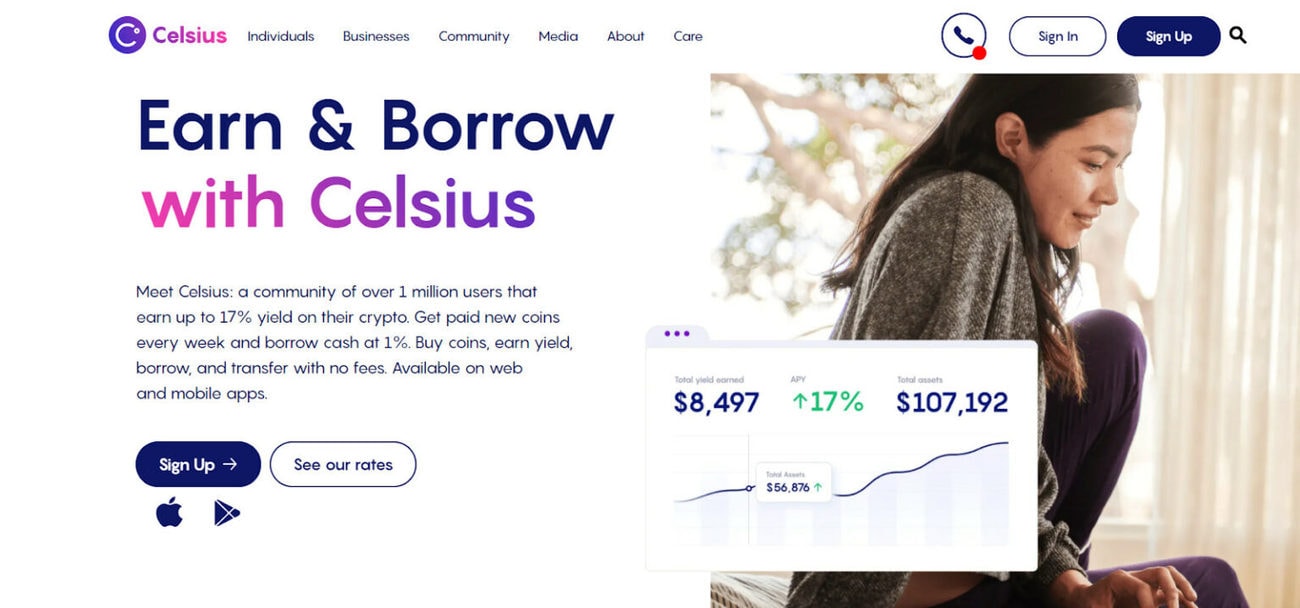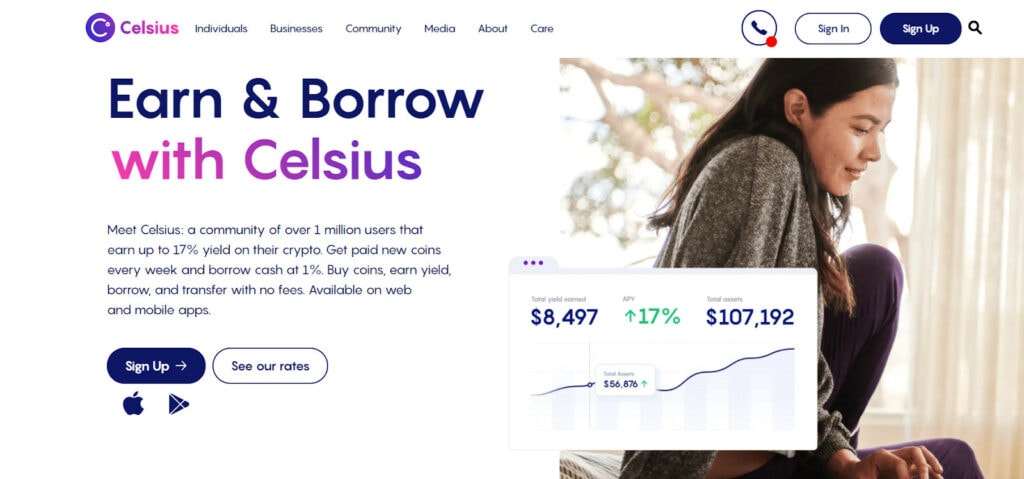 Celsius Network adopts a strategy based on the mobile market. As a result, they offer a great mobile-based solution for earning interest on your Ethereum. Built on the belief that financial services should only do what is in the best interests of the community, Celsius is a modern platform that aims to empower the unbanked.
Celsius offers 5.35% APY for holdings up to 100 ETH and 3.52% APY for holding above 100 ETH.
Celsius is secured with multi-factor authentication, private key double vaults, encryption, and third-party solutions. Their assets are distributed amongst cold wallets and exchanges for additional security.
Conclusion
They say nothing in life is free, but clearly these people are wrong. By putting your idle ETH to work, you can significantly grow your holdings over time. With an ever-increasing number of savings wallet providers, Ethereum holders now have many different options and flexibilities to earn interest for their Ethereum. These platforms provide a great investment opportunity to generate passive income while providing holders peace of mind over the safety of their holdings.
If the crypto economy continues to go mainstream at its current rate, it is not too far-fetched to envision more and more individuals around the globe choosing crypto savings wallets over traditional savings accounts from banks. It will definitely be exciting to see what crypto banking can accomplish next.