Celsius Network was one of the largest gateways to crypto with $864 million worth of venture capital raised. They also had over $3 billion worth of funds held in custody for 1.4 million customers. Offering attractive yields, simple to use UI, and promises of security and transparency, it was truly the perfect crypto on-ramp for less experienced crypto users. They abstracted away the complexities of DeFi (Decentralized Finance), and offered only pure and straightforward DeFi yields.
However, their questionable asset management practices have recently come to light. Celsius Network's risk management strategy heavily relied on continued bullish crypto narratives pushing prices upwards. Which left them unprepared for significant drawdowns. They also engaged in "degenerate trading" strategies which put them at risk of liquidation and potential bankruptcy.
Some believe Celsius will be another big platform to collapse during this bear market, potentially pushing crypto prices even lower than before. And likely resulting in a further liquidation cascade that could destroy protocols, VCs, investment funds, and others.
For another perspective on the situation on Celsius Network and how events may unfold, check out Michael's analysis:
Celsius Network – Then And Now
What is Celsius Network?
Celsius Network ($CEL) is a one-stop shop fintech app that offers the ease-of-use benefits of CeFi (Centralized Finance) with the best DeFi offerings. They are a centralized DeFi platform allowing users to deposit funds into custodial wallets on the platform. They also offered a range of DeFi services. These included token swaps, high yields on stablecoins and cryptocurrencies and crypto-backed lending and borrowing.
Celsius had a straightforward dashboard, free inter-account crypto transfers and a variety of DeFi features. Hence, Celsius managed to offer a truly incredible product to over a million customers, attracting industry respect and venture capital. So what went wrong?
The Demise of Celsius Network?
Celsius' demise can be summed up in three parts. Firstly, its problems really started to surface during the LUNA collapse, then followed by a slow unravelling of Celsius' overleveraged. Finally, poorly planned out WBTC and ETH/stETH positions led them to a complete lockdown of their platform.
LUNA/UST Giga Yields
Luna, through its Anchor protocol, promised a "risk-free" 20% interest on their USD-pegged stablecoin, UST. This was a highly popular product right up until its collapse. However, Celsius was also taking advantage of these high yields, which allowed them to offer high yields to customers while taking some profit.
Although this was denied by Celsisus' founder, on-chain investigations by firms such as The Block Research, Hoptrail, and Nansen revealed that Celsius was staking up to $535 million worth of UST on Anchor protocol. Reportedly, prior to the full depeg of UST, Celsius managed to withdraw their funds with minimal damage. This left the Terra ecosystem with half a billion-dollar hole in their pockets. It seems that Celsius managed to get out of that situation mostly unscathed. However, this should've served as a red flag that indicated what kind of risk Celsius is willing to take on.
WBTC as DAI collateral
This one's also pretty straightforward. Celsius used customer's WBTC (wrapped BTC on Ethereum) as collateral to borrow DAI on the Maker protocol. This is so they could stake the DAI stablecoin for very favorable yields. Everything had been going great until BTC prices rapidly tumbled after the UST collapse. As prices tumbled, it was cheaper to keep adding collateral instead of paying off their DAI debt, losing some capital and the DAI yields. This did this likely in hope for a trend reversal or possibly a short-lived BTC relief rally. However, customers' funds were subsidising this collateral.
stETH & locked ETH
Celsius offered their customers an attractive <8% yield on ETH while the best ETH staking deal one could get was by staking their ETH on the Ethereum PoS Beacon chain, which offers ~4.2% yield at best. So how could they possibly deliver such an incredible deal for their customers?
The solution was staked ETH (stETH) which is a liquid ETH derivative offered by Lido Finance. stETH is a fully collateralized representation of ETH staked on the Ethereum PoS Beacon chain. After the Merge, when users can withdraw staked ETH, 1 stETH will be redeemable for 1 ETH. This allows anyone to earn a yield on ETH offered by the Beacon chain without running the staking infrastructure. But, stETH's dollar value is not pegged to ETH's dollar-value. Also, stETH cannot be redeemed for ETH.
So Celsius was doing three things with their customer's ETH to generate the exorbitant yields:
Lending out ETH and earning interest on DeFi protocols (27% of their total ETH);
Swapping them for stETH to generate ETH staking yields and at the same time lending out stETH to provide liquidity and earn interest on Curve Finance, a decentralized crypto exchange. (44%); and
Staking ETH on Beacon chain, rendering it illiquid for at least a year or whenever The Merge happens and the ETH gets unlocked. (27%).
The current issue Celsius is facing is the fact that while swapping an equivalent amount of ETH for stETH, stETH currently is not trading for the same dollar value as its ETH equivalent. This is due to several reasons. As a result, they're currently in possession of roughly $0.94 for every $1 worth of ETH owed to their customers. On paper. In reality, it's much worse than that. Celsius holds ~445k stETH, currently valued at $540 million and cannot all be swapped for ETH on the Curve Finance pool due to lack of liquidity.
So, Celsius was lending 27% of their ETH on DeFi, and swapped 44% of their ETH for stETH. However this stETH is now worth less than ETH. stETH also cannot even be fully exchanged for ETH. As a result, most of Celsius' ETH is illiquid.
Celsius Liquidity Crisis
The situation is getting direr by the day for Celsius. Whilst BTC and ETH prices were tumbling, their ETH liquidity was drying up. Hence they had to top up their WBTC collateral several times from 22k all the way down to 14k to avoid margin calls.
To do this, they've put all withdrawals, swaps, and transfers between accounts on hold since 12th June 2022. Thereby completely locking users out of their assets. This was to prevent a bank run, which would've completely drained Celsius of their holdings.
Celsius files for Chapter 11 bankruptcy
On 13th July 2022, Celsius Network filed for bankruptcy in the Southern District Court of New York. In its announcement that Celsius had filed for Chapter 11 protection. The filing of Chapter 11 bankruptcy protection means that Celsius can continue operating its business and restructure its obligations.
The Company also states it has US$167m cash on hand to support operations during the restructuring processes. It hopes that through the process, it would stabilize its business to maximize value for all its stakeholders.
Will Celsius users get their cryptocurrencies back?
Celsius' Directors justified its earlier decision to pause trading and withdrawals to "… stabilise its business and protect its customers". This is to prevent customers who did not quickly withdraw their funds from being left waiting for Celsius to come up with the liquidity.
In an interview with Cointelegraph, Danny Talwar, Head of Tax at Koinly expressed concerns that Celsius may be like Mt.Gox. Mt. Gox collapsed in 2014 and users still have not seen any of their funds returned.
Celsius has not made any announcement as to whether or not they will reopen the platform to allow withdrawals. In their blog post on 14th July 2022, Celsius stated that:
"Most account activity will be paused until further notice. Withdrawals, Swap, and transfers between accounts will remain paused, and rewards will stop accruing as of the date of the filing. Celsius is not requesting authority to allow customer withdrawals at this time."

Celsius Network blog post
Looking forward, Celsius "…intend[s] to put forward a plan that restores activity across the platform, returns value to customers, and provides choices."
Celsius lawyers: Users gave up legal rights to their cryptocurrencies
Celsius Network's lawyers stated that users with Celsius' Earn and Borrow accounts gave up the rights to their crypto under its terms of service.
According to a tweet from Kadhim Shubber, a Financial Times reporter, Celsius Network's lawyers stated the recovery plan would involve HODLing. They believe customers would be interested in hodl-ing throughout this bear market. Then they would realise their recovery when the market recovers.
For more insights on whether Celsius will make a comeback, check out our latest video: Celsius will come back? Voyager users won't get their crypto?
Celsius to run out of money in October/November 2022?
Celsius was initially expected to run out of money in October 2022 according to their Weekly Cash Flow Forecast filed with the Court. However, an updated Forecast filed on 6th September 2022 shows that the Company will still have US$42 million in cash left by the end of November 2022.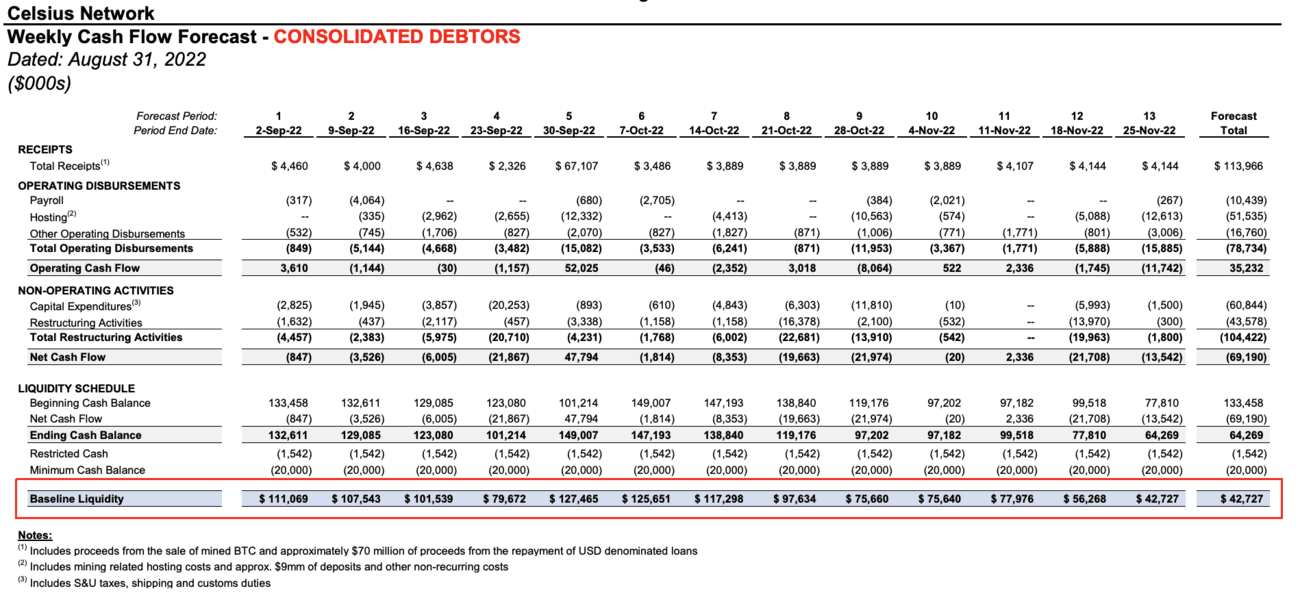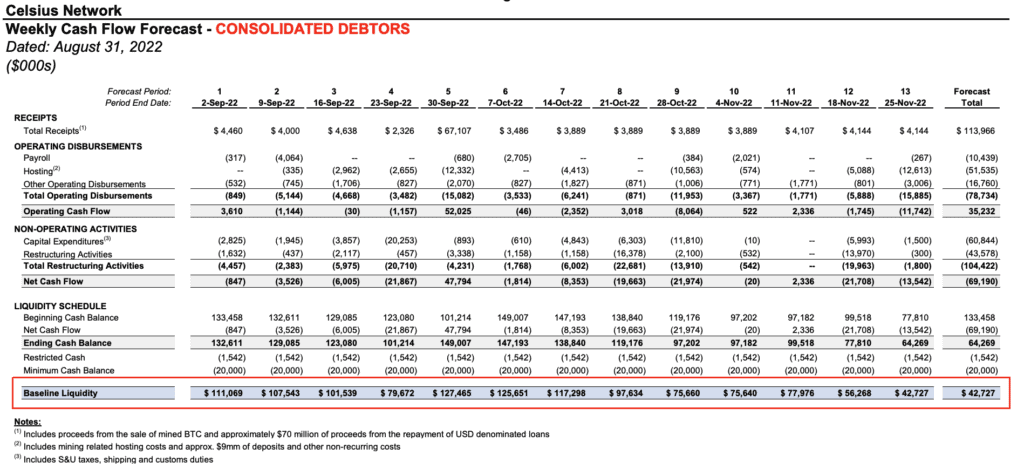 Profiting off the Celsius collapse? What is #CelShortSqueeze?
Twitter hashtag #CelShortSqueeze has been trending even before Celsius Network filed for Chapter 11 bankruptcy protection. #CelShortSqueeze appears to have been set up as a grassroots movement by $CEL token supporters or traders liquidated by $CEL backed loans.
The #CelShortSqueeze movement is an attempt by Celsius supporters to make it harder to short the $CEL token. This is by encouraging others to buy $CEL on exchanges such as FTX or Uniswap, and send the tokens to private wallets. The purpose of this is to take the $CEL tokens out of circulation of centralized exchanges. Hence spot short traders intending to borrow $CEL from exchanges are forced to use decentralized exchanges. This is because on decentralized exchanges, users can set the sell prices.
The #CelShortSqueeze movement seems to be effective in propping up $CEL token prices at or over 80 cents. This is despite the news of Celsius filing for bankruptcy protection. Whilst prices initially dipped to 48 cents right after news of the bankruptcy came out, #CelShortSqueeze supporters helped bring back prices to 80 cents and over.
In a win for #CelShortSqueeze supporters, prices of $CEL pumped to $1.42 on 29th July 2022, the highest in almost 1 month.
The #CelShortSqueeze movement shows what retail investors can be capable of when they band together through the power of social media. There is a lot of uncertainty right now as to what will happen to the $CEL token as Celsius Network is figuring out how to restructure and rescue the company. The restructuring process can take years and it is unknown when Celsius will re-open withdrawals to customers. So Celsius holders are certainly hoping that the #CelShortSqueeze movement does not lose steam until then.
Celsius seeks to open withdrawals for some customers
On 1st September 2022, Celsius filed a Court motion to open certain accounts for customers to withdraw their funds. However, Celsius' motion only applies to Custody and Withold Accounts and for assets with a value of US$7,575 or less. Celsius' Custody and Withold Accounts are basically storage wallets and users still retain legal ownership of their cryptocurrencies. In contrast, Celsius' Earn and Borrow Accounts offer borrowing and annual crypto earnings services. If the Court grants this motion, around US$50 million (out of the US$225 million held in the accounts) will be released to customers.
Whilst some have reacted positively to this news, there are others who point out that this is hardly fair to affected Celsius users. Commentators have pointed out that in any event, under US law, Celsius is unable to avoid transferring sums under this amount if creditors so request.
Celsius co-founder declares shares "worthless"
Daniel Leon, one of the co-founders of Celsius is seeking a Court declaration that his equity in the Company is "worthless". Leon is a substantial shareholder of the Company and holds 32,600 common shares. Shareholders make these declarations during bankruptcy proceedings when they do not think they will receive any further distribution for their holdings. The result of this declaration is that the shares can be used as a tax write-off.
Celsius will be revived as Kelvin- a crypto custody service?
According to an announcement at a Celsius employee meeting on 8th September 2022, CEO Alex Mashinsky and Head of Innovation and Chief Compliance Officer Oren Blonstein plan to revive Celsius. The plan is to launch a project called Kelvin, which will store users' cryptocurrencies and charge fees for specific transactions.
This is a departure from Celsius' existing business model, where Celsius does not charge any fees for transactions, withdrawals, origination, or early termination.
Latest: Celsius leaks customers' personal data-where is the info now?
On 5th October 2022, Celsius filed publicly available court documents revealing personal data on thousands of its customers. The court documents filed by Celsius revealed, among others, customers' names, and transaction information such as transaction amounts, times, types, and descriptions. According to Henry de Valence, Founder of Penumbra Labs, the information leaked by Celsius is sufficient to "dox all the on-chain activity" of any Celsius user by matching the dates and amounts to the blockchain transaction data.
However, this saga is far from over, as the customers' data has recently been made publicly available on a website called Celsiusnetworth.com. The website lets people search the names of Celsius users, along with their cryptocurrency holdings on Celsius. It also included a leaderboard that listed which customers suffered the greatest losses.
Celsius executives and founders withdrew nearly US$35 million before withdrawals were frozen
As a result of Celsius' court filings, it has been revealed that its executives had already withdrawn funds totaling nearly US$35 million in the weeks before withdrawals on the platform were frozen. Filings revealed that ex-CEO and co-founder Alex Mashinsky withdrew around US$10 million from the Celsius platform in May 2022. Meanwhile, co-founder and former chief strategy officer Daniel Leon withdrew around US$7 million, and current chief technology officer Nuke Goldstein around US$550,000.
Celsius paused its withdrawals weeks later in June 2022 before filing for Chapter 11 bankruptcy in July.
A spokesperson for Alex Mashinsky states that the US$10 million withdrawal was planned even before Celsius intended to pause withdrawals, as the funds were used to pay taxes. Also, Mashinsky's family still had US$44 million worth of cryptocurrencies frozen on the Celsius platform.
Conclusion
What becomes of Celsius going forward is unclear. However, what is clear is that time and time again we get to witness the extreme importance of the age-old rules of crypto – be wary if something seems too good to be true, and never put in more than what you can afford to lose.
It is easy to become swept up in the hype, so doing your own research is incredibly important. Thinking critically and understanding the fundamentals can help you avoid a lot of heartache in the future.