Crypto venture capitalists (VC) aim to invest in blockchain projects and companies with high potential. These firms usually provide early-stage startups with capital, guidance, and resources to help them expand. Venture capital firms are crucial to the blockchain ecosystem, as they offer valuable resources that enable projects to grow and scale rapidly. Here's our picks for the top active crypto VCs you should follow and look out for.
What is a crypto VC?
A crypto VC, or crypto venture capitalist, is a type of venture capital firm that specializes in investing in early-stage startups that offer products or services related to cryptocurrency, blockchain technology, and digital assets. They typically fund projects through equity investments, token sales, or other financial instruments. In addition to providing capital, crypto VCs also offer guidance and advice to the startups in which they invest.
What does a crypto VC do?
Crypto VCs fund projects through equity investments, token sales or other financial instruments. In addition, they also provide guidance and advice to the startups in which they invest. Hence, they play a vital role in the blockchain ecosystem by providing valuable resources to support projects' growth and scaling quickly.
What makes a good crypto VC?
There are several factors that contribute to a good crypto venture capital (VC) firm. These include:
Total assets under management (TUM)
This measures the total value of all the investments managed by a venture capital firm. It is used to measure the size and performance of a firm and can indicate its success in attracting investors and making successful investments.
Number of successful investments (track record)
This serves as an indicator of a firm's ability to identify, invest in, and help grow promising businesses. It provides a measure of the firm's performance over time and allows potential investors to gauge the quality and success of the investments made.
Reputation in the industry
A good reputation helps build trust, which is essential for successful fundraising and investment. Additionally, a solid reputation can help to create relationships with the most promising entrepreneurs and startups, leading to more successful investments and higher returns for the firm.
Network and resources
Having access to resources such as industry contacts, financial advisors, legal counsel, and other specialized professionals can help a venture capital firm make informed decisions, maximize investment returns and protect its interests. Additionally, having an extensive network of investors can provide a venture capital firm with additional funding sources for new investments and support existing portfolio companies.
The team
The quality of a venture capital firm's team and staff plays a significant role in the decision-making process. They must be knowledgeable about the industry, have a good understanding of the market, and be able to identify and assess potential investments accurately.
Portfolio projects/companies
The quality of portfolio clients directly affects a crypto VC's return on investment. Venture capital firms invest in companies expecting to generate a significant return. If the portfolio companies are unsuccessful, the venture capital firm won't be able to generate a profit.
As a cryptocurrency trader, it can be helpful to follow these good crypto VC firms. This is because a crypto VC firms offer capital and operational assistance to blockchain startups that are behind innovative, disruptive ideas. The firms spend countless hours of research into finding viable crypto projects with the most potential. Also, the portfolios of crypto VC firms is publicly available, which offer a great opportunity for retail investors to spot the best upcoming crypto projects in the market. Therefore, by following a good crypto VC firm, crypto traders can gain enhanced market insights and stay informed about new opportunities and trends.
Active Crypto VCs to look out for
Based on the factors mentioned above, here are some active crypto VC firms to look out for in 2023.
Sequoia Capital
Number of investments: 1,805
Total assets under management: $85 billion
Sequoia Capital is a highly regarded venture capital firm with a reputation for investing in some of the world's most successful technology companies, such as OpenAI, Apple, Google, and LinkedIn. Its ability to identify and support early-stage startups has earned it widespread admiration from entrepreneurs, investors, and the broader tech community. Notably, Sequoia Capital recently invested US$120 million in LayerZero Labs, a company developing a trustless omnichain interoperability protocol to connect multiple chains.
LayerZero may do an airdrop in the future! Learn more with our LayerZero ($ZRO) Token Airdrop Guide
Coinbase Ventures
Number of investments: 328
Total assets under management: Over 30 billion
Coinbase Ventures was founded in 2018 by the Coinbase cryptocurrency exchange. However, Coinbase Ventures is not directly backed by the exchange and is a separate entity. It specializes in early-stage VC deals and operates almost exclusively in the blockchain and cryptocurrency space. Some of the firm's recent investments include Dolomite.io, Cloudburst Technologies, and zkLink, where it raised US$10 million.
The firm mostly focuses on investing in Decentralized and Centralized finance (DeFi, CeFi), followed by crypto protocols and Web3 infrastructure.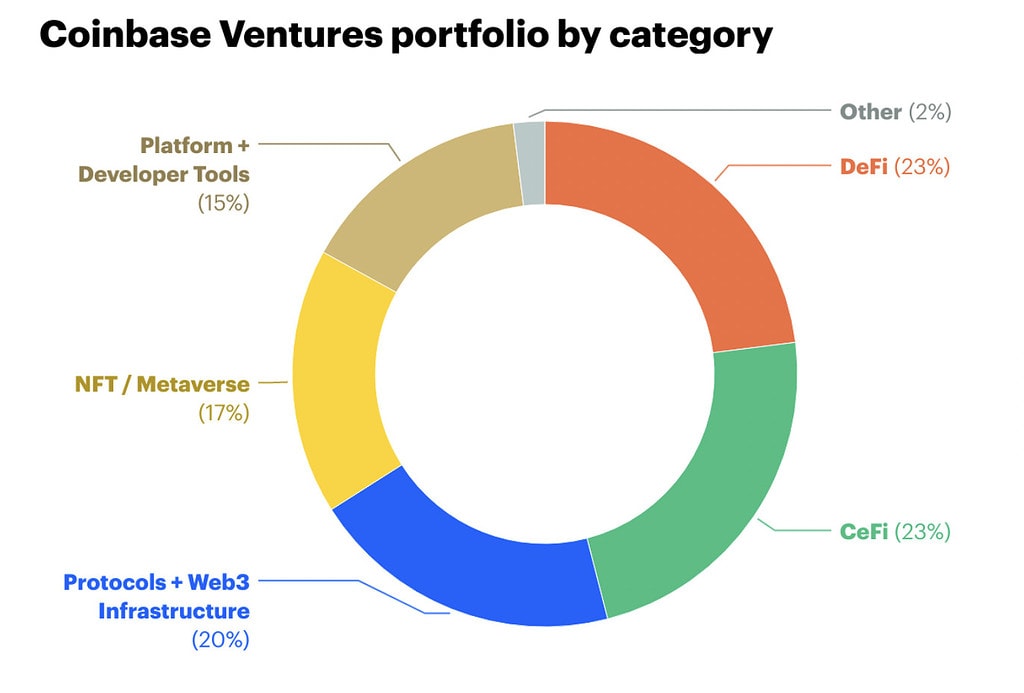 Pantera Capital
Number of investments: 220
Total assets under management: $4.1 billion in blockchain or blockchain-related assets
Pantera Capital was founded on 12th February 2003 by Dan Morehead, a former CFO and head of Macro Trading at Tiger Management. Before 2014, Pantera's focus was on global macro hedge fund investments. Since then, the firm has shifted its investment advisory services to concentrate solely on Bitcoin, other digital currencies, and related companies. Recent investments by Pantera Capital include OmniNetwork and Teahouse Finance. In particular, the recent investments into Prisim Labs and M'ZERO Labs were US$26 and US$22.5 million respectively.
Binance Labs
Number of investments: 90
Total assets under management: $7.5 billion
Binance Labs is a blockchain incubator and venture fund created by Binance, one of the world's leading cryptocurrency exchanges. It has a major following in the industry for its commitment to helping startups succeed in the crypto and blockchain space. Binance Labs typically provides capital to blockchain startups in exchange for a stake in the new business. In addition to providing capital, Binance Labs offers support and guidance to these startups, assisting with developing their product/service, identifying potential customers and partners, and navigating the legal and regulatory environment. Binance Labs also provides access to their network of industry contacts and resources, which can help the startup succeed. Recent investments include Playbux, GOMBLE, Gameta and Polyhedra Network.
Polychain Capital
Number of investments: 198
Total assets under management: $6 billion
Polychain Capital was founded in 2016 by Olaf Carlson-Wee, who was previously an employee of Coinbase where he was Head of Risk. Investors of Polychain include Andreessen Horowitz, Sequoia Capital, Union Square Ventures and Founders Fund. Their latest crypto/blockchain investments include Webb Protocol, Thetanuts Finance, Polyhedra Network and Scroll.io.
Scroll.io plans to release their token around the same time as their mainnet launch in Q2 2023. This could mean a Scroll token airdrop! Learn more with our Scroll token airdrop guide.
Digital Currency Group
Number of investments: 301
Total assets under management: $3.5 billion
Digital Currency Group (DCG) was founded in 2015 by Barry Silbert. DCG has made over 301 investments and has had 36 exits. Some of its most notable exits include Coinbase, Voyager, and Silvergate Bank. DCG has also made 26 diversity investments. The company has six main subsidiaries: Grayscale Investments, Genesis, Foundry US, CoinDesk, Luno and TradeBlock. Grayscale Investments operates a number of publicly-traded trusts that hold cryptocurrency assets like Bitcoin and Ethereum. Genesis is an over-the-counter cryptocurrency exchange that also offers lending services. DCG is a bit quiet on the investment side in 2023, but have made 2 investments into Axoni and Coinflow Labs.
Paradigm
Number of investments: 92
Total assets under management: $1.51 billion
Paradigm was founded in June 2018 and has invested in some of the most successful projects in the space, including Ethereum, MakerDAO, Filecoin, 0x and DFINITY. Paradigm has made 92 investments and has had 5 exits. Some of its most notable exits include Coinbase, Compound, and Tagomi. The Company has only made 2 investments so far in 2023, namely Ulvetanna and Conduit.
Andreesen Horowitz (a16z)
Number of investments: 40
Total assets under management: $4.5 billion
a16z, also known as Andreessen Horowitz, was founded in 2009 by Marc Andreessen and Ben Horowitz. The Company, headquartered in Menlo Park, California, supports bold entrepreneurs who are building the future through technology. They are stage agnostic and invest in seed to late-stage technology companies across various sectors including bio and healthcare, consumer, crypto, enterprise, fintech, games, and companies building toward American dynamism. a16z are the most active VC firms in our list, having made 9 investments in 2023 alone. Their most recent being a US$120 million investment into LayerZero Labs.
Ozaru Ventures
Number of investments: 29
Ozaru Ventures was founded in 2021 and is currently based in Hong Kong. What sets Ozaru Ventures apart from other traditional VC firms is that it has an in-house creative content and PR marketing firm. This gives the Company a leading advantage in boosting the success of its investments in preparation for and after its public launch. Ozaru Ventures boasts an influencer network of over 1000 members and over 100 million followers across various social media platforms. This has allowed the Company to 5x the engagement and 300x the token launch of its portfolio companies. Notable investments in 2023 include an exclusive partnership with Hacken to tap into and promote its presence across Asia, which accounts for over 43% of global cryptocurrency activity.
FBG Capital
Number of investments: 72
Total assets under management: $312 million
FBG Capital was founded in 2015 and currently based in Singapore. They are one of the largest and earliest blockchain investment firms and their portfolio companies include Ampleforth, Dapp.com, FTX Exchange, Neutral Dollar, ThunderCore, and Wintermute Trading. FBG Capital have also been quite conservative in 2023, they have only 1 invested project, namely a US$3m investment in FilSwan.
Union Square Ventures
Number of investments: 414
Total assets under management: $1.5 billion
Union Square Ventures (USV) entered the blockchain and cryptocurrency space in 2011. As of last year, companies in the blockchain/cryptocurrency space made up 15% of its portfolio, and the fund invested in blockchain-related companies for a quarter of its most recent investments. Some of their notable investments in the cryptocurrency space include Coinbase. In 2023, USV made 7 investments, a high number compared to a lot of funds on this list. Of these, notable investments include a $14m and $55m investment into m3ter and Zeitview respectively.
Draper Associates
Number of investments: 355
Total assets under management: $5 billion
Draper Associates is a seed-stage venture capital firm founded in 1985 by Tim Draper, who also founded the Silicon Valley venture capital firm known as Draper Fisher Jurvetson (DFJ). Draper Associates encourages entrepreneurs to drive their businesses to greatness and transform industries with new technologies. The firm has invested in many successful companies, including Tesla, Skype, Baidu, Twitch, and Robinhood. The Company has so far made 9 investments in 2023 in various industries, only 1 of which relates to cryptocurrency i.e. a $4m investment into Amboss.
Conclusion
Crypto venture capitalists are experts in investing in early-stage startups that focus on cryptocurrency, blockchain technology, and digital assets. They provide funding through various means such as equity investments and token sales and offer valuable guidance and advice to the startups they invest in.
While the VC firms mentioned in this article have established themselves as leaders in their field, there are many others that are still emerging. The cryptocurrency and blockchain space is constantly evolving with new companies entering the market. However, receiving VC funding does not guarantee success for a startup. It is ultimately up to the startup to demonstrate that their product or service is a worthwhile investment for VC firms.