YFII (now formally known as DFI.Money) is a fork of the yEarn project (YFI) which offers a different token distribution model where token emissions are halved every week (YIP-8). This economic design encourages active participation in the mining of $YFII whilst allowing late-comers to still earn rewards. YFII functions as a governance token for the community – as tokens are required to vote on new decisions and implementations. As of this article, over $150 Million USD has been locked under the YFII pool 1– signifying the development of a strong community.
YFII is designed to have 3 different pools with each distributing 10,000 tokens on the first week of release (July 27th), with the amount halving every subsequent week.
The developers originally intended to implement this change via a governance vote "YIP8" – however, this was not passed by the community. This has led the creation of the YFII fork which directly implements a weekly halving model for YIP emissions. This has led to growing support for the project, especially in the Chinese community. $YFII shares a 98% code similarity to YFI, with the key difference being the "halvening" added clause – for more information check this comparison.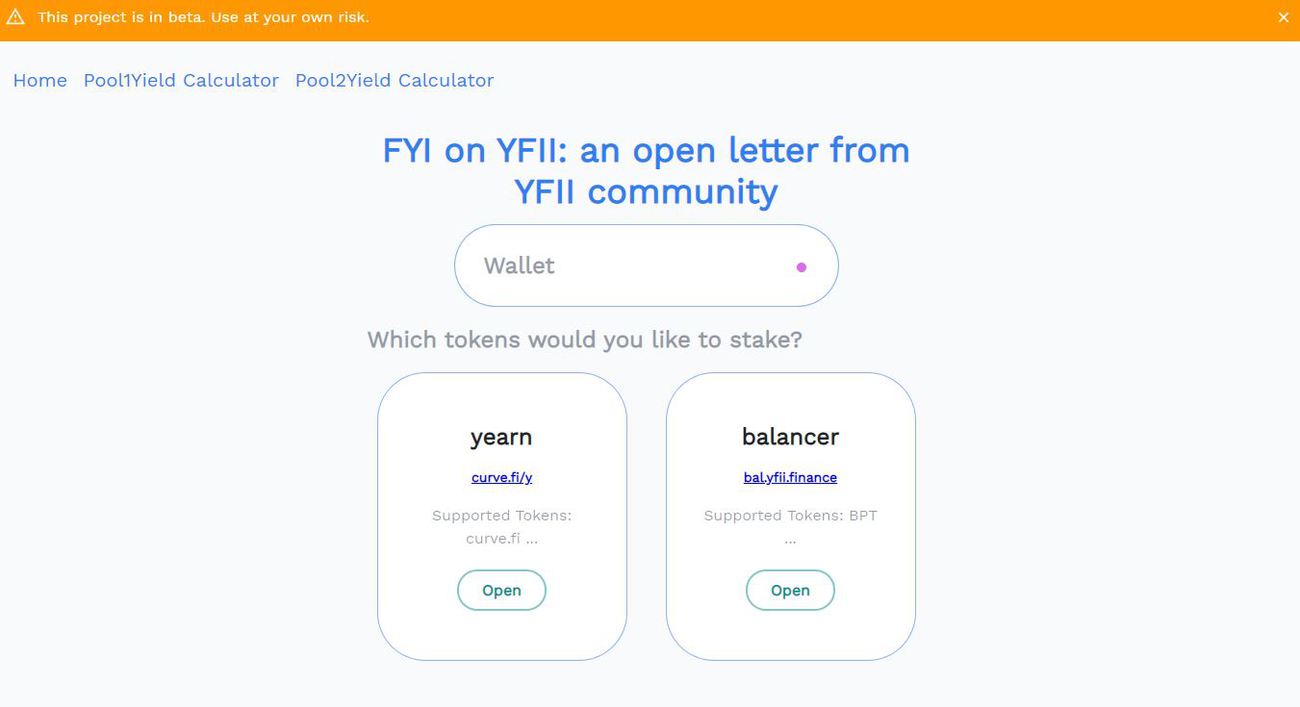 YFII Launch controversies
The launch of YFII was controversial and initially met with scam accusations – as the western community feared YFII was an exit scam. This was mostly due to the presence of potential back-doors such a "minter" and "governance" addresses that could create any number of new tokens (infinite token risk). These issues were later resolved by the burning of the "governance address" and clarification of the "minter" addresses.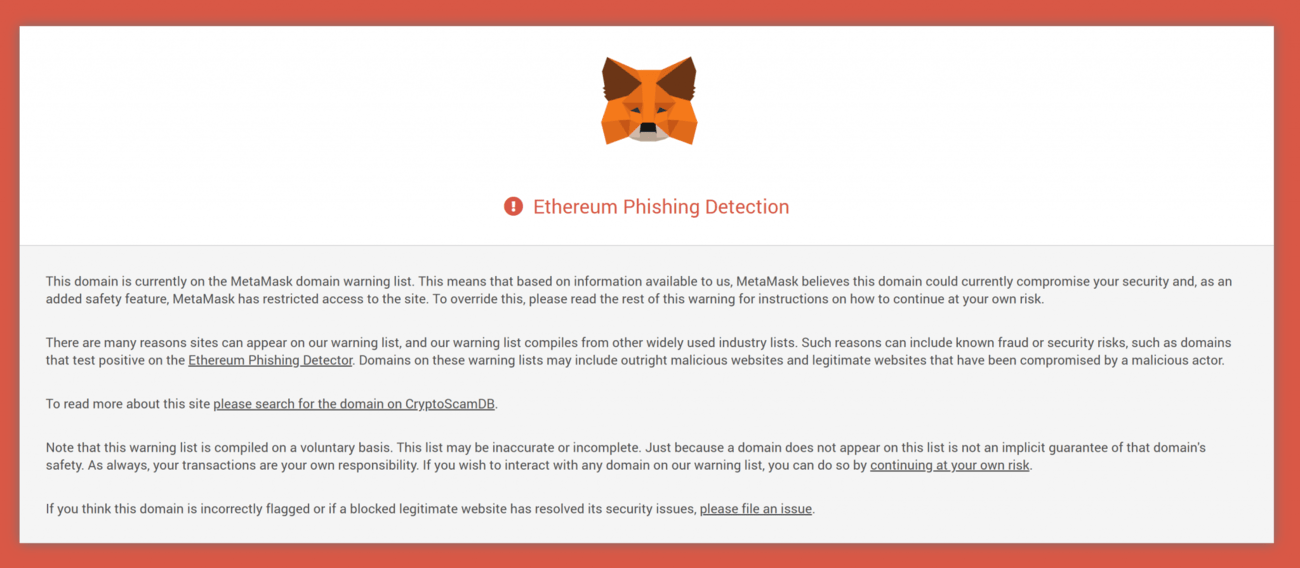 Is it Safe to Yield Farm YFII
YFII is offering very high returns on investment, with pool 2 offering more than 2000% as of this article. The important question now is if it is safe to yield farm YFII. Metamask has issued Phishing warnings for the YFII site, likely a result of initial 'report' submissions warnings against the project.
The key point of contention was the presence of an 'owner key' which could have been used to create an infinite supply of YFII. This issue has been corrected by the community after the owner key was burned – meaning that no new tokens can be created without the community agreeing to it via governance votes. There have also been a few alarms raised by the Balancer project, where the YFII-DAI pool was deleted temporarily.
The Chinese Wechat community has been fast to call out against un-founded pre-justices against the project. Many have called Balancer centralized and potentially untrustworthy after these accusations/frontend censorship.
https://twitter.com/FinanceYfii/status/1288405347976192000?s=20
There is definitely a lot of risks using YFII – as with all decentralized finance projects and smart contracts.
Two Pools
Currently there are two pools to farm $YFI token – each has a distribution of 10,000 per week – decreasing by half every week (see chart below).
To find out more about the estimated Annual Percentage Yield (APY) generated by YFII farming, check out the farming tool by Weeb https://yieldfarming.info/yfii/ycrv/
How do you yield farm YFII
*NOTE: Yield farming is extremely dangerous and can include risks such as infinite mint / smart contract vulnerabilities / token price volatility. This activity is not SAFE and should be viewed as EXTREMELY experimental. You have been warned*
There are three different methods to mine YFII – all of them give different yields of YFII and have different associated risks. It's not necessary to learn all of the methods – rather it's important to understand they have different risk profiles.
POOL 1: This uses the yCurve tokens generated on https://www.curve.fi/iearn.

Log onto https://www.curve.fi/iearn
On the Deposit page, deposit either USDT, USDC, TUSD or DAI
This will generate yCurve tokens
Stake yCurve Tokens on https://yfii.finance/#/ in the "yearn" pool
RISKS: Y Curve Pool uses stable coins and automatically invests them into different protocols. This is considered high risk as any vulnerabilities in any of the protocols can lead to theft of funds.

Pool 2: This uses Balancer's 98% DAI: 2% YFFI liquidity pool

Stake either YFII or DAI in the Balancer Liquidity Pool https://pools.balancer.exchange/#/pool/0x16cAC1403377978644e78769Daa49d8f6B6CF565
This will generate BPT tokens
Stake BPT tokens on https://yfii.finance/#/ in "Balancer (YFII-DAI)" Pool
RISKS: Funds will be used to automate market making – meaning if the is a sudden large sell of YFII, then DAI tokens will be used to buy the YFII. This means price drops/volatility of YFII is a can lead to a reduction of pooled assets.

Pool 3: Staking YFII in the "governance" Pool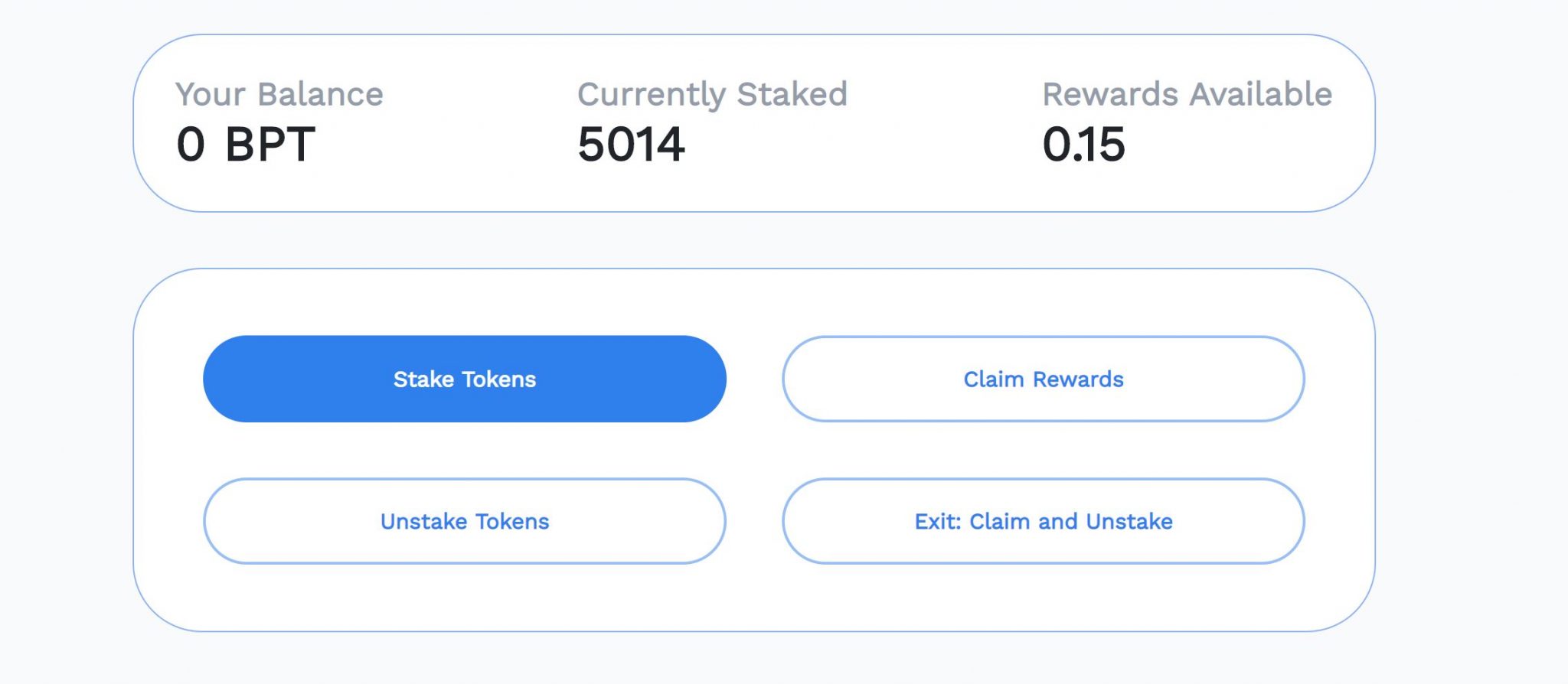 After successful staking, you should be able to see "rewards available" increase over time with more YFFI tokens. Tokens can be claimed at any time using "claim rewards". On top of this, staking staked tokens can also be unstaked at any time with no lockup.
YFII Governance
During the bootstrap phase of YFII, the developers have chosen to use a multi-signature governance model where power is shared between 11 signatories. For a resolution to be passed and enforced, 7 out of the 11 signatories need to approve the action using a gnosis-vault. This is a temporary measure that improves the speed of contract deployment whilst power is transitioned to the YFII governance DAO (YFII voters get to vote on what to implement). More information can be found about the 11 signers & twitter verification here: https://keys.yfii.finance.
YFII distribution
YFII distribution chart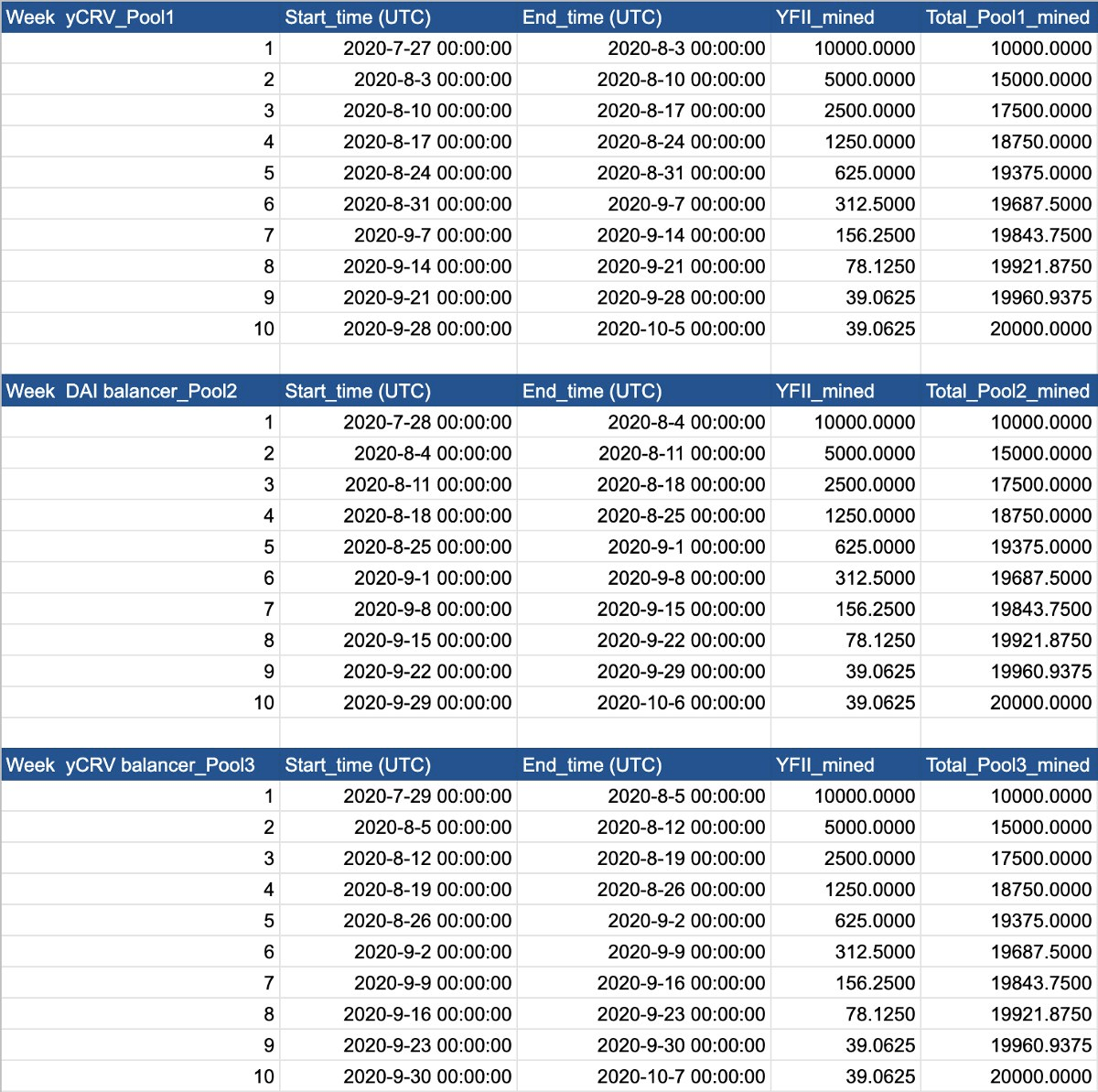 YFII Wechat Group (Chinese)
YFII community has a large Wechat group. To find the group, search myGrassU and type 3 to receive an invite into the group. In an open letter from the YFII community, the creator of YFI was officially acknowledged with a badass photo.
YFII lists on Binance
Binance listed DFI.Money (YFII) on 1st September 2020 with the following trading pairs: YFII/BNB, YFII/BTC, YFII/BUSD and YFII/USDT. No listing fees were paid by YFII for this listing- clearly Binance listed YFII in response to the overwhelming popularity with DeFi farmers and enthusiasts. Popularity and community is a huge factor taken into Binance when deciding what to list, as revealed by Co-Founder and CEO Chengpeng Zhao (CZ) during our interview.
YFII's listing on Binance gave them a huge boost, pretty much doubling the token's value to over USD$8,000 in just one day.
FAQ
Is YFII Safe?
YFII has similar contracts to Synthetix and YFI – so it's not a total scam. However, it has yet to be proven if YFII is safe due to potential mart contract vulnerabilities. YFII has not yet been audited
How do I add to the Balancer Pool 2
Unfortunate Balancer has removed the add liquidity feature on the Pool (due to fears of potential infinite minting risk). To add to Pool 2 you need to use the balancer fork provided by YFII
Decentralised Finance (DeFi) series: tutorials, guides and more
With content for both beginners and more advanced users, check out our YouTube DeFi series containing tutorials on the ESSENTIAL TOOLS you need for trading in the DeFi space e.g. MetaMask and Uniswap. As well as a deep dive into popular DeFi topics such as decentralized exchanges, borrowing-lending platforms and NFT marketplaces
The DeFi series on this website also covers topics not explored on YouTube. For an introduction on what is DeFi, check out Decentralized Finance (DeFi) Overview: A guide to the HOTTEST trend in cryptocurrency
Tutorials and guides for the ESSENTIAL DEFI TOOLS:
More videos and articles are coming soon as part of our DeFi series, so be sure to SUBSCRIBE to our Youtube channel so you can be notified as soon as they come out!
Resources:
YFII Announcement: https://medium.com/@WhiteNoise1984/yfii-innovative-decentralized-defi-mining-pool-d745c032dfc0
YFII Token Address: 0xa1d0E215a23d7030842FC67cE582a6aFa3CCaB83
Unofficial Yield Farming Info:
Pool1: https://yieldfarming.info/yfii/ycrv/
Pool2: https://yieldfarming.info/yfii/yfii_dai/
Disclaimer: Cryptocurrency trading involves significant risks and may result in the loss of your capital. You should carefully consider whether trading cryptocurrencies is right for you in light of your financial condition and ability to bear financial risks. Cryptocurrency prices are highly volatile and can fluctuate widely in a short period of time. As such, trading cryptocurrencies may not be suitable for everyone. Additionally, storing cryptocurrencies on a centralized exchange carries inherent risks, including the potential for loss due to hacking, exchange collapse, or other security breaches. We strongly advise that you seek independent professional advice before engaging in any cryptocurrency trading activities and carefully consider the security measures in place when choosing or storing your cryptocurrencies on a cryptocurrency exchange.