Around a year ago Walmart China, PwC China dn VeChain jointly announced they were setting up the Walmart China Blockchain Traceability Platform. This Platform would allow Walmart China to make use of blockchain technology to trace its products. Consumers would be able to scan the products on the shelf and have access to detailed information on the product, for example, its source, product inspection reports, and logistics process. Their expectation was that by the end of 2020, 50% of sales of fresh meat, 40% of sales of packaged vegetables, and 12.5% of sales of seafood would be traceable.
To find out more about Vechain, read our full guide on Vechain (VET).
Almost a year later, VeChain announced on 2nd June 2020 that Walmart China is committing Sam's Club China, another of its businesses towards collaboration with VeChain.
What is Sam's Club China?
Owned by Walmart China, Sam's Club China is branded as a members-only premium supermarket. Currently, Sam's club has a total of 23 clubs in China. There are plans to expand to have a further 40 to 45 clubs either operational or under construction in China by the end of 2022.
Its clubs are generally large scale supermarkets averaging around 20,000 square meters and offering groceries in bulk and other goods such as household appliances, home goods, etc. Sam's Club maintains its premium branding by providing either the best quality product in a particular category or the best-selling brand at its clubs. Sam's Club also offers its own premium store-brand products called Member's Mark.
Launch of Sam's Club Blockchain Traceability Platform with VeChain
The launch of the Sam's Club Blockchain Traceability Platform coincides with Sam's Club's "Taste of Sam's" campaign. This campaign aims at letting customers experience luxury through recipes featuring premium quality foods and products which can be purchased from Sam's Club.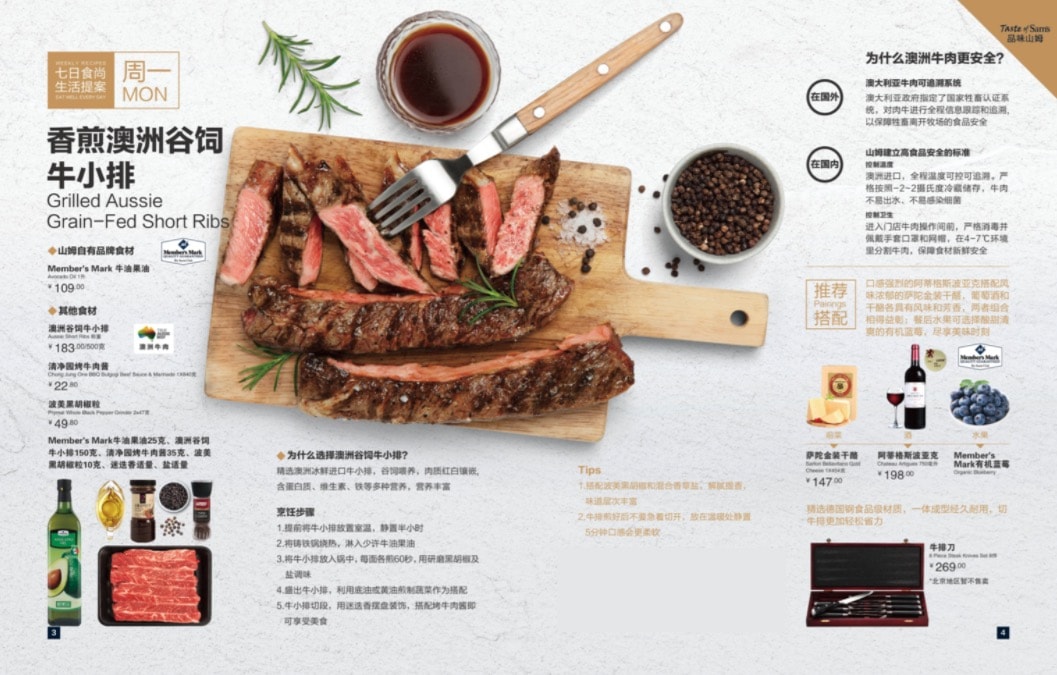 The products featured in the campaign include Member's Mark products which make use of VeChain's ToolChain technology. Combined with cold-chain IoT and other traditional software and hardware sensors, stakeholders in the supply chain will be able to upload data onto the VeChainThor public blockchain. This data would be contained in a secured QR code which would be tagged onto each product. (https://punandjokes.com/) Hence those involved in the supply chain and even the average consumer would be able to scan the QR code using their smartphones to access information on the product such as its packaging information, its origins, storage requirements, etc. And since this data was stored on the VeChainThor public blockchain, it cannot be tampered with.
As an example, in the short rib recipe above, customers can pick up a pack of the short-ribs featured in the recipe from Sam's Club and scan the embedded QR code for more information. The below picture shows the kind of information customers can expect to see. Such as how the product was shipped from its place of origin, the name and location of the manufacturer, best-before times and certification processes.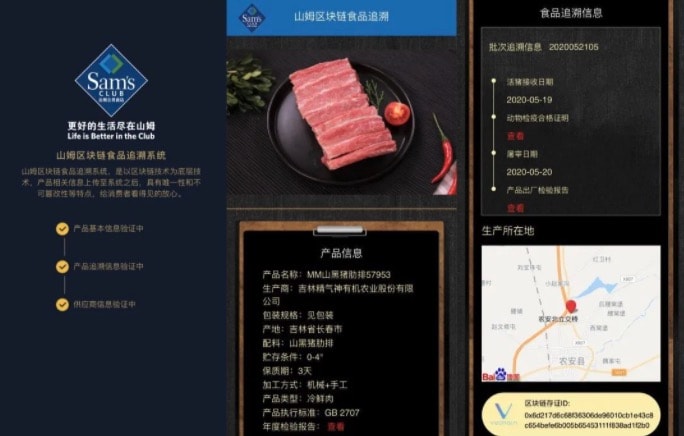 Currently there are over 20 product lines, including Member's Mark products which make use of VeChain's traceability platform. It is expected that more products will be included in the future.