Bayer China announced its partnership with VeChain during an interview with VCBeat on 28th May 2020- a Chinese news publication focusing on health developments in China. For an in-depth guide to what is Vechain and it's core features, check out our Vechain Coin Guide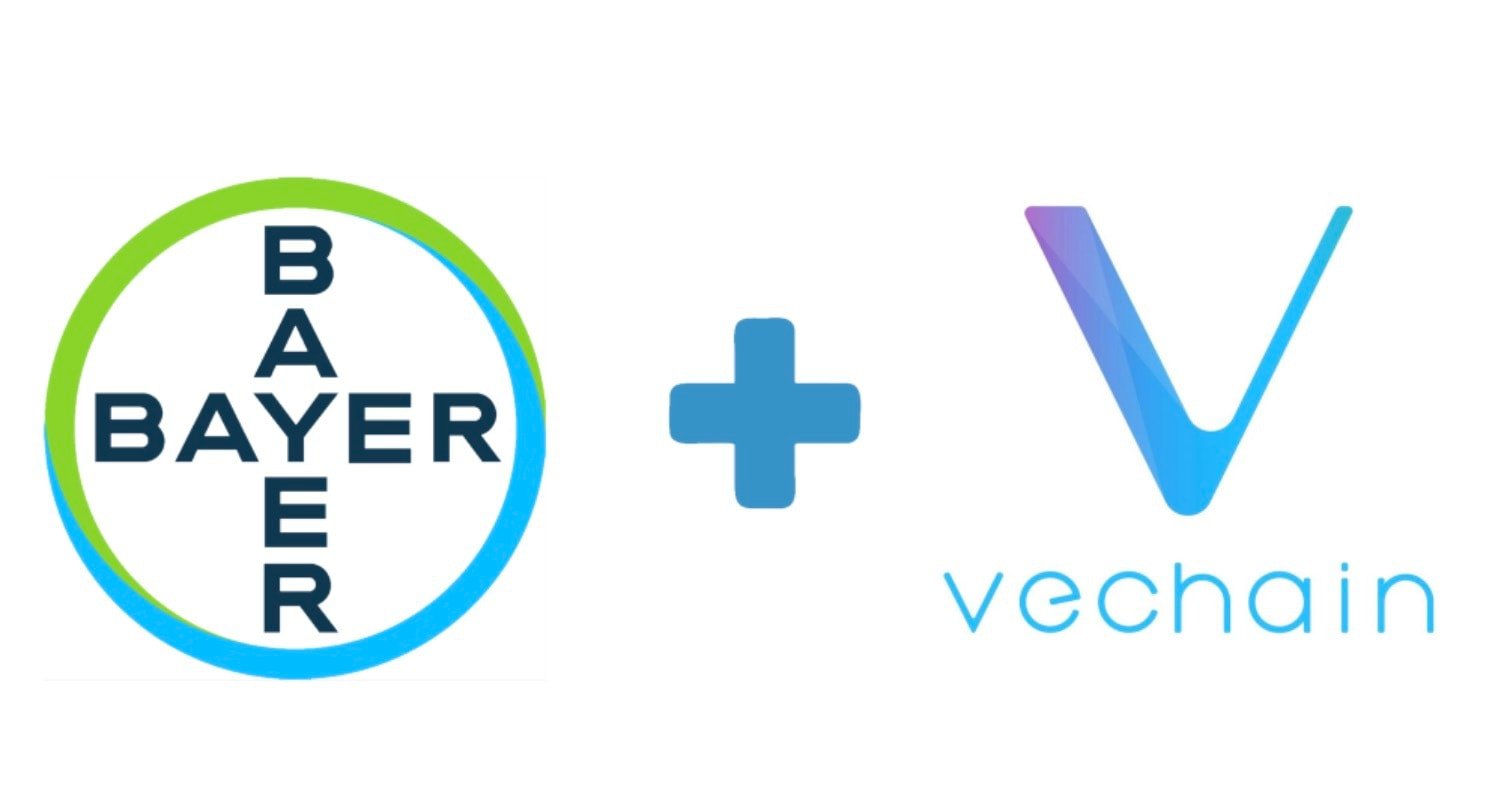 About Bayer China
Bayer has links in China since as early as 1882, focusing on the core competencies in the areas of healthcare, nutrition and agriculture. Their aim is to improve quality of life through research and development on preventing, alleviating and treating diseases, as well as ensuring that consumers get healthy, safe and sustainable food. In 2019, Bayer has over 9,000 employees in the Greater China region and sales have well exceeded 3.7 billion Euros.
VeChain becomes "Partner-for-Life" with Bayer China
VeChain beat out dozens of competitors and won the Bayer China G4A Partnerships Program in 2019. This Program was created by Bayer to give qualified companies funding, mentorship and networking opportunities to its winners. Most importantly, to become a "partner for life" with Bayer so that the company will become a direct partner and be used with Bayer's products and services.
For the purposes of the Program in 2019, Bayer required competitors to solve the issue of Digitised Clinical Trial Traceability. Competitors were required to work directly with Bayer and develop a feasible solution for the issue which would eventually be ready for deployment in line with Bayer's own milestones and planning. At the end of the competition, VeChain was the only company that was able to satisfy Bayer's requirements with its solution- CSecure.
Importance of Digitialised Clinical Trial Traceability
With still so many unknowns in the medical field and novel yet incurable diseases emerging such as SARS-CoV-2, medical researchers are constantly racing against the clock for the sake of saving lives. Thus it is important to ensure that drug clinical trials are conducted efficiently and when lives are involved, without room for any error. In particular, the data that is collected forms the heart of this process, and is a critical part of the research, development and adoption process for any new medical intervention- including drugs and other forms of treatments. Any issues with this data, such as tampering or errors would hence be very detrimental to the trial process, potentially even ruining it and worse, affecting human lives.
Hence a solution is needed to ensure that the data collected during the various stages of the trial process is transparent, secure and credible.
What is VeChain's CSecure platform?
CSecure was created by VeChain as a solution to Bayer's issue of needing digitised clinical trial traceability. The CSecure platform makes use of VeChain's existing product ToolChain– a kit containing all the necessary hardware, software and service protocols to onboard a business onto the VeChainThor blockchain.
With CSecure, data obtained from the various stages of clinical trials for drugs are uploaded on the VeChain Thor Blockchain. So that other stakeholders in the process such as researchers, suppliers, distributors, partners and end users can have access to this data. As the data is recorded on the blockchain, the stakeholders accessing the CSecure platform are assured that the data and transactions recorded are traceable, transparent and auditable. (bricks4kidz.com)
Specifically, each medical product is binded with a QR code with a unique VID (VeChain ID) and recorded on the VeChainThor Blockchain. During the trial process, information that is added to the blockchain is time-stamped, user-identified and cannot be changed. So if there is a discrepancy between the product's digital profile and real-life attributes, the party responsible can be identified and the situation remedied.