Unido ($UDO), powered by Polkadot, provides enterprises crypto-asset management solutions, that specialize in governance, security, and interoperability within the crypto banking sphere guaranteeing the satisfaction of all users.
Background
Powered by Web3 blockchain Polkadot, Unido was founded by Chris Weddle who has over 20 years of experience within the blockchain sector. The project was initiated in 2017 and is anchored by an experienced team of finance experts, software developers, and blockchain developers. They all come from well-known financial and development firms such as Goldman Sachs, Wipro, and Macquarie.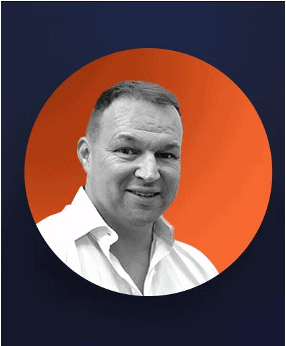 Through the Unido project, the team has successfully managed to solve security and accessibility challenges with its distinct and dynamic implementation of a blockchain-based management tool that facilitates the handling of crypto assets.
What is Unido?
Unido is a technology ecosystem that addresses the governance, security, and accessibility challenges of decentralized applications, and enables companies to manage crypto assets and capitalize on DeFi.
Unido's distinct protocol facilitates investment in DeFi by leveraging its efficient proprietary and multi-sig key signing technology. Furthermore, users have the unique capability to manage crypto banking operations in complete security.
Under the decentralized platform, assets management enterprises and crypto native companies are ensured agility and efficiency for the custody of their respective digital assets. This creates a strong bridge for firms and organizations to interface with DeFi networks as they remain compliant with licensing and regulatory requirements.
The platform's algorithm works best by leveraging, as well as supplying clients with a great deal of crypto trading, payments, and banking solutions.
Through Unido's user-friendly protocol, participants essentially have access to three main features all responsible for the system's special implementation of the blockchain, namely, Enterprise Crypto Banking Suite, DeFi Vault Access, and Governance/Security features.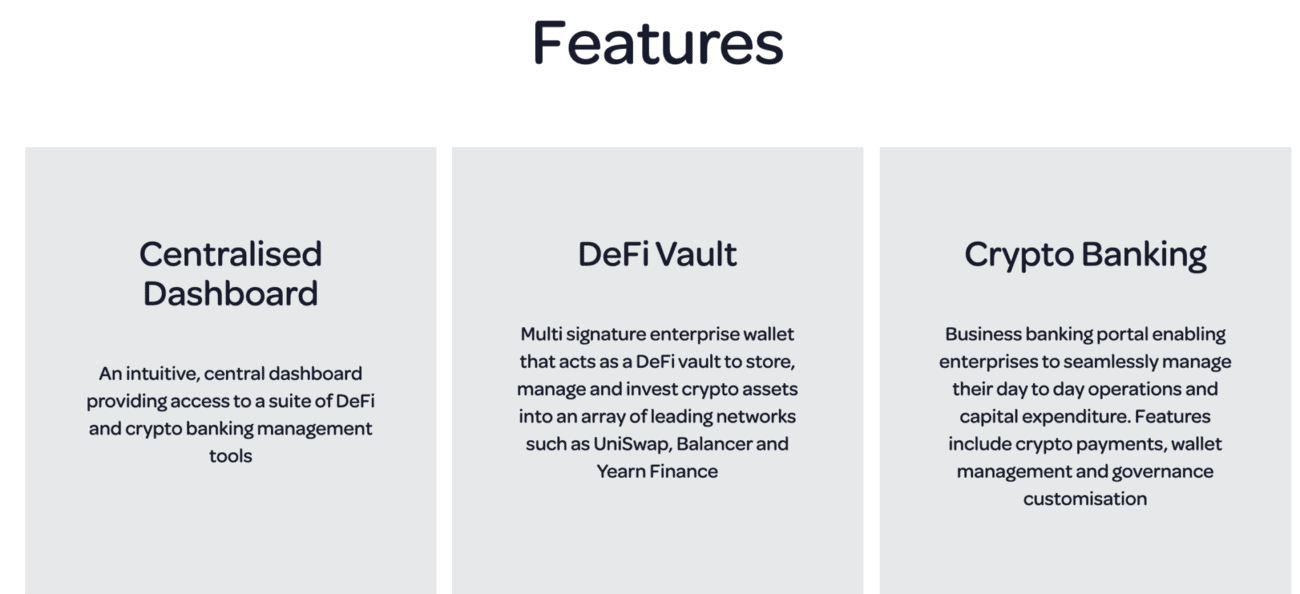 Enterprise Crypto Banking Suite
A business banking portal, through which firms can manage day-to-day operations and capital expenditure. This feature empowers users with a multi-user wallet management protocol that creates, assigns, and manages clients' wallets.
Additionally, it is equipped with user governance tools providing access to rights and access requirements unique to the blockchain solution. Overall, this business banking portal is a simple and intuitive instrument with an interoperable, modular architecture that provides analytics on DeFi transactions, activities, and trends.
DeFi Vault Access
The vault access is a multi-signature enterprise wallet or DeFi vault used to store, manage, and invest digital assets in an efficient and safe manner.
The team behind the wallet describes it as a secured and most importantly, a well-integrated bridge into several prominent DeFi investment solutions such as UniSwap, Yearn Finance, and Balancer. Additionally, the vault provides users with a complete overview of investment opportunities within the DeFi space, as well as potential returns and benefits within specific DeFi networks.
Supported by a portfolio performance dashboard, this feature facilitates the management and investment of digital funds.
Governance and Security
Through this blockchain-based feature, the Unido enterprise platform (EP) provides users with an array of security and management instruments ensuring the safety of all funds within the platform.
The Unido platform guarantees blockchain-based security and agnostic architecture, rendering it versatile and applicable to any given on-chain use cases. Powered by a key signing technology, Unido EP ensures flexible and trustworthy governance, which provides assets access only to permitted entities and parties.
Unido Token ($UDO)
The platform's utility token, $UDO, is the fuel behind Unido's efficient implementation as it is used to drive network access, ensure transaction security, governance, and network management. Overall, the token is built on a trustworthy smart contract algorithm guaranteeing the development and expansion of the Unido network in the future.
Furthermore, the token facilitates access to the platform's variety of products to all users, including institutions and developers. UDO has three main use cases, being network access licenses, consumption fees, and DAO Governance.
$UDO Tokenomics
Total Supply: 115,000,000 UDO
Initial Market Cap: $487,813
Seed/Private/Pre-Public Sale Fundraising: $1,400,000
Seed Sale: $0.04, 0% TGE, 20% monthly unlock
Private Sale: $0.05, 25% TGE, 25% monthly unlock
Public Sale:: $0.06, full unlock
Deflationary Economics:
Phase 1: From consumption fees, 60% burn, 20% to EDF, and 20% into reserve. Phase 1 when token supply is reduced by 20%.
Phase 2: After enterprise products take off, 50% of fees to be invested into EDF & 50% into reserve.
UDO Use Cases
Network Access License
All applications and Unido EP features will only be available via a license purchasable with the UDO token. Once the license is bought, the tokens are removed from circulation and placed into a secured smart contract until the license eventually expires.
Companies are provided with annual licenses for the Unido platform, where fees are determined by the volume of usage for the target clients and the number of users.
Consumption Fees
All fees and consumption charges within the Unido ecosystem and auxiliary platform will be based on the volume of usage within the platforms. Additionally, UDO will be used to authenticate each transaction within its parent platform.
All operations from developers will either be charged under a subscription model, Freemium model, paid model, or In-App model, all depending on the user specifications and needs.
DAO Governance
In general, the DAO will oversee Unido's Ecosystem Development Fund (EDF) and allow for the subsidizing of new applications implementation and development, which will contribute to the diversification of the platform.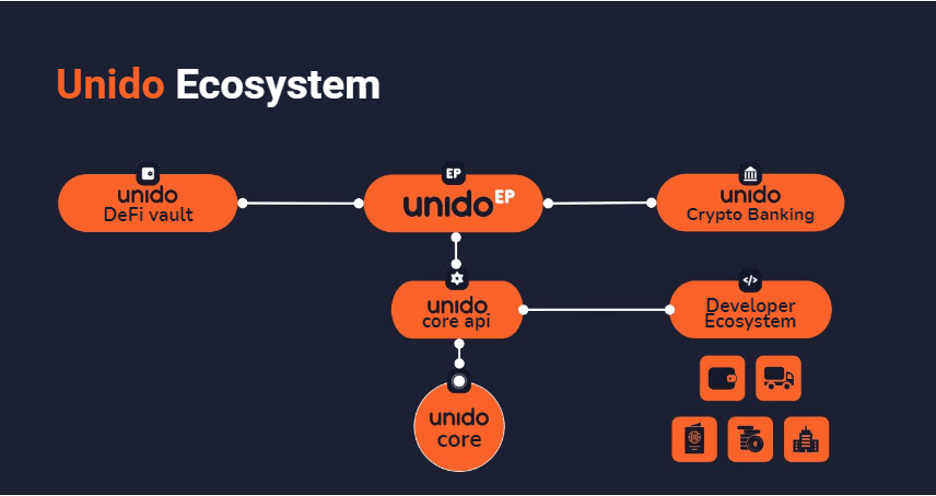 Conclusion
Unido EP aims to be a leader within the blockchain space by spearheading the race toward mass adoption; especially within the traditional financial sector. The platform's drive to provide secured banking management tools is a great boost for wide DLT acceptance.
Overall the Polkadot-based platform is a dynamic implementation of decentralized technology, which guarantees total accessibility and security through key features lacking in most solutions of its genre on the market.
Unido Enterprise Platform is ahead of the curve as it provides a sure connection with blockchain giants, ensuring its growth and development in the future. Unido will likely become a leader within the blockchain given the protocol's current algorithm and products.
Decentralised Finance (DeFi) series: tutorials, guides and more
With content for both beginners and more advanced users, check out our YouTube DeFi series containing tutorials on the ESSENTIAL TOOLS you need for trading in the DeFi space e.g. MetaMask and Uniswap. As well as a deep dive into popular DeFi topics such as decentralized exchanges, borrowing-lending platforms and NFT marketplaces
The DeFi series on this website also covers topics not explored on YouTube. For an introduction on what is DeFi, check out Decentralized Finance (DeFi) Overview: A guide to the HOTTEST trend in cryptocurrency
Tutorials and guides for the ESSENTIAL DEFI TOOLS:
More videos and articles are coming soon as part of our DeFi series, so be sure to SUBSCRIBE to our Youtube channel so you can be notified as soon as they come out!
Disclaimer: Cryptocurrency trading involves significant risks and may result in the loss of your capital. You should carefully consider whether trading cryptocurrencies is right for you in light of your financial condition and ability to bear financial risks. Cryptocurrency prices are highly volatile and can fluctuate widely in a short period of time. As such, trading cryptocurrencies may not be suitable for everyone. Additionally, storing cryptocurrencies on a centralized exchange carries inherent risks, including the potential for loss due to hacking, exchange collapse, or other security breaches. We strongly advise that you seek independent professional advice before engaging in any cryptocurrency trading activities and carefully consider the security measures in place when choosing or storing your cryptocurrencies on a cryptocurrency exchange.