What is Sui?
Sui is the world's first permissionless Layer 1 blockchain completely designed from the ground up. They are a decentralized, proof-of-stake blockchain with horizontally scaleable throughput and storage.
Ex-members of the Meta team came together to form Mysten Labs– the company behind Sui. They are also building Move, which is an open-source smart contract programming language.
However, Sui is not a derivative or an add-on of the Diem network. Instead, it is a step-function advancement in blockchain technology that is designed to allow creators and developers to build experiences for web3 users.
Who is the team behind Sui?
Evan Cheng, Adeniyi Abiodun, Sam Blackshear, George Danezis and Kostas Chalkias co-founded Sui. They are co-founders are former senior leaders of Facebook's (Meta) advanced blockchain research and development organization. They were responsible for delivering some of the most advanced open source components such as the programming language, execution engine and cryptography of the Diem network.
What are Sui's main features?
Sui has the following main features:
Sui is able to scale horizontally without any upper bounds. This enables them to meet application demand whilst maintaining extremely low operating costs per transaction.
The design of Sui is groundbreaking in that it eliminates a critical bottleneck in existing blockchains. In traditional blockchains, transactions (though independent of each other) are pushed into sequential blocks which creates wasteful computational power. Sui's innovation is that they will organise data into independent objects, meaning that transactions can be executed in parallel.
The network is also able to scale throughput horizontally because it enables parallel agreement on causally independent transactions. They achieve this through Byzantine consistent broadcast, which eliminates the overhead caused by global consensus yet without sacrificing safety and liveness guarantees.
Sui's unique features mean there will be unmatched scalability and instant settlement of transactions. The platform can scale horizontally to meet the increasing demands of applications. Sui's authorities can add workers to increase processing power in order to meet growing network capacity. The result of this would be lower gas fees even when network traffic is high, and thus better user experiences for web3 apps.
How do users participate in Sui?
There will be 3 types of participants: Users, token holders and Validators.
Users will be responsible for submitting transactions to the platform in order to create, change and transfer digital assets or interact with more complex applications.
Token holders have the option of delegating their tokens to validators and participating in their proof-of-work mechanism. SUI token holders also have the right to participate in Sui's governance and decide on the future direction of the project.
Validators manage the processing and execution of transactions on the Sui platform.
Who are Sui blockchain's investors?
Sui has so far raised US$36 million in Series A funding. Sui's Series A funding round was led by Andreessen Horowitz's a16z. Other participants in Sui's funding include Redpoint, Lightspeed, Coinbase Ventures, Electric Capital, Samsung Next, Slow Ventures, Standard Crypto, NFX, and Scribble Ventures, among others.
Mysten Labs' Series B funding round is well underway, with Sui being valued at over US$2 billion. Mysten has recently closed a US$300 million fundraise led by FTX Ventures. Other Series B investors include Coinbase Ventures, Jump Crypto, Circle Ventures, a16z (again), Binance Labs, and O'Leary Ventures, among others.
What is the $SUI crypto token?
The SUI token is the native asset of the Sui platform with a total supply capped at 10,000,000 (i.e. 10 billion). A portion of SUI's total supply will be released at the mainnet launch of the platform. The remaining tokens will be vested over the coming years or distributed as future stake reward subsidies.
The SUI token will have 4 main purposes: Staking, gas fees, as an underlying asset of the economy, and lastly for governance. Specifically:
SUI can be staked in order to participate in the platform's proof-of-work mechanism.
SUI is the asset used for paying gas fees required to execute and store transactions or do various operations on the platform.
SUI is used as an asset on the platform with all the standard features of traditional money- used as a unit of account, a medium of exchange, and a store of value. It can even have more complex functions enabled by smart contracts across the Sui platform.
SUI token holders have the right to participate in on-chain governance voting on various issues affecting the Sui platform such as protocol upgrades.
What is the $SUI token allocation?
Over 50% of $SUI tokens will be held by the Community Reserve, which will in turn be managed by the Sui Foundation. The Community Reserve intends to use the SUI tokens through various community programs. For example:
Delegation Program: The SUI Delegation Program will allow community members seeking to run a validator to apply for delegated $SUI tokens. This helps bootstrap community-run validators and promotes an even stake distribution across the network validators.
Grant Programs: $SUI tokens will be distributed directly to developers, community ambassadors and others who are building or creating educational materials for Sui.
Research and Development: Tokens will be allocated for the advancement of the Sui protocol.
Validator Subsidies: Tokens will be distributed to subsidize staking rewards.
As for the remainder of the $SUI tokens, 20% will go to early contributors, 14% to investors, 10% to the Mysten Labs Treasury, and 6% to the Community Access Program and App testers. Click here for more details on SUI tokenomics.
Those who are eligible under the SUI Token Community Access Program will either receive retrospective rewards or be able to participate in the Recognition Sale. There will also be a General Sale. However, these are subject to geographical restrictions.
Will there be a $SUI token airdrop?
Sui had a $SUI token airdrop for its Testnet Wave 1 and 2 validators. Validators were rewarded with 2,000 SUI for every testnet "wave" they participated in. The airdropped tokens were subject to a 1-year vesting period. Although registration has been closed, there is a possibility of a third testnet "wave". However, in their latest blog post, it seems that an airdrop is unlikely. Instead, Sui has announced a SUI Token Community Access Program which will distribute retrospective rewards or allow access to an earlier Recognition Sale to those who are eligible.
Learn more about the Community Access Program and how to check your eligibility here: Sui ($SUI) token airdrop guide.
$SUI token sale details?
There will be 2 rounds of SUI token sale, the Recognition Sale and the General Sale. Note there are exclusions for participating in the token sales.
Sui has confirmed it will officially launch its mainnet on 3rd May 2023.
For more details on the SUI token sales for each exchange, see here: Bybit, KuCoin, OKX.
Sui Recognition Sale
The Recognition Sale is only available to those whitelisted by the Sui Foundation. Those who are eligible can purchase up to 1,500 SUI from a pool for US$0.03. The tokens will be fully unlocked during the mainnet launch on 3rd May 2023.
According to Sui, over 340k Discord accounts were eligible for the Recognition Sale, and 180k accounts made submissions. Sui randomly selected submissions, and it is estimated that around 96k supporters will be able to participate in the Recognition Sale. Sui has emailed these allowlisted participants with instructions. S
The following exchanges will participate in the SUI Recognition Sale: ByBit, KuCoin and OKX. SUI Tokens will be distributed to successful Recognition Sale participants at the following times:
Kucoin: From 01:00 on 2nd May to 09:00 on 3rd May UTC
Bybit: 06:00 on 3rd May UTC
OKX: 06:00 on 3rd May UTC.
We suggest signing up for Bybit because they have the largest number of tokens allocated for sale compared to KuCoin and OKX (94M SUI vs 25M SUI). This means you are more likely to get an allocation compared to the other 2 exchanges.
Sign up for Bybit here:

Sui General Sale
General Sale participants will be able to purchase up to 10,000 SUI at US$0.10. Only KuCoin and OKX will be hosting the General Sale, and each exchange has been allocated 225m SUI for sale in this round. Here are the details for the General Sale on KuCoin and OKX:
KuCoin: Subscription period ends on 22nd April 2023 at 16:00:00 UTC, ticket draw will be announced on 23rd April 2023 at 13:00 UTC. Tokens will be distributed on 2nd May 2023 at 01:00:00 UTC.
OKX: General Sale subscription period will be from 23 April 2023 02:00 UTC to 24 April 2023 02:00 UTC. Tokens will be distributed once mainnet launches.
SUI tokens bought during the General Sale are subject to a vesting period. 1/13 will be unlocked at the Token Generation Event (TGE). After 30 days, an additional 1/13 will be released monthly. So that all purchased tokens will be released within twelve months from the TGE date. All purchased tokens will automatically be sent to your exchange wallet.
What is the Sui economic model?
There are five major components of the Sui economic model: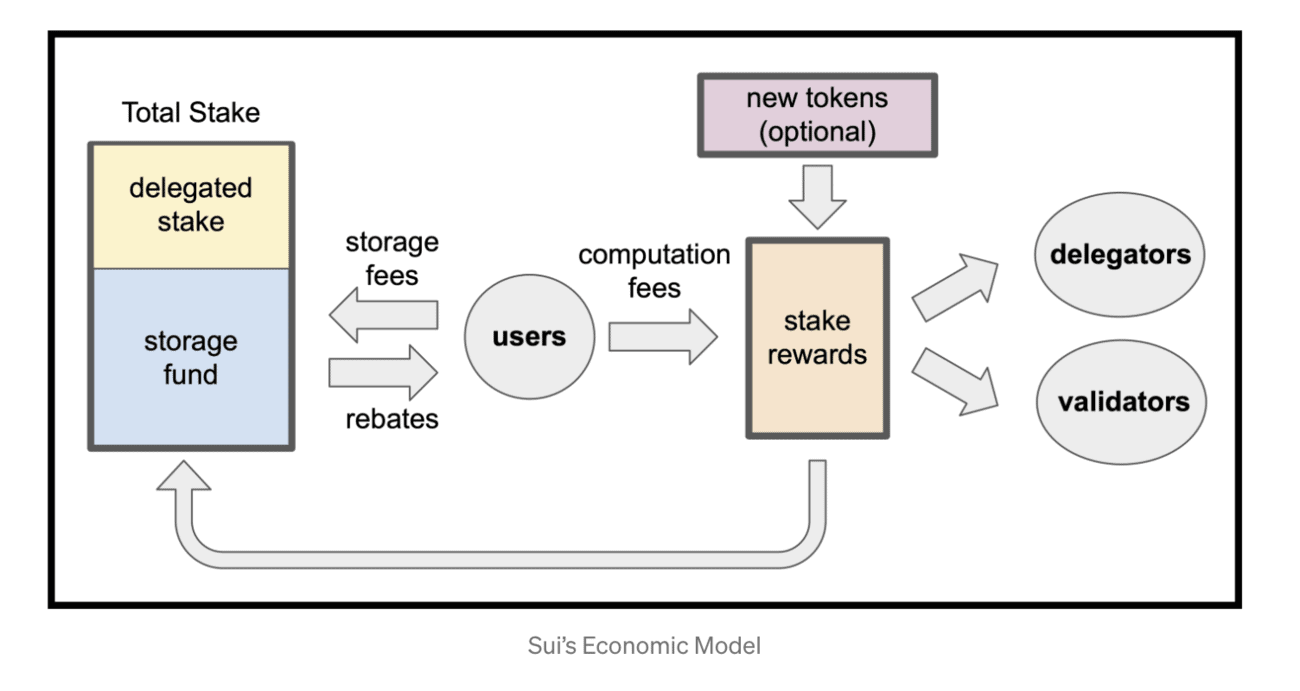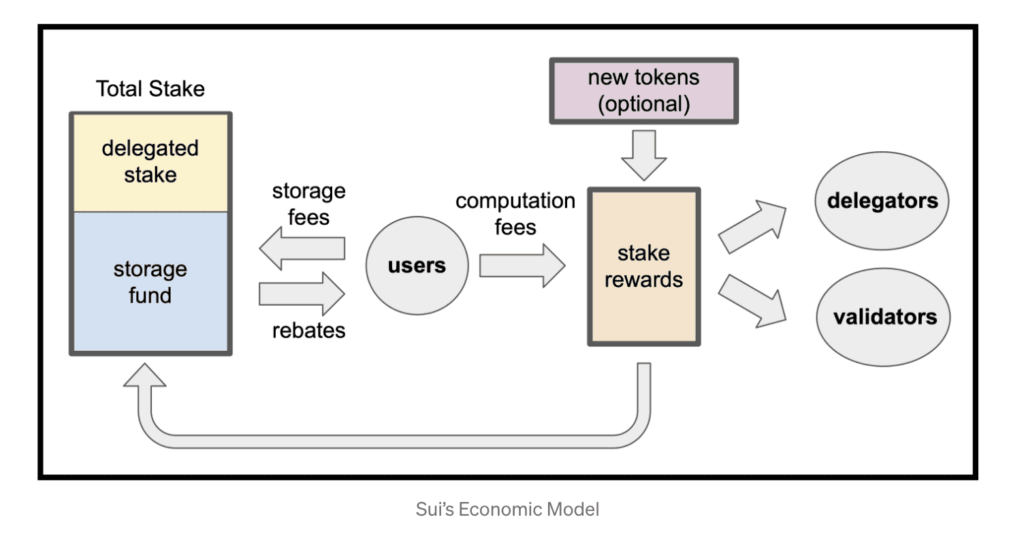 SUI token: the platform's native token.
Gas fees: all network operations on the platform require gas fees. Gas fees are rewarded to participants in the proof-of-stake mechanism. It can also be used to prevent spam and denial-of-service attacks.
Storage fund: This fund is used to redistribute past transaction fees to future validators. That is, users will pay fees upfront for both computation and storage. The storage fees which are collected are deposited into a fund used to adjust the future share of staking rewards. This is so that when there is a high demand for on-chain storage, validators will receive additional rewards to compensate for their costs. When demand is lower, rewards will also be adjusted accordingly. Users however will be able to save funds through a "deletion option" which allows them to delete previously-stored on-chain data. By exercising this option, users can receive a storage fund rebate.
Proof-of-stake mechanism: Used to select, incentivize and reward platform operators i.e. the validators and SUI delegators.
On-chain voting: for voting and deciding on governance and protocol upgrades.
What is the Sui Explorer (Suiscan)?
The Sui Explorer (known as Suiscan) was launched in August 2022 and is a trusted transparency tool for those who are using and building on Sui. The main purposes of the Sui Explorer are as follows:
Maintain the most updated and accurate on-chain data, activity, and metrics;
act as a fast, reliable, and transparent tool for debugging issues and auditing;
enable the lookup, verification, and tracking of assets and contracts; and
provide useful smart contract development and features that will be unique to Sui Move.
Major features of Sui Explorer are as follows:
Sui Explorer builds on existing blockchain explorers by providing go-to-definition support for all smart contracts. Clicking on any struct will direct users to the package and defining module which improves code navigation, readability, and learnability;
object details are rendered recursively, thereby providing an optimized view of objects on the Sui Explorer;
address details are divided into (1) Coins; and (2) NFTs for convenient navigation. Users will be able to have a clear view of the assets and transactions with this address. Coins that are of the same type are also automatically aggregated. However, an expanded paginated view of the information is also available;
transactions will show more details such as gas fees paid, objects updated, token amount and the relevant addressing. For some transactions, additional information such as bytecode of published modules and emitted events can also be included;
Sui Explorer will also have a validator table and node map showing the active full nodes and their locations. The purpose of this is to provide information on Sui's network operations as the network continues to mature.
Suiscan is currently running on Devnet and eventually also on Testnet when it is live.
What is the Sui Wallet?
The Sui Wallet allows users to create addresses and view and manage their assets on the Sui network. The Sui Wallet can also interact with dApps. Similar to MetaMask, Sui Wallet will be a Google Chrome extension so users can simply access it on their Chrome browsers.
What is the development progress of Sui?
Sui has confirmed it will officially launch its mainnet on 3rd May 2023.
Frequently Asked Questions (FAQs)
When will Sui be released?
There is no release date for the Sui platform yet.
When is the SUI crypto token sale?
There is currently no information on when the SUI token will be sold.
When is the SUI ICO?
No announcement has been made on the timing of the SUI ICO yet.
Is Sui the same or related to Aptos?
No, Sui and Aptos and completely different and unrelated projects. The only connection between the two projects is that both teams have previously worked in blockchain development at Facebook (Meta).
When is the Sui mainnet launch?
Sui has confirmed it will officially launch its mainnet on 3rd May 2023.
Will there be a Sui token airdrop?
There is no official announcement of a Sui token airdrop. Instead, it seems that there will be a Community Access Program which will not involve airdrops.