REVV is the currency of purchase, utility and action for Animoca Games' motorsports games. Animoca Games is a blockchain gaming firm and global game developer which leverages popular brands such as Power Rangers, Masterchef etc., together with gamification, AI, blockchain and mobile technology to create gaming apps.
Check out my debate with Co-Founder and CEO, Yat Siu where we debated whether Non-Fungible Tokens (NFTs) are the NEXT BIG THING, and I did NOT hold back playing Devil's Advocate:
Background
Animoca Brands released its own utility token called REVV to power its blockchain-based gaming platform. The goal of the team is to build an ecosystem that will link the economies of their company's games together.
Animoca believes that REVV's presence in all its blockchain games will help attract more people to their platform and add value to the token for accessing a larger consumer base. REVV is designed to be the "currency of purchase, utility, and action" for the ecosystem's gaming titles.
According to recent reports in July 2020, Animoca has already reached over $4 million in revenue, with $1.8 million from their assets kept in cryptocurrency holdings.
"Revv can be used right now for our time trial games and soon also to buy and trade our NFT and game assets," said Yat Siu, co-founder of Animoca Brands.
Here's our video on NFTs and what they can do for gaming.
What is REVV?
REVV is a non-fungible cryptocurrency token based on the Ethereum blockchain. It is utilized as a medium of exchange for REVV's ecosystem, as well as Animoca Brands' gaming platforms like F1 Delta Time.
REVV is already available on Uniswap, one of the biggest exchanges in the DeFi space today. Trading began against ETH last September 4, with an initial token price of $0.00666.
REVV is one of the latest additions to projects aimed at improving the adoption of NFTs, which many consider to be a hundred million dollar market. A similar project named SAND, established under The Sandbox, a mobile gaming platform, was also recently listed on Binance.
REVV ecosystem
The REVV ecosystem is a collection of games whereby players can use the REVV token and the NFTs across their games. Their first games will be F1 Delta Time (an official product of the FIA Formula One World Championship) and its upcoming MotoGP title. F1 Delta Time is expected to be released in November 2020, whilst the MotoGP title will be released in Q4 2020. REVV is also planning a third blockchain game soon and it is expected to also be based on a global racing franchise.
Furthermore, with REVV's partnership with Atari, Atari's classic motorsport video games Night Driver and Fatal Run will also be joining the REVV ecosystem.
REVV token
REVV token acts both as a utility token as well as the in-game currency of the motorsports games produced by Animoca brands. There are two features of the REVV token:
Play Utility: REVV can be used by players to enter Grand Prix and Time Trial game modes. There is a set fee for the Time Trial, with the Grand Prix priced on a tier-basis. Higher tier games require more REVV, which also secures more rewards for the best performers.
The Tyre Durability systems also require REVV. To maintain the durability of a player's tyres in the game, they have to pay in REVV for restorations depending on their condition.
Purchase Utility: REVV can be used to buy F1 Delta Time 2020 Collectibles.
REVV NFTs
REVV is already selling their NFTs for F1 Delta Time. On the F1 Delta Time NFT marketplace on OpenSea, there are already 11,427 items listed and 571 owners.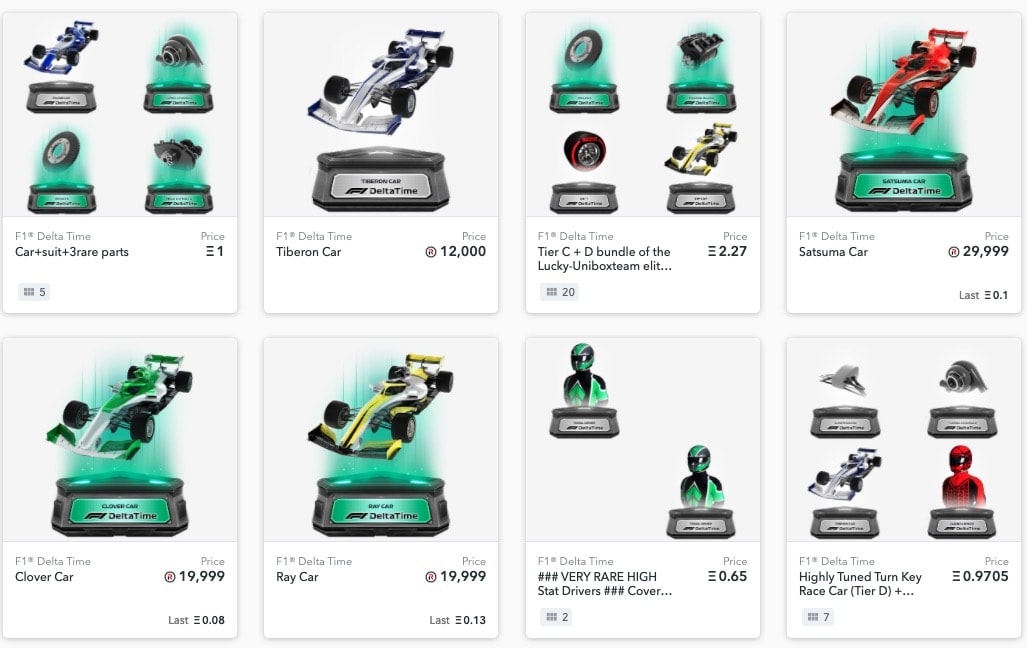 Once the F1 Delta Time game is launched, the NFTs will become usable in the game for example to upgrade their cars, drivers, racetracks etc. Once more games under REVV are released, it is expected that the NFTs can be used in these other games too. In addition, these NFTs have value as collectables since Animoca Brands holds the licenses to both Formula One and Motor GP brands.
REVV Pools
REVV keeps a pool of tokens created to support the F1 Delta Time ecosystem. The allocation in REVV pools, however, can still be changed in the future depending on the outcome for other titles.
Reserve: 200,000,000 REVV is kept for future use as a back-up fund as the ecosystem continues growing.
Game Operations: 273,980,000 REVV is allocated to the primary pool of the game. It will be used to support the reward mechanism of the platform.
Staking: 6,020,000 REVV is allocated for its 2019 staking run, but the staking pool for 2020 can include REVV allocated in the Game Operations Pool, Reserve Pool, or both.
Marketing and Promotions: 20,000,000 REVV is allocated from promotional airdrops.
Staking
Staking on Animoca Brand's game, F1 Delta Time will be available from 15th September 2020 onwards. Users who stake their F1 Delta Time car NFTs will enable them to earn REVV tokens. How many tokens you would be entitled to is determined mainly by how rare the NFT is, with rarer items being able to generate greater returns.
30mil REVV tokens have been allocated to the staking pool for users to claim. From 15th September 2020 (HKT), the first round of staking will begin for 4 weeks. A total of 2.04mil REVV will be available for claim. After this, there will be a further 12 week period of staking where 10mil REVV is up for grabs.
More details on the staking feature are available here.
Rewards: how to earn REVV
There are two ways to receive REVV. One is by participating in its sale, another is by playing the game.
Promotional: Verified accounts on the F1 Delta Time will receive 50 REVV upon joining the game. Those who also participated in the game's 2019 Crate Sale will be given REVV based on the category of the crate they are holding.
The cut-off period for this set of rewards is yet to be announced but will be published soon.
Play-to-Earn: REVV will also be given as a reward for players depending on their race car NFTs and other gaming features. Gaming modes such as Time Trial and Grand Prix also entitles players to some REVV rewards, especially those who are included in the game's Leaderboards.
Another opportunity to earn comes in the form of dividends doled out to Track owners since these are also considered "ownable NFTs." These owners will be given a proportion of their share in the total amount of REVV spent by players to race in that Track.
Recent Updates
From the time that they announced the sale of REVV on Uniswap, seven million tokens were sold out in just 20 minutes.
Included in their roadmap are plans on expanding their ecosystem to GAMEE and QUIDD, both of which are gaming and collectible companies that they have acquired in July this year and August last year, respectively.
Partnership with Atari
On 12th October 2020, REVV announced its partnership with iconic video gaming company Atari. Atari owns and/or manages a portfolio of over 200 games and franchises such as Asteroids, Pong and RollerCoaster Tycoon.
The partnership was in the way of a token swap whereby the 2 companies have agreed to swap USD$625,000 worth of each others' tokens. Specifically, Animoca will provide 5mil REVV tokens at USD$0.025 per token, in exchange for 7,812,500 ATRI tokens, along with its other tokens it is in the process of being listed. 90% of REVV and ATRI will be locked for 18 months from the delivery date, whilst the remaining 10% will be unlocked on the first day the tokens list on an exchange.
Conclusion
It is definitely good to see that the expansion of use cases for the blockchain has already reached a lot of individuals. Real-life or digital activities tapping into the power of blockchain does not merely stimulate more innovation, but also help facilitate mass adoption.
The first step in mass adoption is to convince the public about the ease of transactions that can be made in crypto, as well as the capacity of these digital currencies to be used as a store of value.
And we have made enormous progress so far in the last decade. Innovations like REVV give people the opportunity to make crypto transactions with utmost convenience and security, which is exactly what blockchain has promised since its inception. It is also bringing cryptocurrency into the world of gaming, which most people have been hotly anticipating as the most likely route to mass adoption.
Disclaimer: Cryptocurrency trading involves significant risks and may result in the loss of your capital. You should carefully consider whether trading cryptocurrencies is right for you in light of your financial condition and ability to bear financial risks. Cryptocurrency prices are highly volatile and can fluctuate widely in a short period of time. As such, trading cryptocurrencies may not be suitable for everyone. Additionally, storing cryptocurrencies on a centralized exchange carries inherent risks, including the potential for loss due to hacking, exchange collapse, or other security breaches. We strongly advise that you seek independent professional advice before engaging in any cryptocurrency trading activities and carefully consider the security measures in place when choosing or storing your cryptocurrencies on a cryptocurrency exchange.