PlotX allows people to plot the next possible outcome and are rewarded for correct predictions. This whole concept originates from prediction markets. Prediction markets such as sports betting are expected to reach a valuation of $155.49 billion in the United States by 2024. The markets have also been supported by the uptake of online casinos and betting sites. In some cases, more than a few players have tapped into the power of blockchain technology to provide transparency in a market that has been kept in secrecy and under unfair setups.
With the growing popularity of open finance (OpFi), blockchain-based platforms are helping users to predict the direction of the market and, just like in the traditional prediction market, be rewarded if their prediction is correct. PlotX is one such platform.
Check out my interview with Ish Goel, Co-founder of PlotX:
Background: Who is behind PlotX?
The project lives by the popular mantra by Abraham Lincoln that the future can only be predicted by visualizing it in the present. PlotX has a dedicated team led by Ish Goel, Nitika Goel, Kartic Rakhra, and Satheesh A. Furthermore, the team's vast experiences are spread across various sectors.
For example, Ish Goel has been involved with Ethereum since 2016 and won the London Blockchain Week Hackathon in 2017. Meanwhile, Nitika Goel led the development of Nexus Mutual and co-founded GovBlocks. PlotX's key partners also include GovBlocks, Matic, and Venrai.
What is PlotX?
Built on the Ethereum blockchain, PlotX is a network that seeks to make trading in decentralized finance (DeFi) "simple and fun!" by powering a prediction market with cryptocurrency traders in mind.
At the heart of the platform is a decentralized application (Dapp) that enables virtual currency traders to forecast the future of Bitcoin (BTC), Ether (ETH), among other cryptocurrencies in a weekly, daily, and hourly basis. The project also takes decentralised finance (DeFi) platforms such as Uniswap that use an automated market maker model into consideration.
Notably, the decision to provide market predictions stems from somewhere, i.e., the problems found in centralized platforms offering prediction services. The major problems include the high cost of using conventional systems, assuring fairness, and counterparty risks.
Tried but failed, time to do it again
Although the creation of cryptocurrency-centric prediction markets has been tried on decentralized systems, the time was not ripe. Therefore, it saw little, if any, adoption.
Being a DeFi-focused prediction platform, PlotX aims to power crypto-based predictions using distributed ledger technology. It enables on-chain market creation using smart contracts. PlotX enables participation mining via a gamified experience by drawing inspiration from yield farming or liquidity mining as used in DeFi protocols.
Additionally, PlotX seeks to provide instant rewards, short market cycles, and employ a mechanism that spreads the risks. Spreading risks enables a user to tailor his exposure to mitigate losses emanating from wrong predictions. With this option, users lose roughly 20% of their total prediction stake.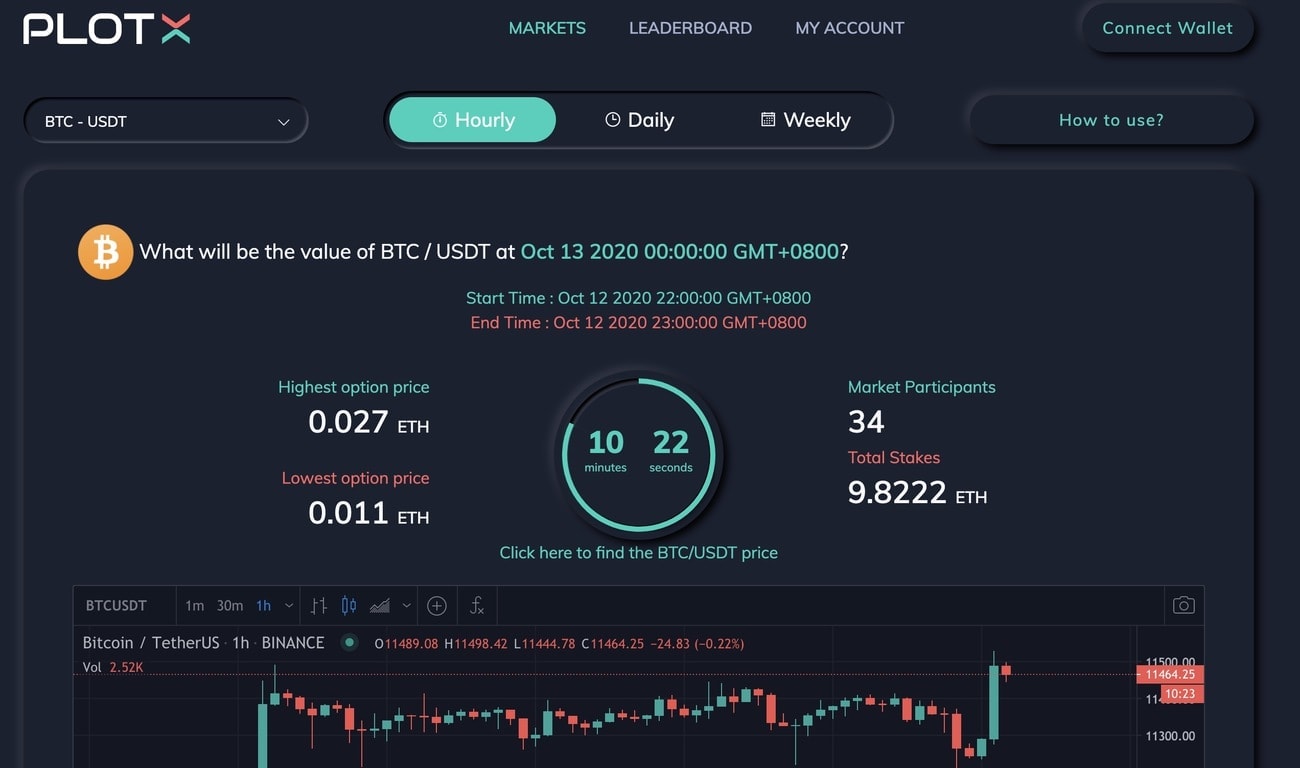 However, the staked amount can be customized to mirror the users' risk appetite starting from 1x, 2x, 3x, 4x, and 5x. Note that the higher the risk, the higher the reward and potential loss.
Governance on PlotX
The protocol employs a community-based governance model through the use of a decentralized autonomous organization (DAO) that votes and initiates proposals regarding changes to the system.
This approach plays a vital role in providing on-chain governance in a blockchain-based prediction market. However, for non-blockchain dispute resolution, the platform has an advisory board. The board does not have any rights to funds, and its roles grow weaker as the community grows stronger.
To power this model, the platform mirrors the approach used by Nexus Mutual. In addition, it incorporates smart contracts built on the GovBlocks network to strengthen community involvement.
The platform also uses smart contracts that allow decision points to be edited, token holders to raise issues, as well as enable the token holders to reach an agreement.
PlotX's components of a healthy DeFi prediction protocol
How does PlotX create a healthy DeFi prediction protocol? This is through several features in the PlotX protocol as follows:
Market creation – This handles the network's creation of different cryptocurrency pairs for prediction. A typical market on the platform can be, "What will be the price of ETH/BTC on October 17 at 1800hrs GMT."
Market positioning and pricing – A position can range from neutral, to bullish, to bearish and can only be influenced by a user's experience on digital currency trading. A formula is used to calculate a position price on-chain. The odds are changed in regards to participation.
Position buying – Buying into a position requires a user to stake crypto such as ETH. A user can buy into more than one position depending on the amount of token's staked, the amount required for each position, etc.
Positions trading – Here, users can trade positions in a decentralized way and exit positions before they expire.
Market settlement – Closing prices are calculated from data provided by distributed oracles such as Chainlink.
Market reward claims – Rewards are distributed once the market closes. However, the distribution of rewards is halted in case of a dispute until the dispute is resolved. However, a dispute can only be raised within the cooling period, given after the market closes.
PlotX Alpha and PlotX Token ($PLOT) use cases
Alpha is a version of PlotX existing on Ethereum's Kovan testnet network. Although the system largely uses ETH when making predictions, it has a native token called PLOT. The token allows for:
· P2P commissions.
· Referral mining – Existing users can invite friends and family and be rewarded.
· Community mining – Attracting more people into the platform using mineable airdrop rewards.
· Play mining – Users are rewarded for staking PLOT before participating in market predictions.
· Governance mining – The voting strength depends on the amount of PLOT staked.
· Liquidity mining via staking.
PlotX ($PLOT) mainnet launch and listing
On 13th October 2020, PlotX will be launched on the Ethereum mainnet. Upon launch, BTC/USD and ETH/USD trading pairs will be available for users to predict on using PLOT and ETH.
On the same day at 1:00pm (UTC), its native token PLOT will be listed on Uniswap.
Conclusion
Being a non-custodial protocol, PlotX users access the platform using their MetaMask wallet or any of their mobile wallets. The network's users can also sign in using their email addresses. However, they have to integrate centralized finance bridges to enjoy the benefits of a prediction market in the DeFi world.
The project's reliance on the Ethereum blockchain and the ETH token allows its users to optimally interact with OpFi protocols since most of them are built on the same chain. With online prediction markets gaining traction in the centralized space, PlotX provides a superior service for those in the decentralized world.
Decentralised Finance (DeFi) series: tutorials, guides and more
With content for both beginners and more advanced users, check out our YouTube DeFi series containing tutorials on the ESSENTIAL TOOLS you need for trading in the DeFi space e.g. MetaMask and Uniswap. As well as a deep dive into popular DeFi topics such as decentralized exchanges, borrowing-lending platforms and NFT marketplaces
The DeFi series on this website also covers topics not explored on YouTube. For an introduction on what is DeFi, check out Decentralized Finance (DeFi) Overview: A guide to the HOTTEST trend in cryptocurrency
Tutorials and guides for the ESSENTIAL DEFI TOOLS:
More videos and articles are coming soon as part of our DeFi series, so be sure to SUBSCRIBE to our Youtube channel so you can be notified as soon as they come out!
Disclaimer: Cryptocurrency trading involves significant risks and may result in the loss of your capital. You should carefully consider whether trading cryptocurrencies is right for you in light of your financial condition and ability to bear financial risks. Cryptocurrency prices are highly volatile and can fluctuate widely in a short period of time. As such, trading cryptocurrencies may not be suitable for everyone. Additionally, storing cryptocurrencies on a centralized exchange carries inherent risks, including the potential for loss due to hacking, exchange collapse, or other security breaches. We strongly advise that you seek independent professional advice before engaging in any cryptocurrency trading activities and carefully consider the security measures in place when choosing or storing your cryptocurrencies on a cryptocurrency exchange.