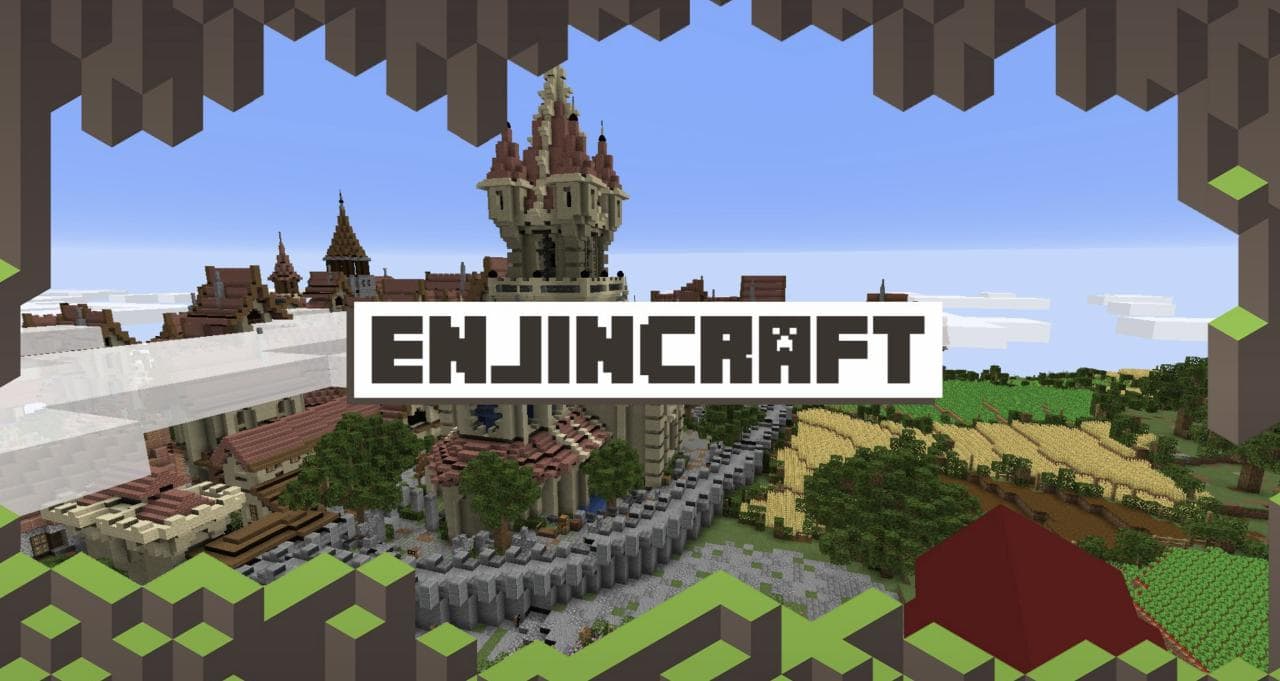 EnjinCraft breathes new life into Minecraft by bringing the best of digital economies and Non-fungible Token (NFT) collectibles. Whilst Minecraft is the biggest sandbox game in the world, it has always lacked a true economy. Enjin's new Minecraft integration and SDK allow players to truly own items and move them across servers. With the launch of the Minecraft plugin on the 28th of May 2020, server owners can use a simple plugin to allow blockchain items to be used in their Minecraft worlds.
With Enjincraft, players can equip ERC-1155 assets directly as Minecraft items. This also allows for the trading of items outside of the game and into the Enjin Wallet. Enjin's new integration allows for the direct trading of ERC-1155 assets, Ethereum and Enjincoin directly in Minecraft.
Players will be able to enter "Enjincraft" and find treasures such as swords, armor, and tools in the game. After finding these items, players can have true item ownership as they are Non-Fungible Assets (ERC-1155 tokens). Items can be directly stored in the Enjin Wallet, allowing for easy trades or even melting.
First Enjincraft World
Enjincraft's first world is filled with quests, stories and many explorable towns and cities. For those daring to explore, the world is packed with treasure chests and mysteries that can be solved. Treasure chests in the game give out real ERC-1155 items that have value based on Enjin Coin.
For beginners, the world map is very handy as it marks all the main locations in the game. This map could be discovered in Witek's House in the first city (follow the main road into the town).
Binding Enjin Wallet
Players can keep valuable items Enjincraft via the Enjin Wallet. The onboarding process is very simple:
Login to enjincraft.com
Game will give you a 5 character binding code.
Open up Enjin Wallet on your mobile phone
Navigate to "Linked apps"
Select the wallet and enter the binding code
This process should take around 1 minute and after which the account will be bound and ready to play. The wallet status will display as linked and the Enjin Coin panel will show the ENJ and ETH balance of the wallet. This makes Minecraft very much similar to Massively Multiplayer games like World of Warcraft.
Enjincraft ERC-1155 Items
Enjincraft Items are cross server and can move between realms. Currently owners of the items could be explorered using the Enjinx blockchain explorer.
Check out our Enjin Guide to learn more.
What is EnjinCraft?
EnjinCraft is Enjin's newest plugin for Minecraft servers. The EnjinCraft plugin will enable server owners to fully integrate a blockchain economy  into Minecraft.
This means that Minecraft server owners will be able to provide players with tangible ownership of in-game assets and currencies. The in-game assets can be used in server owners' chat rooms, websites and the Enjin Multiverse.
Stormwall is an example of Enjin's multiverse assets is Stormwall. It is a playable item created by Enjin that can be used in 32 of Enjin's games.
DonationCraft was Enjin's first Minecraft plugin. It allowed MineCraft servers to accept Paypal and credit card payments. According to Enjin, DonationCraft has over 5 million downloads and allowed server owners to make millions of dollars.
As first reported by Asia Crypto Today, to introduce people to Enjin's MineCraft plugin, Enjin has launched the closed beta version of EnjinCraft Server One, a Minecraft server built with Enjin's plugin.
EnjinCraft Server One has blockchain-based Minecraft weapons, armor, and accessories for players to find and win.
In-game items are backed with Enjin Coin (ENJ). Players can get Enjin Coin by melting them via the Enjin Wallet. After melting Enjin Coin, it can be transferred into other cryptocurrencies. Enjin Coin can also be used to purchase gift cards from mainstream retailers. For example, Amazon, Apple, and Uber.
Enjin Blockchain SDK for Java
The SDK for Java allows Java developers to create and integrate blockchain assets onto their platform.
For Enjin's Java SDK, the Company has adopted an open-source codebase. Therefore, Java SDK users can modify and build upon the SDK however they want. Enjin mentions that they encourage the spirit of collaboration and hopes users can use the SDK to build things they could never have imagined.
Users will be able to use Enjin's platform to integrate a blockchain economy onto their servers. This will mean users can integrate blockchain economies onto games, web applications and even andriod apps.
You can start building with the Blockchain SDK by creating an Enjin account here.
By signing up with the Enjin Spark early adopter program, users will be given various early adopter benefits. This will help them market, fund and monetize their projects.
You can sign up for the Enjin Spark program here.
Conclusion
Seeing in-game items as mere pixels is a thing of the past. Enjin is allowing developers to integrate blockchain economies into the online world through with Enjin's Java SDK.
And with MineCraft Server One, Enjin is showing how these economies can work in mainstream gaming. We will hopefully finally see a win-win situation for developers and players. Developers are able to generate more profit. Whilst allowing players to earn real life value through in-game items.
To learn more about check out our Enjin Review.