Elrond is a high-performance blockchain that aims to provide extremely high network speeds of up to 10,000 transactions per second. The network supports smart contracts, thus allowing programmers us the WASM VM engine to develop both enterprise and commercial decentralized applications. Elrond promises 'internet-scale blockchain' as its extremely fast and scalable nature means it can handle all the stresses of modern applications and allows the masses to access the digital economy. The platform native currency, $ERD, is used as a form of value transfer on the network and will also be required to interact with decentralized applications.
On 30th July 2020, Elrond launched its mainnet.
Built from scratch with a leaning on high performance, the Elrond Network promises a 1,000 fold improvement on costs, speed and most importantly throughput. The project itself compares what it is building with the transitioning from dialup to broadband and how massive this could be to the general blockchain sphere.
Components of the Elrond Network
Keen on breaking barriers and innovating, the Elrond Network architecture brings forth a genuine state Adaptive sharding scheme and merges that with a secure proof of stake consensus algorithm.
The core components of the Elrond Network are as follows:
Virtual Machine: creating a trustless network, eliminating intermediaries from where smart contracts are executed seamlessly and in a scalable manner.
Adaptive State Sharding is in place to reduce energy or computational wastage while ensuring the network can practicably scale. To that end, the Scheme boosts communication between Elrond Network shards or partition of nodes. Note that each shard can only process a portion of the transaction. And as more users plugin, the network automatically scales as shards increase. At the same time, there is an improvement in storage and transaction processing capabilities because of sharing of resources.
Proof of stake consensus algorithm is a channel through which there is a haphazard sampling of network validators. Sampling is from the previous signature of blocks and each signature, in turn, is from a network validator voting from a Byzantine Fault Tolerance consensus.
Key Features of the Elrond Network
From the above components, the Network is different from the rest. It is efficient with low latency while remaining secure and scalable. Specifically, Elrond has the following features:
Because of Adaptive State Sharding, the network is inherently scalable.
There is an incentive for participation through staking because of the secure Proof of Stake consensus algorithm.
The interface is intuitive and easy to use as unnecessary hardware mechanisms are absent.
There is minimal wastage of computational as well as power translating to a low cost per transaction.
Clearly, Elrond developers are going to great lengths to differentiate themselves from other networks. For example, compared to Ethereum which is still using the proof of work consensus algorithm for their processing but plans to shift, Elrond's use of SPOS brings above cost saving and better efficiency.
Besides, for interoperability, their Virtual Machine is compatible with Ethereum's. Meanwhile, same with Algorand, Elrond's developers incorporate Random Selection but diverging from Algorand approach on scalability, Adaptive sharding by default gives them an edge. At the same time, the use of adaptive sharding taking into consideration state and transaction sharding overruns Ziliqa's take.
Elrond Economic Model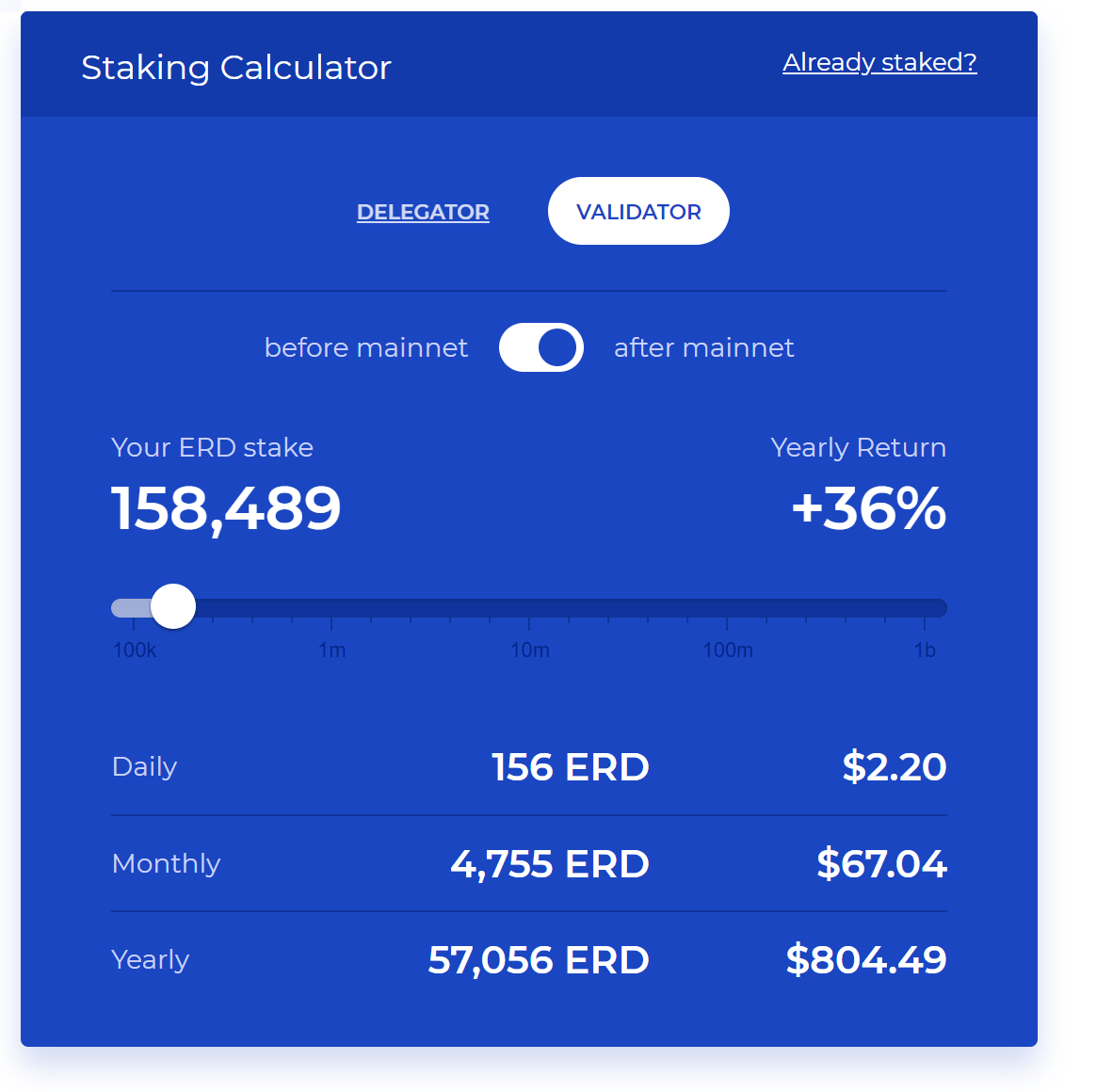 Elrond has an economic model that encourages adopters with competitive rewards during its current growth phase. The network allows ERD holders to earn passive income by either delegating their stake or serving as a validator for the network. The highest reward is from becoming an Elrond Validator Node, which will reward a 36% yearly return in the form of ERD. In return, this requires the holder to actively participate in the network consensus via an always online machine that answers network requests. For a simple option, ERD holders can simply delegate their stake and receive a 29% return without doing any hard work.
Elrond Partners
Since blockchains cannot work in isolation, Elrond has formed partnerships with several platforms including:
Samsung Blockchain – Elrond is added to the Samsung Wallet and listed as one of the dapps.
TypingDNA, a biometrics company, where the objective of this joint venture is to improve the security of the Elrond Network while guaranteeing the privacy of users. 
Smartbill, a SaaS provider for general management inventory. Through Elrond, users will have better transparency and traceability. 
Netopia, a payment processing company based in Romania. Processing more than $400 million worth of transactions in 2018 alone, Elrond will have exposure in Eastern Europe as ERD token is incorporated. 
Distributed System Research Laboratory which is part of the Technical University of Cluj. 
Verdict
Elrond is demonstrating that building a high-performance architecture from where dApps can be launched and operate seamlessly even with an increase in activity is strenuous but potentially possible. By building from scratch and enhancing previous scalability solutions while fronting interoperability, Elrond attempts to be cost and energy efficient with high throughput.
Disclaimer: Cryptocurrency trading involves significant risks and may result in the loss of your capital. You should carefully consider whether trading cryptocurrencies is right for you in light of your financial condition and ability to bear financial risks. Cryptocurrency prices are highly volatile and can fluctuate widely in a short period of time. As such, trading cryptocurrencies may not be suitable for everyone. Additionally, storing cryptocurrencies on a centralized exchange carries inherent risks, including the potential for loss due to hacking, exchange collapse, or other security breaches. We strongly advise that you seek independent professional advice before engaging in any cryptocurrency trading activities and carefully consider the security measures in place when choosing or storing your cryptocurrencies on a cryptocurrency exchange.