Coin DeFi ($COIN) aims to disrupt finance services by democratizing the industry, returning financial sovereignty to the people via decentralized Finance (DeFi). Through Coin Protocol, anyone can make cross-border and peer-to-peer transactions with ease and convenience, without incurring expensive fees. It also offers greater profit-generating opportunities through its stake-based incentive program.
Background
Coin DeFi is a project founded by Damon Nam (also the project's CEO), who worked with Microsoft for 16 years, and has more than 20 years of experience in the tech industry. The team's CTO, Byron Levels, also worked with Microsoft for 8 years.
A group of advisors coming from different fields of expertise is supporting the development of the platform. These are professionals who have been known to work on blockchain, artificial intelligence (AI), and marketing initiatives, such as Christina Apatow, founder of FetchyFox, Pete Cashmore, founder of Mashable, Alex Mashinsky, founder of the Celsius Network, and Jeremy Gardener, founder of Augur.
What is Coin DeFi?
Coin DeFi is an Ethereum-based DeFi platform designed to facilitate a peer-to-peer transaction system that implements a community-based governance model. Through the platform, users can conveniently conduct cross-border money transfers, purchase cryptocurrencies, and earn additional profit from their assets through staking.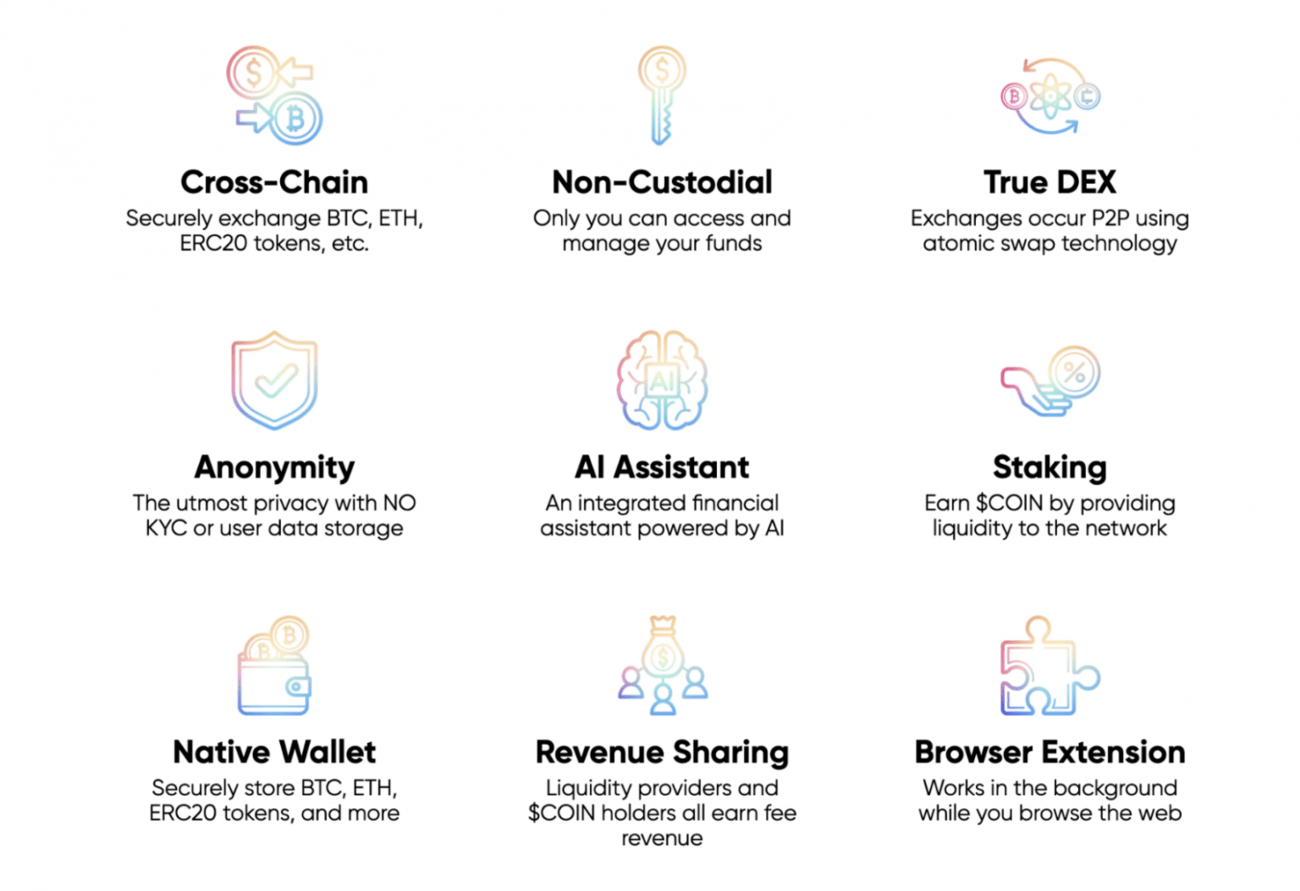 There are two main components to the Coin ecosystem, namely, the COIN protocol and COIN token.
COIN Protocol
The COIN protocol is the project's blockchain platform powered by smart contracts. The deployment of smart contracts enables the network to achieve greater performance and scalability while facilitating peer-to-peer transactions without the need for any third-party oversight.
The COIN token is the backbone of the protocol's economy. It is the platform's native cryptocurrency asset that primarily functions as a medium of exchange as well as a staking token. It is also required for the execution of smart contracts on the platform and in backing the incentive scheme for the protocol's liquidity providers. More details on this later.
COIN Exchange
The platform also features a non-custodial, peer-to-peer crypto-assets exchange. COIN Exchange is a cross-chain, decentralized wallet and exchange supported by smart contracts that enable atomic swaps complemented with AI technology.
Some of the digital assets that can be traded in the protocol are Bitcoin (BTC), Ethereum (ETH), and a selection of ERC-20-compliant tokens. Since the platform features cross-chain atomic swaps, a user can trade any token with another digital asset through the platform, even if they belong to different chains.
To facilitate these peer-to-peer trustless, and cross-chain swaps on the exchange, it utilizes Hashed Timelock Contracts (HTLC). Basically, this is a system that requires transaction recipients to first acknowledge payments by way of a cryptographic proof within a defined time period, which is also the same technical framework implemented in Bitcoin's Lightning Network.
Liquidity
Liquidity is a common concern amongst many decentralized exchanges (DEXs). To address this, COIN partnered with Coinbase to leverage their order books. This is facilitated by a matching algorithm that combines the liquidity in COIN and Coinbase order books.
What the platform earns from transaction fees, they use for their COIN buyback programs and pool deposits. Here, half of what they earn is redistributed to liquidity providers and market makers as a reward. The rest is allocated to buy COIN tokens back to support its supply of liquidity and staking reserves.
Governance Model
The governance of the platform follows the Decentralized Autonomous Organization (DAO) model, one that is community-driven.
In this framework, COIN holders are considered the protocol's stakeholders. Developers on the platform can propose protocol amendments, upgrades, features, and other changes, which stakeholders have to vote on before they are deployed. If the community doesn't agree with any proposed modification on the protocol, it can be rejected by the community if it doesn't garner enough votes.
Coin DeFi's Native Token ($COIN)
COIN is the platform's native utility token. Apart from functioning as a medium of exchange, the token can be used to pay for the platform's transaction fees, staking, and voting. The incentive system of the platform also utilizes COIN tokens as its rewards.
COIN is also a network access token, which means that the token is required to execute smart contracts, represent their voting rights, and compensate liquidity providers.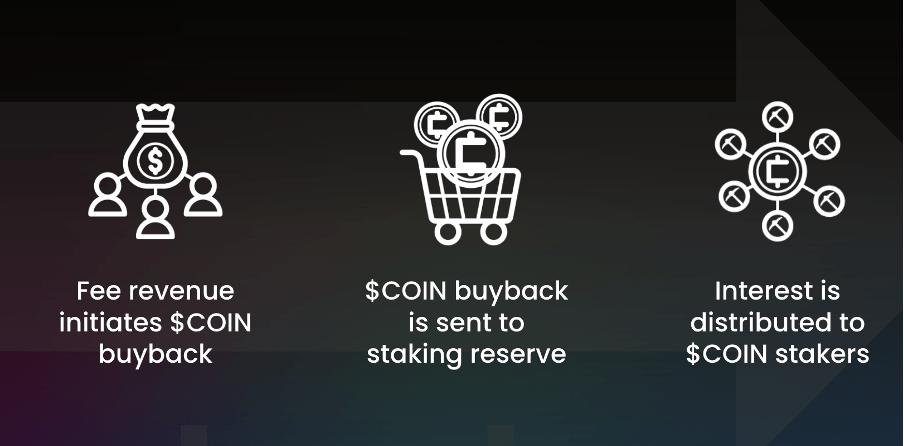 Staking
$COIN can be used to supply liquidity to the platform. Furthermore, there are smart contracts designed to enable staking functions on the protocol. COIN holders only need to deposit their tokens and lock them in smart contracts. In return, they can earn additional COIN tokens as a reward.
The reward for stakers is in proportion with the amount that they staked, prevailing interest rates, and the duration of their stake.
A portion of the COIN tokens deposited on staking smart contracts goes to the platform's staking reserve. This is used to supply funds that are redistributed to long-term COIN stakers. Around 25% of all COIN tokens in circulation fills the supply of this pool.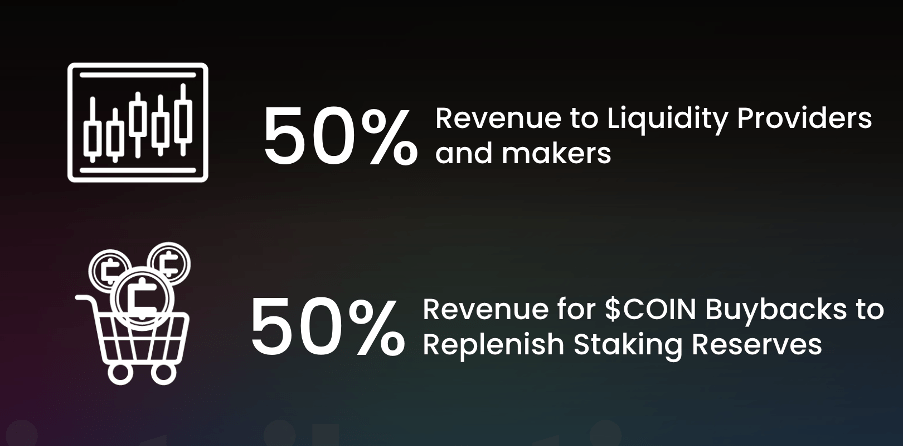 Coin DAO
The protocol also enables the implementation of a DAO, through a stakeholder model represented by COIN tokens, which enables the community to gain better control over the direction of the platform, including the introduction of new products, amendments to the existing protocol, and other forms of protocol modification, through a stake-based voting system.
COIN holders can deposit tokens in the governance smart contract within the platform. The amount of tokens that holders lock in these contracts guarantee them an equivalent voting power on the platform. For example, a user who has locked 100 COIN tokens gains an equivalent of 100 votes as a consequence.
Conclusion
There are a lot of DeFi projects in the cryptocurrency space today. While Coin DeFi's objective is a promising alternative away from the traditional financial system, it certainly comes with a lot of other competitors in DeFi offering the same financial products and services as well.
From where the project stands today, it still has a lot to prove when compared with the more prominent DeFi platforms and exchanges. Perhaps its biggest strength is its AI assistant implementation to support platform users, but we have yet to see how that will be developed for the benefit of its user base. As a relatively young DeFi project, how it will grow its own community in the months ahead is going to be a significant factor in assessing how successful the project can be.
Decentralised Finance (DeFi) series: tutorials, guides and more
With content for both beginners and more advanced users, check out our YouTube DeFi series containing tutorials on the ESSENTIAL TOOLS you need for trading in the DeFi space e.g. MetaMask and Uniswap. As well as a deep dive into popular DeFi topics such as decentralized exchanges, borrowing-lending platforms and NFT marketplaces
The DeFi series on this website also covers topics not explored on YouTube. For an introduction on what is DeFi, check out Decentralized Finance (DeFi) Overview: A guide to the HOTTEST trend in cryptocurrency
Tutorials and guides for the ESSENTIAL DEFI TOOLS:
More videos and articles are coming soon as part of our DeFi series, so be sure to SUBSCRIBE to our Youtube channel so you can be notified as soon as they come out!
Disclaimer: Cryptocurrency trading involves significant risks and may result in the loss of your capital. You should carefully consider whether trading cryptocurrencies is right for you in light of your financial condition and ability to bear financial risks. Cryptocurrency prices are highly volatile and can fluctuate widely in a short period of time. As such, trading cryptocurrencies may not be suitable for everyone. Additionally, storing cryptocurrencies on a centralized exchange carries inherent risks, including the potential for loss due to hacking, exchange collapse, or other security breaches. We strongly advise that you seek independent professional advice before engaging in any cryptocurrency trading activities and carefully consider the security measures in place when choosing or storing your cryptocurrencies on a cryptocurrency exchange.