Chinese New Year (Lunar New Year) has a strong influence on cryptocurrency prices, with Bitcoin prices decreasing in the months leading up to the New Year. This article examines the trend and the possible reasons why it happens. Chinese New Year is celebrated on a different day each year as it is based on the Lunar Calendar.
This year, Chinese New Year will begin on 22 January and end on 24 January. During this time many Chinese Over-the-Counter (OTC) services will be closed – leading to high crypto volatility.
[wp-compear id="5203″]
*Data based on Bitcoin Prices on CoinGecko. Pre-CNY Highs taken as average candle price up to 7 days before the New Year.
This period is a public holiday in China, as many employees make the annual trip back to their hometowns to celebrate with their families. With a population of 1.386 billion, this represents the largest short-term migration in the world. All factories in China close during this period, with operations frozen for up to 2 weeks as logistics companies and suppliers slowly open up. Chinese New Year is also celebrated in other Asian countries such as Hong Kong, Singapore, and Korea (Korean New Year). China will also be rolling out a feature allowing people to send red packets containing its digital currency eCNY/DCEP. However, it's important to note that during this time cryptocurrency exchanges will still operate and facilitate trading around the clock.
Start trading now!
Get 20% off trading fees with Binance
Chinese New Year Dump in 2019, 2020, 2021, and 2022?
Bitcoin prices would almost always drop in the weeks leading up to Chinese New Year.
For example, in 2019, Bitcoin prices dropped steadily from $3,491 right before the Chinese New Year to lows of $3,397 during the holiday.
In 2020, prices fell below the USD$8.3k resistance before Chinese New Year. There was a recovery back to USD$8.5k on the first day of the holidays. However, history cannot help but repeat itself, and within the same day plummeted back below USD$8.3k. Prices then remained stagnant and only made a marked recovery on the last day of the holidays.
In 2021, the tides seemed to have turned with a gradual increase from $32k to $39k in the first week of February, and a huge 2-day rally up to $48k in the few days leading up to the festival. However, during Chinese New Year, prices still began retracing to $46.2k. Fortunately, this did not wipe out the pre-Chinese New Year rally.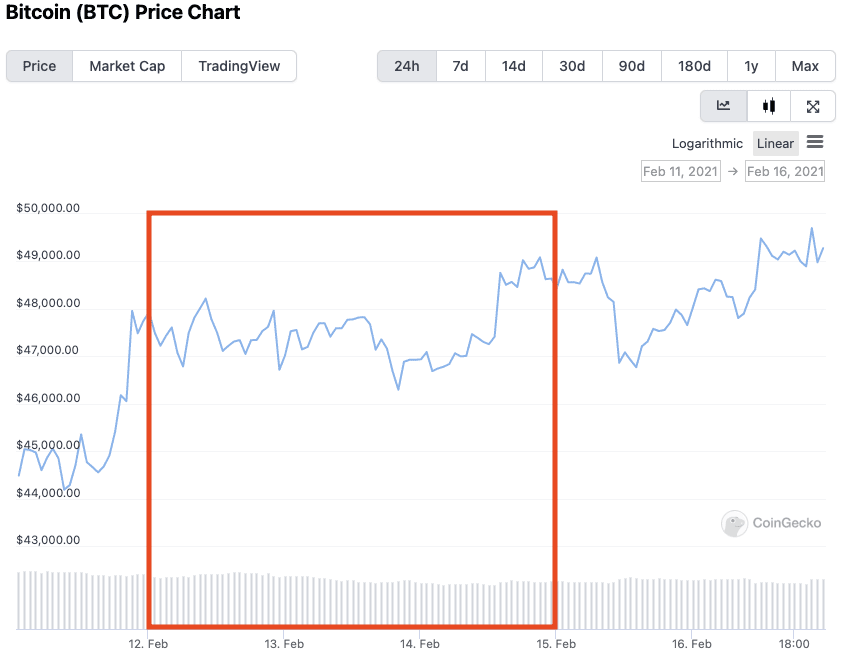 In 2022, prices took a sharp nosedive to sub USD$37 levels just before the holidays. Bitcoin prices then rose sharply towards a peak of over USD$39k midway through the Chinese New Year holidays. However, this euphoria was short-lived, and prices took a steep tumble to USD$36.5k on the last day of the Chinese New Year holidays. Essentially undoing the initial price rally a few days prior.
Why do Bitcoin prices dump during Chinese New Year?
Decrease in Trading Volume?
Data compiled by CoinDesk Research shows the trading volumes on Binance, Huobi, and OKEx –the most popular cryptocurrency exchanges catering to Chinese customers – were down during the Chinese New Year period. A decrease in trading volume can also be seen during October each year when Golden Week (a 1-week celebration for National Day) in China takes place.

When large numbers of highly leveraged traders all bet on Bitcoin prices moving one way it creates an opportunity for other large investors (whales) to move prices in the other direction. Doing so triggers a cascade of liquidations, sending Bitcoin's price into free fall and creating huge paper losses for leveraged long traders. The whales are then free to "buy the dip" at the expense of "rekt" traders.
Market Makers on Holiday
It is no secret that market makers and trading bots operate in the Cryptocurrency market – in fact, they are responsible for a portion of the market volume. Market makers located in China and other Asian countries will shut down operations for 3-5 days due to public holidays. Even though market making can be automated by trading bots and algorithms, it still requires humans to watch over the daily operation to make sure the is no malfunction.
During the Chinese New Year, market-making operations will be limited in capacity. This leads to more volatile and less liquid markets.
Cashing out for the New Year
One of the possible reasons for the dip in Bitcoin prices is that people are "Cashing out" for the holidays. This is especially true in China because, during the festival, lucky packets packed with cash are traditionally given out to children and the elderly. These "red packets" are meant to symbolise luck and prosperity and is the only time when giving cash is not taboo in China.
Tradition dictates that married couples should give out red packets to young unmarried children, elderly and service personnel. Company Executives and managers should also give money to their subordinates – with some packets being filled to as much as the employee's monthly wage.
Due to the huge amount of cash money required, some suspect that this tradition is responsible for the increase in Bitcoin Sell orders before Chinese New Year.
Chinese OTC Volume Drops
Bitcoin is traded in China via Over the Counter (OTC) desks. These OTC desks match orders from buyers and sellers and can offer escrow services. Top desks include Binance OTC and Huobi OTC.
Chinese New Year 2023 Bitcoin price predictions?
This year, Chinese analysts are optimistic that prices will pump immediately prior to the Chinese New Year. The reason for this is that unemployment rates in China have recently experienced the smallest increase since October 2020. According to analysts, this news is positive and means people's concerns about the economy will ease. Furthermore, Bitcoin markets are in a state of repair and recovery following the holiday season. Which in turn, is a good sign for "high-risk" asset classes such as cryptocurrencies.
The general consensus amongst analysts on Weibo, China's social media platform is that whilst the overall market is still in a state of shock, there is a sign of recovery. Furthermore, they predict that in the leadup to the Chinese New Year, Bitcoin will maintain a price of over USD$1,700.
Bitcoin, Ethereum, and altcoin prices have been pumping over the past weekend (14th-15th January). Currently, Bitcoin prices are trying to reach and maintain above US$2,100. This is a positive sign with some noting that BTC prices have canceled the losses from the FTX collapse.
With Bitcoin prices on the upswing, there is definitely a growing euphoria in the Chinese crypto community. With some even suggest that seasoned crypto traders should seize this opportunity to get rich during the Chinese New Year. There is definitely a sense of hope that the trend of the Chinese New Year crypto and Bitcoin dump can be broken in 2023. And in the worst case, prices will go sideways during the holiday. The general sentiment in China is that there will not be a Chinese New Year Bitcoin and crypto dump in 2023.
Analysts however do urge cryptocurrency and Bitcoin traders to nevertheless exercise caution. And to wait and see what happens to the markets during the Chinese New Year holidays. Indeed, we can see from Bitcoin prices during the holidays, that prices whilst appearing to go sideways during the 3-day holiday, can have the potential to take a huge dip (as seen in 2022).
As for what will happen after the Chinese New Year, analysts are generally bullish. This is because the longest bear market in BTC history was 415 days, whilst the current bear market is 360. So, they expect the 6th bull cycle for Bitcoin will start after the Chinese New Year.
Start trading now!
Get 20% off trading fees with Binance
Frequently asked questions (FAQs)
What is the Chinese New Year Bitcoin dump?
Crypto analysts have found that Bitcoin prices would almost always drop in the weeks leading up to the Chinese New Year. Hence in the weeks before and during the "Chinese New Year Dump", traders expect huge volatility in crypto prices.
Why is there a Chinese New Year Bitcoin dump?
Chinese New Year marks the longest extended holiday in China. This period marks the world's largest short-term migration as people return to their hometowns to visit family. People also cash out to send money back to their families and gift children "red packets". Therefore, crypto prices dump during Chinese New Year as there is lower trading volume when everyone has "cashed out" their crypto or is busy celebrating.
When is Chinese New Year in 2023?
This year, Chinese New Year will begin on 22 January and end on 24 January.