Binance CEO Changpeng Zhao (CZ) decided that Binance will not go through with the deal to acquire FTX, one day after he announced that he intended to acquire FTX. This shocking turn of events could create a ripple effect throughout the crypto market, affecting all investors and businesses. In case you are out of the loop, our previous article "SBF vs CZ War" covers the core timeline of what has been happening that led to this event. You can also check out our latest video — FTX Collapsing: Biggest Disaster in Crypto? for more insight.
Why Did Binance Back Out of the Acquisition Deal?
Binance announced on Twitter that they will not go through with the deal to acquire FTX as a result of "corporate due diligence" and "mishandled customer funds" in FTX's books pending investigations by U.S. regulatory agencies.
This is in reference to speculations of FTX violating its own terms of service by using customer funds for trading and loaning it out to Alameda Research for a bailout in Q2 2022 following the Terra Luna collapse. To simply put, instead of keeping customer funds on FTX as liquid cash, FTX used customer funds to buy FTT tokens to bail out Alameda.
After this revelation, FTX users were rushing to cash out fearing the exchange might be going insolvent. This led to a liquidity crunch, forcing FTX to halt all crypto withdrawals. We are talking about at least $8 billion of user funds stuck on the exchange which possibly cannot be saved, according to Wall Street Journal.
This is the most likely scenario, ascertained and corroborated by many crypto experts. jonwu.eth on Twitter gives a perfect summary of how everything went down. Funnily enough, FTX CEO Sam Bankman-Fried (SBF) deleted his Tweet which he assured clients that their assets are fully protected. But as of now, these speculations are not officially confirmed. This is where U.S. regulators (SEC, DOJ) are stepping in to investigate FTX for potential securities-law violations, according to Wall Street Journal.
How This Will Affect All Investors
Binance acknowledged that the collapse of FTX will severely impact all retail investors, but will continue to build towards a stronger decentralized ecosystem. This is reiterated by CZ in his internal message sent to all Binance teams globally.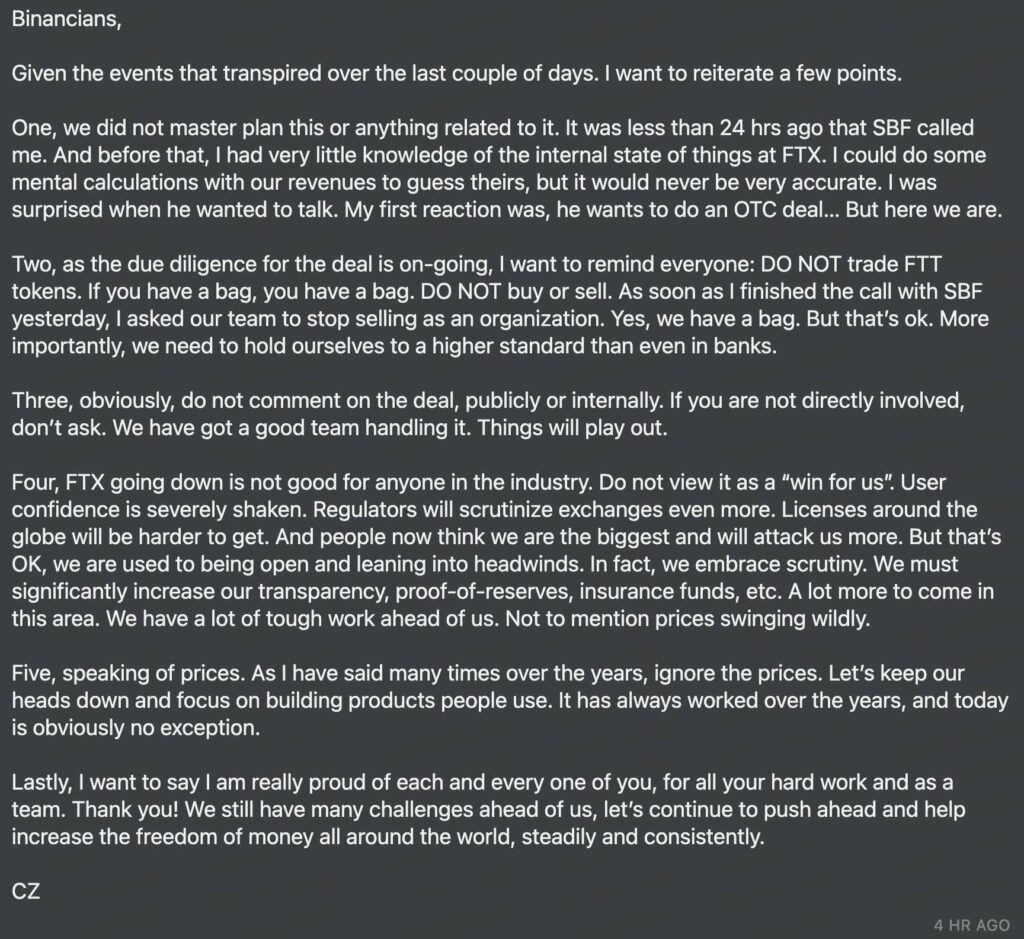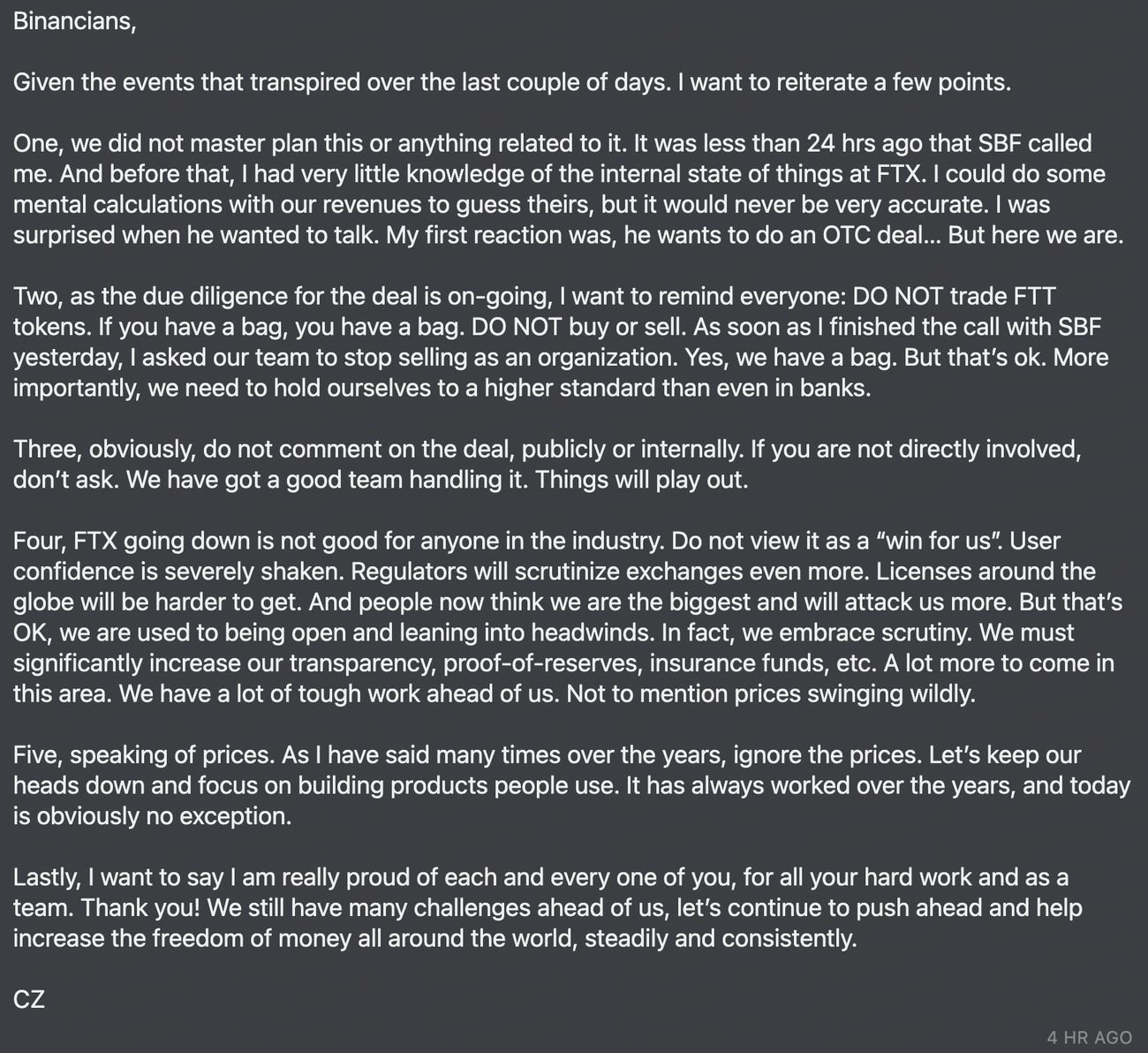 It is not just user funds that are stuck on FTX, but other crypto projects' as well. According to CoinDesk, many crypto businesses and ventures have exposure to FTX in one way or another, whether via storing funds, providing liquidity or borrowing and lending. This affects all ecosystems throughout the crypto industry as wild price swings trigger a domino effect of forced liquidations across the market, similar to Three Arrows Capital or Voyager Digital after the Terra Luna collapse.
It is the first time Bitcoin (BTC) has fallen below $16,000 since November 2020, a 77% decrease from its all-time high last year. Since BTC has broken past its first support level of $19,000, it would take time for its range to be established after capitulation event. As BTC is the first and largest cryptocurrency by market cap, it practically dictates the price actions of all altcoins including Ethereum (ETH). We can expect the market to be highly volatile in the coming weeks.