Axie Infinity ($AXS) is probably the first game everyone thinks of when talking about crypto gaming or GameFi. This is for a good reason too, it is hugely popular with millions of players worldwide and is well known for helping many earn a living (whilst playing the game) during the Covid-19 lockdowns. Recently, however, the game has been plagued by problems such as a multi-million dollar hack, and reports about shady practices by some Axie players. In this article, we look at the rise and fall(?) of Axie Infinity and how it can be a valuable case study for the future of other play to earn crypto games.
What is Axie Infinity ($AXS)?
Axie Infinity ($AXS) is a popular play-to-earn NFT blockchain-based game where players can earn by leveraging gameplay skills and contributing to the ecosystem. Partially inspired by the popular Pokémon video game series, Axie Infinity allows players to pit monsters called Axies against each other in battles. Gamers can also collect and raise their monster pets, and build land-based kingdoms for the pets as they progress through the game.
Axie Infinity is easily one of the most popular games in the cryptocurrency and blockchain sector. Launched by Vietnamese game-maker Sky Mavis, Axie Infinity concluded a $7.5 million funding round in May 2021, with Reddit co-founder Alexis Ohanian and billionaire Mark Cuban as investors. According to Bloomberg, the number of daily active users on Axie Infinity jumped from 30,000 to 1 million between April and August last year. Furthermore, from April 2018 to July 1st, 2021, Sky Mavis generated $21 million from Axie Infinity; by the end of August in the same year, that number jumped more than 2,200% to $485 million.
Yet despite its meteoric rise, Axie Infinity has seen a dramatic decline in daily revenue and general interest since its November 2021 peak, when its revenues reached an all-time high of $165 USD. To better understand the unraveling of one of the most popular blockchain games, let's take a look at the recent issues and challenges Axie has faced in the past months.
Check out our video where we analyse the crypto gaming trend and where we think it's headed.
Some Major Problems and Criticisms of Axie Infinity
The Axie Infinity universe has had its fair share of criticism. One of the most significant issues is the problematically high barrier of entry. Although Axie Infinity is free to download, players need at least three Axies to begin with, each costing a minimum of $29. This can be a costly initial investment for some and would deter them from even starting the game in the first place.
The expensive initial cost has created active Discord and Telegram groups where prospective players are consistently on the hunt for sponsors to help get their feet in the door. Unfortunately, sponsors sometimes make inappropriate requests before assisting players. Last year, Axie Infinity reacted to reports of sponsors requesting nude photos from players.
Other controversial practices, such as the "Scholarship" practice emerged whereby gamers lacking the initial capital (known as "Scholars") would borrow Axies from "Managers" in return for a significant amount of in-game earnings. In some cases the split was as high as 50:50 between the Scholar and the Manager. In the Philippines, where it was well-known that locals quit their jobs in favour of playing Axie professionally due to its high returns, the practice was very widespread. During Axie's heyday in 2021, many scholarship "guilds" were formed, some of which had over 3,000 players playing multiple games for their Managers. These Managers have even gone so far as to say that they may remove peoples' scholarships if the scholars did not play to their satisfaction. Considering the average wage of a Filipino employee was only US$3,218, critics have accused Axie Infinity's business model to "digital serfdom"– modern exploitation in the digital space.
In response to accusations of controversial practices by some Axie Infinity players, Sky Mavis Co-founder and Chief Operating Officer Aleksander Leonard Larsen likened Axie Infinity to a digital nation, suggesting that there are criminals in any society. The COO admitted that the issue is an internal concern for the Company and that the platform has banned "several thousand" accounts so far.
Revenue Plunge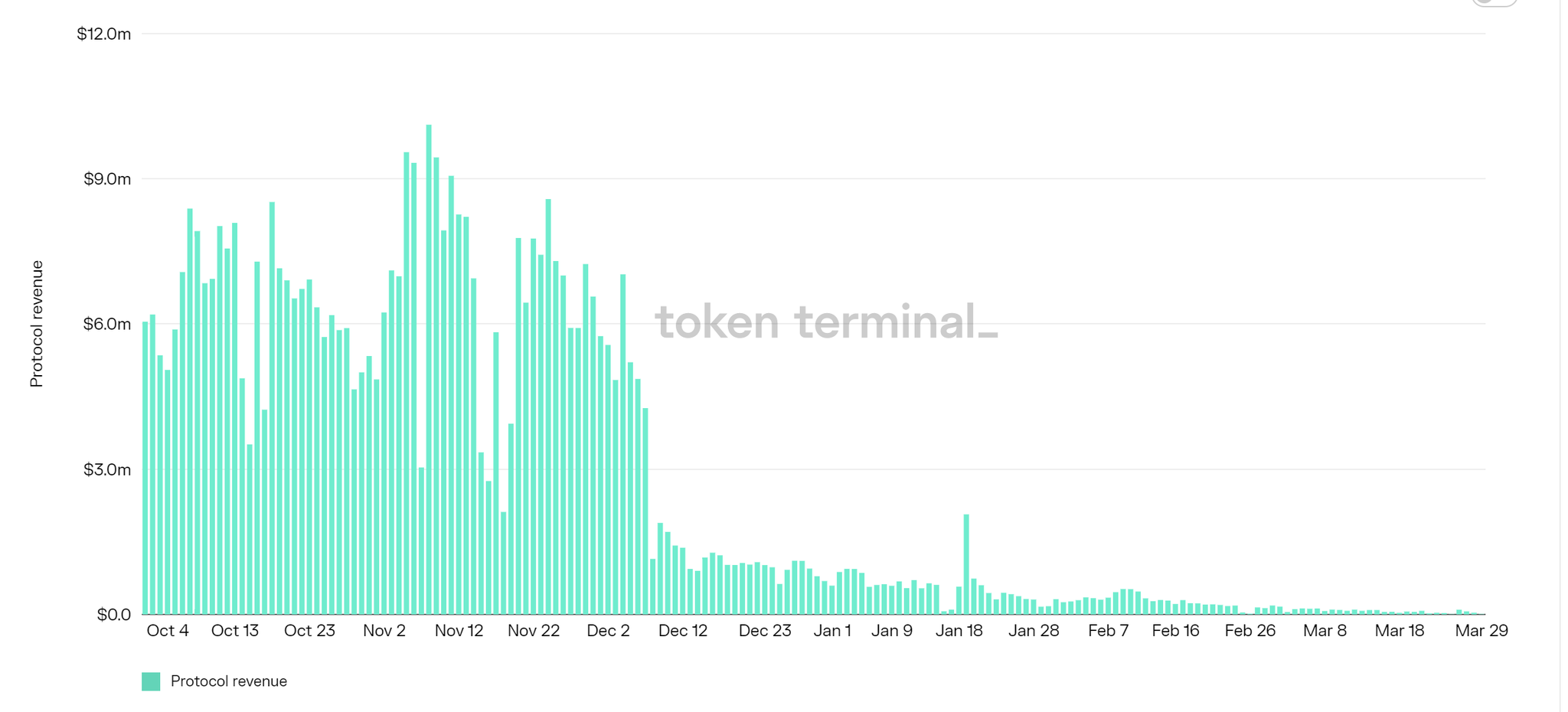 Axie Infinity's revenue was already dropping since its peak in November 2021. According to an image from Token Terminal, Axie Infinity began October with $6 million in daily revenue. Between October 4th and early December, revenue spiked up to $10 million but also plunged to nearly $2 million. However, since December 12th, there has been a steady decline. In fact, Axie has not crossed $2 million since mid-December, even recording less than $21,000 as recently as March 30th. According to a recent report, Axie plunged 40% in September alone.
Axie Infinity's Ronin Network Hack
By far, the biggest issue Axie has faced in its 4-year history is a US$625 million hack that took place on 23 March 2022. According to an official Substack post, hackers compromised Sky Mavis' Ronin Network validator nodes and Axie DAO validators, which are used to power the game. As a result the hackers successfully made away with 25.5 million USDC and 173,600 Ether (ETH). The unknown hackers depleted funds from the Ronin bridge in two transactions.
Ronin explained that the chain currently has nine validator nodes to prevent illicit transactions, and requires five validatory signatures to recognize all withdrawals or deposits. In November, Ronin let Sky Mavis sign transactions to help with high demand from new Axie players. Although this only lasted till December, the allowlist access remained active, and the attacker was able to access Sky Mavis systems to get a signature from the Axie DAO validator through Ronin's gas-free RPC node. By doing so, the hacker was able to gain validation access over this highly centralized network, controlling the majority of nodes, and thus, the decision-making power.
Analytics firm Chainalysis is currently helping Sky Mavis to track the stolen funds and has said the funds are still in the hacker's wallet. Ronin has also said all stakeholders are now trying to ensure that users don't lose any funds.
The Substack post also specifies several actions taken to curb further loss. For instance, withdrawal or deposit recognition now requires eight signatures instead of five. There is also a temporary pause on the Ronin Bridge in addition to Binance disabling their bridge to and from Ronin. The Katana DEX was also immediately suspended. Unfortunately, none of that has stopped prices of their AXS token from falling 25% since the hack occured.
Axie Infinity's Future: is this the end?
Even with these evident drawbacks, several members of the gaming community believe that Axie Infinity has a bright future ahead of it. Some analysts think that the platform's extensive and ever-increasing community can only spell long-term progress. Axie Infinity has enjoyed large-scale popularity and increased AXS token prices such that many believe that there is no worthy competitor. However, the recent hack might sway public opinions very fast.
Although Axie's revenue has consistently dropped since late last year, The plunge has been even steeper in the last few days. Token Terminal data shows that Axie pulled in just $184,500 on March 1st, from $2.1 million on January 19th. Revenue on March 25th was less than $9,000.
Prices of the project's native $AXS token have also taken a tumble, with prices reaching an all time high of $164.90 on 6th November 2021, and now down to around $38 in late April 2022. Check here for the latest prices for $AXS and data provided by CoinGecko.
Several competitors, such as Crypto Kitties, Decentraland and MetaGods, have been trying to give Axie Infinity a good run for its money. Now is finally the right time for these alternative play-to-earn ecosystems to steal Axie's disgruntled customers. Popular options can leverage Axie Infinity's current downtime to revamp their existing offerings or introduce new ones, making the features attractive enough for Axie players to cross over. In what may end up as the likely outcome, players may also be satisfied enough to consider keeping and using accounts across most of these popular play-to-earn games.
With all the fuss and mistrust currently circulating within the gamefi space, it might also be a good time for new games to launch, or at least begin to whet gamers' appetites. Possible strategies could include specific advertisements targeted at security, more gaming options, more accessible play-to-earn services, and immersive gameplay that can rival Axie Infinity. If competitors offer little to no financial entry barriers, Axie Infinity could have a very challenging time getting back on its feet after it eventually opens the Ronin bridge.
Conclusion
Currently, the Ronin bridge remains closed, with all deposits and withdrawals halted pending a full investigation into the hack. It is expected that it may be another few weeks before the Ronin bridge is operational again. Most importantly, the team behind Axie Infinity has promised affected users that they will recover and reimburse the stolen funds. Despite this setback, Axie Infinity still has over 600,000 active daily users, demonstrating its popularity, and the game itself is not going away anytime soon.