YAM Finance is a new elastic supply token where the supply of the token expands and contracts in response to the token price – with the ultimate aim of stabilizing to a $1 USD PEG. A 12 hour "Rebase" will increase/decrease the total supply of the token depends on its price. This means that after a rebase, wallets holding YAM will experience changes to the balance even if no YAM is sent out of the wallet. This concept is similar to Ampleforth (AMPL). YAM has gained enormous attention after it's launch on the 12 of August due to its extremely high Yield Farming (More than 1000% APY) rewards and Meme suitability. On top of this, the elastic supply of YAM means that it catches the attention of those who missed out on the AMPL hype train.
VOLATILITY WARNING: YAM supply is currently VERY as it was only recently launched. Expect circulating supply to increase over the next few days.
What happened to $YAM?
Due to a smart contract bug, the $YAM smart contract is no longer governable and no future modifications can be made. Initially, as part of the experiment, $YAM had a governance feature that allowed the community to vote on new features and add functionality to the contract. However, the bugged smart contract meant it was impossible for the community to reach the quorum necessary to vote new features or fix the bug. This means that $YAM cannot be modified, nor can it be safely placed in Uniswap liquidity pools.
$YAM migration plan in a nutshell
YAM is not giving up! The old $YAM will be migrated to a new version of $YAM, which will be a fully audited version of the YAM protocol. Currently, Peckshield Inc has audited the migration contract and reported it to be a success. Any "low" or "informational" issues which were found during the audit have also been resolved. Yam Finance has deployed the migration contract which enables $YAM holders to migrate to the new version. But $YAM holders will only have 72 hours to complete the migration process i.e. until 22nd August 2020 at 4:20pm (UTC). After such time, YAM v1 tokens will no longer be eligible for migration. So pack up your $YAM bags and GET MOVING!
Details on the migration plan can be found here.
Yam Yield Farming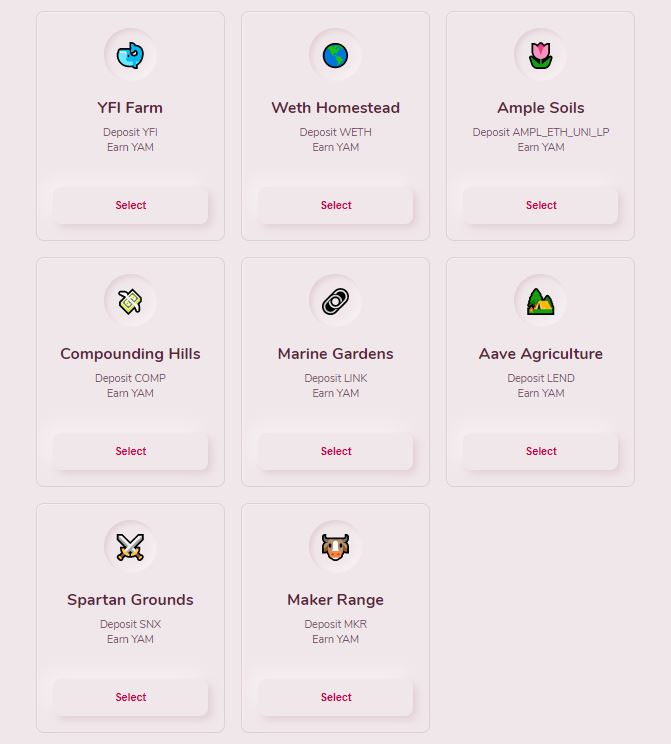 $YAM's distribution will only be made to Yield farmers – platform participants who stake YFI, LINK, AMPL, COMP, MKR, LEND or $WETH on the platform. This is a more fair method of distribution as there is no pre-sale of the token to early investors. The developers have stated that they were inspired by $YFI to adopt the staking model to distribute YAM.
YAM distribution and Supply
YAM will have a total supply of 5,000,000 Tokens (not counting rebases)
Yam will be distributed to these following staking pools on http://yam.finance: WETH, YFI, MKR, LEND, LINK, SNX, COMP, and ETH/APML Uniswap v2 LP tokens. During the initial launch, 2,000,000 YAMwill be distributed to the staking pools (250,000 per pool). There will be a second distribution "Wave-2" that will be distributed to the Uniswap pool with 1.5 Million per week and decreasing by 50% each week after.
Smart Contract Audits
YAM has not undergone any smart contract audits. You can view the Yam's source code on Github or on the submitted contracts to Etherscan. YAM is compiled using truffle, and the engineers at truffle are also conducting their own tests on the code. The staking contracts have been adapted from Synthetix – similar to those deployed by YFI with some changes to Starttime() and other variables. The token contract is based on COMP and Ampleforth – meaning it's a non-standard contract which could present problems if placed in liquidity pools.
Is YAM a Scam?
Notable members of the Crypto community have come out to call Yam a scam or 'transparent pump and dump'. The of the reasons why it's accused of this is because questions into the long term use case of $YAM. YAM is launched as a zero value token, meaning that there is no inherent value other than speculation. Long term use case of $YAM as a synthetic asset is also untested, as it's not truly a stable coin. Both YAM and AMPL attempts to stabilize price by changing its supply – a feature that inconveniences users as their wallet balance would change over time. Whether or not YAM is a scam or not can only be proven over time.
Farming Tools and Profitability
Currently, the best tool for YAM farming is Yieldfarming.info developed by @weeb_mcgee. Currently the panels are hidden so you can only access it via this hidden URL https://yieldfarming.info/yam/yfi/.
YAM Resources:
DefiRate: https://defirate.com/yam-finance-farming
Yam Github: https://github.com/yam-finance/yam-protocol
Yam Yield farming info: https://yieldfarming.info/yam/yfi/
Yam Twitter: https://twitter.com/YamFinance