BlockFi is a company that specialises in providing cryptocurrency lending services to clients worldwide. In our previous article, we reported that since 11th November 2022, BlockFi has paused its client withdrawals. Their reason for this was because of the "lack of clarity" in the status of FTX.com, FTX US and Alameda. Now the question is, what will happen to BlockFi? Will they also go bankrupt like FTX?
What is BlockFi?
BlockFi was founded in 2017 by Zac Prince and Flori Marquez. The aim of BlockFi was to create credit services for those with limited access to simple financial products. Their financial products included borrowing using crypto as collateral, the ability to earn crypto interest rates, and trading, among others.
BlockFi prides itself as the only independent lender and is backed by notable investors such as Valar Ventures, Fidelity, Akuna Capital, and Coinbase Ventures to name a few.
What is happening to BlockFi?
Since 11th November 2022, BlockFi has paused its client withdrawals due to "lack of clarity" in the status of FTX.com, FTX US, and Alameda. Wire withdrawals and loan processing have also been delayed since 10th November 2022 but are expected to resume on 14th November 2022. When BlockFi users access the website, there is a banner warning them that client withdrawals have been paused. BlockFi also reminds users not to make deposits to the BlockFi Wallet or Interest Accounts for the time being.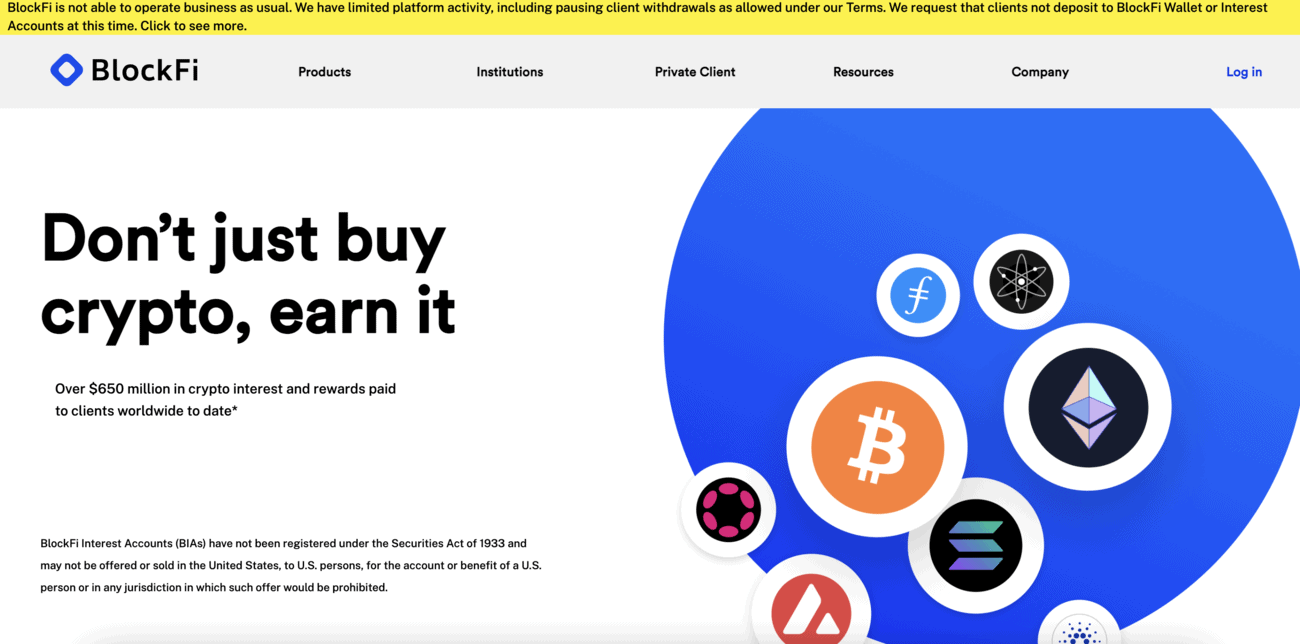 What is happening to BlockFi cards?
BlockFi's BlockFi Rewards Visa Signature Card was one of the first cryptocurrency rewards credit cards in the market. The BlockFi card's major benefits include 1.5% crypto rewards on every single purchase, which can go up to 10% for spending with BlockFi's partners.
However, there have been people reporting that purchasing privileges on the BlockFi card have been suspended "until further notice". This means that cardholders can no longer make purchases using the BlockFi card.
This development stems from the fact that payments company Curve is in active negotiations with BlockFi to acquire their over 87,000 credit card customers. According to reports, if the negotiation is successful, Curve will take over the BlockFi card program, and aim for customers to still be able to earn crypto rewards as they did before.
Is BlockFi in trouble?
In June 2022, FTX US had extended a US$400 million line of credit to BlockFi with an option for FTX us to acquire BlockFi for a variable price of up to US$240 million. However, the collapse and bankruptcy of FTX have put the future of BlockFi in question for some. This is compounded by the fact that California's Department of Financial Protection and Innovation (DFPI) said on 11th November 2022 that they were suspending BlockFi's lending license for 30 days. During this suspension, the DFPI will be conducting investigations into BlockFi.
BlockFi has also admitted in its latest update that it had "significant exposure" to FTX and their associated companies. However, they deny they had a majority of funds held at FTX. To learn more, check out our article- Were BlockFi's assets held on FTX?
BlockFi files for bankruptcy
On 28th November 2022, BlockFi announced it had filed for Chapter 11 bankruptcy in the United States. This latest development comes after speculation has already been brewing in the past few weeks that it was affected by the collapse of FTX exchange. The bankruptcy will include Blockfi and 8 of its subsidiaries.
According to Court documents, BlockFi has over 100,000 creditors. The company has both assets and liabilities in the range of US$1-10 billion and US$256.9 million cash on hand.
Therefore, the future of BlockFi is still uncertain, and there is fear that it may go bankrupt like the FTX Group. However, there is currently no official announcement or news that BlockFi will be filing for bankruptcy.
How much does FTX owe BlockFi and vice versa?
During BlockFi's bankruptcy hearing, the company revealed it has US$355 million stuck on FTX. Further, Alameda Research, an associated company of FTX, has defaulted on its US$680 million loan from BlockFi.
On 28th November 2022, BlockFi had also sued Emergent Fidelity Technologies, a company owned by FTX's Sam Bankman-Fried. The purpose of the lawsuit was to seek SBF's shares in Robinhood that were used as collateral as part of a pledge agreement.
On the other hand, on 1st July 2022, FTX US extended a US$400 million line of credit to BlockFi. Of this, BlockFi still owes FTX US US$275 million as allegedly agreed to by 89% of its shareholders. The purpose of the loan was to help BlockFi after it was affected by the collapse of Terra's stablecoin in May this year. The loan was originally set to mature on 30th June 2027 and had an interest rate of 5% per annum.
What will happen to BlockFi?
On 28th November 2022, BlockFi had its first bankruptcy hearing. During this hearing, BlockFi expressed that it will intend to seek the Court's approval to restore withdrawals for BlockFi wallet holders. However, no formal application has been made yet and the Court has not made a decision on whether withdrawals will be reopened to customers.
BlockFi's next bankruptcy hearing is presently scheduled for 9th January 2023 at 10:00 EST.