Ispolink is a blockchain-based matchmaking job platform combined with AI to enhance the experience of job seekers and employers.
As the unemployment rate rises worldwide, individuals without jobs have to look for clever ways to impress potential employers. One of the ways is to craft an impressive curriculum vitae (CV) with false statements. While this may possibly get them a job, the quality of their work would be on the line and may lead to loss of business revenue.
Apart from finding qualified professionals, businesses have to deal with a resource-consuming recruitment process, hefty agency fees, and manual processes. On the other hand, qualified candidates feel unappreciated when they don't receive feedback on applied positions. To provide a lasting solution, Ispolink combines decentralized technology and artificial intelligence to minimize the time and cost it takes to fill a position and to get hired.
Background
Emanuil Pavlov and Nikolay Pavlov head the Ispolink platform at the CEO and CTO level while also being co-founders. Emanuil has a strong educational background in business management. Before co-founding the protocol, he was a blockchain analyst at Industria Technology, a business development manager at Latoken, and a vendor manager at Manpower.
On the other hand, prior to joining Ispolink, Nikolay worked in software-related departments in leading companies such as Industria Technology, Devision, and SAP.
Apart from a reputable founding team, the platform is backed by top investment firms like Magnus Capital, Lotus Capital, Titans, Moon Whale, and AU21 Capital. Ispolink partners include DAO Maker, Polygon, Besco, Junior Enterprises Europe, and Iron Hack.
What is Ispolink?
Ispolink is a blockchain-based matchmaking job platform. It uses a combination of blockchain, AI, and other carefully selected ingredients to enhance the experience of job seekers and employers. The platform concentrates on serving the IT and blockchain industry.
Ispolink Features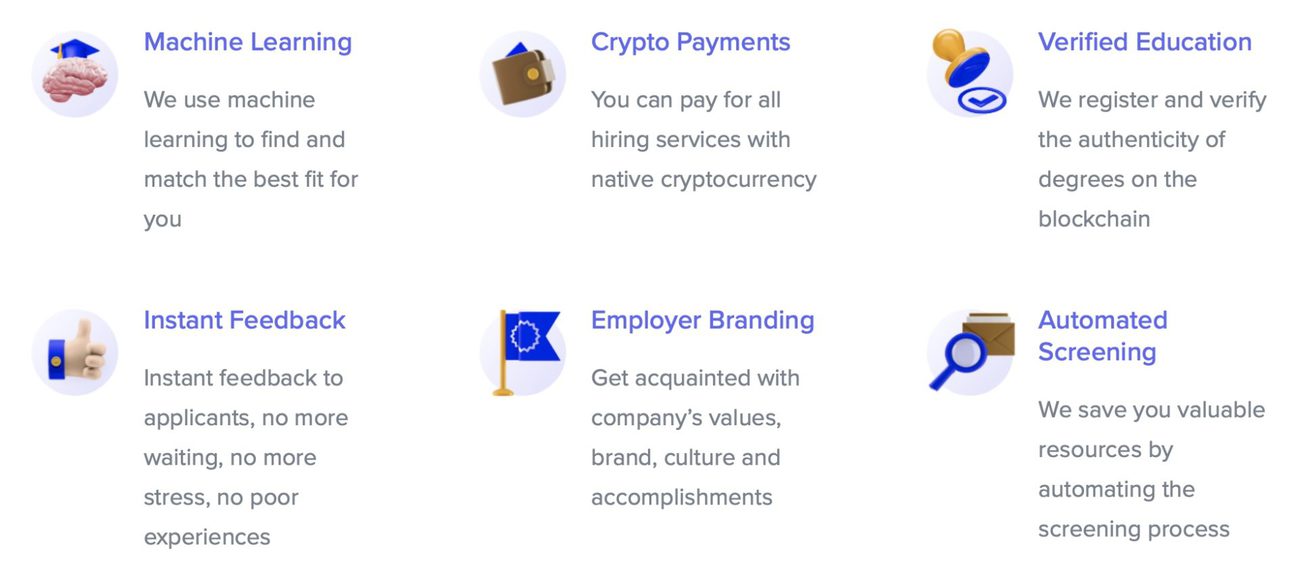 Automated CV Screening
Instead of recruiters manually going through prospective employees' resumes, the platform automatically screens a CV. Depending on the targeted vacancy, the protocol automatically calculates a match score that shows how qualified a candidate is for the position.
Video Resumes
A video resume goes past the regular text-based version to indicate qualities like communication skills.
Referral System and Instant Feedback
Ispolink rewards existing users for bringing qualified users to the platform. However, the disbursement of incentives happens when a referee is hired. The network provides instant feedback to candidates during the entire hiring process.
ML-powered Matchmaking
The protocol uses machine learning-driven algorithms to match candidates to open positions. Additionally, the project employs natural language processing (NLP) to extract and interpret information from the CV.
The matching process considers a candidate's work experience, technology stack, specific job-required, and soft skills.
Blockchain-based Degree Verification
Ispolink confirms degree authenticity for degrees stored on the blockchain to prevent candidates from intentionally providing misleading education qualifications. However, for this to have the desired impact, the protocol works with learning institutions to help them register the issuance of qualification documents on a decentralized network.
Company Pages
The protocol enables companies to create their pages and express intimate details such as core values and guiding culture. Additionally, it gives enough room for firms to showcase their accomplishments. In a nutshell, it's a way for companies to portray their brand and attract the necessary talents.
Revenue Streams
Ispolink provides different revenue streams for users. For example, it supports liquidity mining and staking. Other ways users earn incentives include when they sign up and when they get verified.
Cryptocurrency Payments
The platform supports virtual currency payments for all hiring services. Although the blockchain payment system is complex, the platform simplifies it into logical steps. For instance, the payment process starts when a user chooses an action that requires payment.
Next, it indicates the applicable price in both fiat and crypto. If the user wishes to pay through crypto, they must have supported tokens in their wallet. A successful payment procedure leads to a confirmation message from the platform.
Fortunately, the platform will guide you on the entire process and indicate errors whenever they occur. Note that Ispolink gives users the ability to deposit and withdraw tokens from the platform wallet.
Critical Technologies Used by Ispolink
Ispolink runs on the Ethereum blockchain due to its highest number of users. However, due to the platform's congestion concerns, Ispolink is shifting to layer two scaling solutions such as Polygon. Additionally, the protocol employs Matic Network's scaling solution on an Ethereum base.
While the second-largest decentralized network uses a proof of work (PoW) consensus mechanism, Matic uses the proof of stake (PoS) mechanism. As such, Matic can process up to 10,000 transactions per second. Apart from Ethereum, the platform also targets the Binance Smart Chain (BSC).
Ispolink's Token Economy
ISP is the platform's base assets. The token follows Ethereum's ERC-20 token standards and powers different aspects to the protocol, such as purchasing hiring packages, paying referral bonuses, rewarding verified users, staking, and governance.
The token's total supply is 10,000,000,000 coins. The largest distributions of the tokens go to the ecosystem and marketing that account for 40 and 19 percent, respectively. Other ISP token allocations go to the team, advisors, liquidity, seed, strategic, private, and public sales.
Note that tokens not sold during the four phases are burnt while the rest remains in active circulation.
Ispolink recently conducted its triple token sale on DAO Maker, gate.io and Ignition.
Ispolink Roadmap
The platform has an extremely detailed roadmap giving a glimpse of what the future holds for its users. For example, it looks to provide a comprehensive mobile application for iOS and Android-powered mobile gadgets, activating ATS integration, and in-platform staking.
Conclusion
Ispolink is among very few blockchain-based platforms targeting job seekers and employers. In addition, integrating AI functionalities and in-built crypto payment options puts the project ahead of the line. Notably, the use of a decentralized protocol ensures its activities are immutable and verifiable.
Placing and verifying educational qualifications on the blockchain captures the presence of falsified information on a CV. Consequently, it leads to quality hires. The use of scaling solutions built on top of Ethereum saves its users from the high transactional fees occasionally experienced on the Ethereum network.
Additionally, instant feedback to candidates and a match score enhance the quality of job searches. On the other hand, company branding gives room for companies to express themselves and attract qualified candidates.
Disclaimer: Cryptocurrency trading involves significant risks and may result in the loss of your capital. You should carefully consider whether trading cryptocurrencies is right for you in light of your financial condition and ability to bear financial risks. Cryptocurrency prices are highly volatile and can fluctuate widely in a short period of time. As such, trading cryptocurrencies may not be suitable for everyone. Additionally, storing cryptocurrencies on a centralized exchange carries inherent risks, including the potential for loss due to hacking, exchange collapse, or other security breaches. We strongly advise that you seek independent professional advice before engaging in any cryptocurrency trading activities and carefully consider the security measures in place when choosing or storing your cryptocurrencies on a cryptocurrency exchange.