Exeedme (XED) is a blockchain-powered gaming tournament platform designed to finally give professional gamers the income and recognition they deserve.
There are over 2.5 billion gamers worldwide, making the gaming industry twice the size of the music and movie industries combined.
But while producers and developers in the entertainment industry are able to rake in millions, the same cannot be said for gamers who find it almost impossible to earn a living playing video games.
Although we do have cases of professional gamers generating substantial income through livestreaming, their numbers are considerably low as it requires a very high amount of creativity, skill, and time to build a big-enough audience and thrive. This challenge is what Exeedme is trying to solve.
Background
Francisco Varela and Nuno Fernandes teamed up to come up with this innovative idea of rewarding gamers for their devotion and skills to playing the game they love.
To truly ensure the project caters to the professional gamer, their Head of Engineering- Arlindo Torres, is himself a game analyst and professional CS:GO player. Exeedme also has Ricardo "FOX" Pacheco Miguel, a professional CG:GO player and world champion as their Ambassador
What is Exeedme?
Exeedme is looking to revolutionize the gaming industry by providing Play2Earn platform for gamers, developers, and organizers a place to monetize their skills through blockchain-based gaming tournaments.
The tournament platform is built on Polkadot, a next-generation multi-chain protocol that has grown exponentially in the last few months.
Exeedme chose to build its system on top of Polkadot in order to benefit from its decentralized finance (DeFi) and non-fungible token (NFT) innovations. This would allow it to move fungible and non-fungible assets across multiple chains seamlessly, which could expand its horizons to larger communities.
The Exeedme team recognizes the fact that the current game monetization models leave a lot to be desired since current models favor a few privileged gamers but do not provide an avenue for an average player to earn an income through gaming.
Hence, Exeedme has come to give gamers a place to exercise a real sense of ownership and earn money as they play.
Exeedme Gaming Solutions
The central idea behind Exeedme is to provide a platform where gamers can be able to earn money from doing what they love. The platform seeks to reward gamers of all skill levels without any discrimination, which means you don't need to become a top professional gamer in order to earn an income.
And in this ecosystem, the biggest winners would be the game developers, as well as players.
Virtual Assets
Many games today have systems where they allow gamers to earn or buy virtual assets. The downside to this is that these assets cannot be monetized or transferred outside of the gaming system.
Exeedme is looking to change all that through its XED native token, plus the use of NFTs. Gamers would be allowed to transfer their game's "virtual assets" to different game universes, even if they are on different blockchains, which would result in an interoperable digital multiverse.
Since DeFi and NFTs would be pre-built into the gaming platform, peer-to-peer gaming economy platforms could readily grow. These growing economies would be geared towards rewarding gamers instead of the side chain advertising industries.
How Gamers Earn on the Platform
Gamers can earn on the Exeedme platform in 3 ways: winning, participating, and progressing.
To earn through winning, a gamer has to pick his favorite game to play, then stake it via funding with crypto assets. The player then selects his opponent or lets the system match him with similarly skilled players. The gamer could bet on himself to win and if he succeeds, he can take his earnings.
Gamers can also win simply by participating and progressing in any game or tournament they play.
In addition to the 3 methods mentioned above, Exeedme also allows players to earn NFTs when they progress such as trophies, collectibles and in-game assets. These an be used across different games, traded or monetized.
Advantages of Exeedme
Exeedme holds a number of advantages over the old gaming models, some of them are:
Exeedme's XED tokens are far better than participation trophies that some of the other games reward. Regardless of the outcome of a game, a gamer can be assured of earning a token that can be spent. This is because every time there is a bet on the gamer winning, XED tokens are being mined.
Newly-minted XED and crafted NFTs can also be earned just by progressing in a game's tournament or winning it. They are also won when a gamer reaches a milestone, completes a new mission, or achieves a higher ranking.
Earned XED and NFT tokens can be traded or monetized, making it a very fun way of earning.
XED Token
Exeedme's $XED is their native token. Players are rewarded with XED tokens through winning or progressing in a game.

The project has designed its platform in such a way that its governance system is led by gamers who would also be major participants on the blockchain. Accordingly, the best way to help improve the platform and push it into success would be to stake XED tokens.
Gamers who stake the token would enjoy certain privileges like lower fees, a cut of the match fees, access to free and special tournaments, access to exclusive NFT launches, exclusive badges, and other perks.
Exeedme would also be deploying community pools in its bid to fund general improvements to the protocol. Developers can also obtain funding through various methods depending on their project.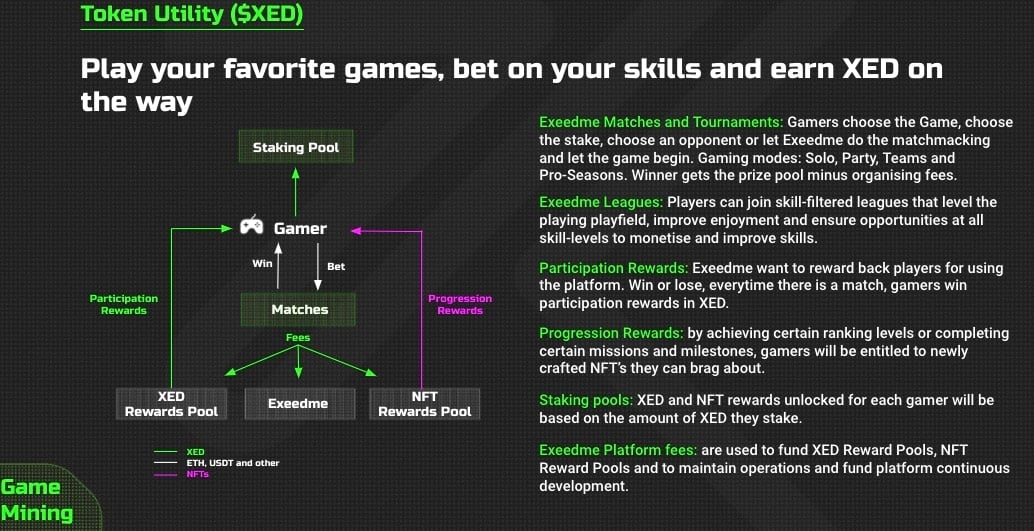 XED token metrics and tokenomics
The XED token was listed on Uniswap and released as a Polkastater Initial DEX Offering on 30th December 2020. Details on the XED token are as follows.
Total Circulating Supply: 100,000,000 $XED
Initial Market Cap: $875,000 USD
Seed/Private/Pre-Public Sale Fundraising: $900,000 USD
Distribution and release
Seed: $0.0125 USD, 20% released on TGE, then 10% monthly over 8 months
Private sale price: $0.025 USD, 25% relased on TGE, then 25% monthly over 3 months
Pre-Public: $0.03 USD, 25% released on TGE, then 25% monthly over 3 months
Uniswap listing price: $0.05 USD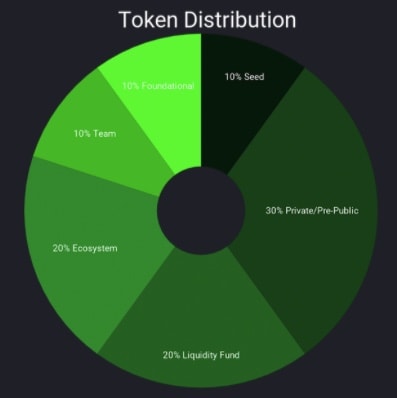 Exeedme Use of Funds Raised
45% of the funds raised will help support the product development team;
30% will be for growing the ecosystem;
15% will be for providing liquidity to Uniswap and other exchanges;
5% will be for Legal, Regulatory and Security; and
5% will be for general and administrative expenses.
Exeedme Staking Pool
The gaming platform would deploy community pools to fund general improvements to the protocol. Developers on the protocol would have access to various funding methods which would be determined by their project.
For instance, XED rewards and NFT rewards pools would have access to fees garnered from tournaments. They would also be able to receive mints and melts of NFTs and fungible tokens.
Conclusion
Exeedme is a uniqueue blockchain gaming platform designed in a way to create a playing field for any skill leveled gamera chance to earn from doing what they love. And despite having other gaming-based blockchain protocols in the space, Exeedme is quite unique in its approach.
While the previous gaming models do not give adequate room for gamers to earn from their skill, the innovative platform looks to correct that by providing an ample opportunity for gamers to earn from whatever skill levels they have.
Disclaimer: Cryptocurrency trading involves significant risks and may result in the loss of your capital. You should carefully consider whether trading cryptocurrencies is right for you in light of your financial condition and ability to bear financial risks. Cryptocurrency prices are highly volatile and can fluctuate widely in a short period of time. As such, trading cryptocurrencies may not be suitable for everyone. Additionally, storing cryptocurrencies on a centralized exchange carries inherent risks, including the potential for loss due to hacking, exchange collapse, or other security breaches. We strongly advise that you seek independent professional advice before engaging in any cryptocurrency trading activities and carefully consider the security measures in place when choosing or storing your cryptocurrencies on a cryptocurrency exchange.