News of potential quantitative easing in China has led crypto experts to believe that there will be a surge in the value of Chinese blockchain projects. As such, Conflux Network ($CFX), one of China's public blockchain, has seen a whopping 1600% price increase in 2023. In this article, we will explain what Conflux is, and why $CFX should be on your watch list this year.
If you are interested in another Chinese crypto project, Alchemy Pay ($ACH) is also a top Chinese project this year.
What is Conflux?
Conflux Network is a public blockchain platform designed to support high-performance decentralized applications (dApps). It aims to address some of the limitations of existing blockchain networks such as slow transaction processing times, limited scalability, and high fees. It uses a novel consensus algorithm called Shanghai Tree-Graph that enables high throughput while maintaining decentralization and security. The algorithm allows multiple blocks to be generated in parallel and then merged into a single chain.
Conflux Network also supports a range of smart contract languages, including Solidity, the most widely used language for Ethereum smart contracts. This means that developers can easily port their existing dApps from Ethereum to Conflux Network and take advantage of its faster transaction processing times and lower fees.
Who is the Team behind Conflux?
Conflux Network was founded by a team of researchers and developers from Tsinghua University in China and the University of Toronto in Canada. The co-founders of Conflux Network are Fan Long (CEO) and Xiaolong Wang (Chief Scientist). The team also includes a number of other experienced researchers, developers, and advisors from various fields, such as computer science, blockchain, and finance.
Why is $CFX Pumping?
The current price surge of $CFX seems to have strong support from retail investors, as indicated by social media metrics and fundamentals. This came as a result of two significant developments made by Conflux:
On 15th February 2023, Conflux announced that they are developing blockchain-based SIM cards in partnership with China Telecom, one of the largest wireless carrier in China (390+ million movile subscribers). The trial program will first launch in Hong Kong later this year, followed by key mainland China locations such as Shanghai.
Earlier in late January, Conflux partnered with Little Red Book, the Chinese equivalent of Instagram, to provide NFT services for the social media platform's 200 million users. The news prompted a 90% increase in CFX's price.
$CFX Price Prediction 2023
Looking at the technical aspects, CFX has experienced a significant increase in price which has caused it to become very overbought. This can be seen in both the daily and weekly charts where CFX's relative strength index has risen above 70, indicating that the uptrend is close to its limit.
Additionally, the Conflux Network token is currently testing the $0.28-$0.41 range as a resistance level, which was previously a support level between May and November 2021. If CFX falls back from this resistance area, its price could drop to the range of $0.097-$0.141, which is its main downside target.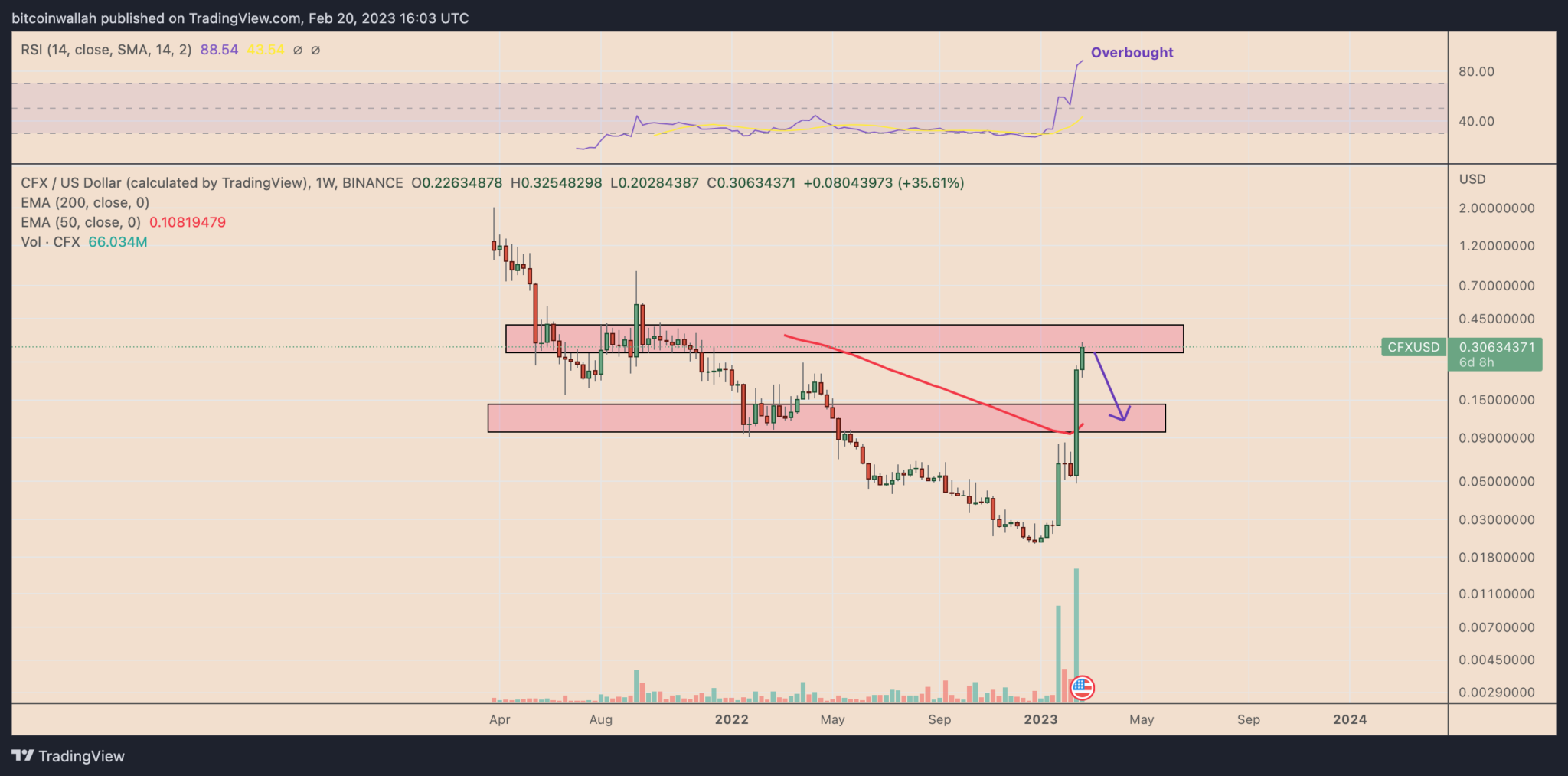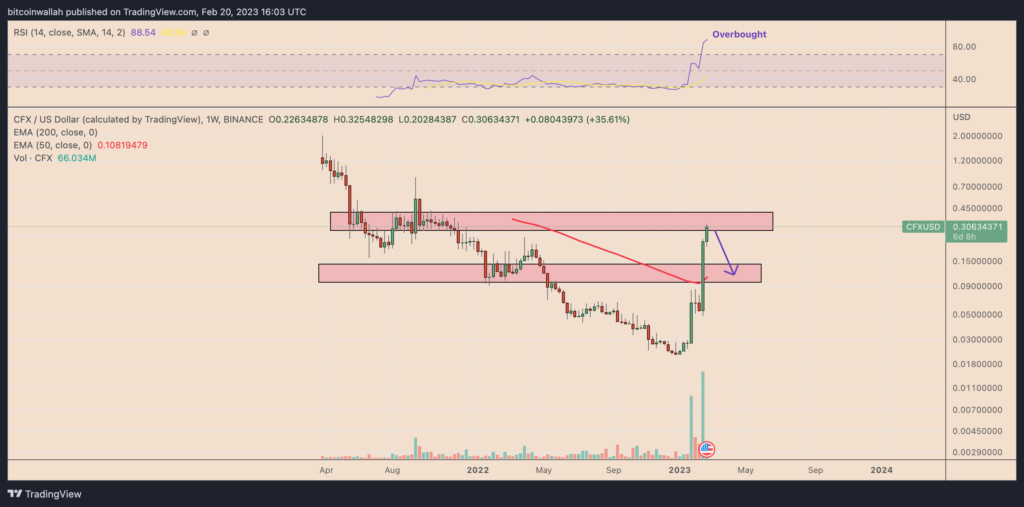 This range also coincides with the token's 50-week exponential moving average (50-week EMA) at around $0.108, which is approximately 65% lower than the current price levels. On the other hand, if CFX manages to break above the $0.28-$0.41 range decisively, its price could rise to $0.84, which was the resistance level during the May-September 2021 period.
Will $CFX Continue Its Momentum Throughout 2023?
From a fundamental standpoint, $CFX is part of the "Chinese coins" narrative that is trending in 2023. With the potential of quantitative easing in China and crypto expansion in Hong Kong, people on the Crypto Twitter space are actively searching for investment opportunities in the Chinese market, taking advantage of any potential rally. $CFX still has a relatively small market cap, but has the potential to deliver strong returns for its investors if its momentum continues. And its momentum will likely continue if continuous development is seen in the Asian market.