ChainGuardians is powered by the technology that allows digital asset tokenization, creating an ecosystem where blockchain meets play. Here, users can have fun on the platform while earning rewards in the form of cryptocurrency. They can also participate in popular blockchain activities such as mining or staking without much complexity.
Check out our interview with Co-founders Emma Liu and Idon Liu (from 23:00 onwards)
Background
The team behind ChainGuardians built the platform to create an enjoyable and worthwhile blockchain gaming experience for its players. According to the team, the majority of the gaming content is still currently only accessible on web browsers but they are planning to create an independent gaming platform for it.
What is ChainGuardians?
ChainGuardians is a cryptocurrency-meets-anime-themed blockchain collectible game powered by non-fungible tokens (NFT). The game is available both on mobile and web platforms, making it very accessible to its users. It is also built on top of Ethereum while its in-game assets are based on the ERC-721 standard.
The goal of ChainGuardians is to introduce a gaming element in the blockchain ecosystem, implementing chain analysis technology and advanced game economics to govern the platform's mechanics.
All in-game assets are considered crypto-collectible NFTs. These are, for example, weapons, armors, and even the in-game characters i.e. Guardians. The purpose of having them tokenized is to make sure that they are unique and safe against counterfeiting.
All the collectibles, as well, are of limited quantity. They can also be either bought or sold on secondary NFT marketplaces.
While there are a lot of blockchain-based games today, according to the team behind ChainGuardians, their difference is that their governance is more community-based. There are other steps that the team said they were doing differently against others, which are:
The constant development of end-game content and platform playability;
Introduction of multiple game modes, including player-versus-player modes;
Rebalancing of Guardians, lower ranking characters, items, and game economy, as they are needed;
The constant development of the battle meta;
Introduction of 'Bring Your Own NFT,' where users can integrate their own NFTs on the platform;
Loyalty reward system;
Bot prevention system; and
Commencement of events and competitions to encourage player activity.
The platform offers a free-to-play NFT mining game and a role-playing game (RPG). Players can earn rewards for participating in either of the two.
For the game's newcomers who just want to try out the game modes first, the platform offers a guardian simulation mode. For this mode, users will not need to own any crypto-collectible, or NFTs. This means, however, that their progress will not be factored in the actual game economy. They will also not be entitled to rewards in the simulation mode as well.
Crypto Boost is another feature made available on the platform. This gives existing cryptocurrency holders additional incentives in playing the game. To ensure that the accounts are in good crypto standing, their transaction history and holdings will be evaluated through Chain Analysis.
NFT Mining Game
Players can choose to participate in the game's ecosystem by staking NFTs partnered by ChainGuardians. The process here is really simple. Users can either purchase their own NFT for staking or select from its supported projects called the "CryptoVerse Alliance."
After a player has chosen an NFT to mine, they can start mining. Rewards for mining NFTs are ChainGuardians Credits (CGC). These can be used to make in-game purchases on ChainGuardians RPG or for conversion to the ChainGuardians Governance (CGG) token (more on this later). Furthermore, this is free-to-play.
ChainGuardians RPG
Playing the RPG is another option for users to earn rewards from the platform. Basic game achievements, such as the increase in your character's level or winning against other in-game enemies, can give the player CGC rewards.
The goal of the players here is to work together to take down in-game enemies such as GateKeepers. This will help their characters gain power, credits, armaments, and other tools that they'll need to progress in the game.
The game is also a turn-based battle game, but when a player is not active, the platform allows AI-based battles that factor in the attribute of a player's character.
CGC rewards can be redeemed for CGG tokens or other available services on the platform.
There is a daily schedule for the redemption of CGG and it factors in the activity of the player on the platform. The RPG is also free-to-play.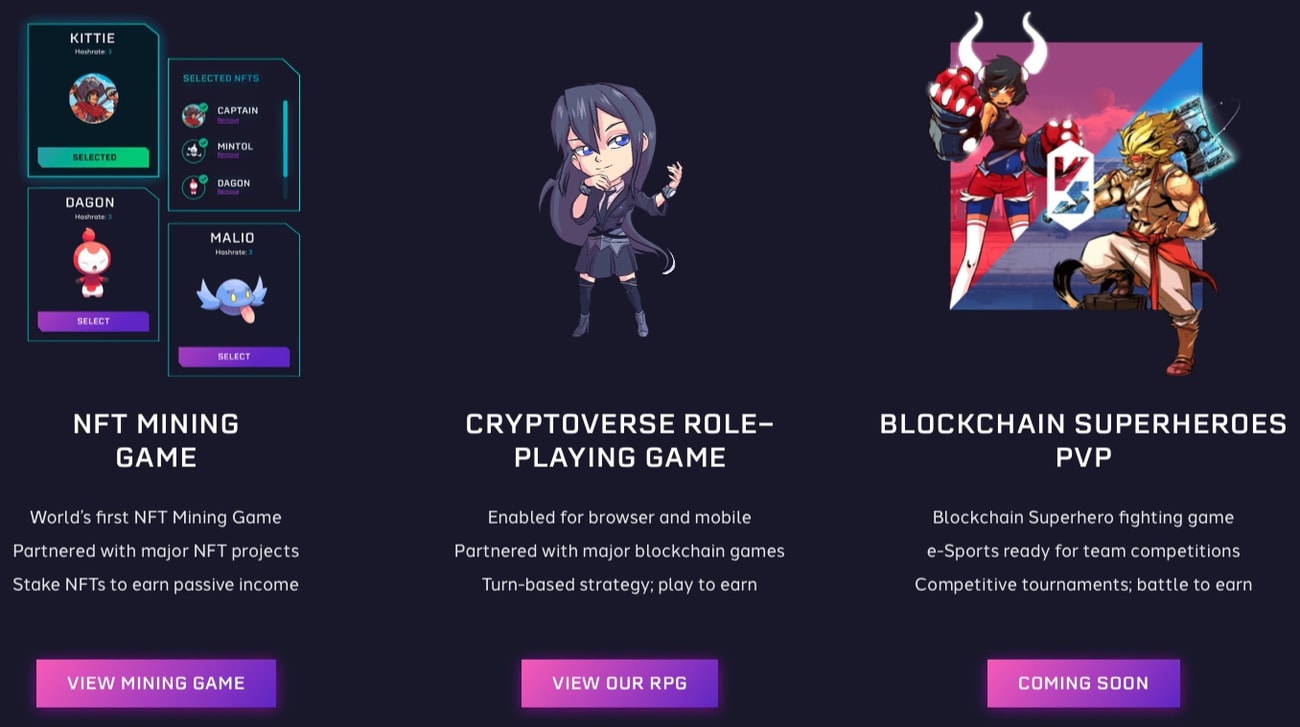 CGG Token
CGG is ChainGuardians' Governance token. It is an ERC-20 token that represents a user's stake in the platform. CGG holders can take part in important protocol decisions as well as earn rewards for continuously participating in the ecosystem.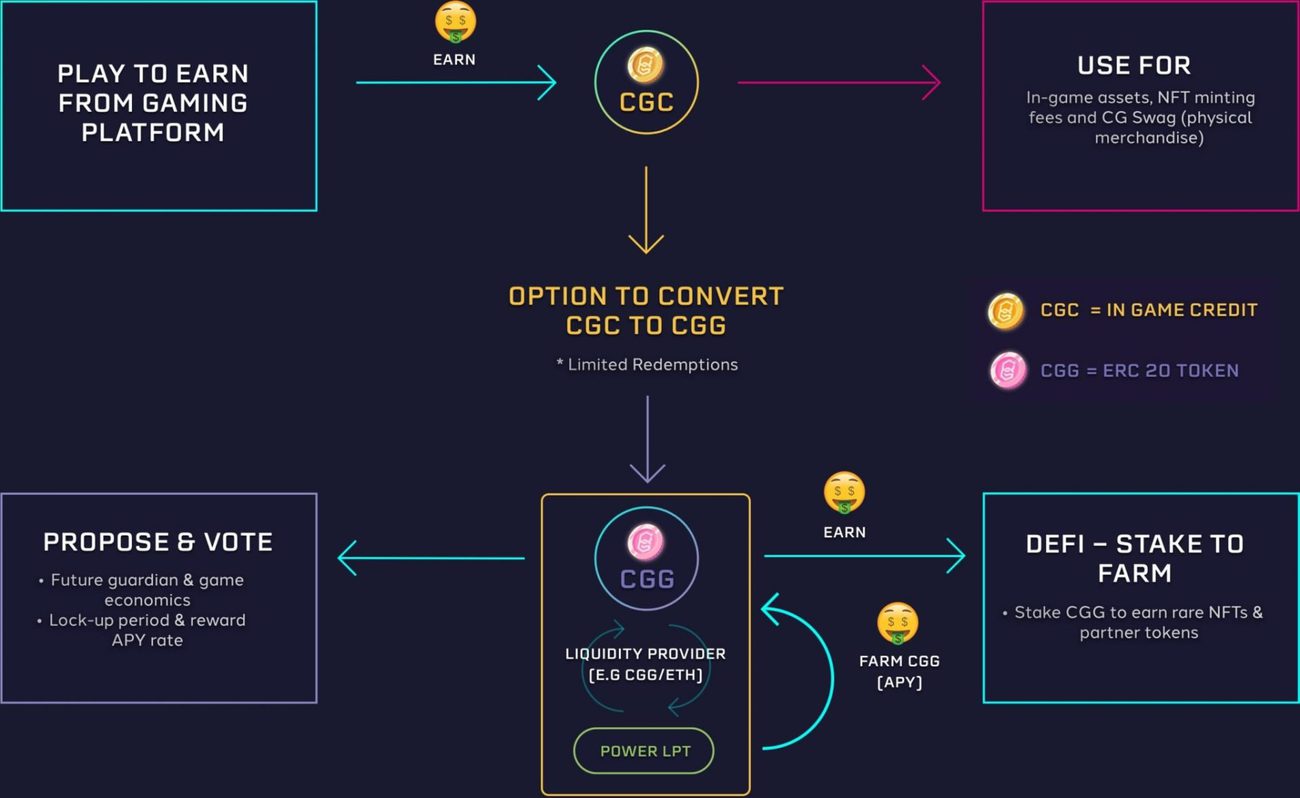 There are many ways to earn an income from using CGG. Here are some ways:
Liquidity Provider Token
The platform has a liquidity pool backed by the POWER token. This is the ecosystem's liquidity provider token. Users who stake CGG in the platform's liquidity pool are entitled to POWER rewards which they can redeem later on. The pool supports the CGG and ETH trading pair of the platform.
In addition, users can choose to just provide CGG pairs on the platform's liquidity pool. They can also earn POWER in doing so.
NFT Staking
CGG holders can stake their tokens on the platform's supported NFTs. This way, they can potentially earn more NFTs and partner tokens as their reward.
Governance
The platform's governance is community-based, which means that CGG holders are the ones voting on the ecosystem's mechanics and protocols. Some of these decisions cover the following:
Future in-game characters and their abilities;
Game economics and balancing schemes;
APY for stakers and the supported NFTs; and,
Hash rates for NFT miners.
Conclusion
The game is indeed an interesting use case for blockchain technology. Apart from the introduction of NFTs, it also features a liquidity mining and staking option that many cryptocurrency holders find easy to work with.
The project has done good work in integrating advanced blockchain concepts into a more gamified experience for users.
With the successful application of most blockchain technologies such as governance tokens, NFTs, mining, perhaps the next step for ChainGuardians is to make a scalable platform should more players join. All in all, the project is a promising display of the blockchain's capacity while easing them towards the basic concepts that back most projects in DeFi.
Disclaimer: Cryptocurrency trading involves significant risks and may result in the loss of your capital. You should carefully consider whether trading cryptocurrencies is right for you in light of your financial condition and ability to bear financial risks. Cryptocurrency prices are highly volatile and can fluctuate widely in a short period of time. As such, trading cryptocurrencies may not be suitable for everyone. Additionally, storing cryptocurrencies on a centralized exchange carries inherent risks, including the potential for loss due to hacking, exchange collapse, or other security breaches. We strongly advise that you seek independent professional advice before engaging in any cryptocurrency trading activities and carefully consider the security measures in place when choosing or storing your cryptocurrencies on a cryptocurrency exchange.